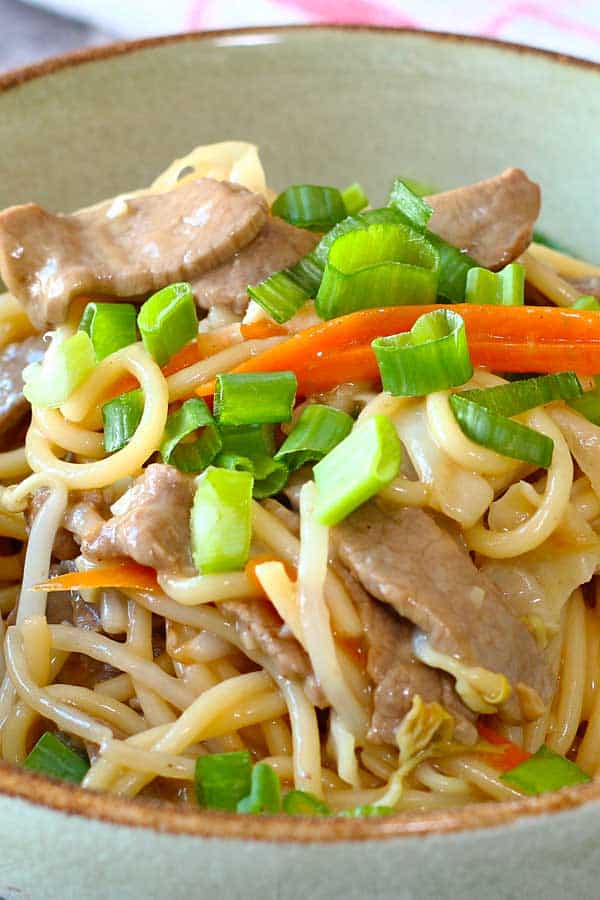 Chinese food and us
We live in a small town in Spain (am not complaining, I love the tranquility of it) and there's no Chinese food restaurants or take aways that we love. On one hand, I really envy people who live in the big cities where you can find everything, everywhere 😀
Well anyway, since we're here..we make our own Chinese food!
Disclosure: some of the links below are affiliate links, meaning at no extra cost to you, I will get a small commission if you click through and make a purchase. Everything I mention in this post is what I personally use and recommend.
The noodles
Before going any further, I want to say that in this recipe I didn't use the Chinese noodles. Why? Because it's nowhere to be found when I wanted to make this recipe. So I changed it to thin spaghetti and boiled it a few minutes longer than the instructions say.
This is because I want the noodles to be softer, similar to the Chinese noodles, instead of al dente, how it's typically cooked. After I drained the spaghetti, I ran it under cold water. Then I drizzle some sesame oil and mix it with the drained spaghetti.
I added some oil because I didn't want the spaghetti to stick to each other.
You would think that using thin spaghetti will bring the dish..one level down, right? Well no, not at all. At least for me personally. I really think that if you can't find something, try to substitute it instead of not making it at all.
The sauce
First I prepared the sauce. It was simple, really. I just mix corn starch, oyster sauce, soy sauce, rice wine vinegar, sugar, sesame oil and white pepper.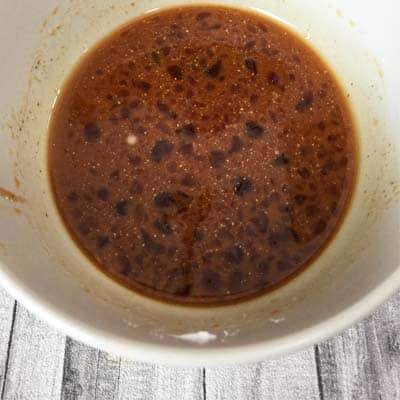 I used Kikkoman soy sauce. That soy sauce can never be out of stock in my house. I would freak out! I love the taste of it and I use it in almost all of my Asian dishes. Back then I used the soy sauce that our Lidl supermarket brings now and then but once I tried Kikkoman, I never looked back.
You can check my favourite Asian ingredients to cook with in my Amazon list.
I didn't use any salt or any other condiments for this recipe. I just used the sauce. I feel the sauce has all the wonderful flavours that the dish needs.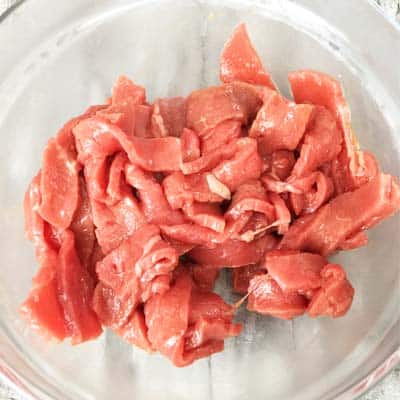 I also used the sauce to kind of marinate the meat.
Well about the meat. First I sliced it thinly and into strips of more or less 2 inches length. This way it will be nice to eat with the noodles and veggies. You don't want huge chunks of meat in this dish.
Since this is a stir-fry dish and everything will be cooked fast and just for a few minutes, you want everything sliced in a way that they will be cooked fast. The same goes with the veggies. Julienned and thinly sliced. Nothing of huge chunks.
Anyway, I placed the meat in a bowl. Then I took 1 tablespoon of the sauce and added it to the meat. I mixed everything and set aside until I needed it. Meanwhile the sauce will give flavours to the meat.
Stir-fry
It took less than 10 minutes actually to cook this dish. I used medium heat fire and everything cooked very fast. Well, that's how stir-fry should be, right? 😀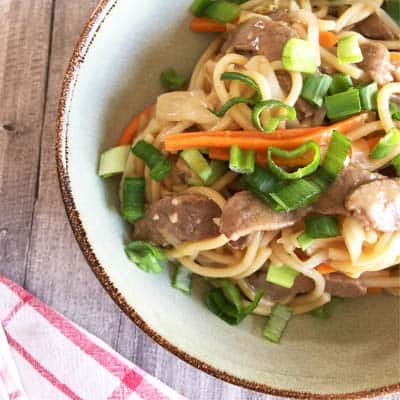 For that reason also, I like to prepare all of my ingredients before I start cooking. That includes slicing, cutting, measuring whatever I needed. This way when I'm cooking I won't get panic realising something is missing or not sliced etc.
I started by cooking my onion until it got golden brown around the edges. Then I added my garlic. I didn't add them together with the onion because I didn't want them to burn while the onion was still not ready. They do tend to burn easily.
After that I added my meat. I cooked the meat until they were half cooked only. This is because I want them to continue cooking together with the veggies.
When the veggies were a bit soft, then I added the spagthetti and the sauce. I gave it a quick stir and added some water to loosen everything up. Another few quick stirs and then I added my bean sprouts.
I continued cooking for another 30 seconds because I didn't want the bean sprouts to get too soft. They're amazing all crunchy like that.
Well then basically the dish was done. Heat off and some chopped spring onion on top and my Chow mein noodles was ready.
I've tried using bonesless chicken thighs and prawns for this recipe and they were as delicious! A fast homemade take-away, you might say 😀
PS: If you love sesame oil, go ahead and put more! 🙂
Watch how to make chow mein noodles in the video below: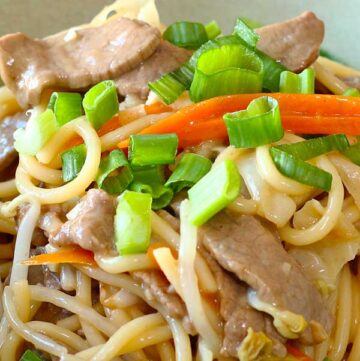 Chow Mein Noodles
My version of Chinese chow mein noodles or stir fry noodles. I prepared my own chow mein sauce that I used in this recipe, it was so simple!
Print
Pin
Rate
Ingredients
The rest
120

gr

thin spaghetti

, boiled a few minutes longer than instruction, drained and tosses with sesame oil

100

gr

cabbage

, thinly sliced

1

carrot

, julienned

100

gr

bean sprout

4

garlic

, minced

1/2

medium sized onion

, thinly sliced

250

gr

beef

, thinly sliced and cut into 2 inches length, more or less

1/4

cup

water
Instructions
The sauce
In a bowl, add all the sauce ingredients and mix everything well. Set aside.
The meat
In a bowl, add meat and 1 tablespoon of previously prepared sauce. Mix and coat everything well, set aside.
Chow mein noodles
Using a wok with some oil, using medium high heat. Add in the onion and cook until they're golden brown around the edges. Add in minced garlic and continue cooking until the garlic is golden brown around the edges also.

Push everything to one side and add in the meat. Leave to cook for 30 seconds until they're half-cooked and mix everything together. Add in carrot and cabbage. Stir everything together and cook until the veggies are a bit soft.

Add in cooked thin spaghetti and previously prepared sauce. Give a quick stir. Add in water and give everything a good mix. Add in bean sprouts and continue cooking for another minute, then turn the heat off. Sprinkle with chopped spring onion and it's ready to be served!
Notes
Switch the beef with chicken or prawns, they're as delicious!