Family recipe
This meal is my husband's favourite and it has been in his family for many years. It's actually zucchini cut into half lengthwise and then the flesh of each half is scooped out, turning the halves into the shape of boats.
And then the scooped flesh is cooked together with the rest of the ingredients for the filling. Then of course comes the cheese on top. You can never go wrong with some cheese.
So let me share with you how I like to prepare it in our house.
In our house
I like to be convenient and fast. That's why I'm pre-cooking, kind of, the zucchini boats first in the microwave. I put them at max power for around 2-3 minutes. This will soften the zucchini boats a bit and saves baking time later.
So after they're soften a bit, I will scoop the flesh out and leaving around 5 mm thickness all around the boats. This is so that they can still hold their shape. I keep the scooped out zucchini flesh aside to use together with the rest of the filling ingredients later.
But if the zucchini flesh is with too much seeds, then I discard it. I don't really like it like that. But then again, if you do..by all means, use it.
Also I recommended that you discard the water, if any, in the zucchini boats. Pat them dry with kitchen paper for good measure.
After that I move on to the filling. The filling is a white canvas, really. You can take it anyway you like. Put whatever your heart desires. As for me, I like to cook the filling with some onion, garlic, varieties of peppers and some sort of protein source like minced turkey (which I'm using in this recipe), minced beef or chicken.
If I have balance of roasted chicken, I would chopped it finely and use it. Season the filling to your taste also. Using some herbs will definitely give it wonderful flavours. In this recipe I'm using herbes de Provence. I've even tried using fajita powder mix and it turned out great.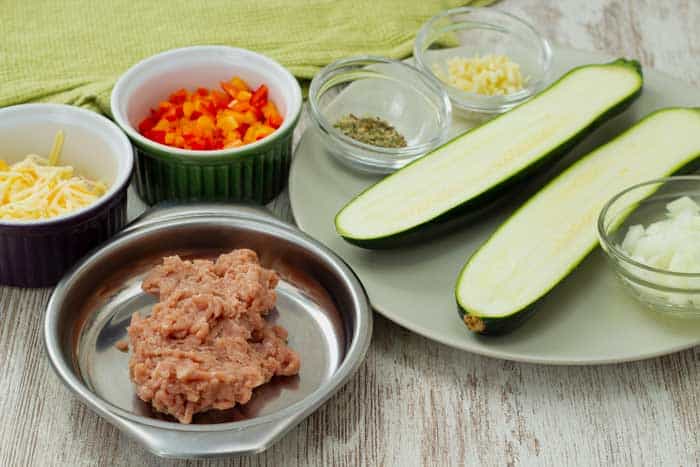 Anyway, don't forget to add in your scooped out zucchini flesh to cook together with the filling. After that I leave the filling to cool a bit and then mix it with some cheese. Then there's nothing else to do than just fill the boats.
When you're filling them, press a bit. Kind of compacting the filling inside the boats. Then don't forget to sprinkle them with some more cheese and off to the oven they go.
They don't need a lot of time in the oven as the zucchini boats are already semi-cooked when we heated them in the microwave earlier. So the baking time needed is just enough to melt the cheese and warm through everything.
You can see the details of this simple and delicious recipe in the video below.
Serve the zucchini boats with some salad on the side and they're a perfect easy healthy weekdays meal to prepare! Enjoy El Mundo Eaters!
Watch how to make zucchini boats in the video below: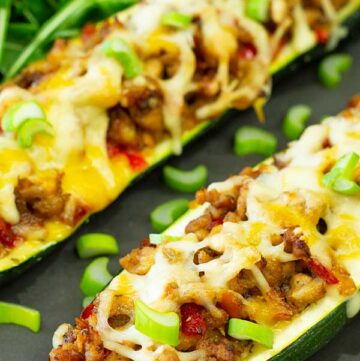 Easy Zucchini Boats
Zucchini boats filled with minced turkey, veggies, herbs and cheeses, finished off with more cheese! Argentine style. Simple delicious and healthy meal.
Print
Pin
Rate
Servings:
2
zucchini boats
Ingredients
1

zucchini (9 oz or 250 gr)

, cut in half lengthwise

1/4

onion

, chopped

1/2

cup

mixed peppers

(60 gr), chopped

2

garlic cloves

, chopped

1

tsp

herbes de provence

salt & black pepper to taste

3.5

oz

minced turkey

(100 gr)

1/4

cup

shredded mixed cheeses

(30 gr)
Instructions
The zucchini
Cut the zucchini in half lengthwise. Place on a plate and microwave at max for 2-3 minutes or until they're slightly soft to the touch. Using a spoon, scoop out the flesh so that they resemble boats, leaving around 0.2 inch (0.5 cm) thickness all around. Set the flesh aside to use together with the filling. Discard water, if any, from the inside of the zucchini boats or pat them dry with kitchen paper. Set aside.
The filling
Heat some oil on medium heat. Add in onion, garlic, sweet peppers, herbes de provence, zucchini flesh (chopped), salt and black pepper to taste. Cook until the veggies are soft.

Add in minced turkey with a bit of salt and pepper. Break up the meat and continue cooking until it's fully cooked. Set aside for 10 minutes or until the filling is slightly cooled.

Add in mixed shredded cheeses and mix everything together.
Assembling
Brush some oil in a baking pan. Place the zucchini boats inside and sprinkle them with some salt. Scoop previously prepared filling evenly into the zucchini boats, push the filling slightly inside. Place more mixed shredded cheeses on top.

Bake in a preheated oven at 400ºF (200ºC) for 10 minutes or until the cheeses are melted. Serve immediately. Enjoy!