Hi! Welcome to our world of delicious food that we call El Mundo Eats.
I go by Bea among my friends and I'm the author and recipe creator. Formerly worked as a web programmer but cooking and food styling have always been my passions. Now a full-time food blogger, working from home.
Personally, I'm a bit on the hippy side and prefer savory food. Being a Malaysian, I love spicy food. If it's not spicy then I'd be less animated eating it, unless I'm armed with chili oil, sambal, or sriracha on my side. Rice is my weakness.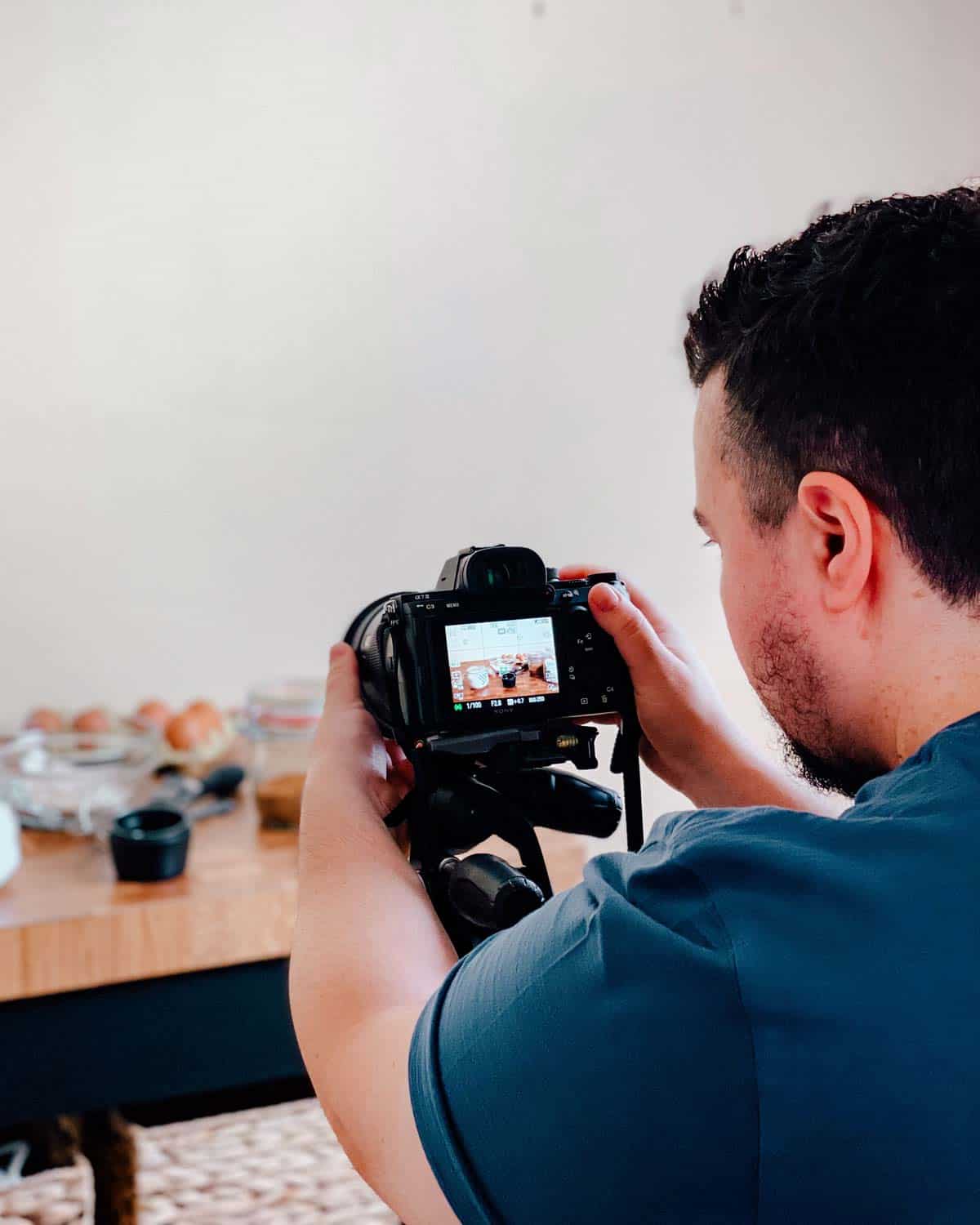 As for Marco, he's a guy with many hats! He's my husband and the engine behind El Mundo Eats. He formerly worked as an engineer but now working from home with me.
He manages everything related to El Mundo Eats from the business side to everything technical on our website, and also the photographer and videographer for all the delicious food that you see here and on our YouTube channel.
And of course, he's the one who gets to test every recipe that I create, good or bad.
On the contrary to me, he's a perfectionist! He's working on his Malay language skills, thanks to the hundreds of video calls with my 5-year-old nephew.
Being an Argentine, his love for dulce de leche and sweets is definitely unquestionable.
We're based in Spain. We're both very simple and enjoy traveling whenever possible, spending the weekend with families and friends, and some good Netflix.
What Does "El Mundo Eats" Mean?
"El mundo" means "The world" in Spanish. So in English, "El Mundo Eats" literally means "The World Eats".
The name came to be because we're food lovers living in Spain and we come from different ends of the world, we love food from around the world, and we communicate with each other in both English and Spanish language at home.
El Mundo Eats was born when we decided that we wanted to work for ourselves, together. We were not happy with our 9-5 jobs and thought there has to be something that we love and enjoy doing that we could happily call work at the same time. El Mundo Eats started as a trial project and has now turned into our full-time job and we get to reach millions of people with our videos and recipes.
What You Can Find Here
El Mundo Eats now is all about reliable simplified Asian and delicious healthier recipes that YOU can make in your own kitchen.

We previously shared indulgent classic sweets but are now focusing more on healthier recipes using wholesome ingredients. We're healthifying as we go!
The food here is reliable, easy, and flavourful. It's the food that we both actually love and enjoy ourselves. If either one of us can't connect to the food then I won't put it here.
With our reliable recipes, you can be the rock star in the kitchen! Imagine all the delicious dishes that you can share and enjoy with your family and friends. Home food is all that we're about. Are you with me on that?
For your better understanding, we've put each of our recipes with detailed instructions and video tutorials. So don't you worry. We've got you.
See our Top Recipes
Share With Us
Don't be a stranger. Ask questions, leave comments, and good ratings of the recipes that you've tried here. I'm always happy to help with anything.
Do share your lovely creations of my recipes on your Instagram by tagging us in your wonderful photos with @elmundoeats
Business Enquiries & Collaborations
For business inquiries, advertisements, and collaborations please email:
We wish you a lovely and fun time here! If you have some time to spare, do check out our Youtube channel where we started El Mundo Eats.
Thank you for visiting and have a wonderful day!