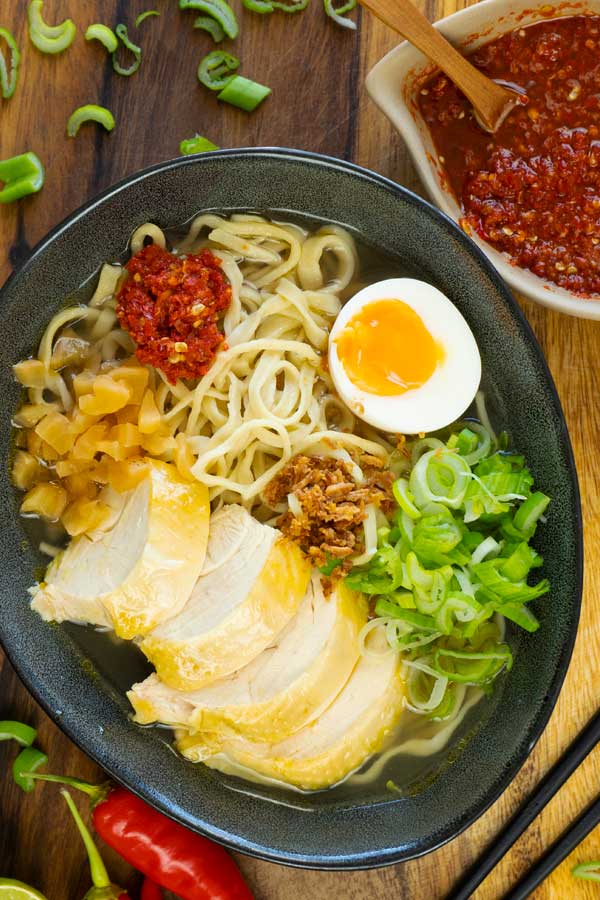 Who loves soups in this comfy cold weather?
Who doesn't right?
At least for us, one of the things that we get excited about the coming of cold weather is being able to have all sorts of delicious soups. And one of them is this Asian chicken noodle soup.
My Asian Chicken Noodle Soup
This meal came to be when I tried to simplify things (yeah, what's new) by combining making my husband's favourite puchero and my Malaysian vermicelli soup.
Puchero is a stewpot and in Argentina it usually has beef, potato, pumpkin, corn, onion, sweet potato, cabbage and carrots. Just to name a few.
In Malaysia vermicelli soup is a bowl of soup where the soup is cooked with spices like ginger, cinnamon, star anise, cardamom, just to name a few.. together with a protein source. Then it's eaten with some veggies and a special condiment. Soy sauce sambal.
Anyway.
So when I noticed that both puchero and vermicelli soup have some similarities in the soup preparation, I started combining those two together.
It's faster and the truth is, now we both like this version more.
The Chicken Soup
A good bowl of noodle soup has to start with the soup itself.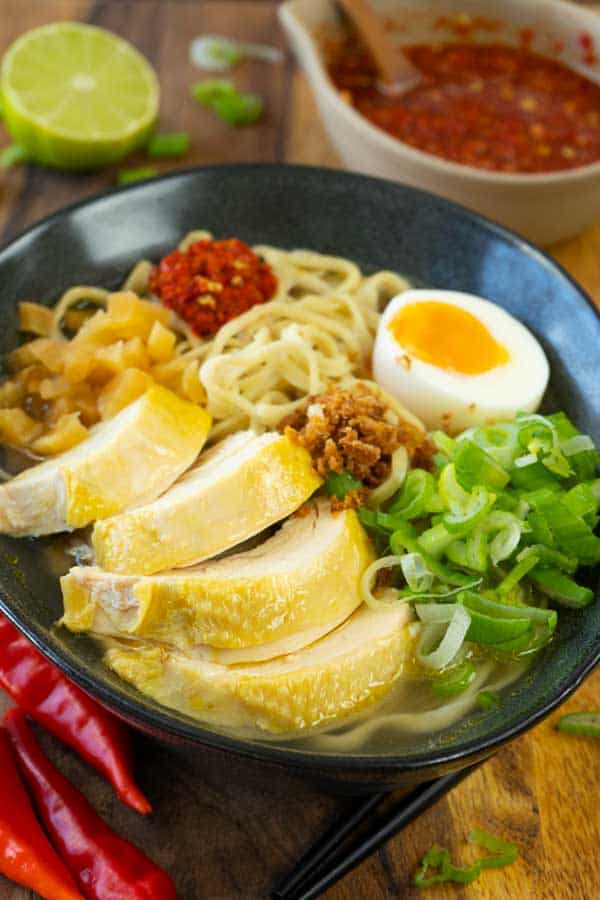 I know these days everybody is rushing and has no time to do anything. But trust me, this soup is super simple to do and deliciousness is guaranteed.
Whole Chicken
I like to use whole chicken as it's more convenient. No need to do anything with the chicken except clean it good. And you got the delicious taste from the bones. Something that you don't get if you were to use chicken breast only.
Spices
I'm also using some spices in the soup. Cinnamon stick, star anise and cardamoms. Not much but they do take the chicken soup to another level.
Veggies
For me this is another important component to a delicious soup. The veggies.
As you can see in the video below, I'm using lots of ginger. Apart from having lots of health benefits, ginger also gives a truly amazing flavour to the soup. So yes, lots of ginger please.
The same goes to garlic. Lots. A whole head to be precise.
Other than using celery sticks and carrots, I'm also using lots of parsley. Just like my mother did. I will not make this soup if I don't have parsley in the house.
The Homemade Chinese Egg Noodles
What's a soup if it didn't have any noodles in it, right?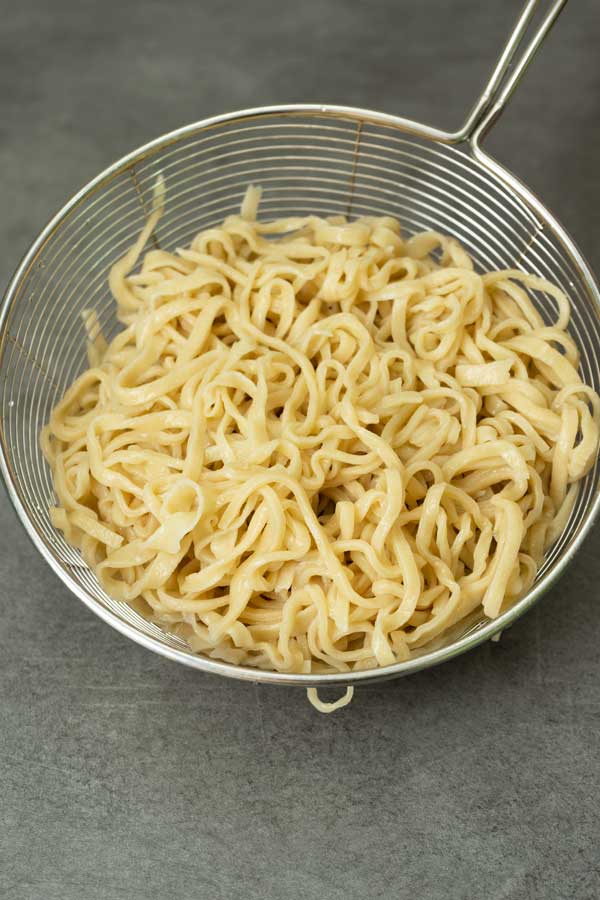 Homemade Chinese egg noodles, to be precise. I make my own, in a simplified way yet delicious result.
These noodles are bouncy and chewy, the exact texture that we look for in any Chinese egg noodles. They're perfect for soups as they don't get soggy and soft inside the hot soup.
You can see in the video below how I cook the noodles by adding baking soda to the water. Yep.
Soy Sauce Sambal
This is an important condiment for this soup.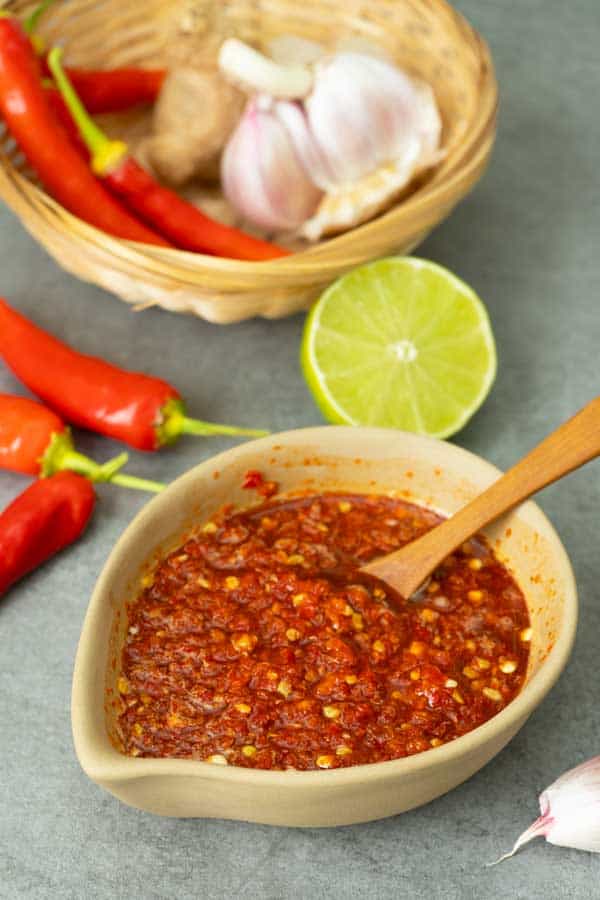 Don't worry about the spiciness as you can always adjust it to your liking. Use more (or all) red chillies instead of Thai red chillies.
This soy sauce sambal is salty, sweet, a bit sour and spicy. A perfect final touch to this bowl of chicken noodle soup.
Do don't skip it. Trust me.
Soup That Stretches For Days
This soup is perfect for busy you. Why?
Because it stretches for days and different meals. If you follow me in my Instagram you might notice my different bowl of soup meals, using the same soup.
You can have the soup with any type of noodles, chickpeas, make rice congee or simply cook your rice with it.
I keep telling my youngest sister who's a working young mom with 2 kids, to simply make the soup and then stretch it. Add broccoli, potato and rice.. one meal done for the kids. Her youngest kid is crazy about boiled broccoli by the way. Little weirdo, that's what we call him. Haha!
If you have balance of chicken meat, you can chop it and use it in quesadilla or as pizza topping (mix with some bbq sauce, yummy).
Before You Go
Do you want to see more of my soup recipes? They are delicious, I promise.
Video
📖 Recipe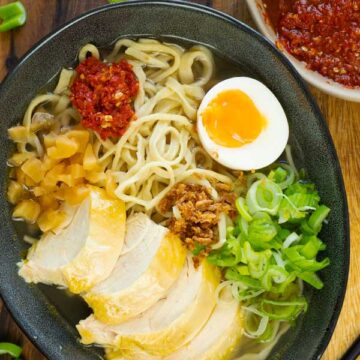 Asian Chicken Noodle Soup
This is a regular meal in our house as it's super easy to prepare, delicious, healthy and I always stretch it into several different meals. With a touch of herbs and spices in the soup, this is also my go to meal whenever we feel under the weather.
Print
Pin
Rate
Ingredients
The Soup
3.5

lb

whole free range chicken

(

1.6

kg)

3

celery sticks

2

carrots

1

onion

4

thumb sized

ginger

, sliced

1

head of garlic

, peeled

½

tablespoon

black pepper corns

½

tablespoon

chicken bouillon powder

½

tablespoon

sugar

1

cinnamon stick

1

star anise

2

cardamom pods

4

bay leaves

0.7

oz

parsley

(

20

gr)

8

cup

water

(

2

liter)

salt to taste
The Soy Sauce Sambal
4

red chillies

4

garlic cloves

10

Thai red chillies

3

tablespoon

soy sauce

1

teaspoon

sugar

juice of ½ lime
The Noodles
14

oz

homemade Chinese egg noodles

(

400

gr)

1

tablespoon

salt

2

teaspoon

baking soda

6 ¾

cup

water

(

1.7

liter)

1

tablespoon

sesame oil
Others
some boiled eggs

some spring onion

, sliced

some Chinese pickled raddish

, chopped

some fried shallots
Instructions
The Soup
In a huge pot, add in chicken, celery sticks, carrots, onion and water. Bring it to a boil. Remove fat and impurities.

Then add in the rest of the soup ingredients, cover the pot and simmer for 40 minutes or until the chicken is fully cooked. Remove the chicken and strain the soup. Discard the rest.

When the chicken is cool enough to handle, remove the meat from the bones. Cut the meat into small pieces to be served later with the soup.
The Soy Sauce Sambal
In a chopper, add in both chillies and garlics. Blend into a fine paste. Pour it into a bowl and add the rest of the sambal ingredients. Mix well and set aside.
The Noodles
Add salt, baking soda and water into a pot. Bring it to a boil and then add the homemade Chinese egg noodles. Gently stir and cook for 2-3 minutes or until the noodles are fully cooked.

Drain and rinse the noodles under cold water. Put it in a bowl together with sesame oil. Mix well and set aside.
Assembling
Place some noodles in a bowl followed by some soup. Then place the chicken, spring onion, pickled radish, egg, fried shallots and soy sauce sambal. Serve hot, enjoy!
Nutrition Facts
Calories:
494.8
kcal
,
Carbohydrates:
35
g
,
Protein:
31.9
g
,
Fat:
25.1
g
,
Saturated Fat:
7.1
g
,
Cholesterol:
157.5
mg
,
Sodium:
2633
mg
,
Potassium:
572.5
mg
,
Fiber:
3.9
g
,
Sugar:
6.6
g
,
Calcium:
93.1
mg
,
Iron:
4
mg