Oh I can't wait for you to try this blueberry pancake bread!
If you love the taste of blueberry pancake with some luscious maple syrup then I think you're going to love this beauty!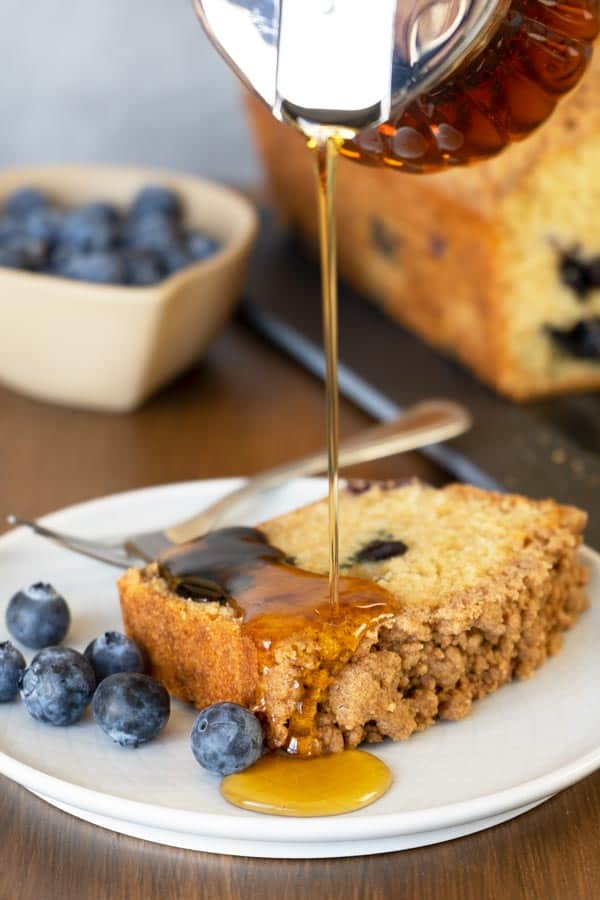 Pancake Bread?
Have you tried Trader Joe's pancake bread? If you have then lucky you!
Here in Spain we don't have Trader Joe's. Yes, I know, right?
But we do have some of Trader Joe's products through our Aldi supermarkets. Now and then our local nearby Aldi brings some products from Trader Joe's but the famous pancake bread, unfortunately is never one of them.
I was so eager to try it that I thought ok, let's just try to make it ourselves then. What else to do, right?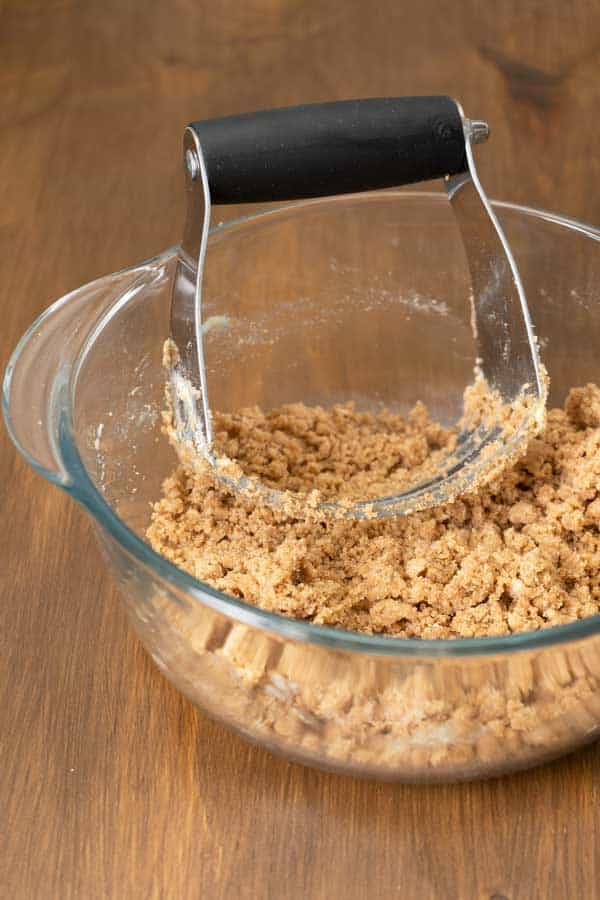 So I started doing some investigations and used my lemon loaf cake recipe as the base (which by the way so many of you have made, loved and even sent me pictures!).
After some recipe testings and so here it is!
My version of a pancake bread with a twist.
Because why stop at plain pancake when you can have blueberry pancake and some streusel on top. Right?
So nope, this is not Trader Joe's pancake bread recipe but trust me, it is SUPER DELICIOUS!
What Does It Taste Like?
This cake is super moist, soft and fluffy.
It has enough maple syrup taste that really brings you the memories of eating a pancake with maple syrup.
The streusel is crunchy, not overly sweet with a touch of saltiness and it gives you a contrast texture that for me, is just perfect.
Can you tell that I'm just in love with this cake?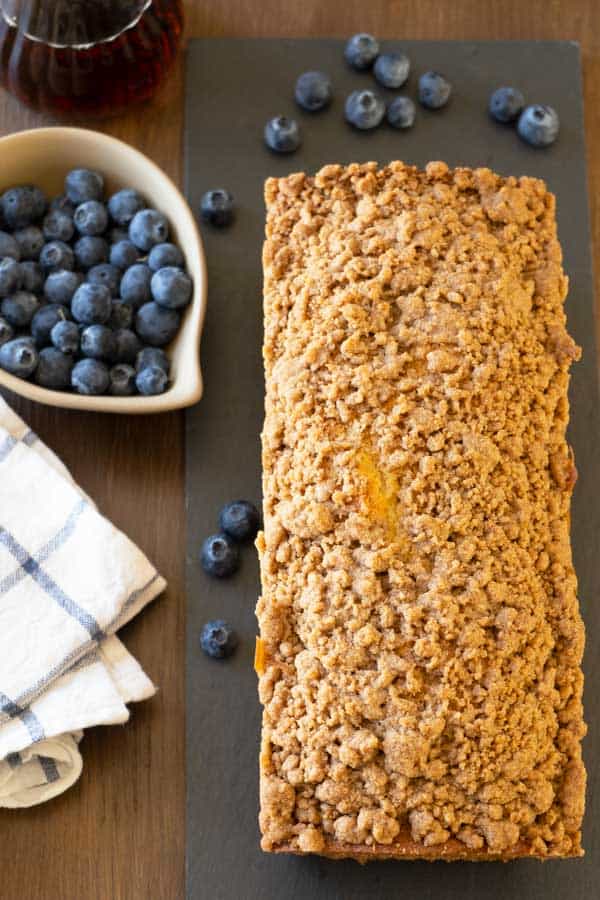 How To Prevent Streusel From Collapsing Into The Cake?
Yes, the streusel does collapse and disappear into the cake, leaving you with a weird looking ugly dense cake with raw texture even though you've baked it for more than 1 hour.
How do I know that detailed sight?
Because it happened to me! Haha!
So to prevent you from experiencing the same frustration that I did, this is what you need to do.
Bake the cake halfway through FIRST and then sprinkle on the streusel. Then continue baking until fully cooked.
That way the cake has enough time to form crust and structure to hold the weight of the streusel.
Which will then eventually leave the streusel on top of the cake, just where we want it to be.
But sprinkle the streusel quickly though because we don't want the cake to be out from the oven that long.
Do give this recipe a try and let me know what you think!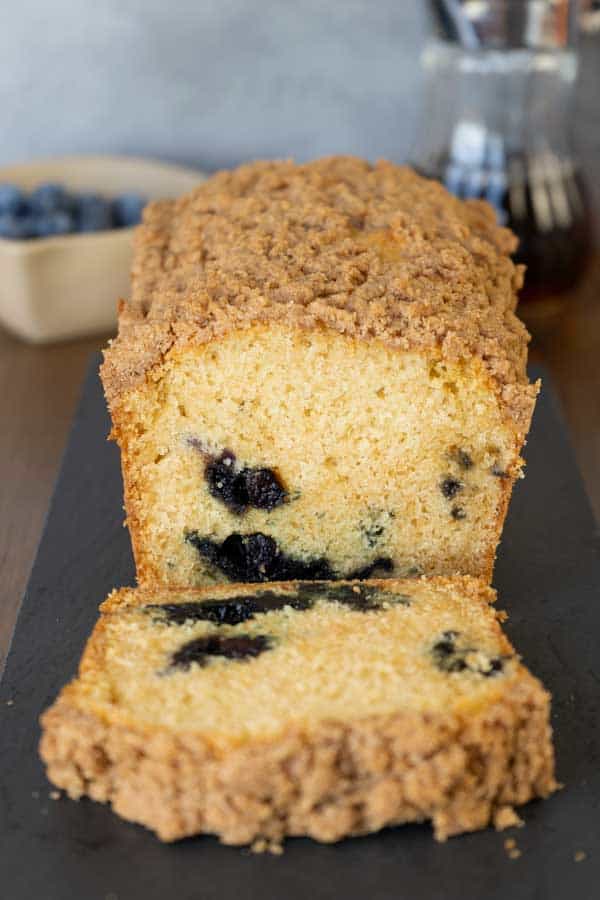 In Summary
This blueberry pancake bread is:
easier to make than you think
moist, soft and fluffy
really have that blueberry pancake with maple syrup taste
not overly sweet
I really have to say, it's just AMAZINGLY DELICIOUS!
Before You Go
Perhaps you want to check out these recipes also:
Video
📖 Recipe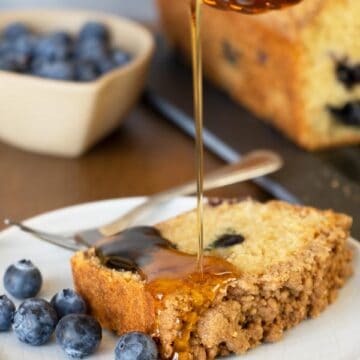 Blueberry Pancake Bread
This cake is soft, moist, fluffy and not overly sweet. It's with that delicious maple syrup taste that really reminds you of when eating blueberry pancakes! The streusel gives a contrast texture that's just perfect. Do try!
Print
Pin
Rate
Ingredients
Homemade Buttermilk
¼

cup

milk

(

60

ml)

¼

teaspoon

lemon juice
The Cake
2

cup

all purpose flour

(

260

g)

1

teaspoon

baking powder

½

teaspoon

baking soda

½

teaspoon

salt

½

cup

butter

(

113

g), softened

½

cup

sugar

(

100

g)

2

eggs

, room temperature

1

teaspoon

vanilla extract

½

cup

maple syrup

(

155

g)

3.5

oz

blueberries

(

100

g)
The Streusel
¼

cup

brown sugar

(

40

g)

⅓

cup

all purpose flour

(

45

g)

1

teaspoon

cinnamon powder

¼

teaspoon

salt

3

tablespoon

butter

(

45

g), cold
Instructions
Homemade Buttermilk
Add lemon juice into milk and leave untouched for 10 minutes before using.
The Cake
Sift flour, baking powder, baking soda and salt into a bowl.

Take 1 tablespoon of sifted flour mixture and add into a bowl with blueberries. Coat blueberries well. Set both bowls aside.

Into another bowl, add in butter and sugar. Using a handheld mixer, whisk until pale and fluffy.

Add 1 egg, vanilla extract and mix everything well. Add another egg and give it a mix also. Now add in maple syrup and mix until well combined.

Pour in ½ of flour mixture and mix everything together. Pour in buttermilk and continue mixing. Lastly add the rest of the flour mixture and mix until well combined.

Add in blueberries and using a spatula, gently fold everything together. Pour batter into a 4.4x10 inch (11x25 cm) loaf pan that has been greased and lined with over-hanged baking sheet. Spread batter evenly.
Baking & Streusel
Bake in a preheated oven at 320ºF (160ºC) for 30 minutes.

Five minutes before the cake is ready, prepare the streusel by adding all ingredients into a bowl, except for the butter. Mix well. Using a dough blender, cut the butter into the mixture until forming crumbles.

Remove pan from the oven and quickly sprinkle streusel evenly on top. Continue baking for another 30 minutes or until fully cooked.

Remove cake from the pan after 5 minutes and leave to cool completely before slicing.
Notes
Best eaten within 1-2 days. Keep in an airtight container at all times, at room temperature.

To Freeze

: either wrap the whole cake or slice pieces with cling film. Then place it in a ziplock bag and in the freezer. Best consumed within 2-3 months.

To Defrost

: thaw at room temperature. Optional: slightly warm in the microwave for a few seconds to bring it back to life.
Nutrition Facts
Calories:
301.2
kcal
,
Carbohydrates:
44.5
g
,
Protein:
3.9
g
,
Fat:
12.2
g
,
Saturated Fat:
7.3
g
,
Cholesterol:
57
mg
,
Sodium:
332.5
mg
,
Potassium:
95.2
mg
,
Fiber:
1
g
,
Sugar:
23.2
g
,
Calcium:
59.6
mg
,
Iron:
1.5
mg