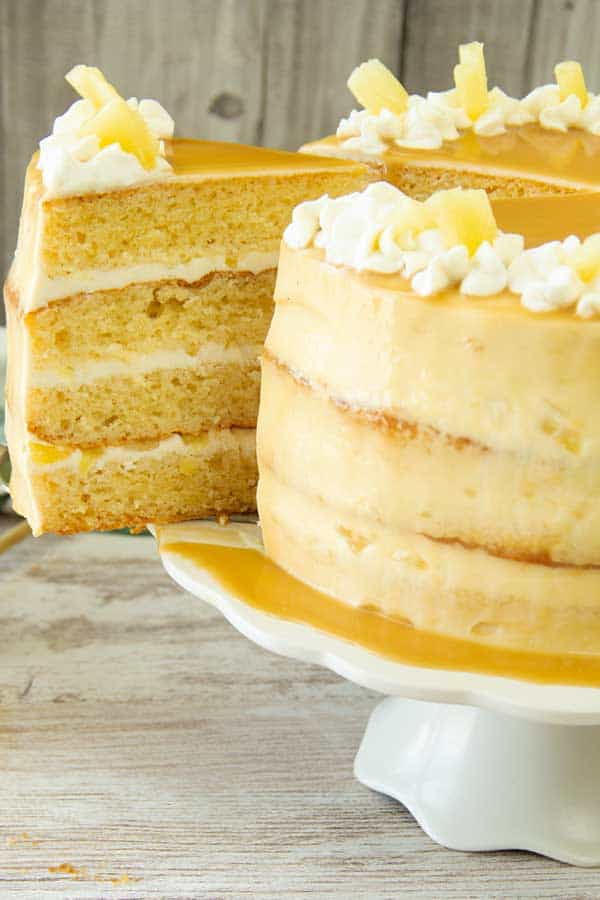 I mean, what's not to love about it right? Caramel..delicious! Pineapple..delicious! Cake..double delicious!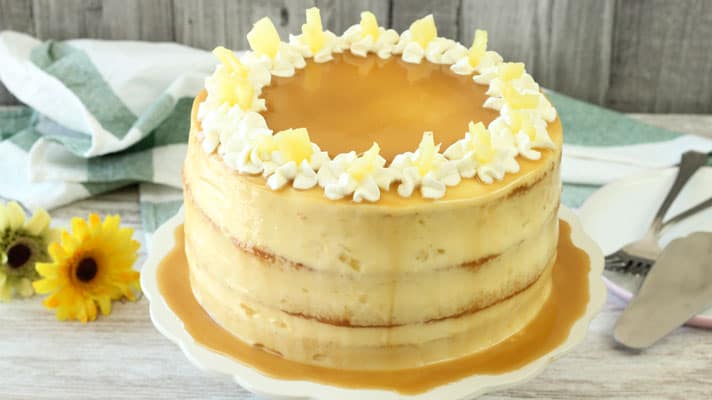 So today I'm sharing this easy caramel pineapple cake. Soft and moist pineapple cake layered with cream cheese frosting and pineapple chunks and bathe in caramel. Oh, la la! This recipe has a few steps to it but every step is so simple. Don't you worry.
Another easy layer cake for you to try is my delicious red velvet cake with cream cheese frosting! Or this moist carrot cake with pineapple.
Now let's start, shall we?
The cake
I'm using my lemon yogurt cake recipe for this cake, with some adjustments here and there. I'm using pineapple greek yogurt to give it that pineapple touch. Later on, when assembling the cake, I'm using chopped pineapple to highlight the flavor.
This cake is really moist and soft. If you've tried my lemon yogurt cake, then you'll know what I'm talking about.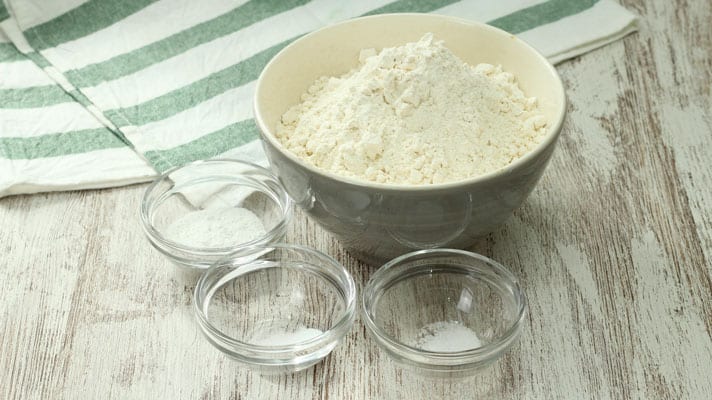 If you watch the video you'll see that I cut all around my cakes. I wanted to reduce the dome surface without having to cut the dome top off. You can skip this part of the course. It's just me being crazy as my husband says.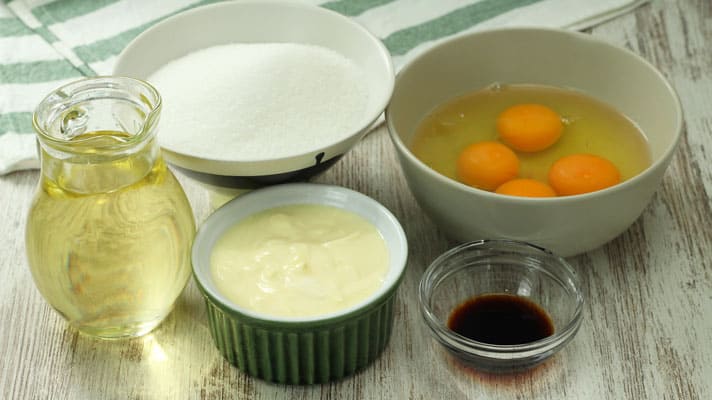 The caramel sauce
Yes! This caramel sauce is so delicious and versatile. I've used it on my clementine loaf cake. It's so easy to prepare and doesn't take long at all. For this recipe, I've added some salt to give it that salty touch. Yum yum!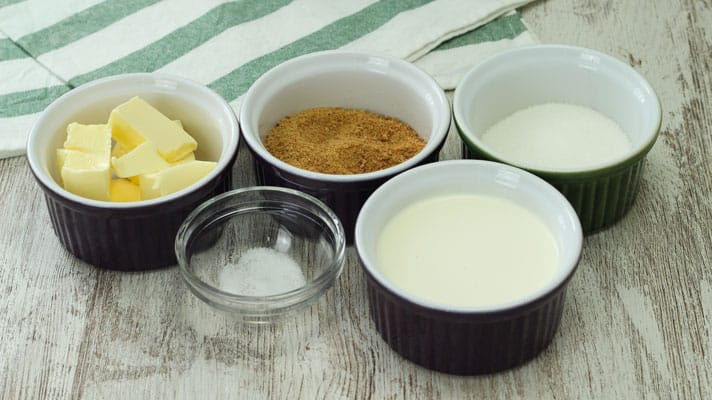 The cream cheese frosting
So if you've been reading my ramblings in my posts, maybe you noticed that I'm always talking about how hot it is in my place when the heat comes. Well, it already came. Baking in this heat is not that fun for several reasons.
It's freaking hot in the kitchen with the oven and everything. And the frosting gets soft so fast. So in this recipe, I'm changing my frosting recipe a bit. I'm using gelatin to help it set without relying so much on the cream cheese. And I'm loving it!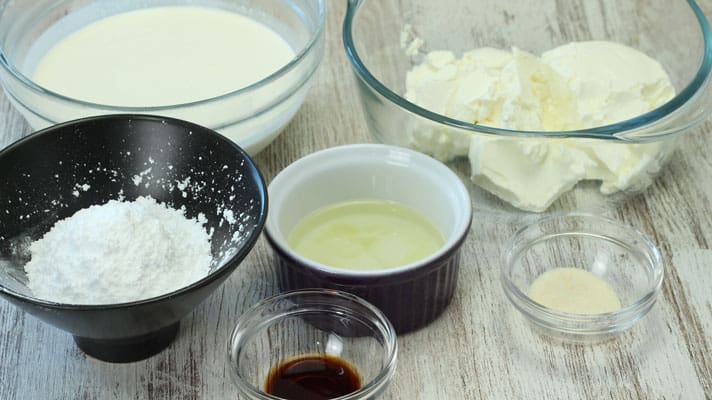 If you're living in a hot place, maybe you would want to give this cream cheese frosting a try. It's worth it.
This cake is perfect for get-togethers or when you're feeling a bit fancy. I hope you give it a try. Enjoy!
More Cake Recipes
Recipe Video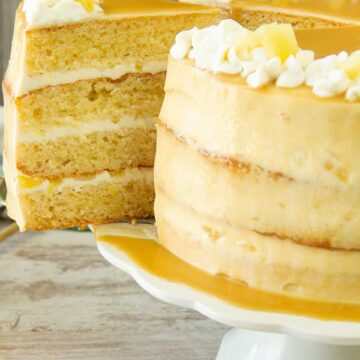 Caramel Pineapple Cake
Soft and moist pineapple cake layered with creamy cream cheese frosting and pineapple chunks and then bathe in caramel. Oh la la! Try it 🙂
Print
Pin
Rate
Ingredients
The Cake
2 ½

cup

all purpose flour

1

tablespoon

baking powder

¼

teaspoon

baking soda

¼

teaspoon

salt

4

eggs

, room temperature

1 ½

cup

granulated sugar

2

teaspoon

vanilla extract

1

cup

Sunflower oil

¾

cup

pineapple flavour greek yogurt

(

190

gr), room temperature & don't use low fat yogurt

1

cup

chopped pineapple

(

250

gr)
The Caramel
⅓

cup

unsalted butter

(

75

gr)

⅓

cup

brown sugar

(

50

gr), compacted

⅓

cup

granulated sugar

(

65

gr)

½

teaspoon

salt

1

teaspoon

vanilla extract

½

cup

whipping cream min 35% fat

(

125

ml)
The Frosting
1 ⅓

cup

whipping cream min 35% fat

(

330

ml), chilled

10.5

oz

full fat cream cheese

(

300

gr), room temperature

½

cup

icing sugar

(

60

gr), sifted

1

teaspoon

vanilla extract

¼

cup

pineapple juice

(

60

ml)

½

tablespoon

gelatin powder

(

4

gr)
Instructions
The Cake
Sift the flour, baking powder, baking soda and salt into a bowl. Set aside.

In another bowl, whisk eggs and sugar until the mixture turns pale in color. Then add in vanilla extract, yogurt and sunflower oil. Mix until well combined.

Add in previously sifted flour mixture and mix just to combine. Don't over mix to avoid hard and dense cake. Divide the batter evenly into 2 pans of 9 inch (23 cm). Grease and line the bottom of the pan with baking sheet beforehand.

Bake in a preheated oven at 320ºF (160ºC) for 25 minutes or until fully cooked. Cool the cakes completely on a rack.

Optional: Remove the crust all around the cakes by placing a smaller size plate on top and cut all around.

Then slice each cake evenly into 2 pieces, leaving us with 4 pieces of cakes. Wrap them with cling films to avoid them getting dry while we proceed with the rest.
The Caramel
Put a pan on medium heat and add in unsalted butter, brown sugar, granulated sugar and salt. Stir continuously and cook until the sugars are dissolved.

Then in vanilla extract and pour the cream bit by bit while stirring. Continue cooking until the sauce thickens slightly. It's going to thicken more as it cools. Cool completely. Then place in the fridge so that it thickens more (thick enough to pour on the cake).
The Frosting
Whisk whipping cream in a bowl until stiff peaks. Set aside.

In another bowl, whisk cream cheese until fluffy. Then add in icing sugar, vanilla extract and mix until well combined. Set aside.

Sprinkle gelatin powder into pineapple juice. Leave for the gelatin to soak for 5 minutes. Then heat in microwave until it's fully dissolved. You can also heat it using double boiler.

Add 1-2 teaspoon of cream cheese mixture into gelatin mixture and mix well to combine. Then pour the gelatin mixture into the cream cheese mixture and mix everything well together. Lastly add in previously prepared whipped cream and fold everything well to combine. Set aside.
Assembling
Place a piece of cake in a serving plate. Pipe some frosting on it. Then sprinkle ⅓ of chopped pineapple. Place another piece of cake and repeat until the 4th cake, leaving the final top empty.

Frost the cake using the rest of the frosting. Then slowly pour the thickened caramel on top so that it coats the whole cake. Decorate with some whipped cream and pineapple pieces, if you wish. Enjoy!
Notes
You can prepare and frost the whole cake 1 day earlier and keep it in the fridge. The cake taste better the next day. Take the cake out from the fridge to room temperature and then continue coating it with the caramel and final touches.
Nutrition Facts
Calories:
561.7
kcal
,
Carbohydrates:
53.1
g
,
Protein:
6.8
g
,
Fat:
36.6
g
,
Saturated Fat:
14.8
g
,
Cholesterol:
103.5
mg
,
Sodium:
297.3
mg
,
Potassium:
130
mg
,
Fiber:
0.7
g
,
Sugar:
36.3
g
,
Calcium:
109.7
mg
,
Iron:
1.4
mg