I'm going straight to the point. You have got to try these homemade chicken murtabak or flatbreads. They are super unique and delicious, trust me.
Murtabak has several other similar names like mutabbaq, and martabak, depending on the location. It's a type of stuffed pan-fried flatbread with Arabic influences. Already sounds fancy and yum!
It's famous in my home country, Malaysia and today I'm sharing with you my version *wink*.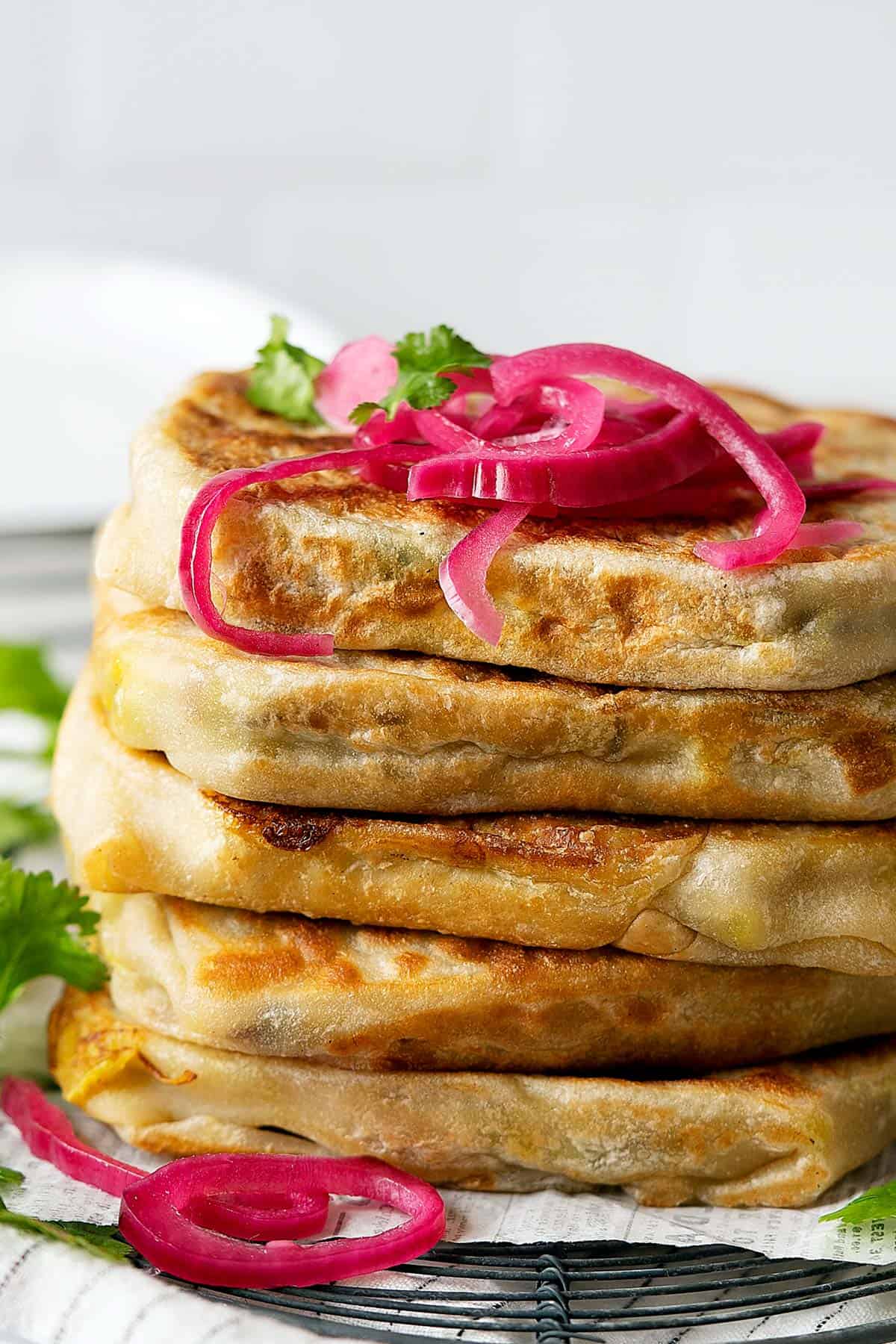 Jump to:
Recipe Highlights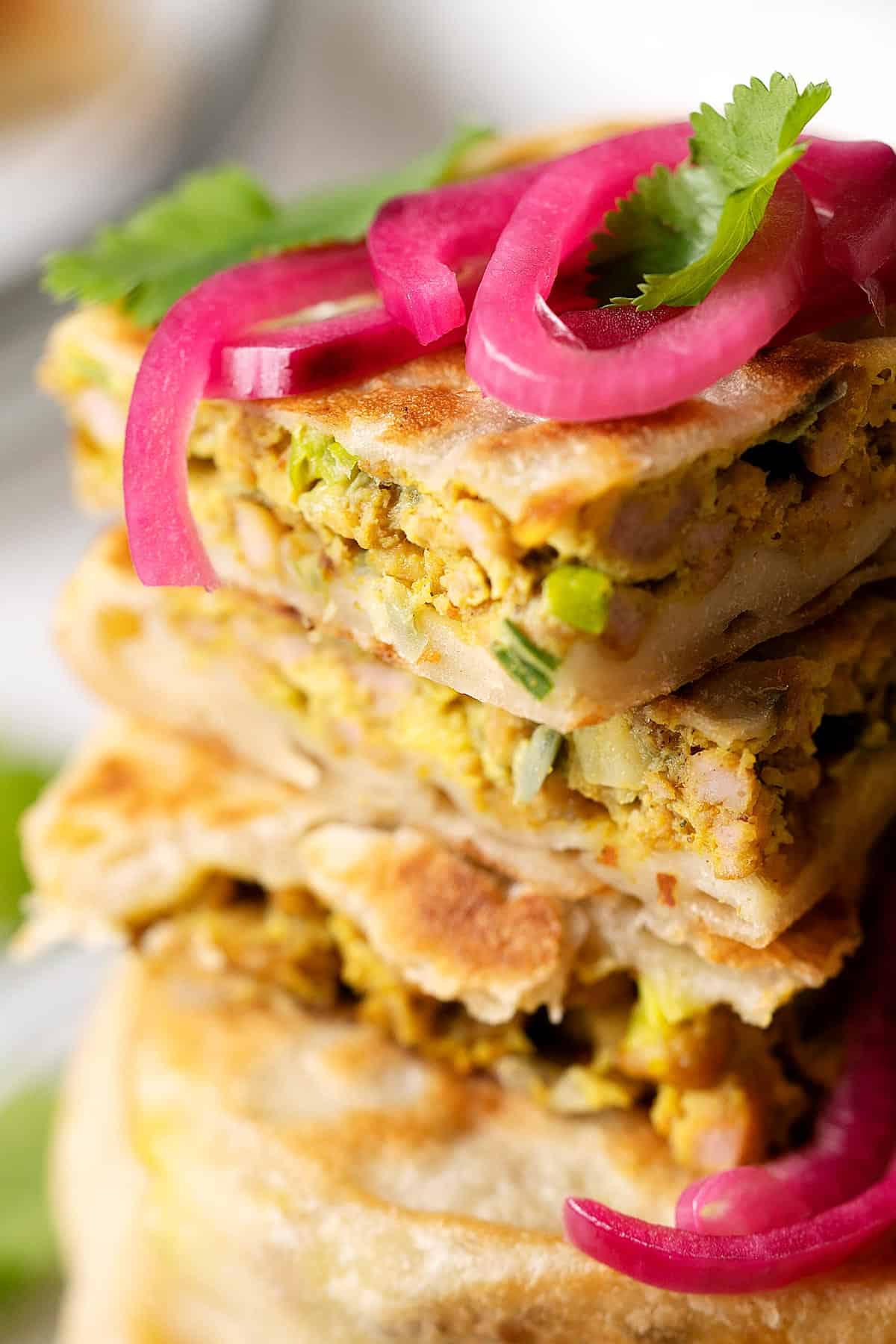 Texture and flavour - Crispy skin flatbread, when hot, with soft pancake-bread texture, stuffed with chicken cooked in wonderful spices and curry, with lots of fresh spring onion.
Level - Easy towards intermediate. The filling is super easy to prepare, no worries. Working with the dough might make you hesitant a bit, but please don't. Once you get the hang of it, it's a breeze. I will walk you through it in detail below and you can always watch the video tutorial.
Size - 12 individual size pieces.
Occasion - Perfect for a weekend project with the family when you have some time, or whenever you want to impress and show off your secret culinary skills *wink*.
Lets Talk Ingredients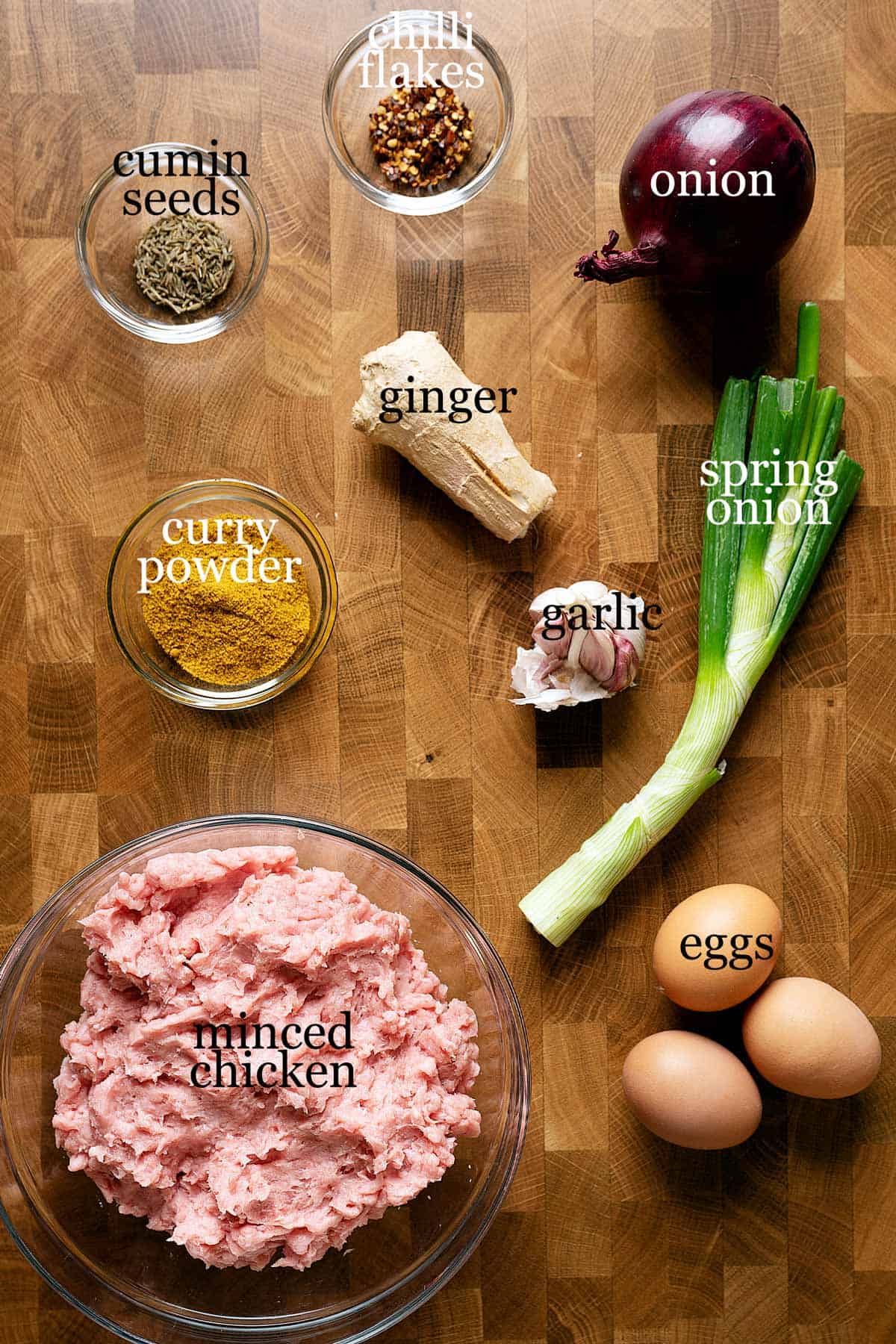 For the dough, I'm using my Malaysian roti canai flatbread recipe. It's a no-fail, many of you have made it, tagged and sent me amazing photos *high-five!*.
Minced chicken - You can use a chicken-turkey combo or minced beef. No worries. I do have a beef murtabak recipe if you're interested.
Curry powder - I'm using mild curry powder. Use whatever you have, no problem at all. Madras curry powder has a wonderful heat to it if you're into spicy food. Or simply add more chilli flakes.
Chilli flakes - for that subtle lovely heat. Skip or add to your liking.
Cumin seeds - you can add the same amount of cumin or coriander powder together with curry powder.
SUBSTITUTION: Use the same amount of fennel, coriander or caraway seeds, or one star anise. Not totally the same but they work.
Red onion - for the texture. Use any type of onion, no problem.
Spring onion - or green onion, adds that fresh touch to the filling. Try your best to use it.
How To Knead By Hands
I use my trusty stand mixer Kitchenaid because it makes life easier *wink!*.
But hey, it doesn't mean that it cannot be done without it. Read below if you want to knead by hand:
just know that it'll take a bit more effort and time.
the dough will be soft towards sticky at first, but in time after a good kneading it will be firmer.
very lightly grease you hands with some oil if it gets too unmanageable.
knead for 15-20 minutes, rest for 10 minutes, knead for another 10-15 minutes.
kneading time varies depending on the way you knead, but you need to get the windowpane stage where when you grab some dough and stretch it, it gets transparent without breaking the dough.
Tips To Stretch The Dough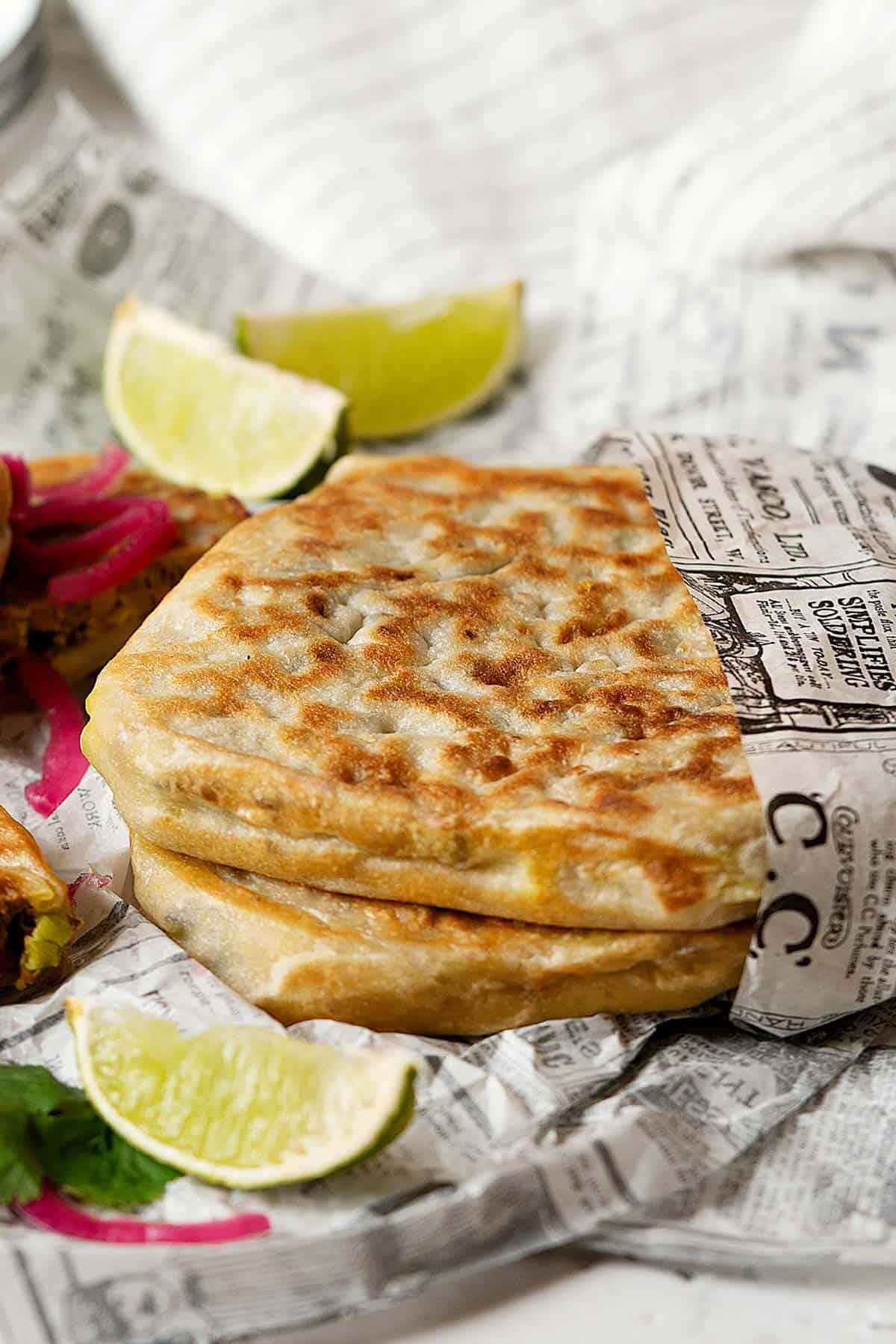 Don't change anything in the roti canai flatbread recipe and you'll get a wonderful dough to work with, trust me.
The idea or objective of stretching a murtabak dough is to get it as thin as possible. Usually, until it's almost transparent that you can see the colour or design of your working counter. Yep.
Here's how you can achieve that.
Room temperature - Bring the dough to room temperature before you start stretching it. Makes your work easier.
Oil - I realised that using oil instead of softened butter when you're stretching the dough, makes it way easier. It means, oil generously your working counter (without making a pool or something). And also oil your hands.
Rolling pin - I don't use it, I use my hands. But if you're not comfortable using your hands, then simply use a rolling pin. Lightly oil it first. Roll it thin into a square and then give some final stretches with your hands.
How To Conveniently Cook Them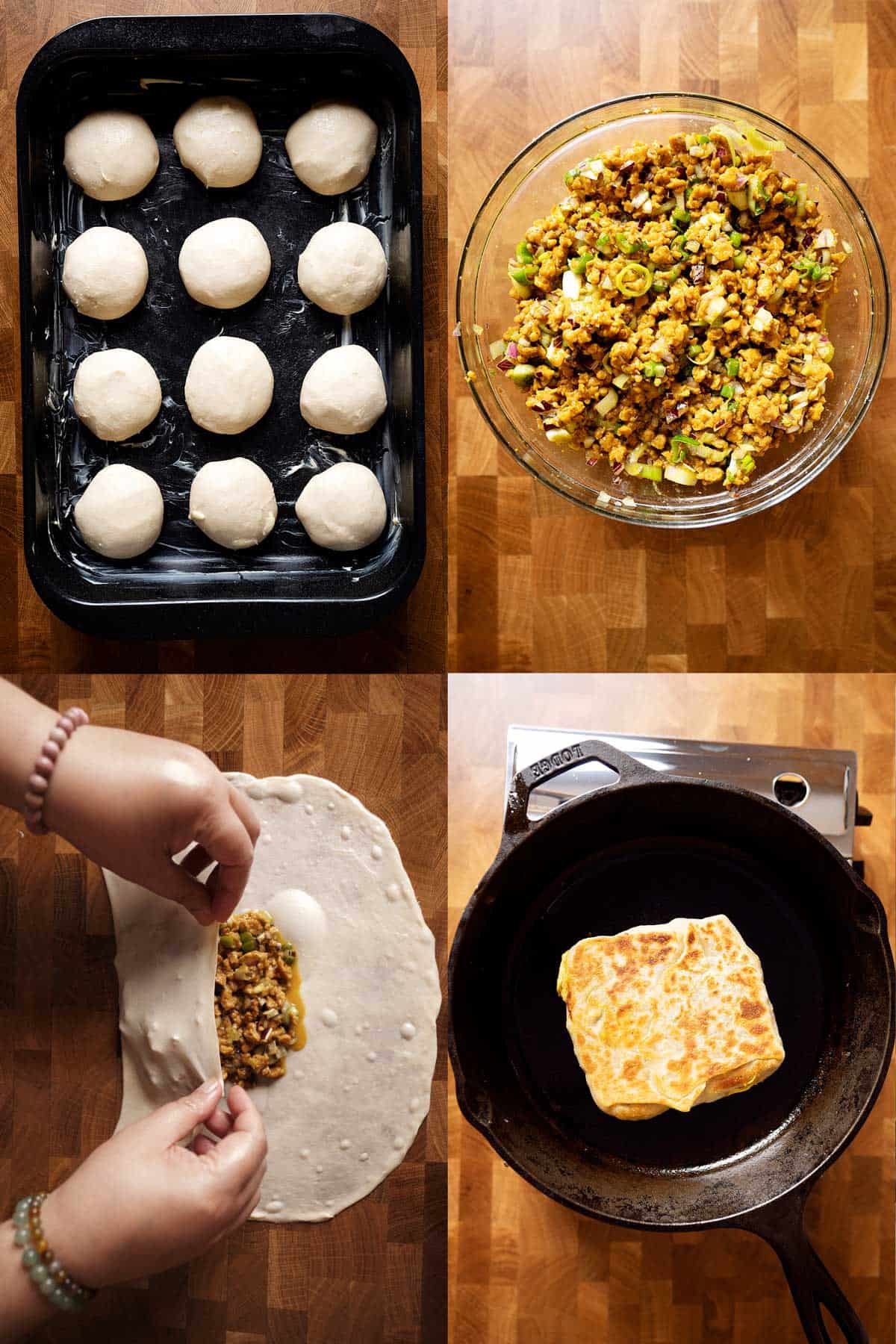 Murtabak is different from the typical flatbread in the sense that the dough is very thin and soft. Here's what I would advise you to do so that it'll be stress-free for you.
First, prepare 3 stations:
1. To stretch the dough
2. To cook
3. To place cooked murtabak
And here's how you should do it.
Cook as you go - Meaning, stretch one ball of dough, fill and fold and then immediately cook it. Once cooked, then repeat with another ball.
Don't let it sit around - cook immediately. Don't let your filled and folded murtabak sit on your kitchen counter for long because then it'll be difficult to lift it up.
Keep warm - Place cooked murtabak under a kitchen cloth or use warm setting in your oven, to keep them warm.
Repeat the process again.
How To Serve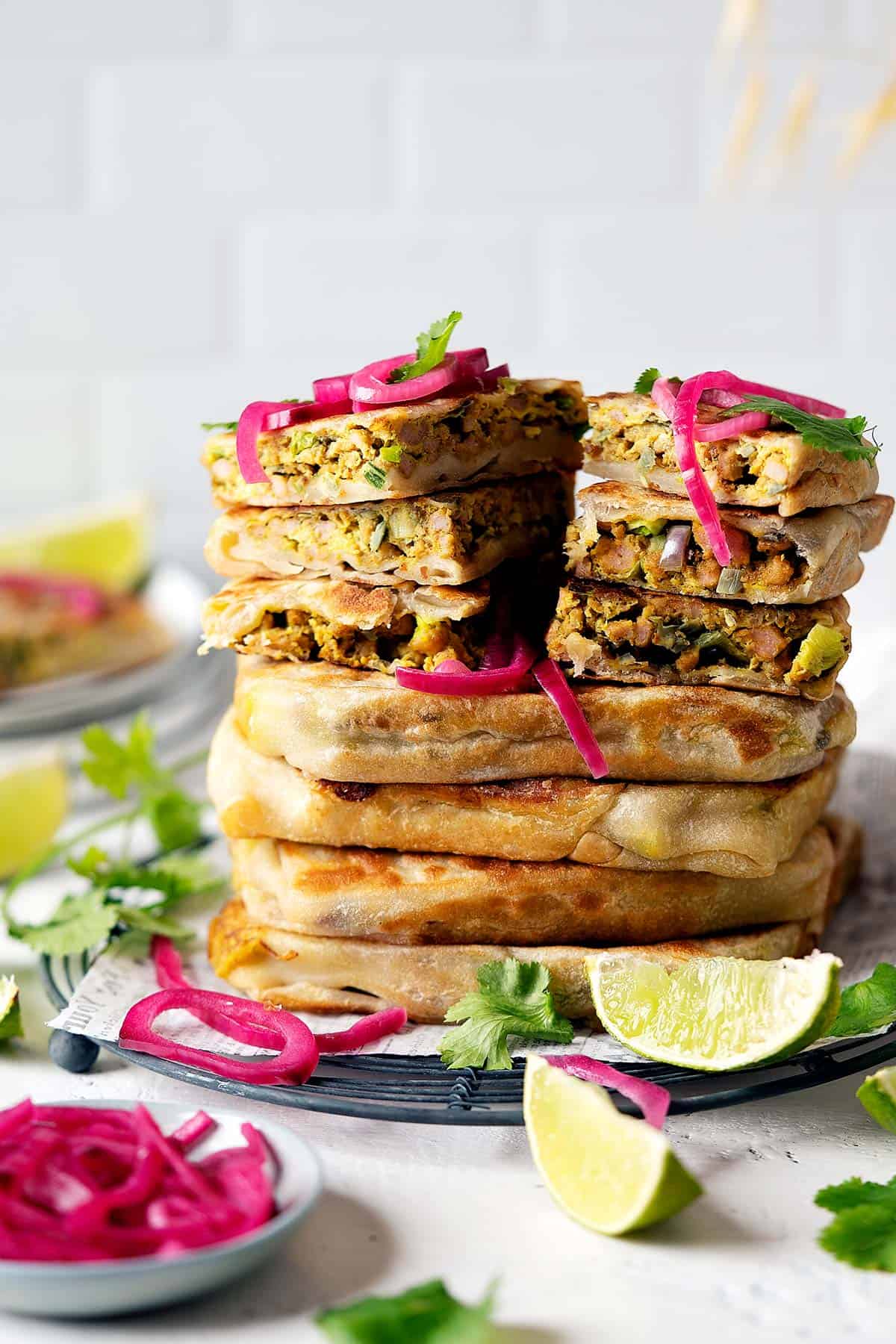 Slice the murtabak into 4 squares or 2 triangles and serve hot or warm.
They're delicious on their own but if you can, serve them with some pickled onion or lentil turmeric curry, some sprinkles of coriander leaves and drops of lime juice.
How To Store
Keep cooked murtabak in an airtight container, in the fridge. Best consumed within 4 days.
For Next Time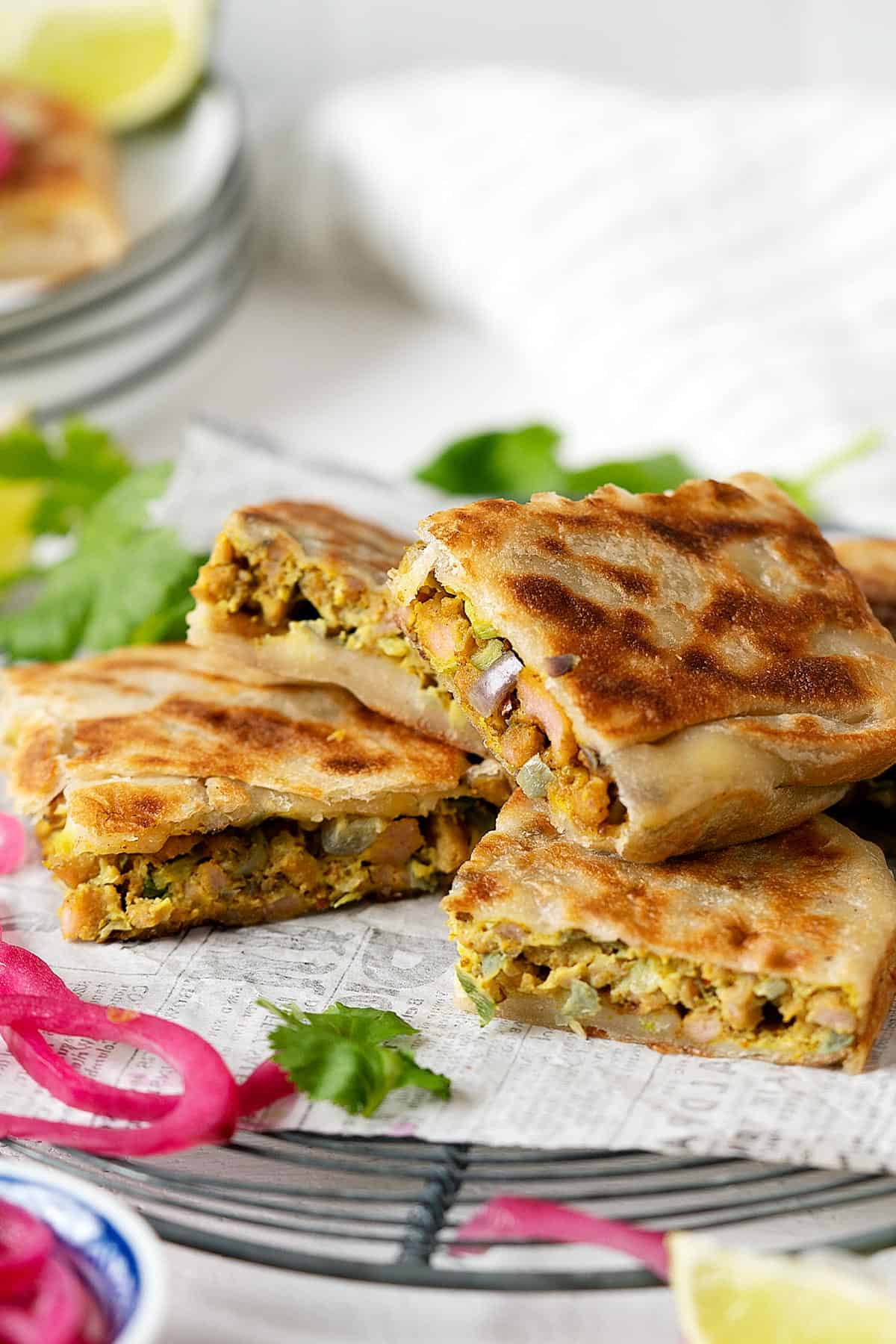 If you don't plan to consume all or want to save them for next week, month or whenever you feel like having them, then do this.
Cook them all
Once cooled, place in a container or wrap individually with a cling film and into a ziploc bag and then freeze. They last good up to 3 months.
Thaw in the fridge. Reheat in a pan or in a preheated oven at 350ºF (175ºC) for 10-15 minutes.
More FlatBread Recipes
Recipe Video
📖 Recipe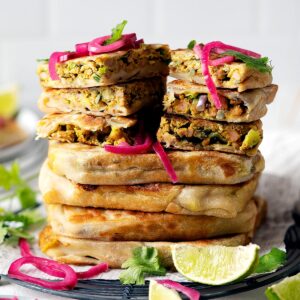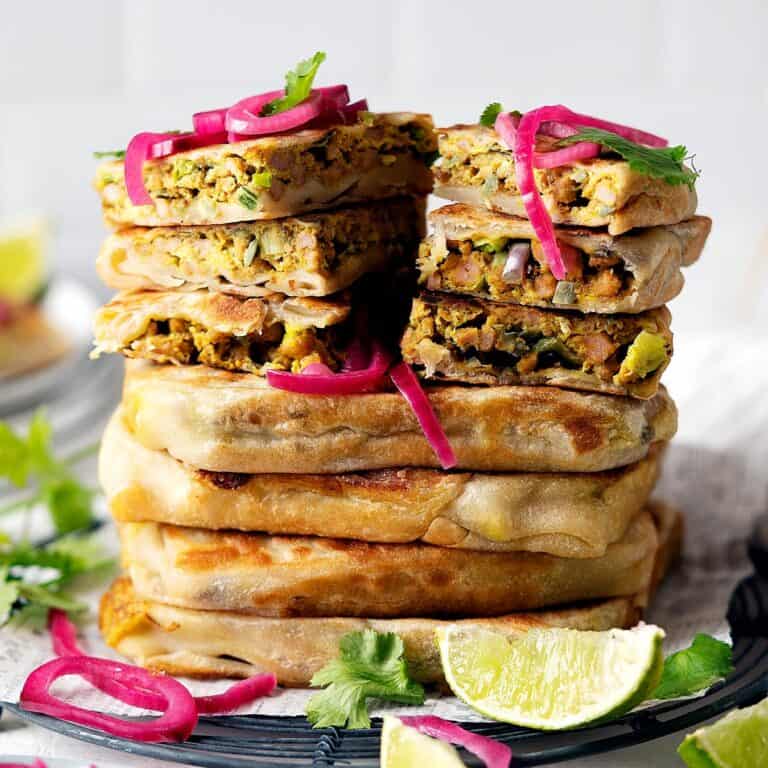 Chicken Murtabak Flatbreads
These chicken murtabak or pan-fried flatbreads are super unique and delicious. Crispy skin, soft pancake-bread texture with flavourful chicken curry filling. Amazing as they are or with some lentil curry, pickled onion and wedges of lime. Do try!
Print
Pin
Rate
Ingredients
Chicken Filling
1

teaspoon

cumin seeds

1

teaspoon

chilli flakes

4

garlic cloves

, minced

1

inch

ginger

, minced

1 ¾

lb

minced chicken

(

800

g)

3

tablespoon

curry powder

(

18

g)

salt and pepper to taste
Others
6

large eggs

2

red onion

, small cubes

2

cup

chopped spring onion (green part)

(

130

g)
Instructions
Chicken Filling
Heat some oil in a pan and add in cumin seeds, chilli flakes, garlic and ginger. Cook until the garlic turns golden brown.

Now add in minced chicken, some salt and pepper. Continue cooking until it's fully cooked, breaking it into small pieces as you go.

Finally add in curry powder, mix and continue cooking for 2 minutes more. Pour into a bowl and leave it cool completely. Once fully cooled and you're ready to make murtabak, add in eggs, chopped red onion and spring onion. Give everything a good mix. Set aside.
Shaping
Heat a pan with some oil, on medium low heat.

Generously oil (not until there's a pool) your working surface and your hands. Place on dough on top and flatten it with your hands into a square shape. Gently grab one edge, lift it up and stretch. Repeat until you get more or less 10 inch (25 cm) square.

Always give the chicken filling a quick mix before using. Spoon some filling onto the center of the dough. Fold the edges like an envelope to secure the filling.
Cooking
Swiftly and confidently lift it up onto your palm and place it on the hot pan, seals side down. Cook for a few minutes until the bottom is golden brown. Flip and continue cooking until the other side is golden brown also.

Use 2 spatulas and mark the 4 sides of the murtabak by placing each side for 30 seconds to 1 minute on the pan. Place cooked murtabak under a kitchen cloth to keep warm.

Continue with the next ball. Refer to my post above on how to serve and store. Enjoy!
Notes
Cooking time given is for 1 murtabak
Over season your filling a bit, since later on we're adding lots of eggs and onions to it.
Refer to my post above for tips on stretching the dough with rolling pin, and more.
Nutrition Facts
Calories:
337.1
kcal
,
Carbohydrates:
36.3
g
,
Protein:
20.8
g
,
Fat:
11.9
g
,
Saturated Fat:
4.4
g
,
Cholesterol:
162.4
mg
,
Sodium:
283
mg
,
Potassium:
495.6
mg
,
Fiber:
2
g
,
Sugar:
2
g
,
Calcium:
47.3
mg
,
Iron:
2.1
mg