Are they biscuits? Are they scones?
They look and taste very similar, don't they?
Maybe today we can clear some things out between these 2 yummy goodness.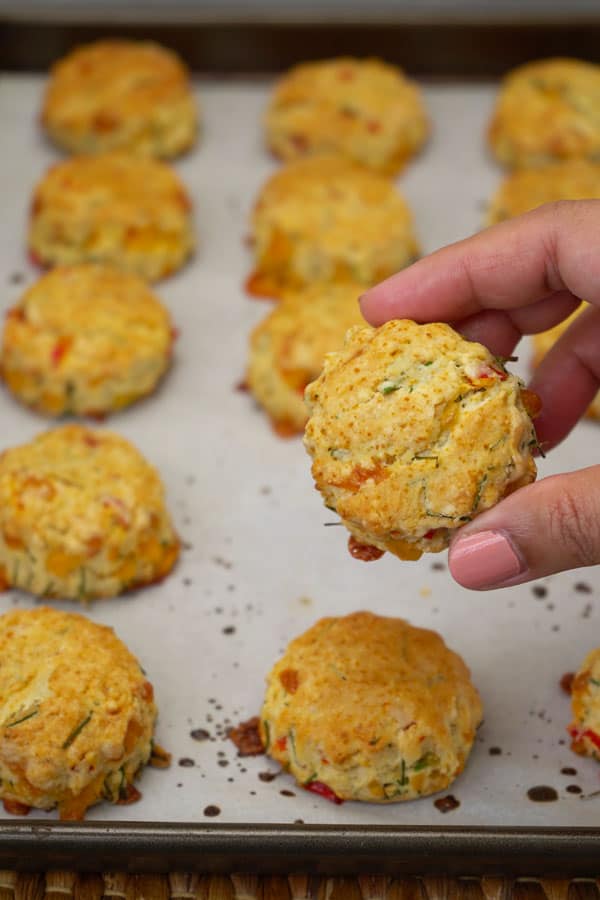 Biscuits Vs Scones
Thought they are extremely similar, there are some tiny differences between them.
Biscuits have less sugar than scones. Some biscuits recipes don't even use sugar. Scones on the other hand are the opposite and tend to be much more sweeter.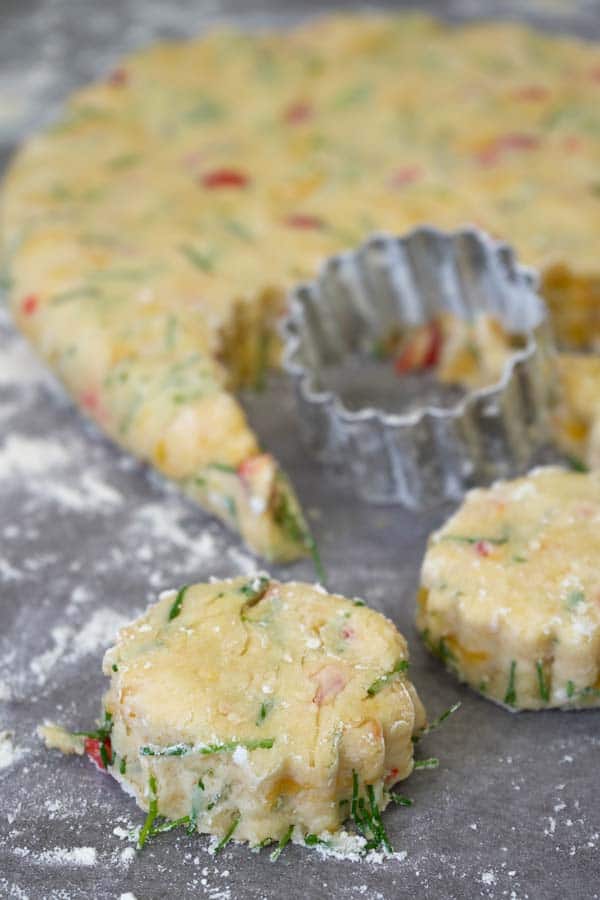 Biscuit recipes don't use eggs but scones do.
Biscuits are known for its round shape where scones are usually in triangles. But yes I know, we can make whatever shapes that we prefer.
Though both biscuits and scones are soft and flaky, biscuits tend to be flakier than scones. Scones have a texture more towards cake-like, maybe from the use of eggs in the recipe.
The truth is, I don't really care for the differences because some food might be called one name in a place and in another place it has a totally different name.
For example my Asian pancake turnover is called Apam Balik in my homeland country Malaysia but in Indonesia it's called Martabak. Martabak for me is a totally different food.
And I love that. Learning food cultures from different countries.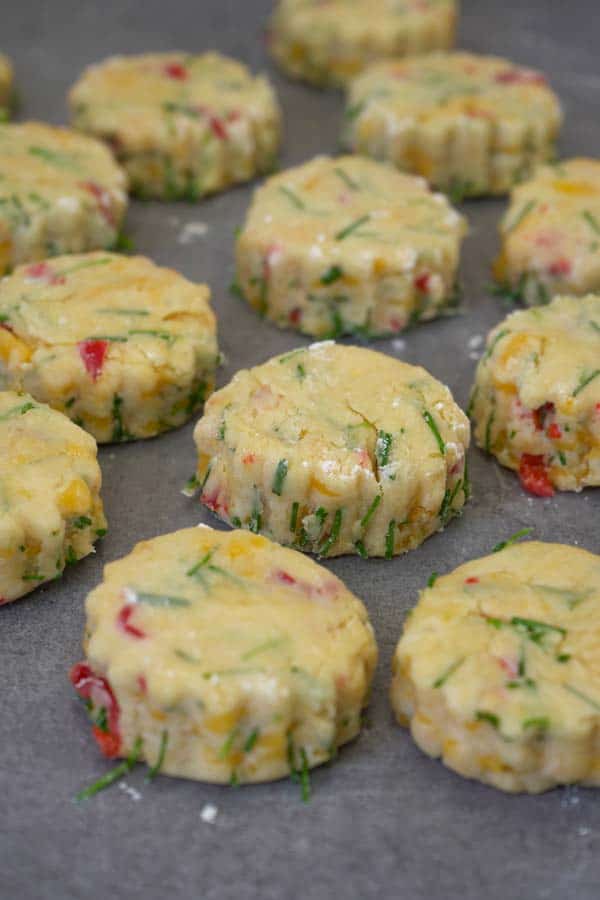 By the way, are you wondering about my Apam Balik (delicious, trust me) and Murtabak recipes? I have you covered.
Click here to see my Asian pancake turnover (Apam Balik) recipe
For my Murtabak recipe click here
And hey, I also have a scone recipe.
Click here to see my vegan orange scones
Yep, that's the recipe for today.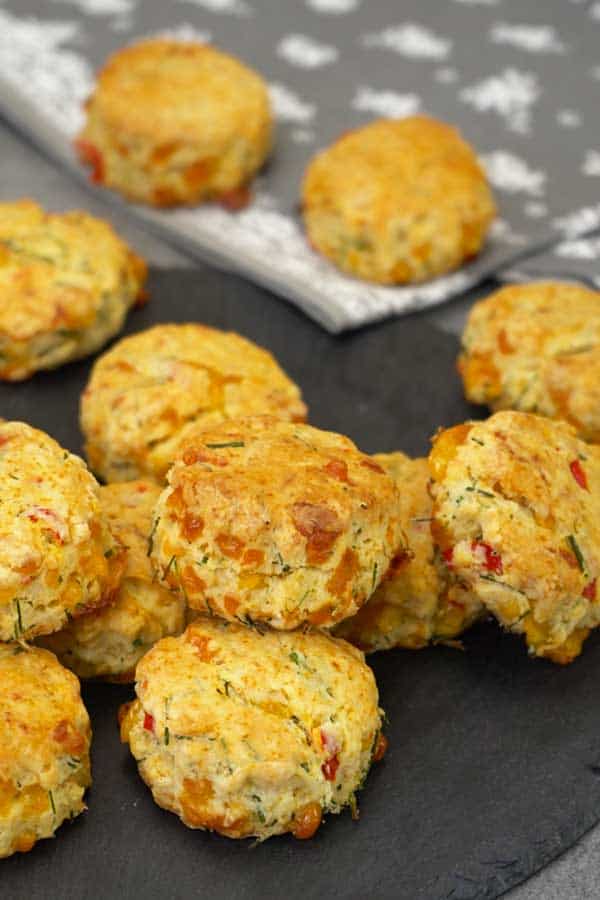 Are you a chili lover? Give me high five please, we should form a chili fan club!
No food is complete without any spiciness in it. Agree?
And that doesn't limit only to stir fry or curries. As you can see, we can also put chili in biscuits. Not only the biscuits taste delicious, they also look pretty.
By the way, the chili that I use in the video (both for recipe and props) are from our small garden. Ohhh.. and the chives also! Yep, from our garden.
This recipe came to be when the other day I was craving for some fritters. I remember my mother used to make variations of fritters according to whatever she had in the fridge. One on my favourite is the one with chili, chives and anchovies. They were simply the best.
And you know how cravings are, one thing led to the other and then I thought, hey why don't I incorporate those essence into something of a western food. And then these biscuits were born.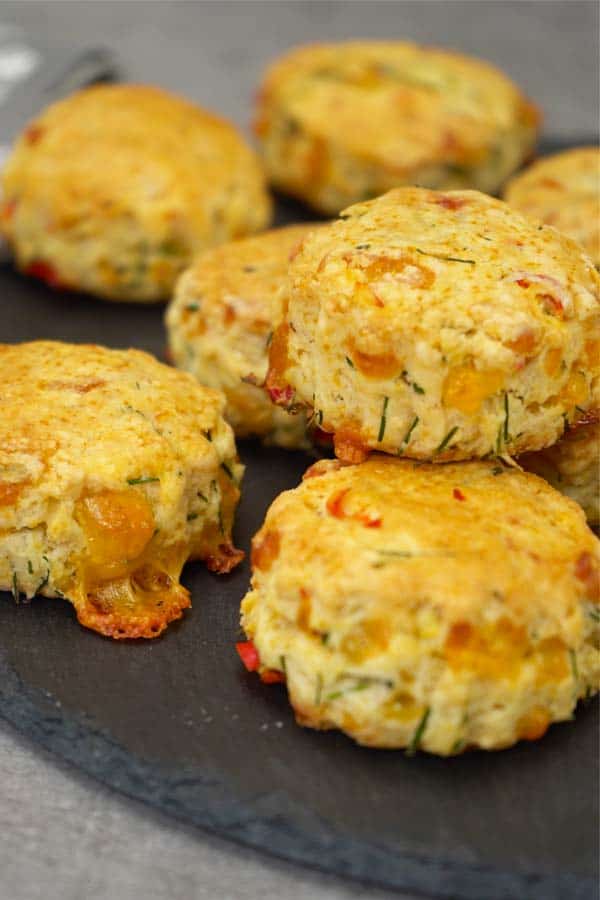 I thought putting anchovies in biscuits is pushing it too far. Haha! So I'm using cheddar for that saltiness touch to replace anchovies. If you're into cheese, then I'd recommend my Brazilian cheese bread, it's delicious!
If you're up for trying new things, you can use anchovies. Why not?
Ok going back to the biscuits.
The only tip that I have to tell you is, do not over work the dough. Just lightly mix and lightly knead. Not over working the dough will make the biscuits soft and flaky.
Ok 2 tips. Also, use cold butter and milk. If your kitchen is hot, put the biscuits for a few minutes in the fridge before you bake them.
That's all my friend. Hope you'll give these delicious biscuits a try. Remember to eat them warm! Enjoy!
Video
📖 Recipe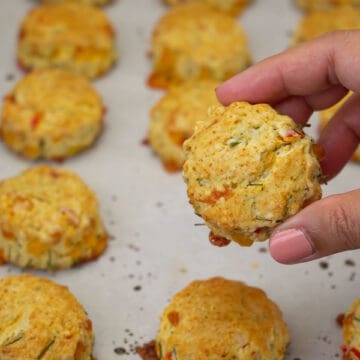 Chili Cheese Flaky Biscuits
Unique and delicious chili and cheese flaky biscuits. These biscuits are so simple to make with only a handful of ingredients but the result is just wonderful. Serve them warm, ohh la la! Enjoy!
Print
Pin
Rate
Ingredients
¼

cup

chopped chives

(

10

gr)

1

red chili

, chopped

1 ½

cup

all purpose flour

(

195

gr)

½

tablespoon

baking powder

½

tablespoon

sugar

½

teaspoon

salt

1

teaspoon

garlic powder

½

cup

shredded cheddar

(

60

gr)

⅓

cup

unsalted butter

(

75

gr), cubed and cold

⅓

cup

milk

(

80

ml), cold

some milk

, for brushing
Instructions
Add flour, baking powder, garlic powder, sugar and salt into a bowl. Mix well. Then add in cold butter and massage the butter into the flour using your fingertips. You will be left with a mixture of coarse crumbs.

Add in cheddar, chili, chives and mix well. Then add in milk and lightly mix.

Pour everything on a floured working surface and lightly knead to bring everything together. Don't over knead to avoid hard biscuits.

Form a disk with ¾ inch (2 cm) thickness. Using a 1 ¾ inch (4.5 cm) cookie cutter, cut out circles from the dough. Re roll the dough as needed.

Place the circles on a baking tray with a baking sheet. Brush the top surface with some milk. Bake in a preheated oven at 430ºF (220ºC) for 12 minutes or until golden brown and fully cooked. Serve warm, enjoy!
Nutrition Facts
Calories:
109.8
kcal
,
Carbohydrates:
11.4
g
,
Protein:
2.6
g
,
Fat:
6
g
,
Saturated Fat:
3.6
g
,
Cholesterol:
16.1
mg
,
Sodium:
151.1
mg
,
Potassium:
41.3
mg
,
Fiber:
0.4
g
,
Sugar:
0.9
g
,
Calcium:
63.6
mg
,
Iron:
0.7
mg