This is one dessert with many names but today we're going to refer to it as chocolate creme caramel.
Imagine soft silky smooth texture chocolaty goodness in caramel sauce.
Yep.
Well.. let's get on with today's recipe!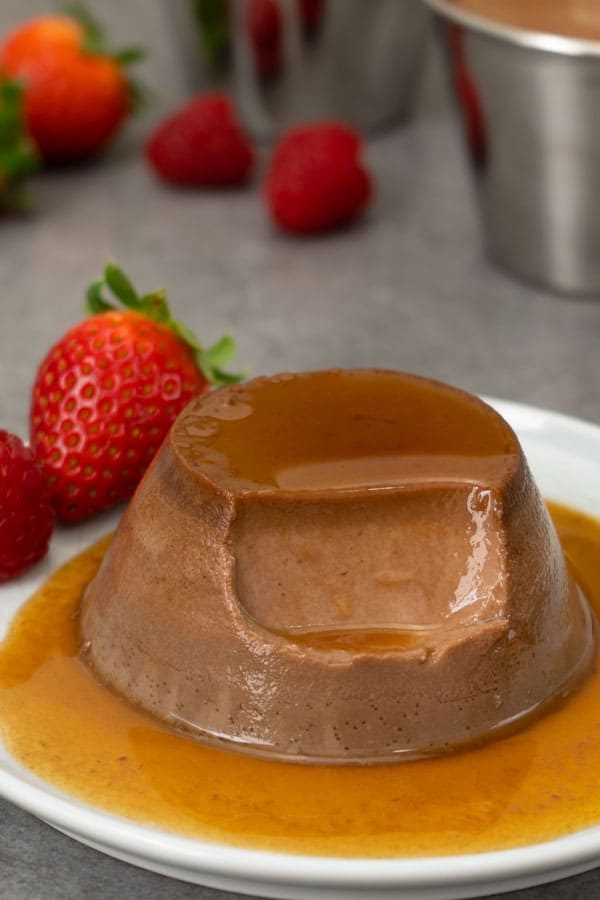 What Is Creme Caramel
It's a French word but it's also known as flan, caramel pudding or custard pudding.
It's a dessert that consists of 2 components. The creme or custard and the caramel.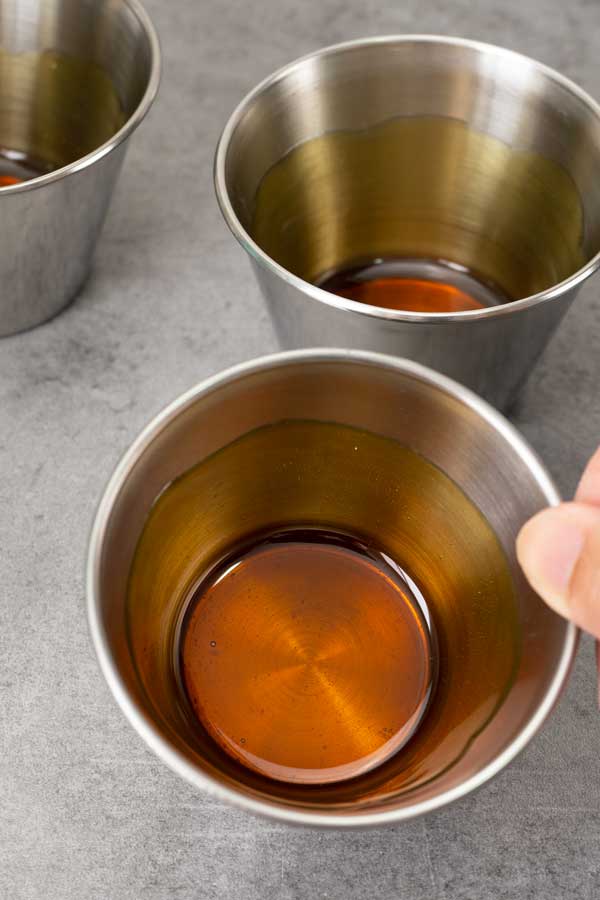 In Spanish speaking countries, it's commonly known as flan.
Creme caramel can be with many different flavours. You can enjoy it plain, which in Spanish it's referred as flan de huevo (egg creme custard).
There are other flavours such as coffee, cheese and chocolate. The recipe that we will be making today.
Creme caramel is cooked using bain-marie method. It means water bath cooking where you place the containers with the creme caramel in hot water and then bake them slowly in the oven.
Once cooked, the creme caramel needs to set further in the fridge, preferably overnight.
And then to serve, you flip the creme caramel on a plate. Watch the caramel oozing down on the plate. Yum!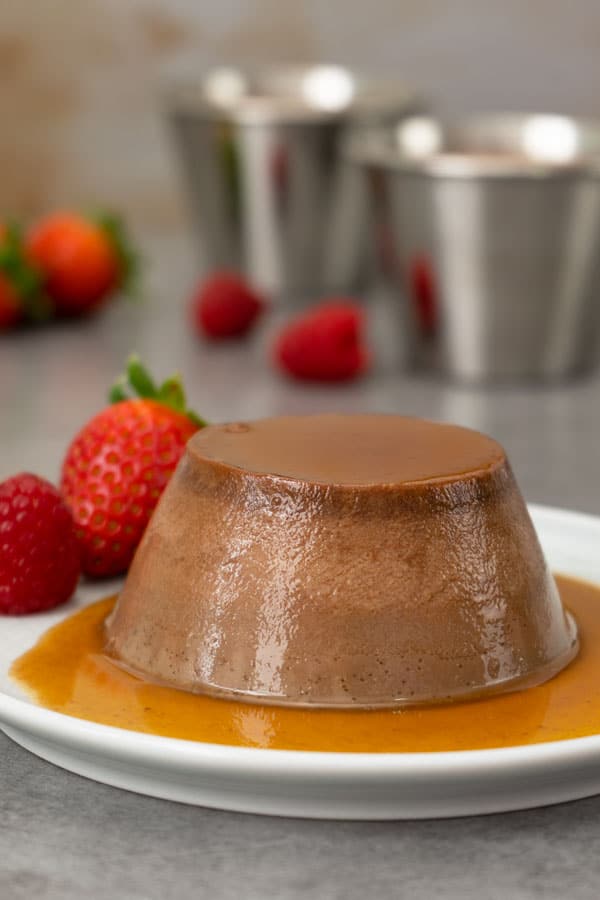 Tips On How To Flip Creme Caramel Successfully
As you can see for yourself from the pictures, the creme caramel is silky, smooth, creamy and soft.
So flipping the container needs a bit of a technique if you want the final look to be super elegant. Nothing broken or whatsoever.
Here are some tips:
release from container - use the back of a spoon and gently push down just a bit, the top edge of the creme caramel to help release it from the container
warm water - dip the creme caramel container for a while in warm water. This will help melt the caramel inside the container and loosen it
slow fire - if your container is huge, then briefly pass the bottom of the container on slow fire. This will slowly melt the caramel and loosen the creme caramel
shake shake shake - yes, you need to place a plate on top of the container, flip it and shake. Just don't go crazy because remember, the texture of creme caramel is delicate. You don't want to break it.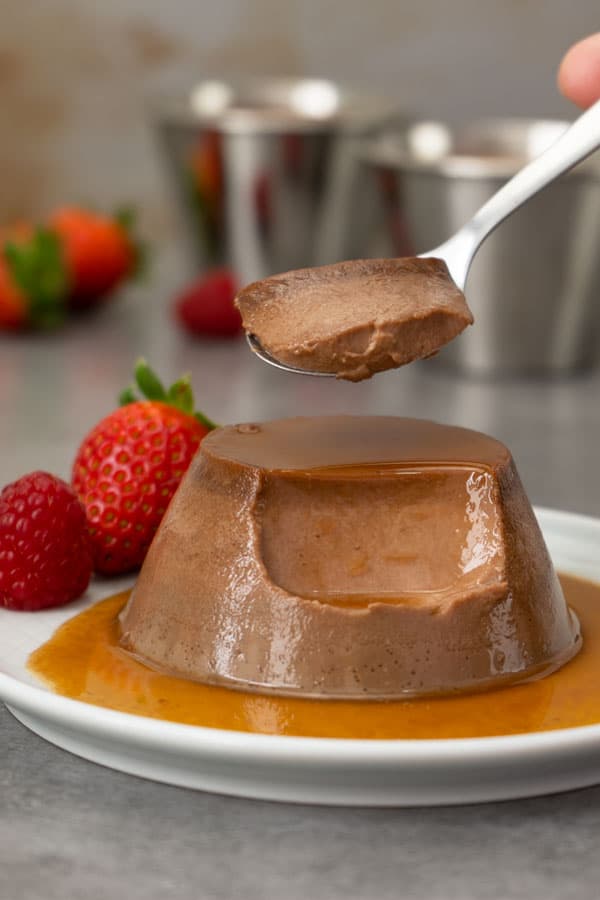 In Summary
These chocolate creme caramel are:
with soft, silky, creamy and smooth texture
easy to prepare, just basically mixing this and that
with just a few easy ingredients
definitely better than store-bought ones
SUPER YUMMY!!
Before You Go
Maybe these recipes would also be of an interest to you:
Video
📖 Recipe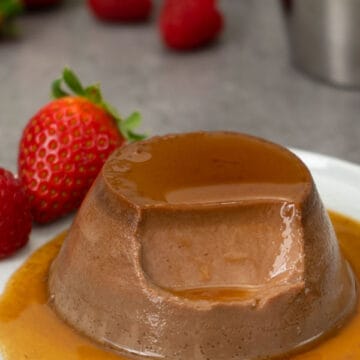 Chocolate Creme Caramel
Silky smooth and creamy chocolate creme caramel. Just a few ingredients and super easy to prepare. It's fun to make and definitely better than store bought ones.
Print
Pin
Rate
Ingredients
The Caramel
1

cup

sugar

(

200

gr)

¼

cup

water

(

60

ml)

1 ½

teaspoon

lemon juice
The Chocolate Creme
¼

cup

unsweetened cocoa powder

(

30

gr)

2

cup

full fat milk

(

500

ml), room temperature

4

eggs

, room temperature

14

oz

condensed milk

(

400

gr)

1

teaspoon

vanilla extract

⅛

teaspoon

salt
Instructions
The Caramel
Add all caramel ingredients in a pot and cook on medium heat, untouched, until it turns amber color.

Carefully divide the caramel into 6x1 cup (250 ml) container. Holding the tip of the container, carefully swirl so that the caramel coats ½ way the inner wall of the container. Set aside.
The Chocolate Creme
Add bit of milk into cocoa powder and mix, turning it into a lump free thick mixture. Add milk bit by bit as you go.

Then add the mixture to the rest of the milk and mix well to combine. Set aside.

Into a bowl, add in eggs, condensed milk, vanilla extract and salt. Use a hand whisk and gently mix everything together.

Then pour in milk mixture into the eggs mixture. Again, gently mix everything just to combine. Sift the mixture to discard any lumps. Pour into prepared containers, leaving a bit less than ½ inch (1.3 cm) space to the brim.

Cover each container with aluminium foil and then place them in a deep baking tray. Pour hot water until ½ way of the baking tray, using bain-marie method.

Bake in preheated oven at 280ºF (140ºC) for 60 minutes or until cooked and set yet still wiggly. Remove from the hot water and leave to cool to room temperature. Then chill in the fridge overnight or minimum 8 hours.
How To Get Silky Smooth Texture
Don't over whisk the mixture or whisk it harsh. Always mix gently. Over whisking will incorporate air inside the mixture, creating bubbles when cooked.

Always use low temperature.
How To Know When Creme Caramel Is Cooked
Check after minute 30 of cooking time by gently inserting a knife inside the creme caramel mixture. If it comes out clean, then it's cooked.

Keep checking every 10 minutes after that.

The creme caramel should still be wiggly when it's fully cooked. If it's not wiggly then it's over cooked.

Do not over cook creme caramel, this will result in dense and not silky smooth texture.
How To Successfully Flip Creme Caramel
Soak the bottom half of creme caramel container in warm water for a while. This will help to melt the caramel, making it easier to detach from the container.

Place a serving plate on top and then flip. Give it a few hard shake, just don't go crazy :D. The creme caramel should slide right down on the plate.

Read more tips in the above post.
How To Serve
Serve this delicious chocolate creme caramel as is, or for an additional touch, serve it with some berries of your choice.
Nutrition Facts
Calories:
452.3
kcal
,
Carbohydrates:
77.7
g
,
Protein:
12.5
g
,
Fat:
11.9
g
,
Saturated Fat:
6.5
g
,
Cholesterol:
141.9
mg
,
Sodium:
209.2
mg
,
Potassium:
475.4
mg
,
Fiber:
1.4
g
,
Sugar:
75.6
g
,
Calcium:
315.7
mg
,
Iron:
1.2
mg