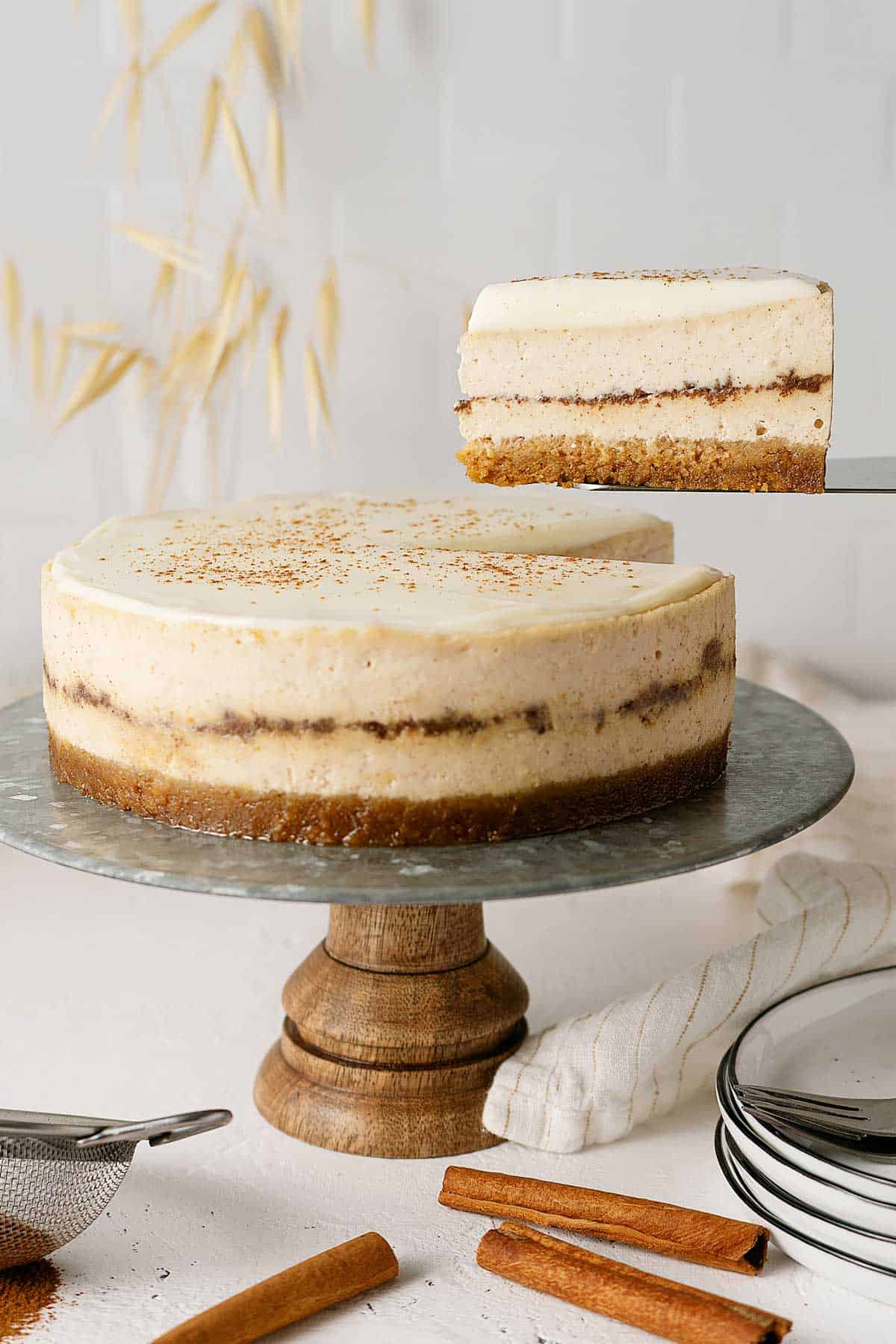 Yes, you read it right. Today we're going to get up close and personal with this heavenly delicious cinnamon roll cheesecake!
Our cheesecakes are super hits amongst our readers and I'm super excited that this one is joining in the cheesecake family *wink*. Let's break this beauty down fast, shall we?
The base - buttery digestive biscuits with that slight saltiness touch to it.
The filling - smooth luscious and creamy filling with a wonderful cinnamon flavour, with a cinnamon roll layer in between.
The cinnamon roll layer - the exact flavours that you get with your cinnamon rolls; buttery, cinnamony with caramel touch.
Fall and everything hearty, here we come!
Lets Talk Ingredients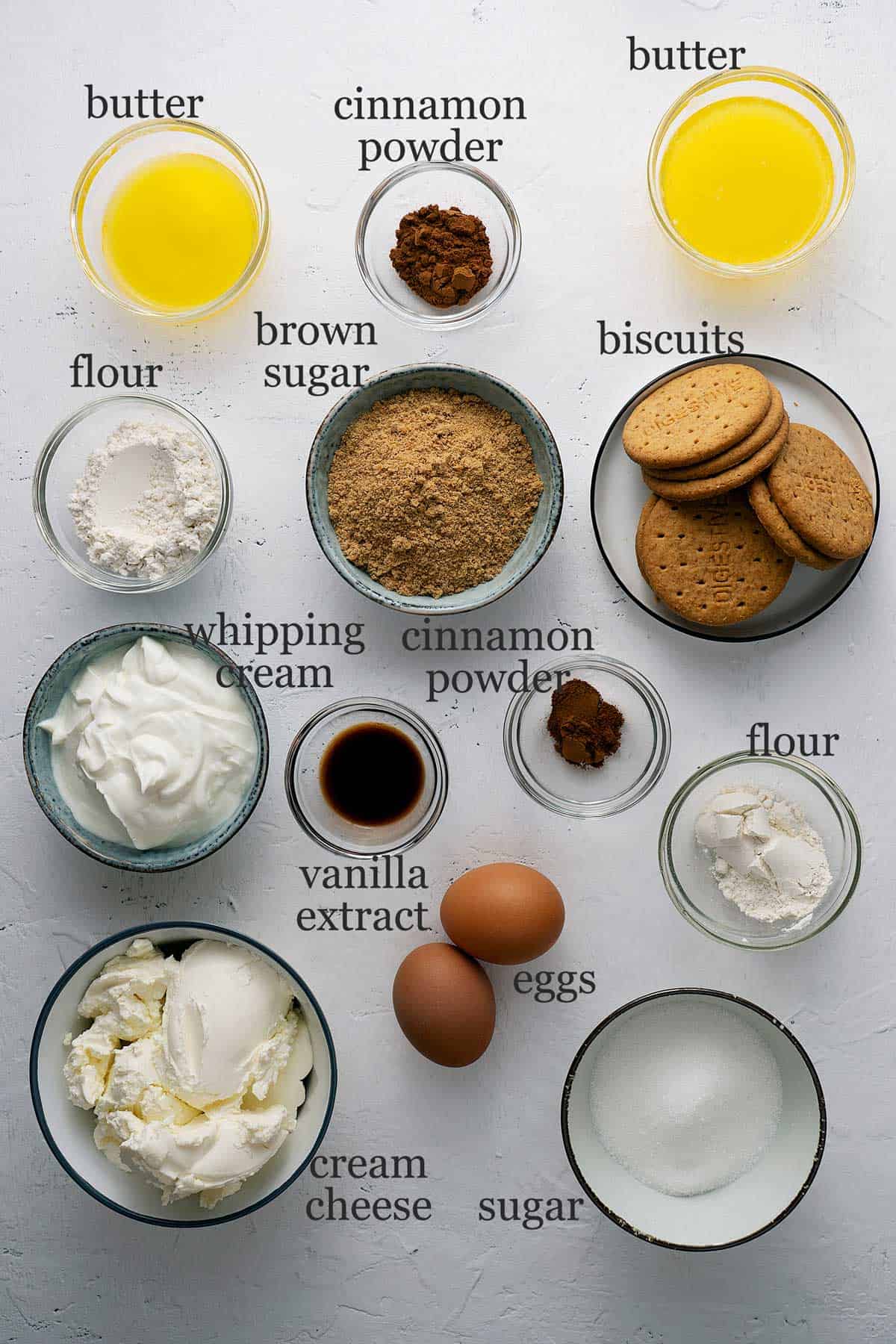 There are several components to this cheesecake. But no worries, they are all basic ingredients nothing fancy, mind you.
The Base
Digestive biscuits - my favorite to use as cheesecake base for its slight saltiness touch (you can read my post on what are digestive biscuits). But of course, you can use graham crackers, Oreos, or whatever biscuits that you fancy.
Butter - I use unsalted butter since digestive biscuits already have that saltiness touch. Salted butter works fine also, if you don't mind it.
The Filling
Cream cheese - full fat cream cheese, please. Not whipped ones also.
Greek yogurt - full fat also, please. You can use sour cream also, no problem.
Sugar - I use granulated sugar.
Eggs - large (L) sized eggs.
Cinnamon powder - I like to add it in the filling also, apart from adding it into the cinnamon roll layer. I think it boosts the overall flavour of the cheesecake. If you're not such a fan, then skip it. But don't skip it in the cinnamon roll layer because then, what's the point. Right?
Brown sugar - I use unrefined brown sugar for the cinnamon roll layer. You can use any brown sugar or white sugar, no problem at all. Just know that brown sugar gives it a touch of caramel flavour.
Flour - use all purpose flour. I haven't tried with corn starch so I can't say if it'll work the same.
Vanilla extract - it really adds the flavour in this cheesecake so don't skip it.
The Topping
Powdered sugar - or also known as confectioners or icing sugar.
Cream cheese - I use full fat cream cheese, the same as the filling.
Please use the ingredients mentioned in the recipe card below with no substitution, unless specified.
Tips For No-Cracks Cheesecake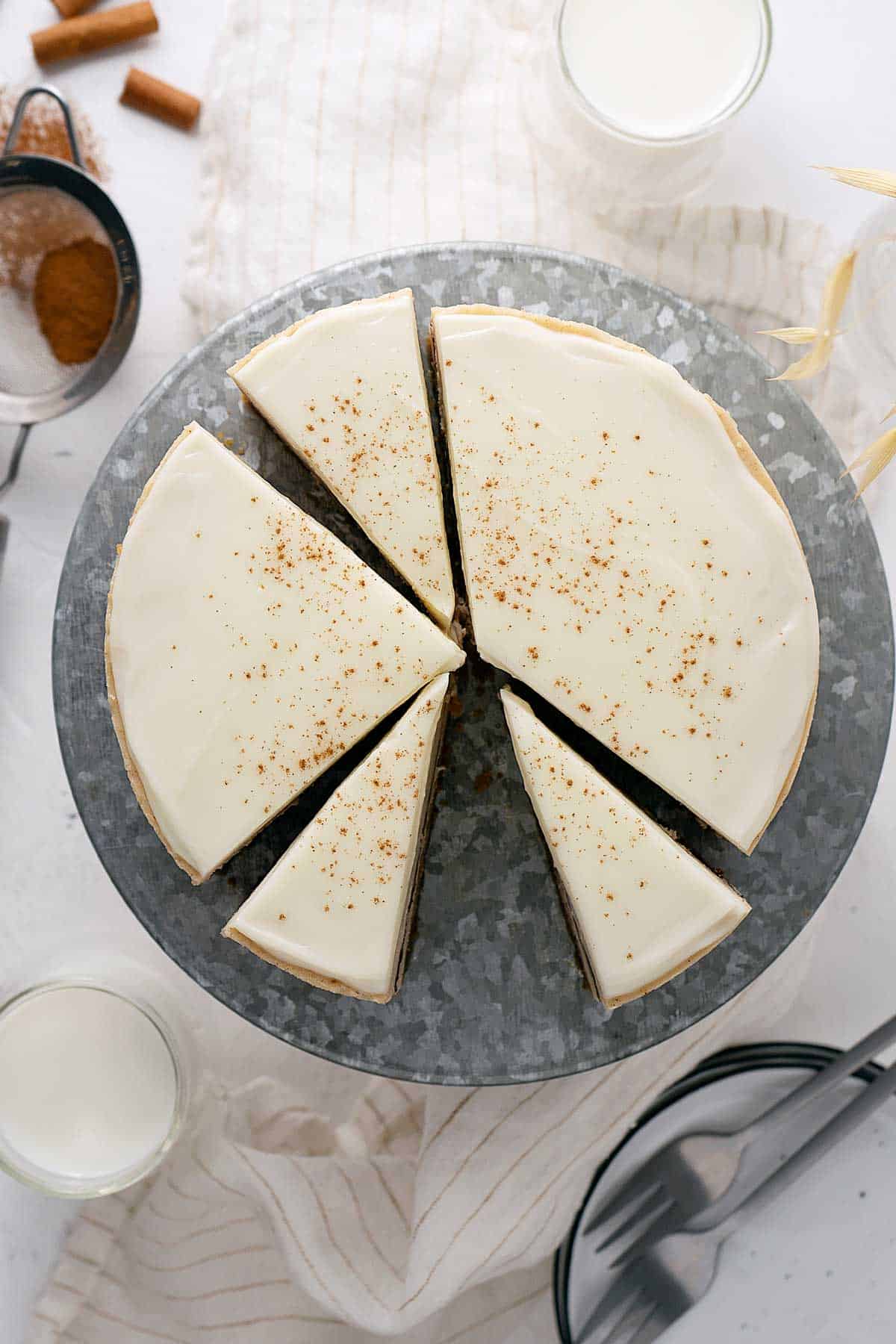 So the beauty of a cheesecake is when it doesn't crack or collapse after baking, don't you agree?
I don't like to use bain marie method because it's too much hassle for me. Haha! More when I can successfully bake a cheesecake without cracks just as is. Why bother then, right?
I have several habits or you can call it routines, that I follow whenever I'm making a baked cheesecake. Thought I'd share them with you so that you can make your cheesecake stress free and enjoy the result.
Ingredients temperature - please follow the temperature specified for the ingredients. You may think what difference does it make, well it does make a different. Trust me.
Less is more - whisk as little as you can. Whisking the ingredients too much will incorporate air into the mixture and that will result in our cheesecake cracking in the oven.
Oven temperature - super low oven temperature. I recommend a portable thermometer like this (I use it too) to get a precise temperature reading. All ovens come different so using that will definitely help. High oven temperature will make your cheesecake crack.
Follow these simple tips and you'll get a smooth top baked cheesecake, even without bain marie method.
How To Know When A Cheesecake Is Cooked?
Since all ovens are different so I'd suggest you to start checking at 50 minutes mark.
Lightly shake the pan. You'd want to see the surrounding edges of the cheesecake to be set. BUT the center is still wiggly.
You'd need to go against your nature here since that scenario typically indicates that the baked good is still raw or not cooked. But trust me, for a cheesecake, that is enough.
It will continue to cook as it cools down. Sounds weird but trust me here if you want a super creamy texture cheesecake.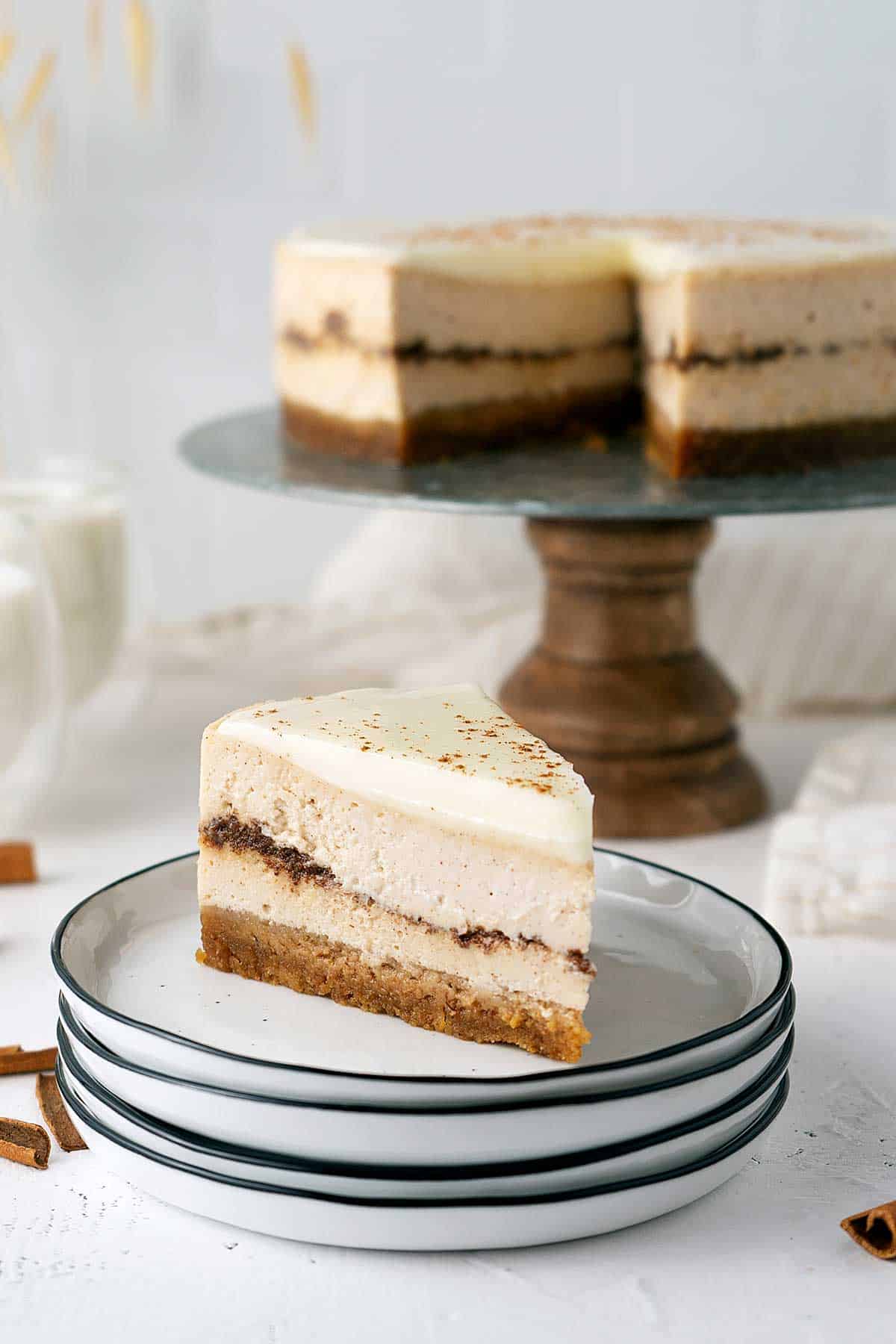 How To Handle A Cheesecake
A baked cheesecake can be outside of the fridge for a longer period of time than a no-baked one.
Nevertheless, it's not a type of dessert that you should put out to display as you would an orange cake, for example. I'd say 30-40 minutes tops outside of the fridge. Not more than that.
I don't know about you but I always prefer my cheesecake towards the chilled side.
Can I Freeze This Cheesecake?
The answer is, yes. You can.
Just bear in mind that it won't taste as fresh (well, naturally right?) but it's totally doable. I do it all the time. A well kept frozen cheesecake lasts up to 6 months in the freezer.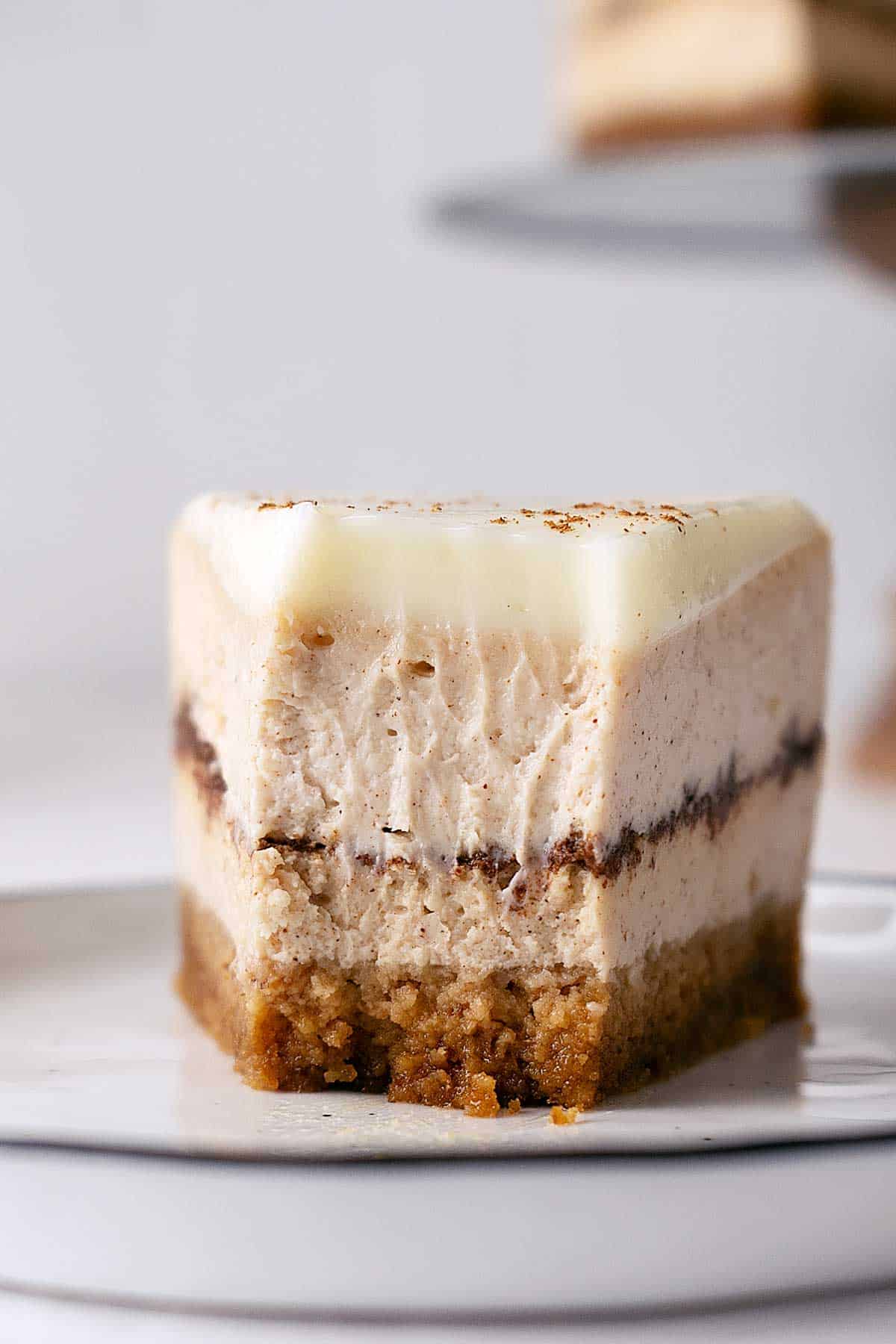 How To Freeze This Cheesecake?
Place the cheesecake (whole or if in slices, not touching each other) on a parchment paper on a tray and place it in the freezer for 1-2 hours until it's frozen or firm to handle.
Then wrap tightly with a cling film and place it in an air tight container or a ziploc bag. Place back in the freezer.
Thaw the whole cheesecake in the fridge a day before. I'd place it on a serving plate already to avoid having to transfer it once it's thawed.
For sliced cheesecake, I always thaw it at room temperature.
I really hope with all the tips and information that I've shared, you would be excited to make this recipe! Don't forget to let me know what you think about it.
Hungry For More Cheesecakes?
Check these out:
Recipe Video
📖 Recipe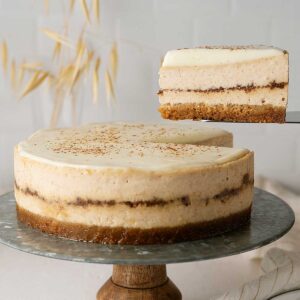 Cinnamon Roll Cheesecake
Let's bring our cheesecake game up a notch with this cinnamon roll cheesecake. Even without using bain marie method, this cheesecake is super creamy and with smooth top (no cracks!). Buttery base, smooth filling with a touch of cinnamon flavour and oh, that cinnamon roll layer in the middle is what you don't want to skip. Pure goodness of cinnamon, brown sugar, butter and a touch of flour. Give it a try!
Print
Pin
Rate
Ingredients
The Base
1 ½

cup

digestive biscuits crumbs

(

150

g)

¼

cup

unsalted butter

(

60

g), melted
The Filling
12

oz

full fat cream cheese

(

340

g), room temperature

¾

cup

Greek yogurt

(

190

g), room temperature

½

cup

granulated sugar

(

100

g)

2

tablespoon

all purpose flour

(

16

g)

2

teaspoon

vanilla extract

1

teaspoon

cinnamon powder

2

large eggs

, room temperature
The Cinnamon Roll Layer
¼

cup

unrefined brown sugar

(

40

g), lightly packed

2

tablespoon

all purpose flour

(

16

g)

2

teaspoon

cinnamon powder

1

tablespoon

unsalted butter

(

15

g), melted
The Glaze Topping
4

oz

full fat cream cheese

(

110

g), room temperature

½

cup

powdered sugar

(

60

g), sifted

1

teaspoon

milk
Instructions
The Base
Place digestive biscuits in a ziploc bag and bash into a fine mixture using a rolling pin. Pour into a bowl together with butter. Mix well.

Pour into a 7 inch (18 cm) springform pan. Press evenly using the back of a spoon. Place in the freezer for 30 minutes.
The Filling
Add cream cheese into a bowl and whisk briefly using a handheld whisk, on lowest speed. Now add in the rest of the ingredients EXCEPT the eggs. Again, just whisk briefly until everything is well combined. Set aside.

Crack the eggs into another bowl and lightly beat using a hand whisk. Now pour the eggs into the cream cheese mixture. Fold everything together gently using a spatula. Set aside.
The Cinnamon Roll Layer
Into another bowl, add in brown sugar, cinnamon powder and flour. Mix well using a spoon. Now add in butter and mix until you get semi-wet crumble.
Assembling & Baking
Pour almost half of the cream cheese mixture into the pan (1 ¼ cup or 310 g). Spread evenly using the back of a spoon. Now sprinkle evenly the cinnamon rolls layer. Lastly pour the rest of the cream mixture and smooth out the top.

Bake in a preheated oven at 265ºF (130ºC) using upper and lower heat, conventional mode (without fan), at lower ⅔ rack for 1 hour 10 minutes or until you see the center is still wiggly when you lightly shaken the pan.

Remove from the oven and leave to cool completely before placing it in the fridge to chill for 8 hours.
How To Remove Cheesecake From The Pan
Run a knife all around the cheesecake to help loosen it up. Release the spring and remove the ring. Run a knife all around under the cheesecake base to loosen it. Insert 2 big flat spatula underneath, on opposite direction. Swiftly yet confidently lift up the cheesecake using the spatulas and place it on a serving plate.
The Glaze Topping
Add cream cheese and powdered sugar into a bowl and mix everything well until you get a smooth cream, using a spatula. Now add in milk to loosen it up, mix well.

Pour on top of cheesecake and spread evenly. Sprinkle with a bit of cinnamon powder. Slice and serve!
Notes
Use spoon and level method when measuring (for cup measurement)
Pack brown sugar (for cup measurement)
Use a portable oven thermometer for a more precise temperature reading (I use it too)
Refer to my post above for ingredients notes and tips
Nutrition Facts
Calories:
405.9
kcal
,
Carbohydrates:
39.2
g
,
Protein:
6
g
,
Fat:
25.6
g
,
Saturated Fat:
13.5
g
,
Cholesterol:
95.3
mg
,
Sodium:
251.4
mg
,
Potassium:
135.6
mg
,
Fiber:
0.9
g
,
Sugar:
27.9
g
,
Calcium:
91.1
mg
,
Iron:
1
mg