What Is It?
Vanilla slice is a simple, delicious and beautiful dessert that its origin is unknown, can you believe that?
It does have several names depending where you are. French call it mille-feuille. In the UK it's known as vanilla slice or custard slice. I think it's the same in the United States.
Anyway, vanilla slice is a dessert that's made from sweet vanilla custard and sandwiched together with crispy puff pastry. The topping is up to you. Some just don't bother to put any, some put icing sugar glazing and some just sprinkle a touch of icing sugar on top. Like me.
Disclosure: Some of the links below are affiliate links, meaning at no extra cost to you, I will get a small commission if you click through and make a purchase. Everything I mention in this post is what I personally use and recommend.
Puff pastry
There are several ways of preparing the puff pastry for this beautiful dessert. I'm going to share with you how I like to do it.
Simple, really. I know I keep repeating the word but only because it's the truth!
So you'll need 2 puff pastry sheets for this, preferably square shaped ones so that they'll be easier to cut later. Place one puff pastry sheet on a baking tray with baking sheet. Then cover it with another baking sheet. Then find something heavy, another baking tray for example and just for good measure, put another heavy tray on it.
Why? Because we want to bake the puff pastry until crispy golden brown but without it rising like a puff pastry would. We want the beautiful layers to be pressed together but still visible.
Once it's baked, carefully cut it into the measurement of the square or rectangle pan that you're going to prepare this dessert in. I find cutting it while it's still hot helps in getting clean cut as it doesn't crumble as much. For this recipe I'm using my 9 inch square pan.
Set aside. That puff pastry is going to be the base.
Then bake another puff pastry sheet, exactly the same way. Once it's baked, again, first cut it into the size of your pan. Then cut it into 12 equal pieces. This is the time when you would want to decide how big or small your vanilla slice would be.
If you want mini sizes then cut into more pieces. Set aside. One tip though, try not to mess the position of the pieces. It's going to help if you arrange it the exact way later when assembling the dessert.
So once we have the base and the top ready, only then we move on to our custard.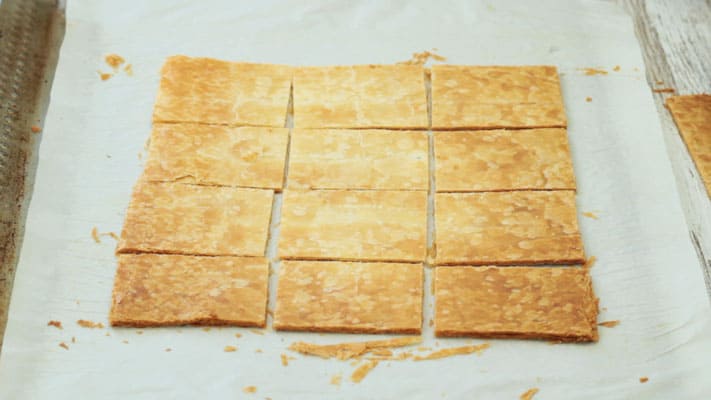 Coconut Vanilla Custard
I'm a huge fan of coconut milk both in savoury and sweet dishes. I thought why not incorporate that in this dessert. The coconut milk is not overpowering the vanilla taste at all, so don't you worry. It's just going to be a mild lingering taste in the background without overshadowing the main character which is the taste of vanilla.
I'm using custard powder for this recipe. I thought since this is a simple dessert to being with, let's not stretch it by labouring ourselves with cooking the custard and whatnots. So you just mix your vanilla custard powder, icing sugar, coconut milk and whipping cream in a bowl and start whisking until the mixture thickens.
Don't over mix as the custard tends to form lumps. So when you see the mixture thickens and it's all smooth, then it's ready.
Now we can assemble our dessert.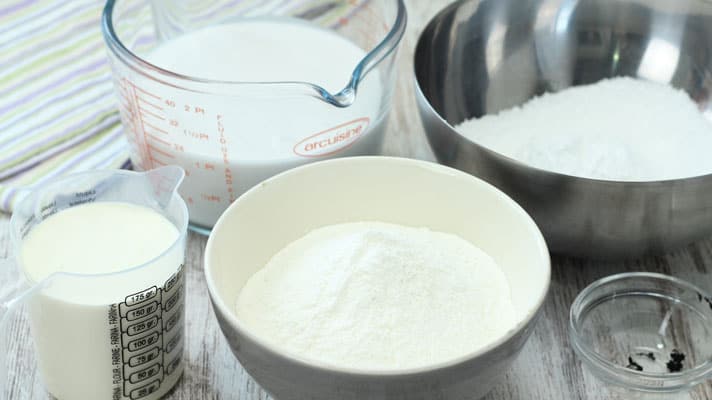 Assembling
Let's prepare our pan first. Line the pan with a baking sheet with over hanged sides. This will make it easier for us to grab to release it from the pan later. So go ahead and do that. You can see how it looks like in the video below.
When it's done, let's just put the pieces together. First let's carefully place our previously cut base puff pastry at the bottom of the pan. I said carefully because since it's compressed thin, so it might break if you handle it roughly.
After that, spoon in our previously prepared custard. Don't wait and let the custard be for too long as it tends to get hard as time passes. So as soon as you have your custard, assemble. Spread the custard evenly in the pan.
Then comes the top pieces. Remember I advised you not to mess around with the positions of the cut top puff pastry pieces? Well it's because even though you cut it exactly the same size, they are not exactly the same.
So try to arrange the pieces exactly like you cut them. They will fit very snugly. That's what we want.
After you're done, place the pan in the fridge and chill for minimum 2 hours or until the custard is fully set.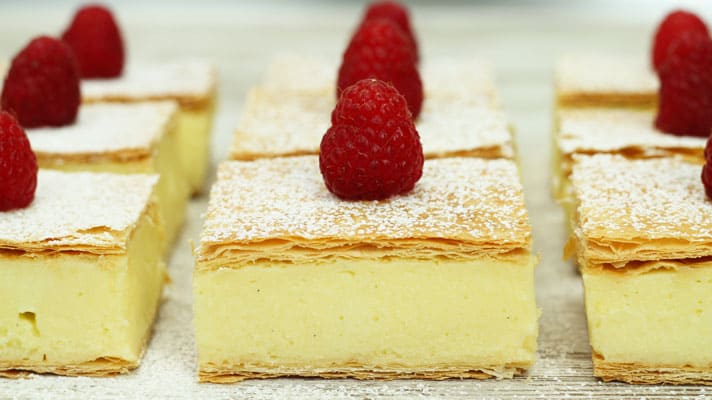 Serving
Grab the over hanged sides of baking sheet and carefully lift up the whole dessert and remove the pan. Easy.
Slicing this dessert is what makes or breaks this dessert. At least for me.
What I like to do to get that clean cut is before cutting, I dip my knife in warm water for a few seconds, wipe it dry and then use it. I wipe clean my knife after every single cut and again dip it in warm water.
You can see in the video on how I did this. With just simple tricks, the slices are cut beautifully. Then I just lightly sprinkle the slices with some icing sugar and top it with some raspberries to have some pop of colours.
I hope you'll give this simple, delicious and beautiful dessert a try. If you're a custard lover like me, then you don't even need to think about it. Just do it.
More Sweet Pastries
Recipe Video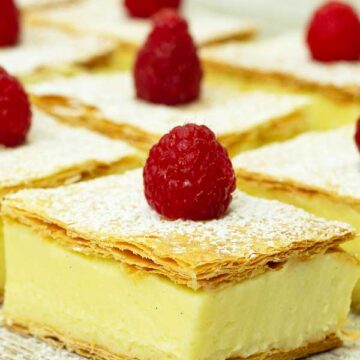 Coconut Vanilla Slice
Mild coconut taste that balances the vanilla custard flavour, sandwiched in between crispy puff pastry sheets. One very easy dessert to prepare at home.
Print
Pin
Rate
Ingredients
2

puff pastry sheets

2 ½

cup

coconut milk

(

625

ml)

1

cup

whipping cream (35% fat)

(

250

ml)

1

vanilla pod

vanilla beans

1

cup

icing sugar

(

120

gr), sifted

2

cups

instant no-cook vanilla custard powder

(

260

gr)

some icing sugar

, to sprinkle on top

some raspberries

, to put on top
Instructions
The base and top
THE BASE: Place 1 pastry sheet on a baking tray with baking sheet. Then cover it with another baking sheet. Put another baking tray or container on top of it to weigh it down so that when we bake the puff pastry it won't puff up. Bake in a preheated oven at 400ºF (200ºC) for 15 minutes or until golden brown. Remove from the oven and cut the puff pastry to fit the pan that you'll be using for this dessert. I'm using a 9 inch (23 cm) square pan. Set aside for it to cool completely.

Line the pan with a baking sheet with over hanged sides. This is going to be easier to grab when we want to release it from the pan later. Carefully place the cooled and cut puff pastry into the lined pan and push it to the bottom of the pan. Set aside.

THE TOP: Bake and cut the other puff pastry exactly like the previous one. And then cut it into 12 equal pieces. Cut into more pieces if you want the coconut vanilla slices size to be smaller. Try not to mess around the position of the cut pieces as we want to arrange them exactly the same later on. Set aside.
The custard
In a bowl, add in coconut milk, whipping cream, icing sugar, vanilla custard powder and vanilla beans. Whisk just until the mixture thickens and there are no lumps. It's recommended that you prepare the custard after you have the base and top puff pastries ready. This is because the custard tends to get harder as time passes.
Assembling
Spoon our prepared custard into our previously prepared pan with the base. Spread the custard evenly. Then arrange the top pieces that we've cut previously, on top of the custard. Keep in the fridge to chill for minimum 2 hours.
Serving
Grab the over hanged baking sheet, lift and remove the pan. To get a clean look of the slices, dip your knife in warm water for a few seconds, wipe it dry and insert it in between the baking sheet and the edges of the dessert. Wipe the knife clean after each time. To cut the dessert into slices, use the same method. Insert the knife in between the top puff pastry pieces and press the knife through the base. Remember to wipe clean the knife and dip in warm water each time. This way you will get the clean cut of the slices.

This dessert is best served as soon as the custard is set or the day of the making. This is because as time passes the puff pastry won't get crispy anymore. Enjoy!