Breads
I should tell you that I LOVE making bread. The smell of freshly baked bread is the best. And I keep saying that to everybody. But it's true though.
Nothing beats a homemade bread. Regardless the outcome.
When I first started to learn making bread myself, it was a disaster. Yes it was.
I killed my yeast by using hot boiling water in the activation process. I remember the recipe saying to use warm water and then I thought how warm? Warm or hot is pretty subjective to an individual.
I thought ok if I use warmer (which in my case was hot boiling water) then maybe the yeast would activate faster. Yep. I was smart, I know.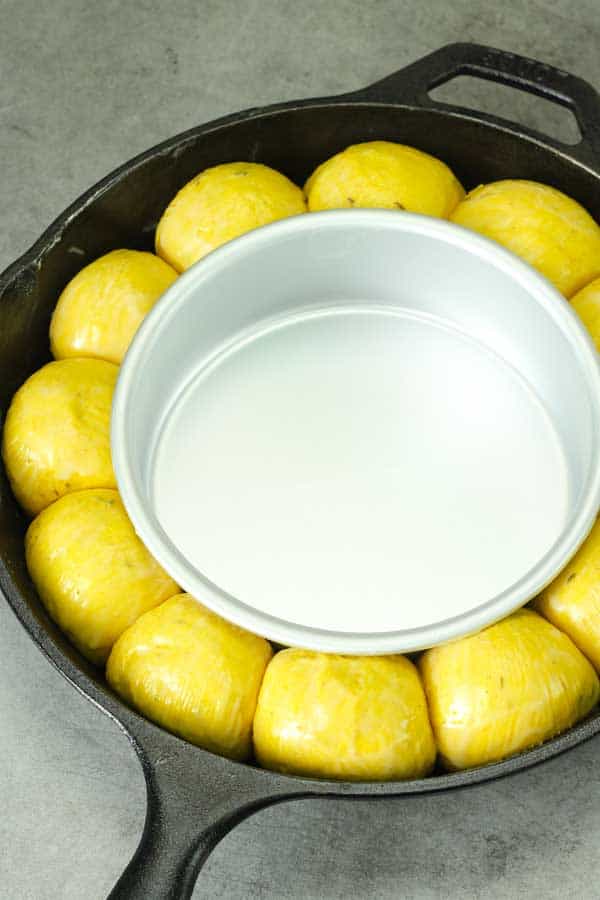 But now I know how to describe warm water to you, if you're interested in starting to make your own bread.
The way that I refer to warm in this case is, can a baby tolerate the warmth of the water? If the answer is no it means the water is too hot. If you think a baby can handle it, then it's a perfect temperature.
No gadgets or thermometer needed.
Ok now that we've settled that, so come on let's make our own breads!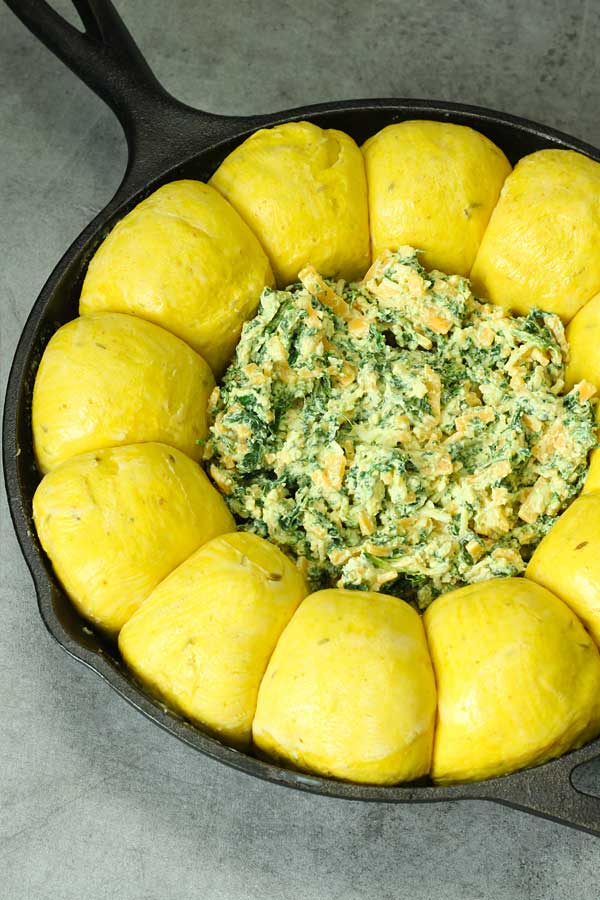 Curry Bread With Cheese Spinach Dip
In this recipe I thought I would combine the best of two worlds. Asian and Western. Curry and cheese with bread in between.
Yum yum!!
I mean, who doesn't like curry right? It doesn't matter in what shape or form, everybody (I think) loves curry.
And who doesn't like cheese? Have you tried naan bread stuffed with gooey cheese? OMG! It's super delicious. If you haven't then you simply need to.
For this recipe I want to incorporate the curry flavour in both the bread and the cheesy dipping. Let's talk about the curry bread first.
I'm using curry powder for the flavour and to further enhance it I'm also adding in cumin and fennel seeds in the bread dough. And to bring out that golden curry colour, I'm using turmeric powder.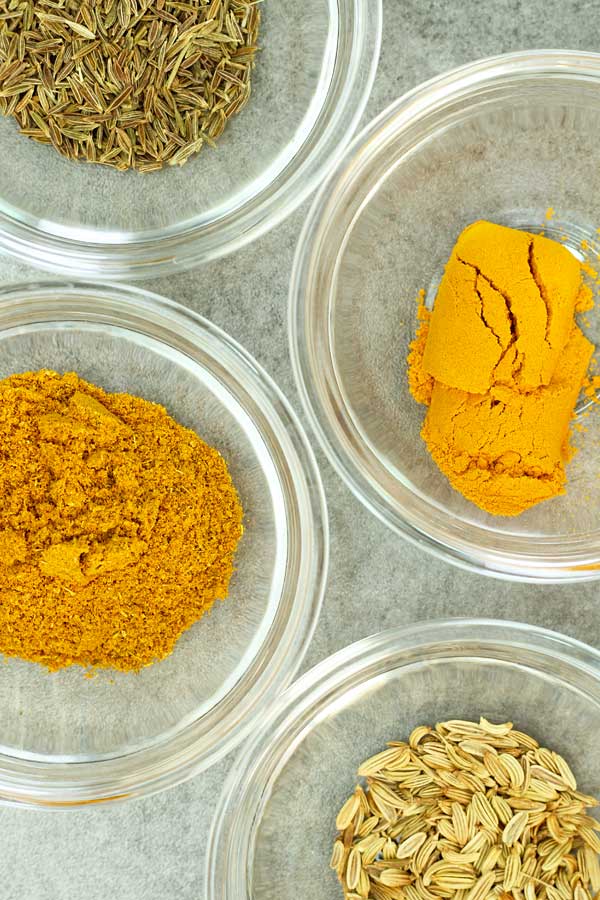 The bread is soft, fluffy and you can definitely taste the curry in it. Now and then you get to bite the seeds, ahhh delicious!
For the dipping, I'm also using curry powder but just a bit to give it that touch. Cheddar cheese colour helps in creating that golden curry colour, which is very convenient.. and yummy!
So if you're up for a different yet delicious bread, do give this recipe a try.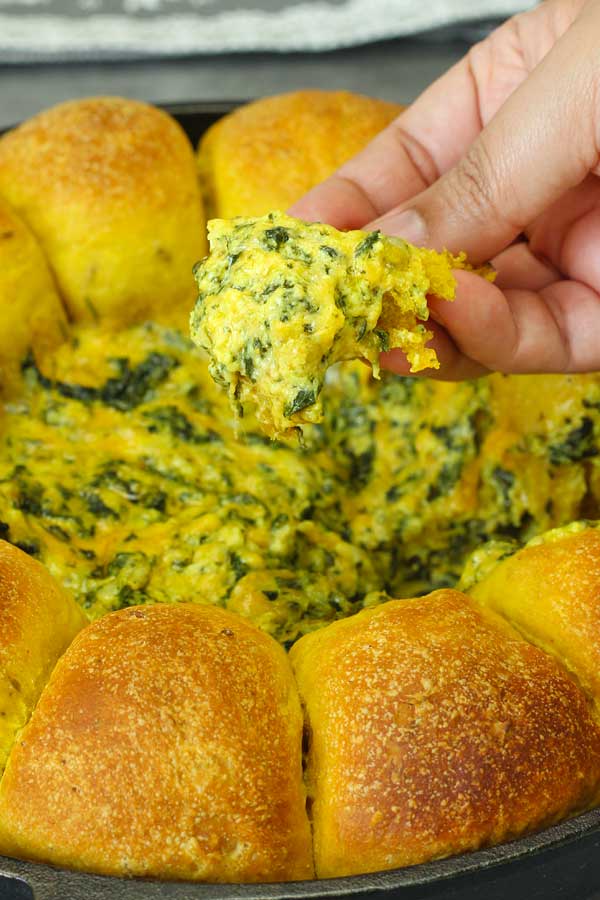 More Bread Recipes
Video
📖 Recipe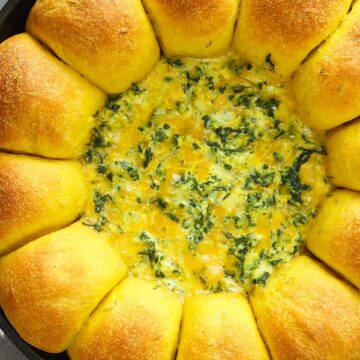 Curry Bread with Cheese Spinach Dip
This curry bread with cheese spinach dip is a soft and fluffy bread with cheesy dip. If you like bread, curries and cheese, you need to try this!
Print
Pin
Rate
Ingredients
The Curry Bread
1

cup

warm water

(

250

ml)

2

tablespoon

honey

(

40

gr)

2 ¼

teaspoon

dry yeast

(

7

gr)

3

cup

bread flour

(

390

gr)

1

tablespoon

olive oil

1

tablespoon

curry powder

1

teaspoon

turmeric powder

1

teaspoon

fennel seeds

1

teaspoon

cumin seeds
The Dip
4.5

oz

frozen spinach

(

130

gr), thawed & water squeezed out

5.3

oz

shredded mozzarella

(

150

gr)

5.3

oz

shredded cheddar

(

150

gr)

⅔

cup

sour cream

(

160

ml)

1

teaspoon

garlic powder

½

teaspoon

salt

1

teaspoon

curry powder

some melted butter for brushing
Instructions
The Curry Bread
Mix honey with warm water and then sprinkle dry yeast. Leave for the yeast to activate, around 5 minutes.

Into a stand mixing bowl, add in the rest of the ingredients including the yeast mixture. Mix to incorporate and then knead for 10 minutes. Make the dough into a ball and place it into an oiled bowl. Coat the top surface with some oil and cover the bowl tightly with a cling film. Leave for the dough to rise until double its size in a warm and draft free place.

After doubled in size, place the dough on a working surface and lightly knead it into a log. Cut it into 12 equal pieces and form each piece into a ball.

Arrange the balls in a buttered 10 ¼ inch (26 cm) cast iron skillet, leaving an empty space in the middle. Place a 6 inch (15 cm) pan that has been buttered on the outside, in that empty space. Brush the balls with some melted butter and cover the skillet loosely with a cling film. Set aside for the balls to puff up a bit, around 30 minutes.
The Dip
Chop the spinach into small pieces and place it in a bowl together with the rest of the dip ingredients. Mix everything well. Set aside.
Assembling
Once the balls have puffed up, remove the cling film and gently lift up the pan in the middle and set it aside. Put the dip mixture into the empty space in the middle.

Bake in a preheated oven at 360ºF (180ºC) for 40 minutes or until fully cooked. Place an aluminium loosely on top if the bread browns too fast. Serve and enjoy!
Nutrition Facts
Calories:
279.7
kcal
,
Carbohydrates:
30.3
g
,
Protein:
11.5
g
,
Fat:
12.8
g
,
Saturated Fat:
6.3
g
,
Cholesterol:
32.9
mg
,
Sodium:
282.4
mg
,
Potassium:
153.4
mg
,
Fiber:
2.1
g
,
Sugar:
3.8
g
,
Calcium:
193.3
mg
,
Iron:
1.1
mg