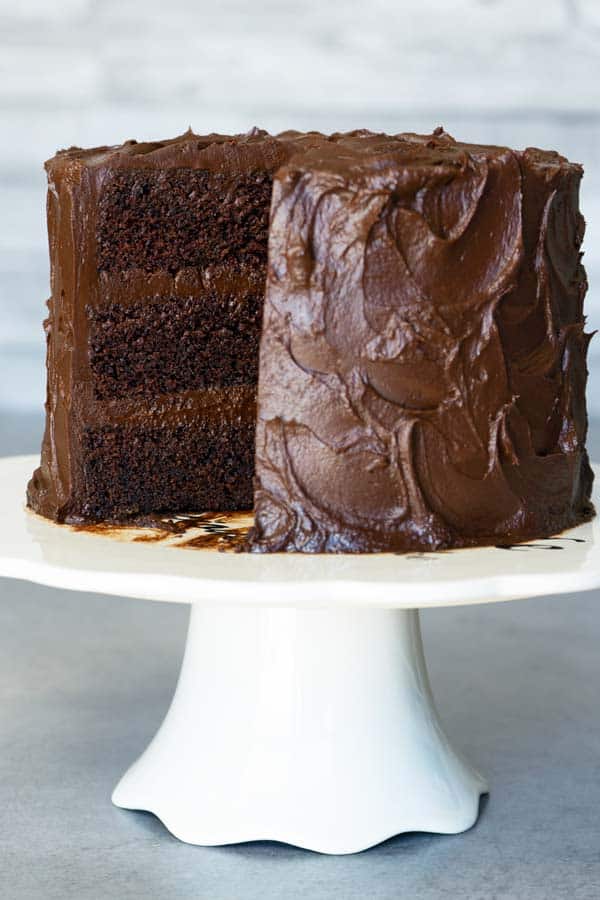 It's not halloween yet but there's one devil that's making its appearance now. What else than this delicious devil's food cake!
Too cheesy? Haha! Oh well..
But hey, seriously.
This dense yet soft and rich chocolate cake covered with a tad tangy sour cream chocolate frosting is REALLY a must try for all you chocolate lovers out there.
If you're into a milder chocolate cake with a vanilla undertone, have a look at my red velvet cake with cream cheese frosting. It's delicious!
Let's get on with today's recipe, shall we?
Chocolate Cake With Loads Of Chocolate
Devil's food cake is supposedly to be the opposite of Angel's food cake.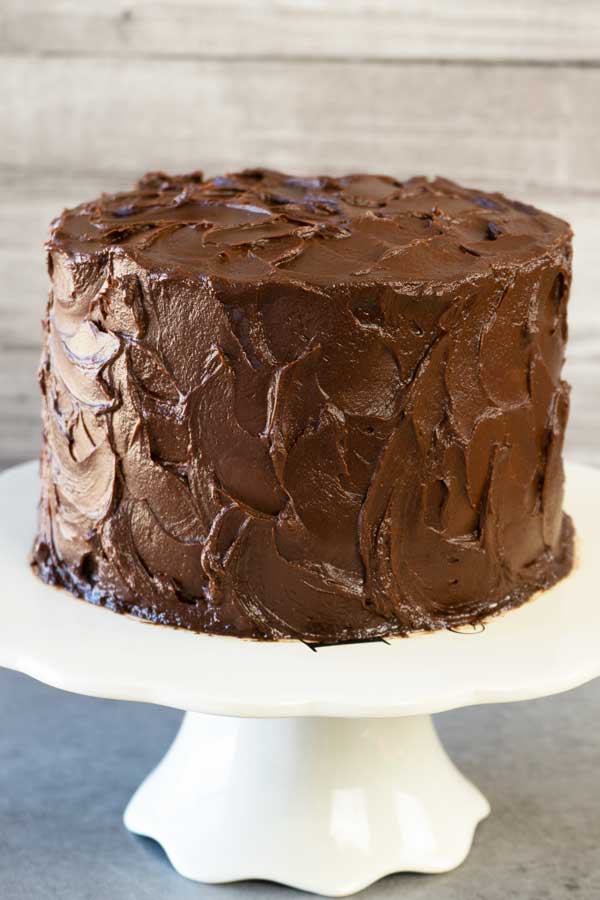 So this devil's food cake for the obvious reason is supposed to be naughty. Which explains the rich and decadent nature of it.
This cake has a huge amount of chocolate in it. Chocolate cooking bars were used back then but now it's more common to see that cocoa powder is being used.
Not only it's convenient but cocoa powder has a stronger and intense chocolate taste.
As I said earlier, if you're a chocolate lover.. you just have got to try this.
I'm making a 3 layers cake using my 6 inch pans. I love using smaller sized pans when making more than 2 layers cake because then the final result wouldn't look too gigantic.
How To Get Flat Top Cakes
Talking about layered cakes.
I don't know about you but I hate domey cakes when I want to stack them on top of each other.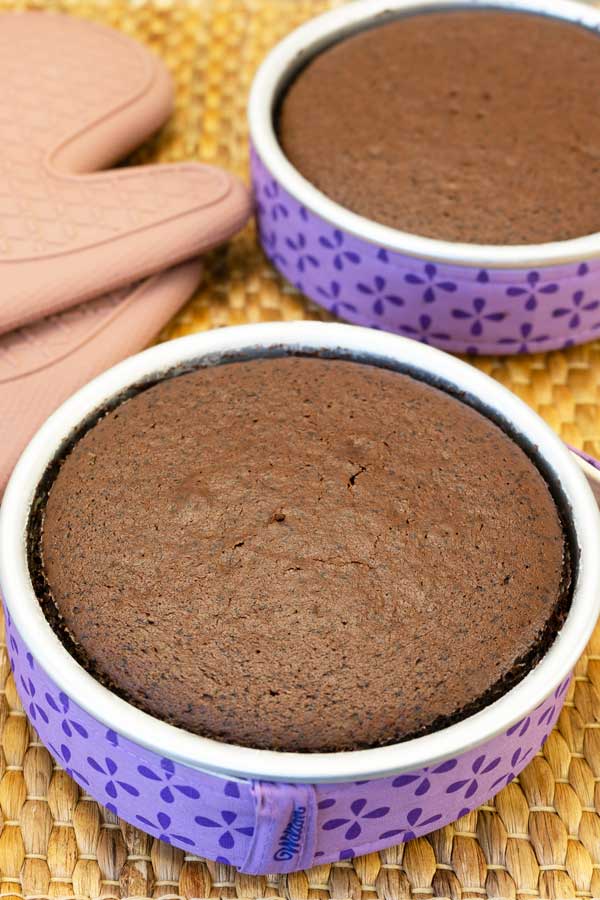 When you make layered cakes it means you want them to look elegant, right? Else why bother.
And you want those perfect straight lines of cakes layered with perfect lines of filling or frosting. Right?
For me, ever since I start using cake strips like these, I get flat top cakes all the time.
The strips help the outer side of the cake not to cook and set before the center of the cake is fully cooked. This is because the moist strip acts as an insulator around the cake or in other words they help to make the outer side of the cakes not as hot.
In shorter version, the strips make the cakes bake evenly and thus producing flat tops.
For this recipe, though the cakes came out all flat I did slice the tops off a bit. It's because I wanted to remove the crusty top part and the cakes look better layered like that.
It's optional, you don't need to do that.
What You Need To Know About Sour Cream Chocolate Frosting
I do try my best to reduce sugar in my bakings whenever I can. That includes if I can avoid buttercream, icing sugar or meringue type of frostings, I would.
Having that in mind and instead of the typical chocolate ganache, I choose to make sour cream chocolate frosting instead.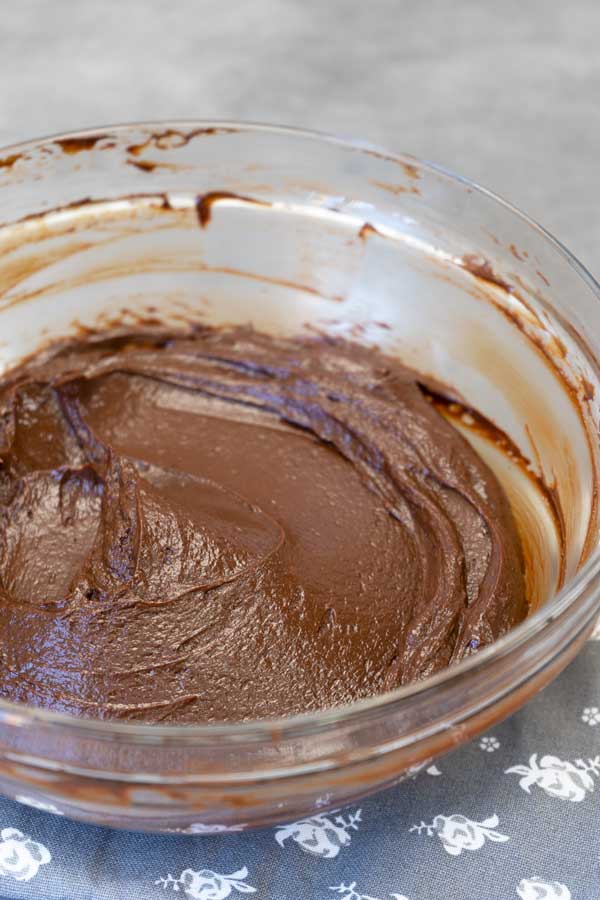 It's SUPER easy to make! But that's not what I want to talk about.
I want to talk about the taste, texture and how to work with this delicious frosting.
Taste
Since it's a sour cream not heavy or whipping cream so expect a tad of tanginess in the taste. It's not bad at all, in fact for me it even compliments the whole cake.
The tanginess cuts down the rich and decadent taste of this devil's food cake.
Texture
The texture is soft and creamy when you finished mixing the sour cream and the chocolate.
In time, the frosting will start to get thicker like chocolate ganache that has fully set.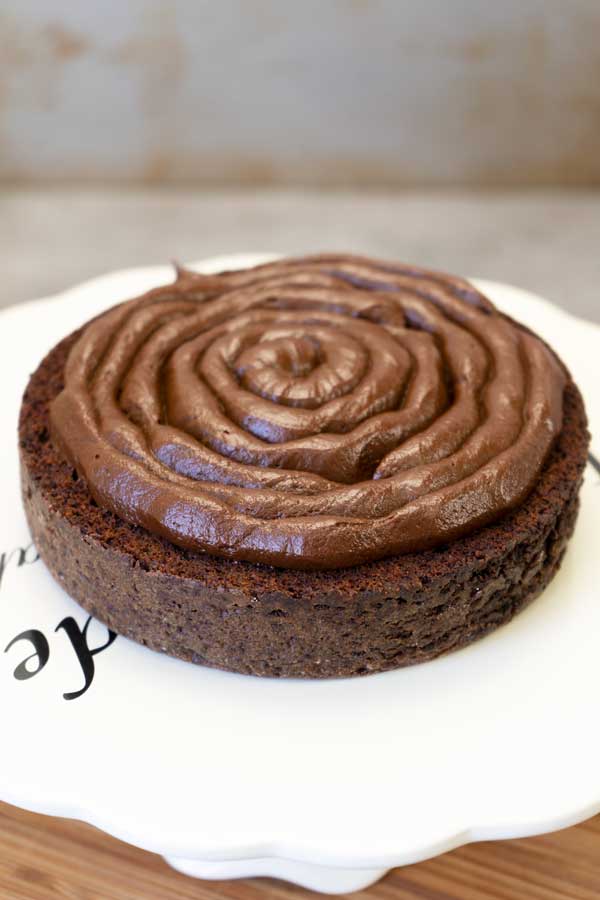 How To Work With It
Since this frosting thickens as time goes by, so you need to work kind of fast.
You can't frost a cake when the frosting is too soft. So wait until it gets to your desired consistency and then do your magic.
Don't take a call or go watch a movie in between because when the frosting gets thick it's going to be difficult to frost your cakes.
How To Soften The Frosting Back
If for some unavoidable reason you simply have to leave in the middle of frosting your cakes (new Survivor episode is on), it's not the end of the world.
Slowly heat your frosting in the microwave to soften it back to your desired consistency to frost.
Easy.
Hope you'd give this devil a try!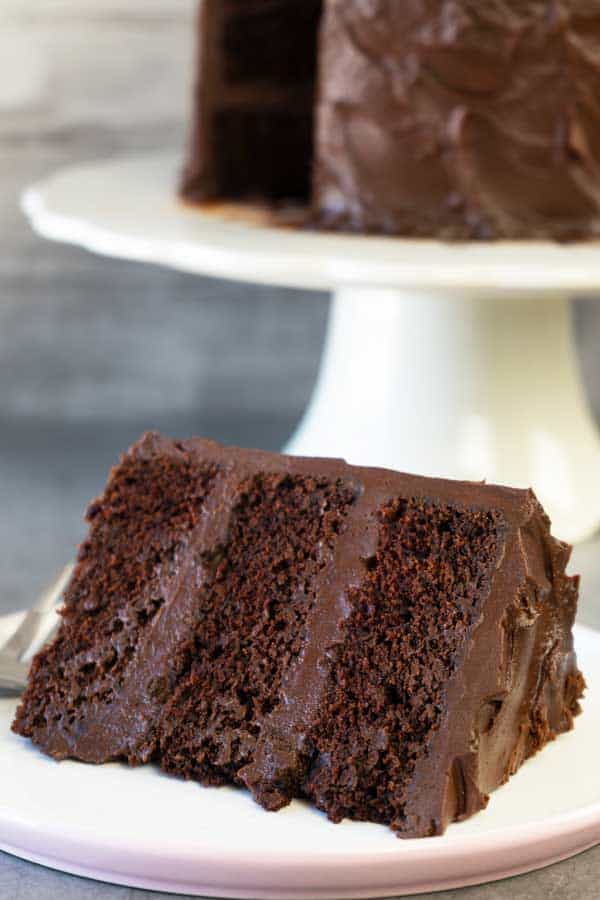 In Summary
This devil's food cake is:
soft, rich, decadent and delicious chocolate cake
the sour cream chocolate frosting is with a tad tangy taste that compliments the richness of this cake
is perfect for celebrations or special occasions (weekends included)
with rustic elegant look that's so easy to do
is a MUST for chocolate lovers!
Before You Go
Perhaps you would like these recipes also:
Video
📖 Recipe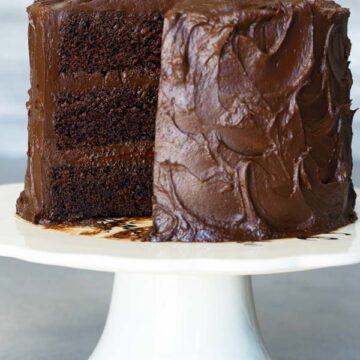 Devil's Food Cake
Chocolate lovers true love! Soft and moist chocolate cake covered with rich sour cream chocolate frosting. Enjoy the amazing chocolate flavour that will surely leave you satisfied!
Print
Pin
Rate
Ingredients
The Chocolate Cake
2

cup

all purpose flour

(

260

gr)

¾

cup

unsweetened cocoa powder

(

90

gr)

1 ½

teaspoon

baking soda

½

teaspoon

salt

½

cup

softened butter

(

113

gr)

1

cup

sugar

(

200

gr)

1

cup

brown sugar

(

160

gr)

3

eggs

, room temperature

¼

cup

sunflower oil

(

60

ml)

2

teaspoon

vanilla extract

1 ¼

cup

milk

(

310

ml), room temperature
The Sour Cream Chocolate Frosting
¼

cup

butter

(

60

gr)

14

oz

chocolate 55% cocoa

(

400

gr)

1

teaspoon

instant coffee granules

½

teaspoon

hot water

½

teaspoon

salt

1 ½

cup

sour cream

(

360

gr), room temperature
Instructions
The Chocolate Cake
Sift flour, cocoa powder, baking soda and salt into a bowl. Set aside.

Add butter and both sugars into a bowl. Using a hand mixer, whisk everything until creamy. Then add in eggs 1 at a time, mixing well after each addition.

Add in sunflower oil, vanilla extract and mix until well combined. Now we will add the sifted flour mixture alternating with milk in 2 additions, mixing just to combine. Don't over mix.

Divide the batter evenly into prepared pans. Use a kitchen scale to be more precise. In my case each pan with raw batter weighs 16 oz (445 gr). Using the back of a spoon, spread the batter evenly.

Bake in a preheated oven at 350ºF (175ºC) for 35 minutes (if the cakes are baked individually) or until fully cooked. Bake for a slightly longer time if you bake them all together.

Cool for 10 minutes, remove from the pans and leave to cool completely on a rack.

NOTE: if you plan to frost the cakes the next day, wrap the cooled cakes tightly with cling films to avoid them getting dry.
The Sour Cream Chocolate Frosting
Chop chocolate into small pieces and add into a bowl together with butter and salt. Mix instant coffee with hot water until coffee is dissolved and add it into the bowl also.

Melt everything together using double boiler method. Use a spatula and mix now and then to avoid chocolate getting burnt. Once everything melted, remove from the heat and leave to cool for 5 minutes.

Add in sour cream and mix until well combined.

NOTE: this sour cream frosting will be soft at first (not the consistency to frost cakes) but it will harden as time passes. So leave until it gets to your desired consistency, mix now and then. I left it around 10-15 minutes.

Put frosting in a piping bag to make it easier.
Assembling
Optional: I slice off the top of the cakes a bit to discard the crusty part. You don't need to do this if you don't want to.

Spread some frosting on a cake stand to help make the cake stay put. Place 1 cake on top. Pipe frosting on top. Repeat with the rest of the cakes, finishing with the last cake unfrosted on top.

Insert a wooden skewer on top in the middle of the cake and press until the bottom. The skewer helps to prevent the cakes to slide while we frost them.

Starting from the bottom, pipe the frosting all around the cake until you cover all the sides. Remove the skewer and continue frosting the top.

Take a long spatula (it's what I have) or a scrapper and run it along the sides, making the frosting even. Do the same for the top.

Using an offset spatula, make random half swirls all over the frosting to create that rustic look.

NOTE: I place my cake stand on a rotatable wooden pizza board and rotate it as I frost the cakes 😀
How To Serve
This cake is rich and decadent. A small slice is more than enough. I love to serve it the next day as I feel it taste better.
How To Work With Sour Cream Chocolate Frosting
This frosting has the same manners as chocolate ganache that hardens in time. Read my post above on tips and how to work with it.
How To Keep
Keep in an airtight container at room temperature to avoid cake getting dry.

Since I'm using a high cake stand, no containers can fit it all 😀 So what I do is wait a bit until the frosting fully sets. Then I loosely cover the whole cake with cake stand (yes, I know) with cling films. I cover it loosely so that I don't mess with the decoration but I do make sure the cling films are overlapping so no air gets in.

Keep it up to 3 days at room temperature.
Nutrition Facts
Calories:
670.2
kcal
,
Carbohydrates:
76.9
g
,
Protein:
8.6
g
,
Fat:
38.5
g
,
Saturated Fat:
19.9
g
,
Cholesterol:
96.3
mg
,
Sodium:
477.6
mg
,
Potassium:
424.6
mg
,
Fiber:
5.3
g
,
Sugar:
51.1
g
,
Calcium:
121.1
mg
,
Iron:
4.3
mg