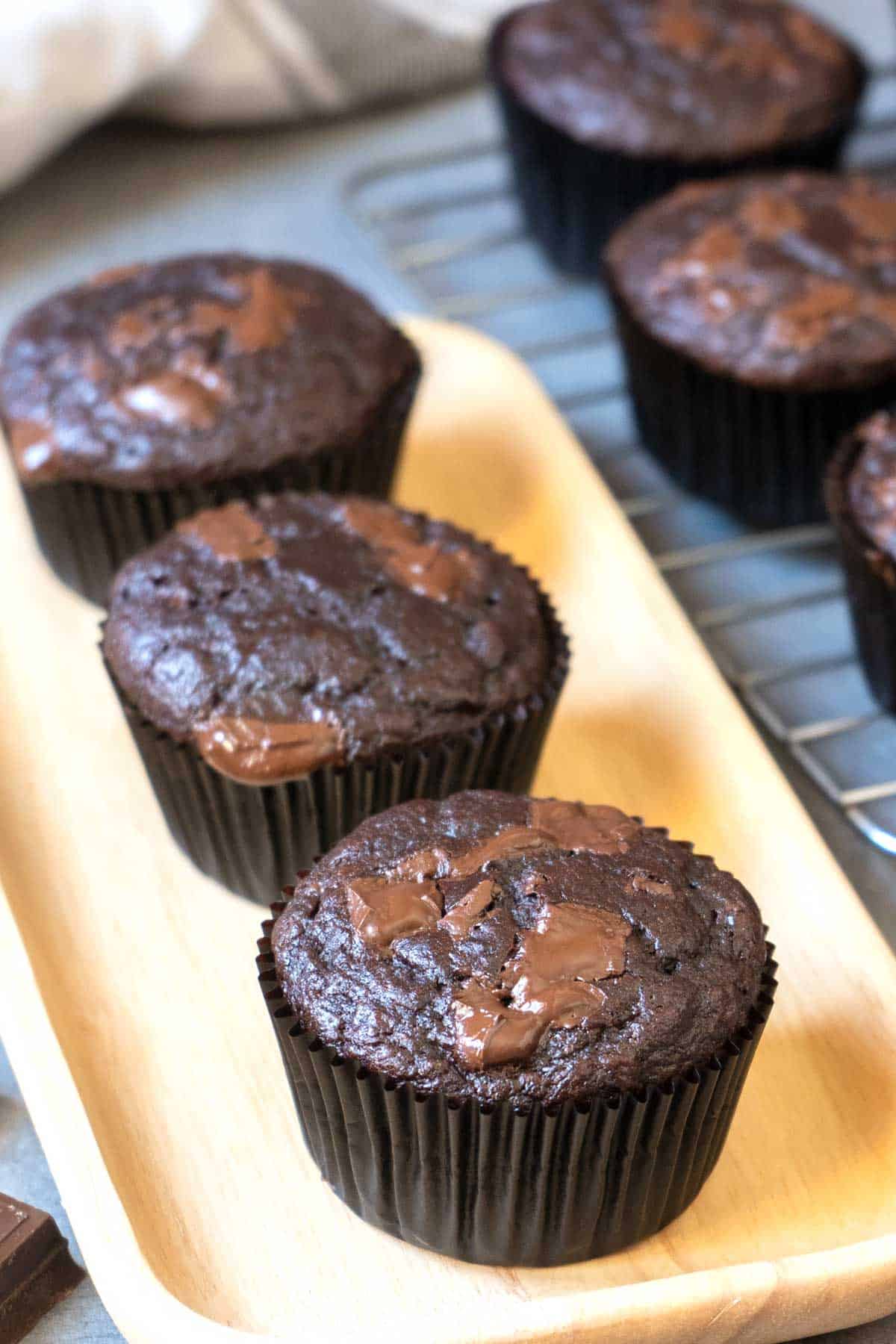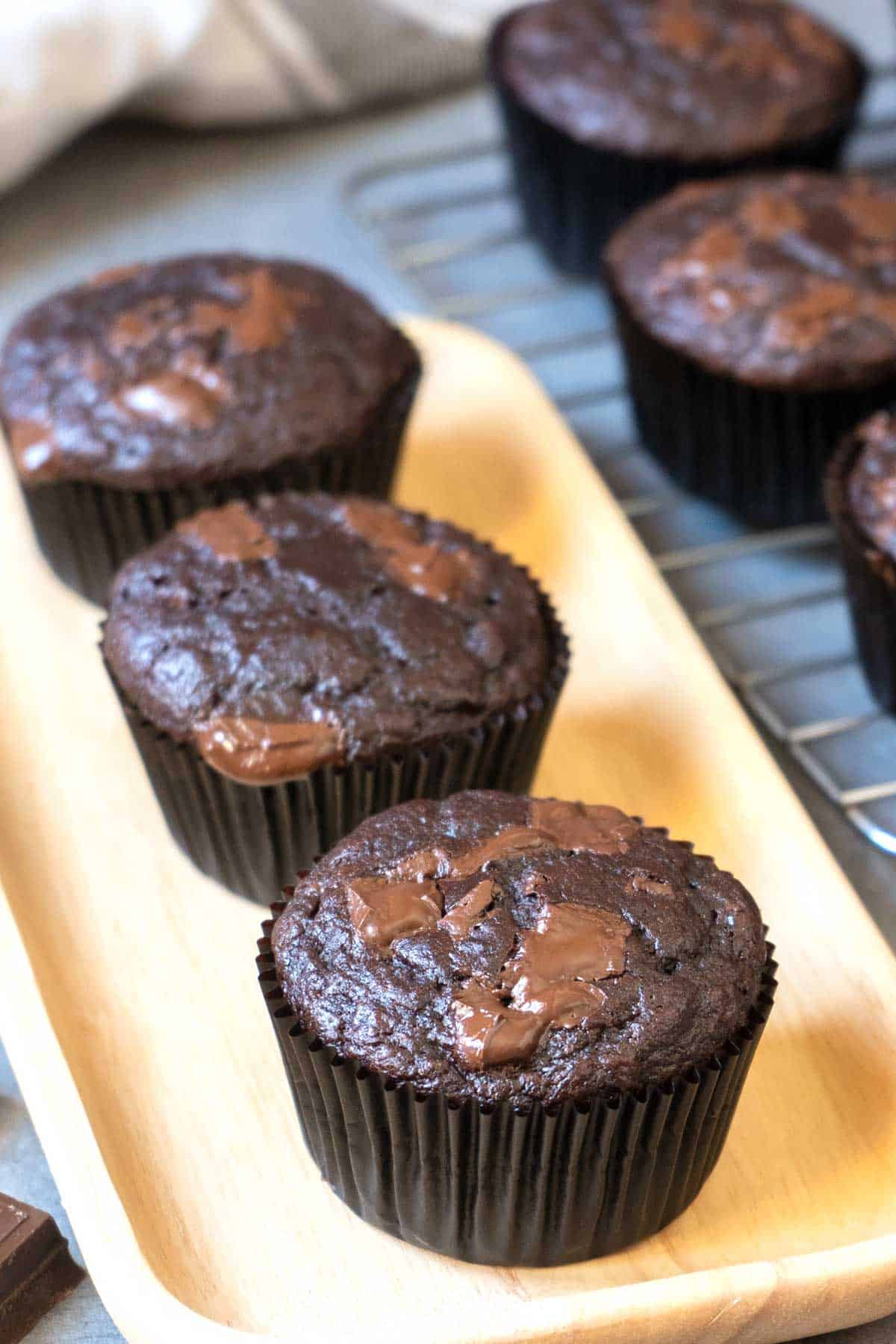 Are you craving for some chocolaty goodness? Well you came to the right place because these double chocolate banana muffins are to die for!
They are super soft, packed with chocolaty deliciousness and yes, with just basic baking ingredients. I just love the gooey melted chocolate on top, oh yes! If you love chocolate and bananas, then trust me, you need to make these. You'll not regret it, I promise!
Ok, let's start munching!
What Banana To Use
Use ripe banana, please.
Remember when you buy banana and they always look so yellow perfect? Well hold on, don't use those yet. Wait until you see dark brown spots start appearing and then they're perfect to use!
But don't use too overly ripe banana though, the ones that the skin is all dark and the banana is all squishy. Why? Because then the muffins won't rise as much. The taste would still be great though! If you can get pass the look, then go ahead *wink*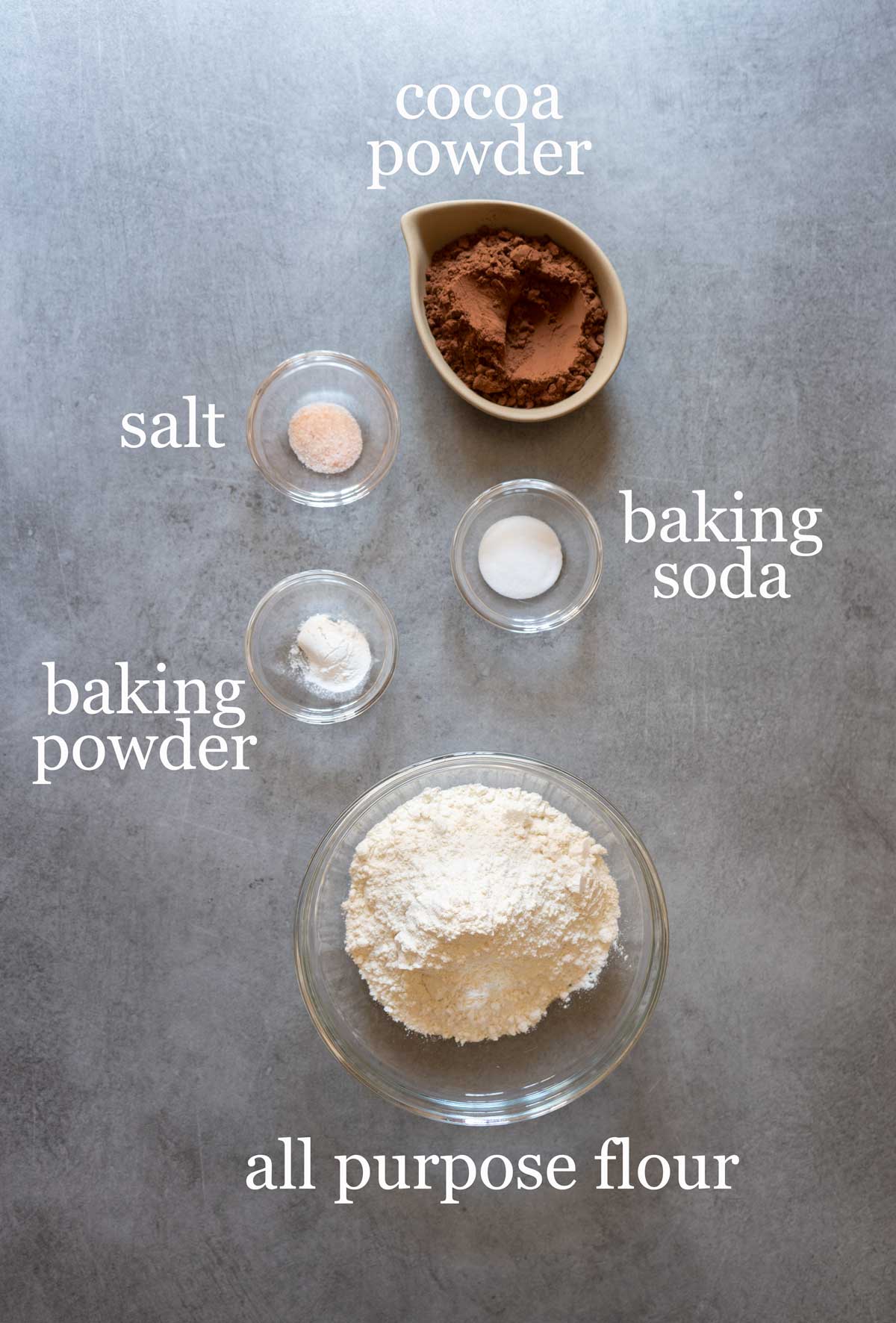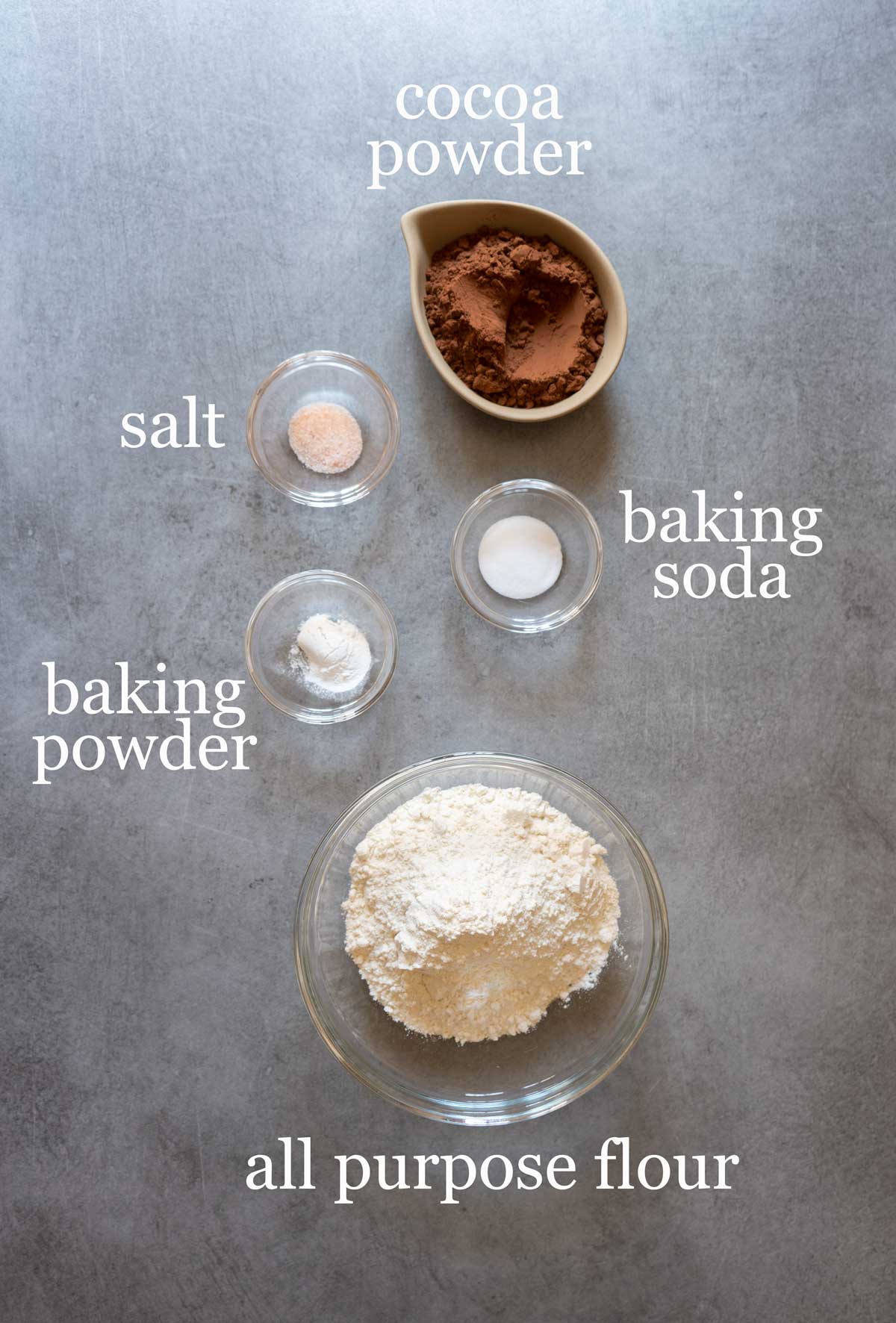 Can I Use Frozen Banana?
Yes, you absolutely can!
In fact, for this recipe I'm using frozen banana *wink again?*
You see, we always like to have banana in the house. But since all this chaos started, whenever we do our online grocery shopping we buy a bit extra and then freeze them as soon as they're perfect for baking or smoothies.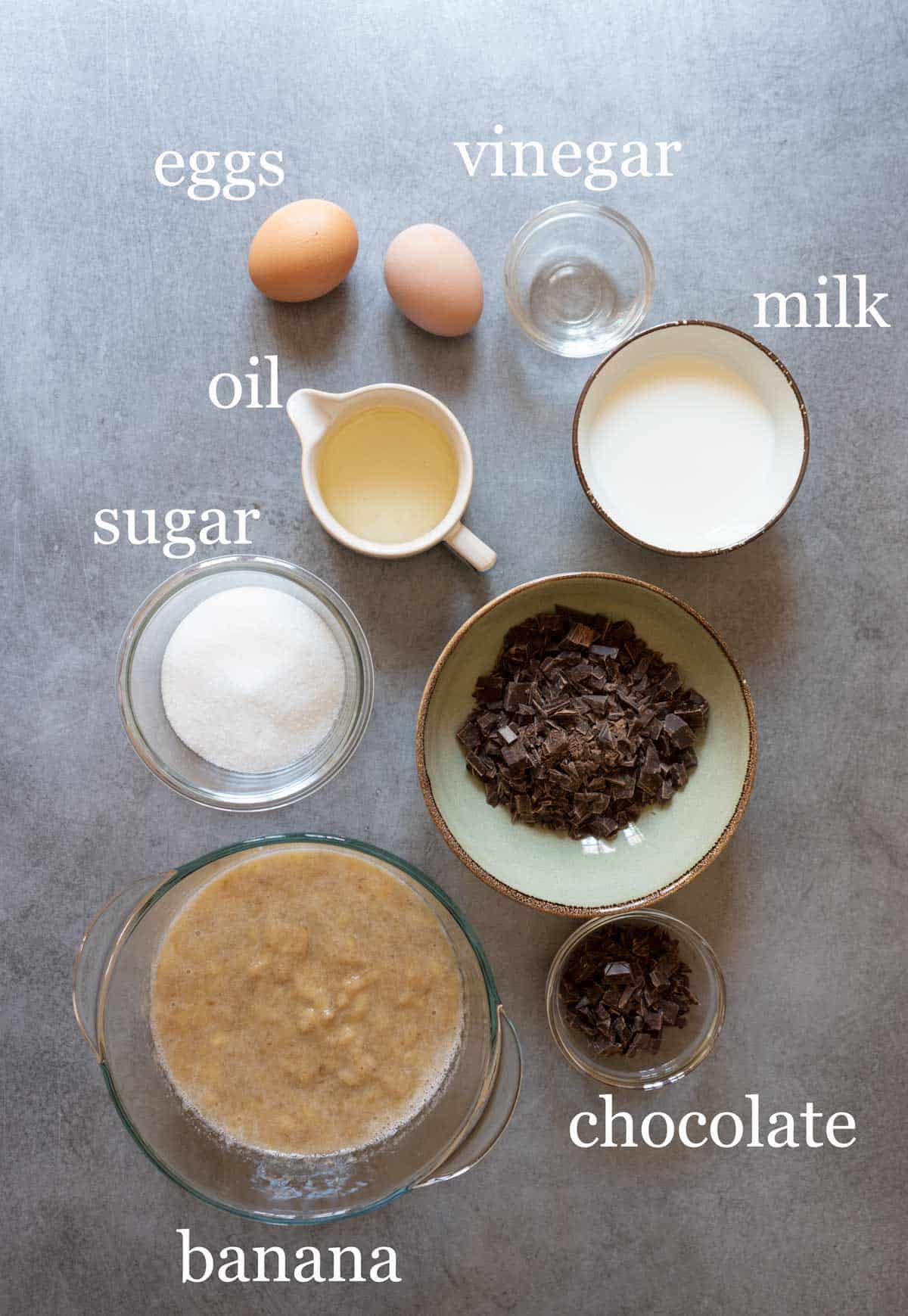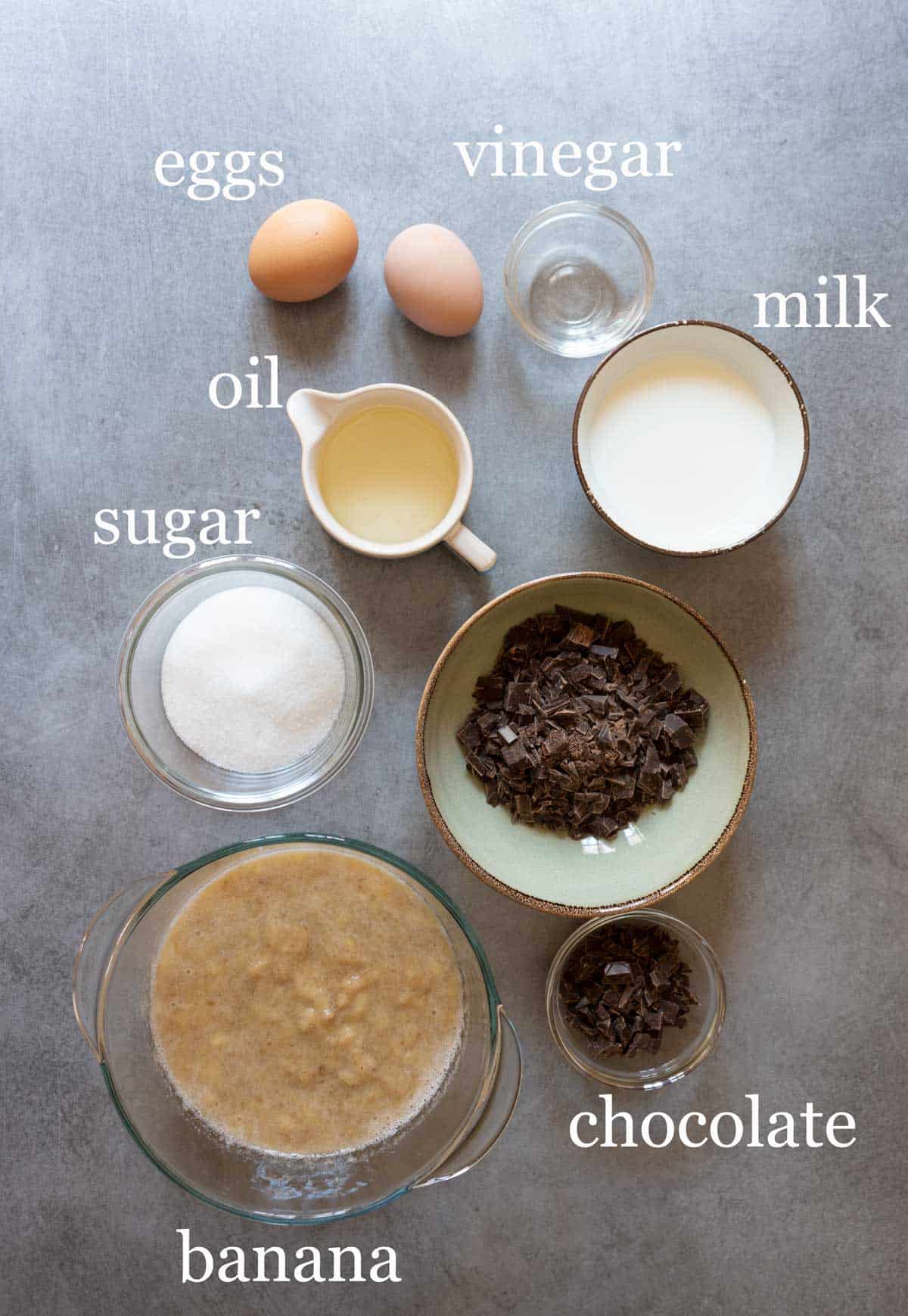 How To Use Frozen Banana
This is what I always do.
I weigh the amount that I need and thaw them at room temperature, in a bowl. They will release a lot of liquid.
DO NOT, I repeat, DO NOT, be tempted to drain the liquid. If you do, your baked goods will come out a bit dry. How do I know? Because I made that mistake! Haha!
So when the banana have thawed, just mash them together with the liquid. Yes.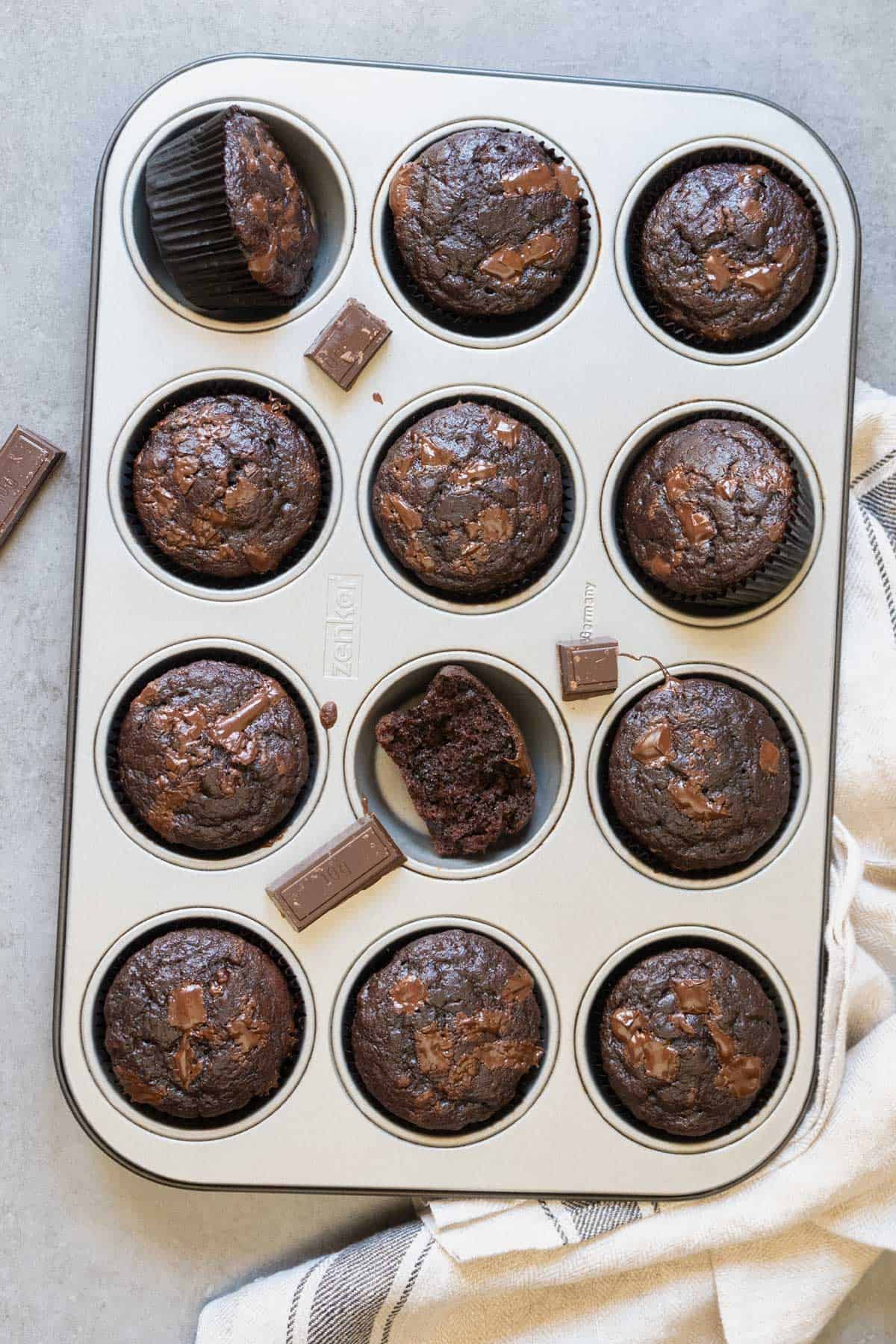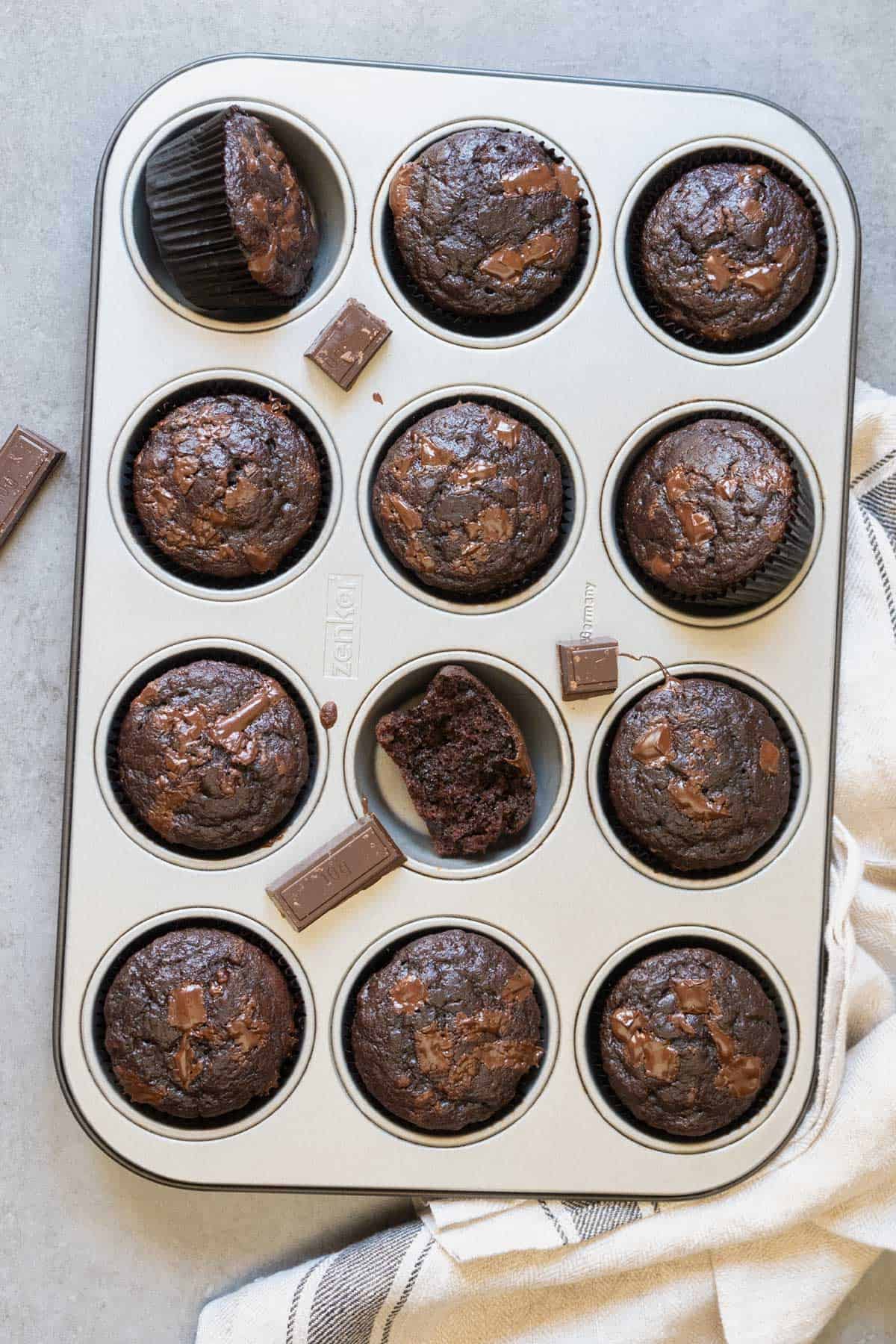 How To Freeze Banana
I feel like I should talk about this first (haha!) but since this is just an additional information, so..
Anyway!
This is how I always do it. Peel the bananas and place them on a baking tray lined with parchment paper. Place in the freezer for 1 hour or so, until they firmed up. Then put them all in a ziploc bag and keep in the freezer. They will not stick to each other and it'll be easier to grab 1 or 2, or the amount that you need.
The way that Marco does it is, directly place the peeled bananas in a ziploc bag, and into the freezer they go. Yes, it's faster, less work. But I find it a bit difficult to break the huge block of frozen bananas that have stuck to each other. Not impossible, but just a bit difficult.
So which team are you? Marco's or mine?
Give these double chocolate banana muffins a try and let me know what you think! If you've made any of my recipes, please leave a rating by selecting the stars in the comment section below. Also, tag me @elmundoeats in your Instagram photos, I'd love to see your creations! I asked in my InstaStory if you'd like to see something chocolaty for this week's recipe and you voted yes by a landslide! So this is for you!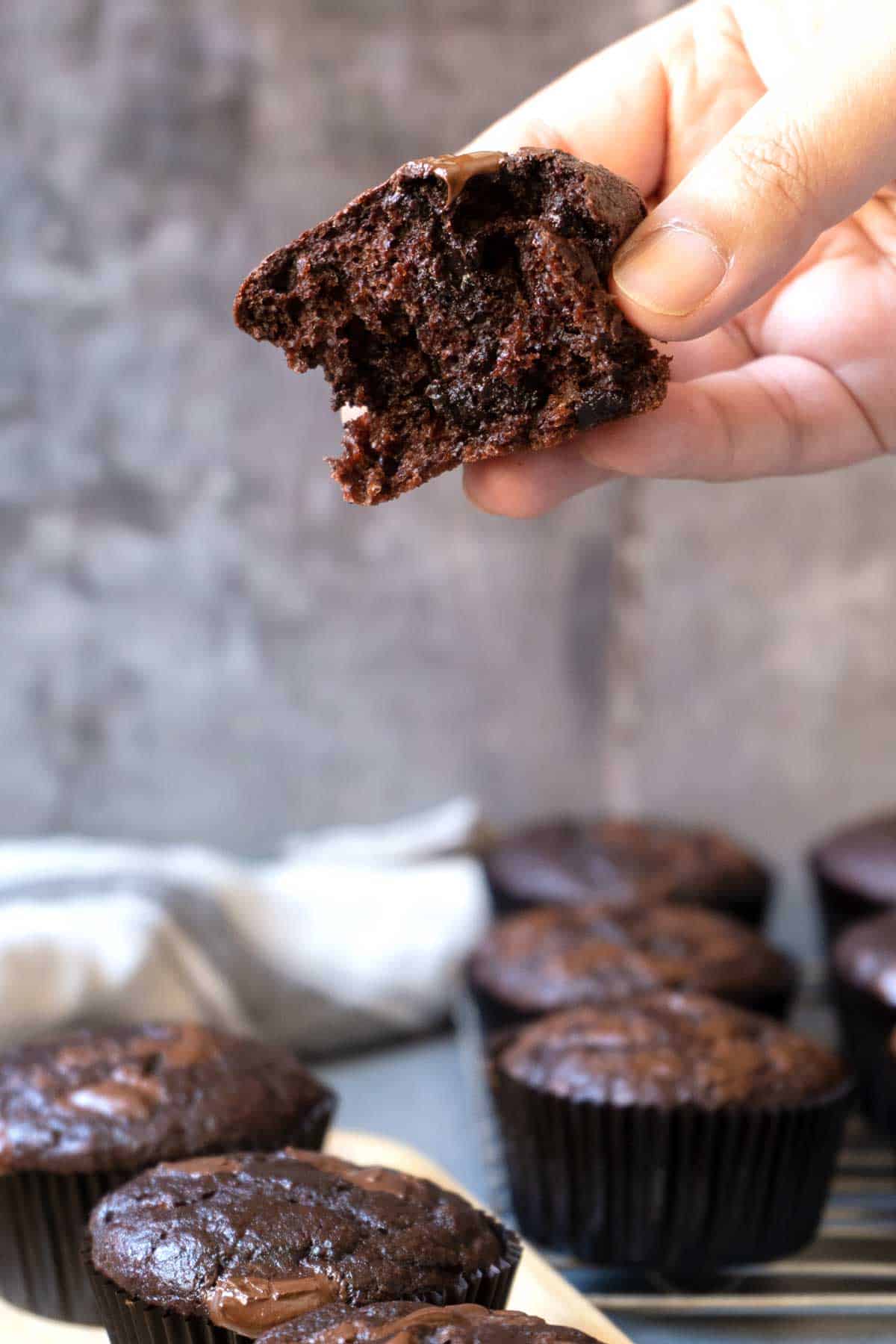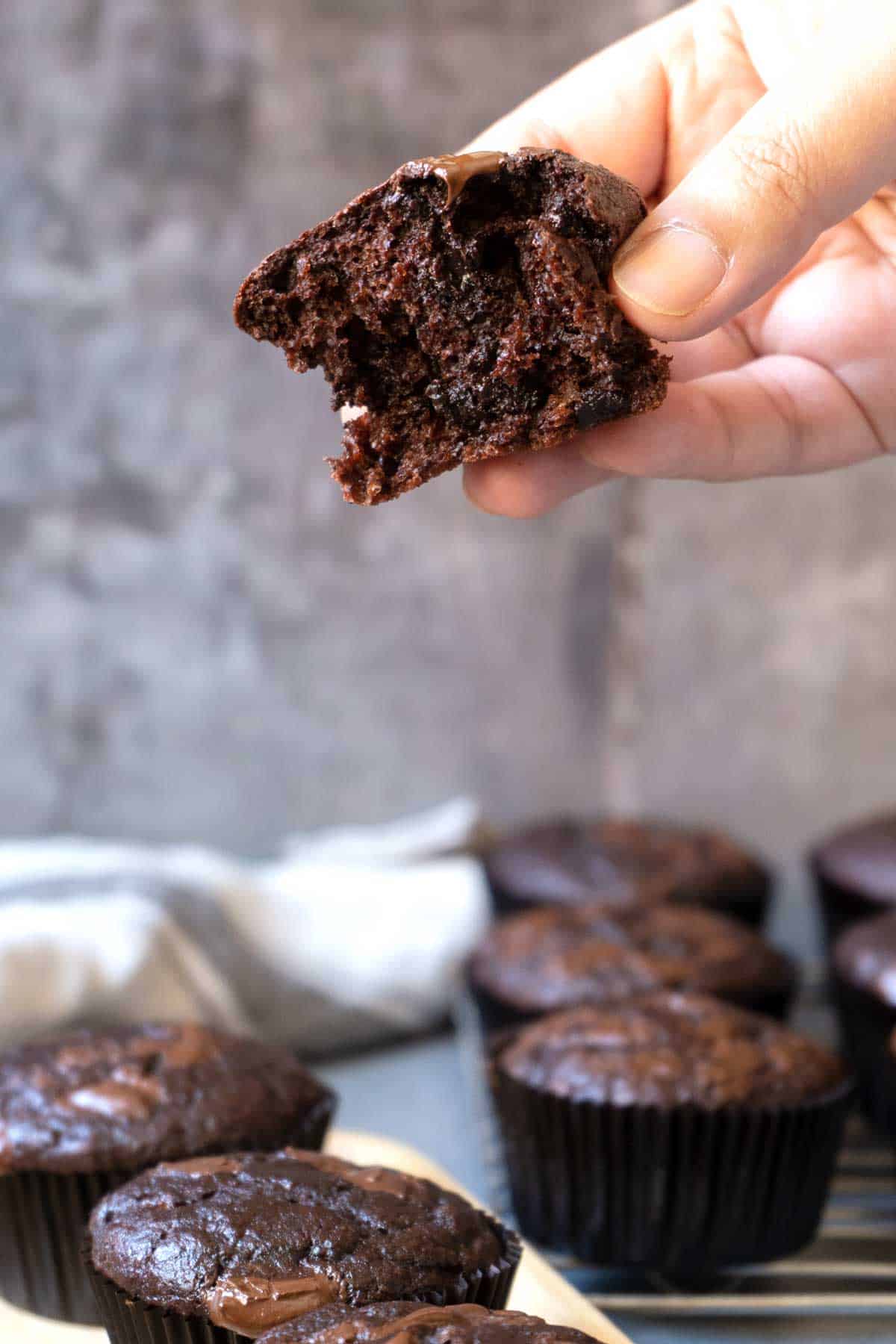 In Summary
These muffins are:
super fluffy and DELICIOUS!
very easy to make with just basic baking ingredients
you can use frozen bananas! yes!
they freeze really good
packed with chocolaty heaven and goodness!
Hungry For More?
You definitely have to check these out:
Video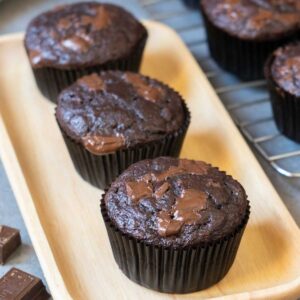 Double Chocolate Banana Muffins
Perfect for chocolate and banana lovers out there. These double chocolate banana muffins are really easy to make and to keep things even easier, this recipe uses only basic baking ingredients. You just mix and whisk by hand, that's it. These muffins are super fluffy, packed with chocolaty goodness and yes, super yum!
Print
Pin
Rate
Ingredients
Dry Ingredients
1 ½

cup

all purpose flour

(

195

g)

⅔

cup

unsweetened cocoa powder

(

50

g)

1

teaspoon

baking soda

1

teaspoon

baking powder

½

teaspoon

salt
Buttermilk
½

cup

full fat milk

(

125

ml), room temperature

½

tablespoon

vinegar
Wet Ingredients
½

cup

sugar

(

100

g)

⅓

cup

oil

(

80

ml)

2

large eggs

, room temperature

1

teaspoon

vanilla extract

4

ripe bananas

(

400

g), mashed

1

cup

chopped semisweet chocolate

(

180

g)
Instructions
Dry Ingredients
Sift all ingredients into a bowl, mix well with a spoon and set aside.
Buttermilk
Add both ingredients into another bowl and leave for 10 minutes.
Wet Ingredients
Add all ingredients, except chopped chocolate, into the buttermilk bowl. Mix everything well using a hand whisk. Now add in dry ingredients and mix until everything is well combined, do not over mix.

Finally add in ¾ amount of chopped chocolate into the mixture and give it one last mix. Reserve the chocolate balance for topping.
Baking
Using an ice cream scoop, divide batter evenly into 18 lined muffin pans. Sprinkle the reserved chocolate on top. Bake in a preheated oven at 350ºF (175ºC), using upper and lower heat, on lower ⅔ rack, for 23 minutes or until a skewer inserted in the center comes out clean.

Remove from the oven and cool completely (if you can wait that long!). Enjoy!
Nutrition Facts
Calories:
205
kcal
,
Carbohydrates:
28
g
,
Protein:
3.6
g
,
Fat:
9.8
g
,
Saturated Fat:
3.2
g
,
Cholesterol:
22.1
mg
,
Sodium:
164
mg
,
Potassium:
234
mg
,
Fiber:
3
g
,
Sugar:
13.3
g
,
Calcium:
39
mg
,
Iron:
1.8
mg