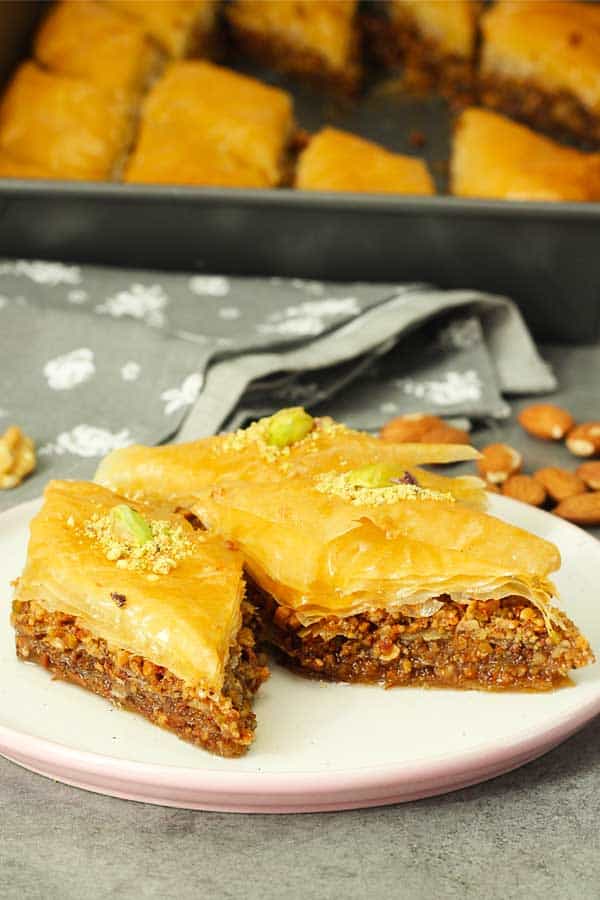 Background
Baklava is a rich sweet treat that is made from layers of buttered phyllo sheets with nuts fillings in between. The nuts used for the filling can be of several types like almonds, walnuts and pistachios.
The sweetness in this baklava comes from syrup that's made from sugar and honey and often than not, it's infused with spices of your choice like cinnamon stick, star anise or cloves.
The origins of baklava is quite difficult to determine as it's in many cuisines of the former Ottoman countries, Middle East and Caucasus.
Is It Difficult To Make?
I'm not that into sweets but I'm so amazed and addicted to baklava. Yes.
The crispy phyllo sheets, the sweet spiced syrup and ohhh the nutty fillings, everything about it is so wonderful and unique. Every time we go somewhere and if I see any place selling baklava, I would be tempted to buy some (and often than not, the temptation wins).
Before I started making my own baklava (yes, everything that we love, I just need to try making them at home), I always thought there's no way I would be able to produce that type of magnificent outcome!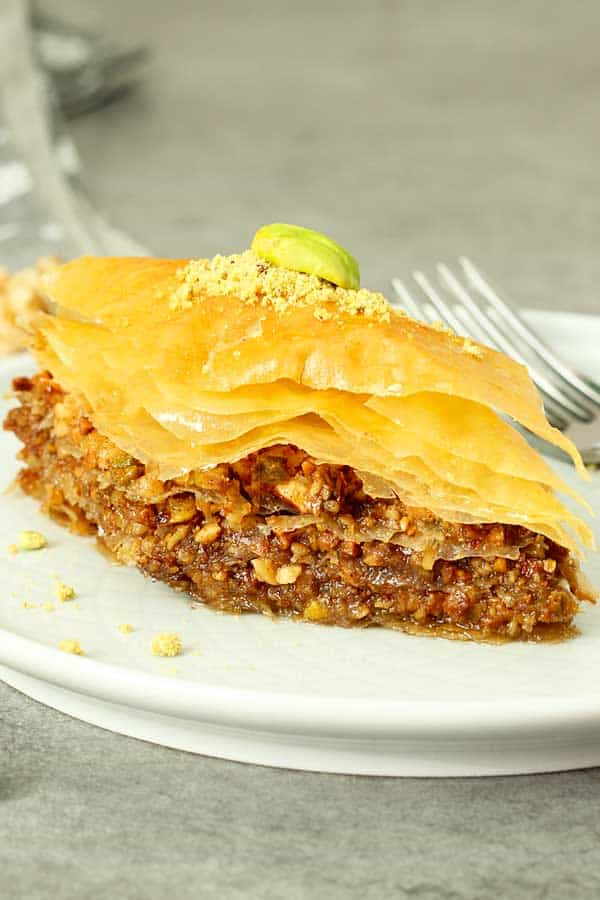 Well, believe it or not (do believe it!), making baklava is super simple. Yes. Super. Simple.
Don't get intimidated by it like I was.
It's basically just laying phyllo sheets in a pan, butter them now and then and add in the fillings in between the layers. That is all.
My Version
Having said that, today I'm so excited to share with you my baklava!
In this recipe today I'm using a combination of 3 types of nuts which are almonds, walnuts and pistachio. Combining several types of nuts not only brings the wonderful flavours but it's also easier on the wallet than if you were to use only pistachio nuts, for example.
I'm going the classic way of making the filling, that is just the nuts and cinnamon powder. Some incorporate chocolate chunks, which you can also do but I prefer it like this.
I've also seen some people using only sugar for the syrup and personally I simply love the combination of sugar and honey. I'm also not using so much sugar in this recipe as I don't want my baklava to be super sweet.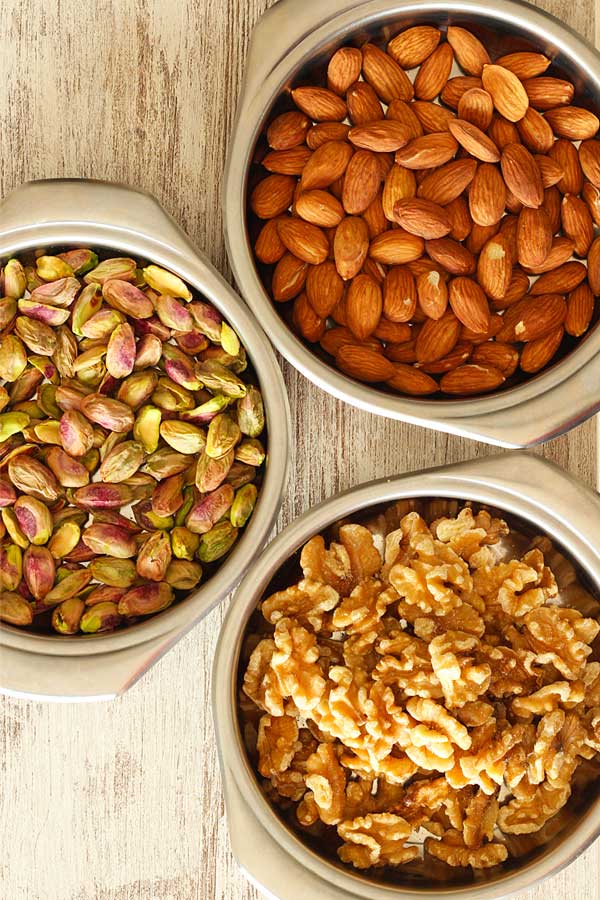 Assembling And Tips
If there's a rule in making baklava, I would say there's only one. That is, cover your phyllo sheets with a damp kitchen cloth when you're assembling your baklava.
Why? Because the phyllo sheets gets dry too fast and when they do, they start to break apart and we don't want that. Let's just assemble our baklava in peace, not pieces.
Layering the phyllo sheets and the filling can be done to your preferences actually. I would say the assembling could be divided into 3 components. The base, the filling and the top.
You would want the base to be quite thick before starting with your filling. For me, 6 phyllo sheets is enough for the base. You could go thicker if you like. And I like to butter every 2 phyllo sheets for the base.
As for the filling, I'm making 3 layers of fillings with 2 phyllo sheets in between them. I love nuts and this way the baklava is not just pure phyllo sheets but is with good ratio of nuts also.
I apply the top the same as the base. Meaning, I'm using 6 layers pf phyllo sheets also. I do butter the last phyllo sheet generously though.
You can see this clearly in the video below. I've listed every steps as I assembled it.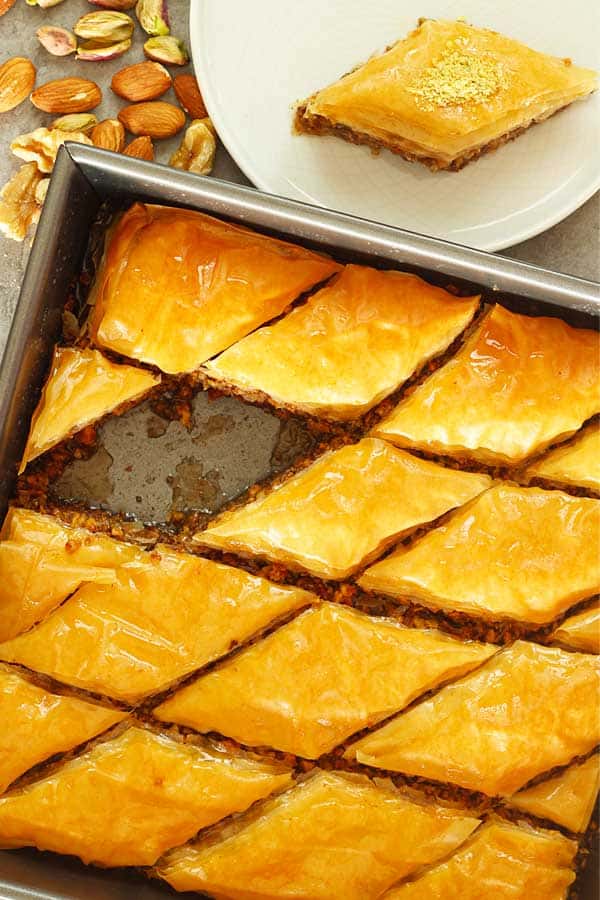 And here's a tip.
Place your baklava in the fridge for a while before cutting it.
Why? Because this will make your baklava firm and way easier to cut. Trust me, don't skip this part and you'll be happier.
After slicing it, like always we simply bake the baklava until golden brown.
Another tip.
Once you take out the baklava from the oven, immediately pour in the syrup all over it. This will make the baklava absorb the syrup better. Absorption is always great when the 2 items are in a contrast temperature. One hot and the other cold. So a hot baklava will absorb the cold syrup better.
And then it's just a matter of giving your baklava some time. Leave it for minimum 6 hours or as for me, I prefer to leave it overnight before serving it.
And of course, decorate your baklava as you wish.
I hope I've convinced you to make your own baklava because as you can see, it's super simple. Let me know what you think.
More Delicious Desserts
Video
📖 Recipe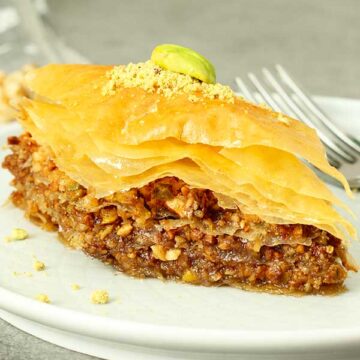 Easy Baklava Recipe
My way of making the wonderful and unique sweet treat that we all love, baklava. I'm using 3 types of nuts for the filling which are almonds, walnuts and pistachio. Making baklava is super easy, try it!
Print
Pin
Rate
Ingredients
The Syrup
1

cup

granulated sugar

(

200

gr)

¾

cup

water

(

190

ml)

½

cup

honey

(

110

gr)

2

tablespoon

lemon juice

2

star anise
The Filling
3.5

oz

almonds

(

100

gr)

3.5

oz

walnuts

(

100

gr)

3.5

oz

pistachios

(

100

gr)

2

teaspoon

cinnamon powder
Others
1

lb

phyllo pastry

(

450

gr)

½

cup

unsalted butter

(

113

gr), melted
Instructions
The Syrup
Add all of the syrup ingredients in a pot and cook on high medium heat until sugar is dissolved. Then reduce heat to medium low and continue cooking for another 5 minutes, without stirring. Set aside to cool completely.
The Filling
Add all of the filling ingredients into a food processor and blend into a semi fine texture. Set aside.
Assembling
Brush some butter on the base of a 9 inch (23 cm) square pan. Then place 2 phyllo sheets followed by some butter. Repeat until you get 6 phyllo sheets.

Then sprinkle ⅓ of the filling on the phyllo sheet. Place 1 phyllo sheet on top of the filling, brush it with butter and put another phyllo sheet on top. Repeat until you finish with the filling.

Place 2 phyllo sheets on the filling followed by some butter. Place another 2 phyllo sheets and butter until you get total of 6 phyllo sheets layers. Brush the top sheet generously with butter.

Place the pan in the fridge for 30 minutes. This will make everything firm and easier to cut. Once firmed, cut the baklava into diamond shapes.

Bake in a preheated oven at 350ºF (175ºC) for 45 minutes or until golden brown. Remove the baklava from the oven and immediately pour in the cooled syrup evenly on it. Leave at room temperature for minimum 6 hours or preferable overnight before serving. Enjoy!
Notes
You can watch the video above in detail on how I assemble the layers.
Nutrition Facts
Calories:
384.2
kcal
,
Carbohydrates:
47.5
g
,
Protein:
6.5
g
,
Fat:
20.3
g
,
Saturated Fat:
6
g
,
Cholesterol:
18.4
mg
,
Sodium:
159.1
mg
,
Potassium:
194.4
mg
,
Fiber:
2.9
g
,
Sugar:
26.7
g
,
Calcium:
44.4
mg
,
Iron:
1.9
mg