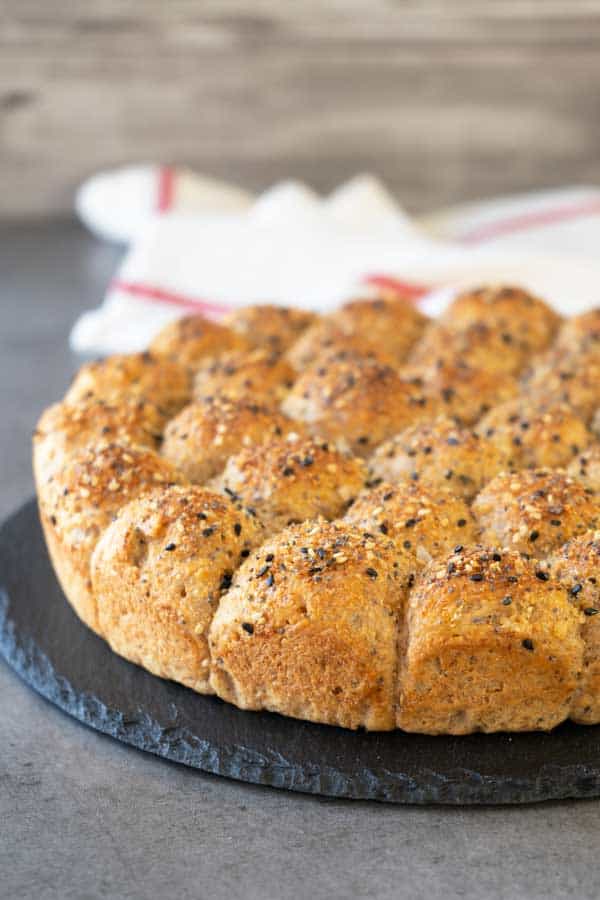 Calling to my fellow baker enthusiasts out there. Come and try this super easy (yes, I kid you not) everything bagel whole wheat pull apart bread.
Yes. Whole wheat pull apart bread. Soft, airy and fluffy texture. We don't care for dense whole wheat breads, no no no. Dip these beauties in my walnut basil pesto, oh la la!
And yes, I'm using ALL whole wheat flour. Not mixing it with any other flours.
Want to come with me and take a look?
Let's!
Wholly Whole Wheat Flour
Does it happen to you when you look for whole wheat bread recipes and getting excited but only to feel disappointed a few seconds after reading the recipe that it also use other flours like all purpose flour or bread flour?
Well it happened to me many times!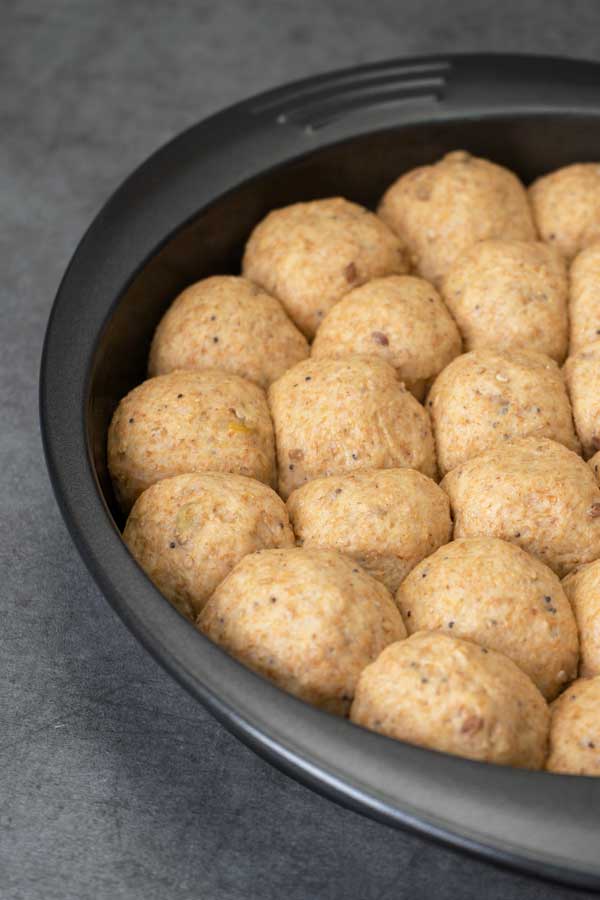 So in today's recipe I'm sharing with you a whole wheat bread that ONLY uses whole wheat flour. Nothing else. Well of course we need the yeast and other ingredients. I'm referring to no other flour than that.
Whole wheat flour without a doubt has much more nutrients than white flour or all purpose flour or bread flour. So it's always great to have a recipe like this in our collection, don't you think?
Apart from using whole wheat flour, I'm also adding in some mixed seeds in the dough. I actually love adding mixed seeds in my homemade breads. They bring some texture, make the breads looks fancy (ha!) and of course they're super healthy.
Everytime I make my husband's mollete (that's his beyond favourite bread for breakfast), I always add mixed seeds in the dough.
It's optional in this recipe, you don't need to add them if you don't want to. Feel free please.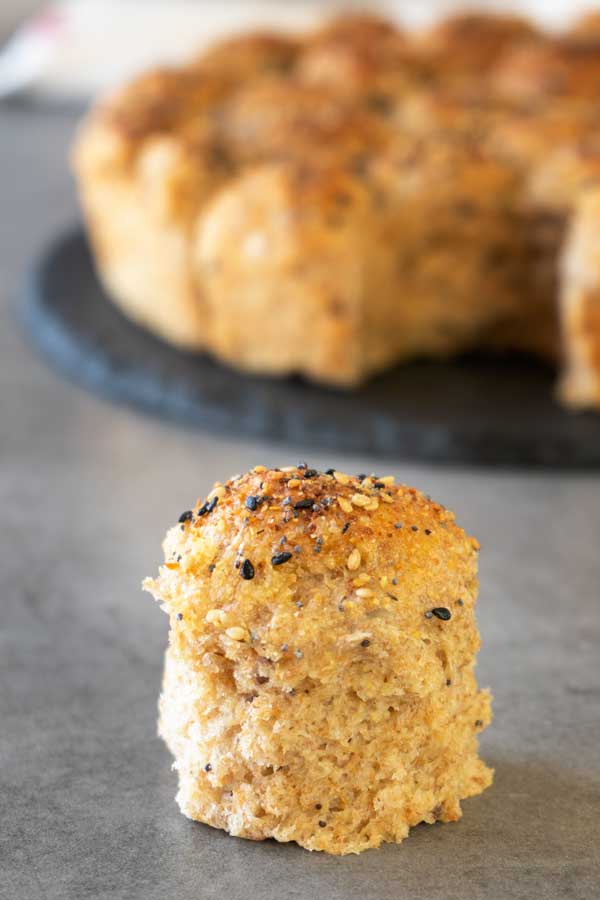 Soft, Airy And Fluffy
Whole wheat breads are always denser than the typical breads that don't use whole wheat flour. This is because it has a lower gluten content compared to white flour or bread flour.
Gluten is what's making a bread chewy, tall and airy.
Well guess what?
With this recipe you CAN achieve all that! Soft, airy and fluffy textured bread. You can see in the video on how wonderful the texture is.
So what are you waiting for? Grab a pack of whole wheat flour and let's start breading!
And hey, if you enjoy my recipes and our videos do help and support us by sharing with your family and friends. Also if you've made any of my recipes please give your rating by choosing the stars in the comment section below. That will help us a lot, thanks in advance!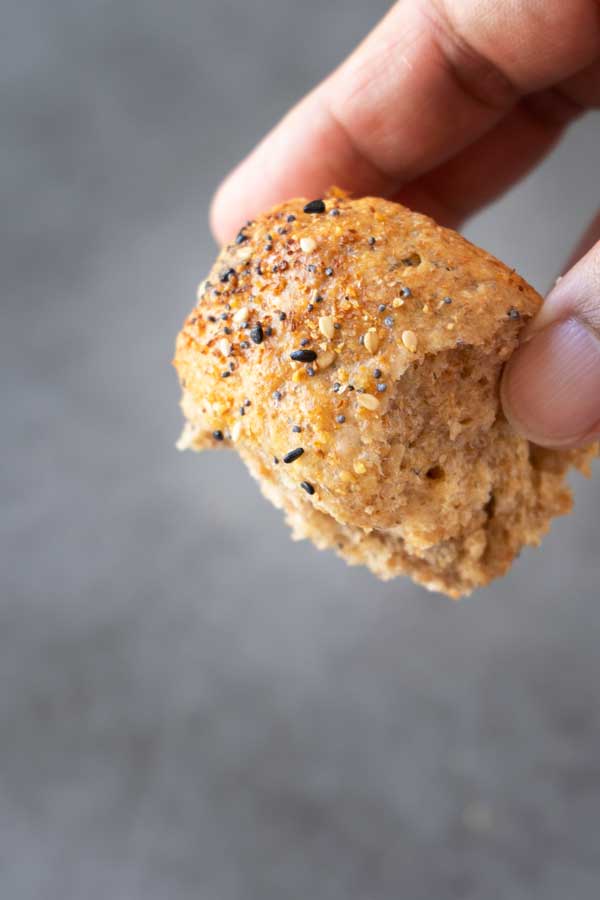 Everything Bagel Seasoning
Ahhh this is so simple yet super DELICIOUS seasoning! I've written a post about on how to make your own.
Click here to see how to make your own everything bagel seasoning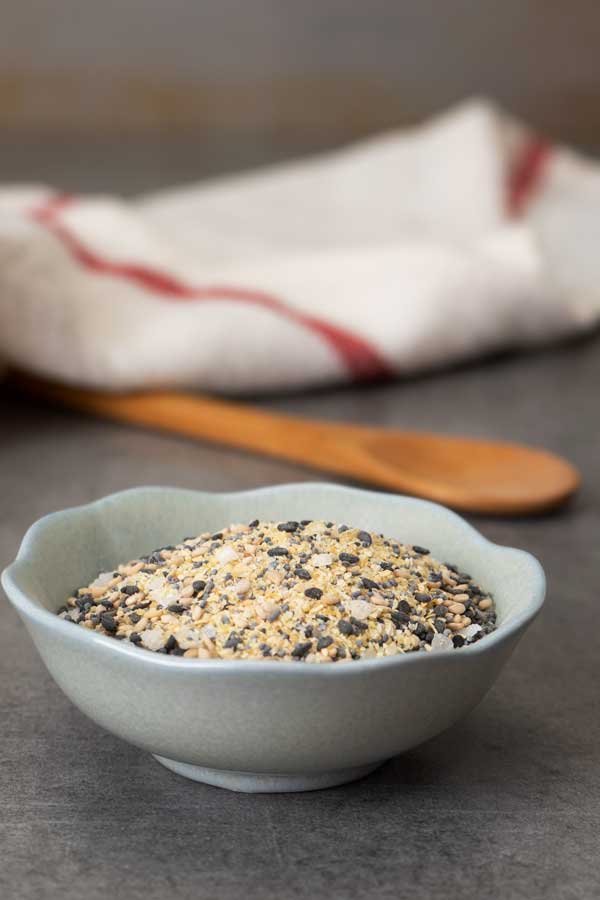 In Summary
These everything bagel whole wheat pull apart breads are:
soft, airy and fluffy!
use only whole wheat flour, no any other flours included in the dough
are pimped with mixed seeds that are of course super healthy
use homemade everything bagel seasoning
seriously DELICIOUS! A must try!
Before You Go
Do check these recipes also:
Video
📖 Recipe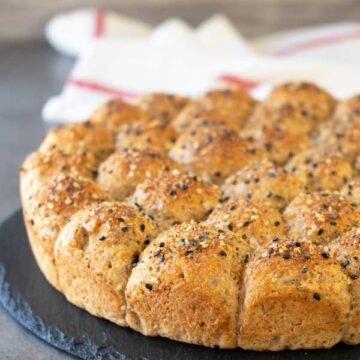 Everything Bagel Whole Wheat Pull Apart Bread
Love bread not loving the white flour? Come and try these soft, airy and fluffy everything bagel whole wheat pull apart bread that's going to make you enjoy bread in a more nutritious way. Yum!
Print
Pin
Rate
Ingredients
The dough
2 ½

cup

whole wheat flour

(

325

g)

2

large eggs

, room temperature

½

cup

warm milk

(

125

ml)

2 ¼

teaspoon

instant yeast

(

7

g)

1

tablespoon

honey

(

20

g)

1

teaspoon

salt

⅓

cup

butter

(

75

g), cubed and softened

egg wash

(

1

beaten egg with a splash of milk)
Instructions
The Dough
Add all ingredients in a standing mixer bowl, except for butter. Mix to incorporate and then knead for 10 minutes.

Add softened butter bit by bit, making sure to mix well after each addition. Continue to knead for 10 minutes more.

Place dough on a greased bowl and cover tightly with a cling film. Leave until the dough rises double its size.
Assembling
Place risen dough on a lightly greased working surface. Cut it into 30 equal pieces, more or less. Shape each piece into a ball and place them in a 9 inch (23 cm) round container that has been greased and lined.

Cover loosely with cling film and leave until they puff up a bit. After they puffed up, brush the surface with the egg wash and sprinkle some of the everything bagel seasoning on top.

Bake in a preheated oven at 350ºF (175º) for 20 minutes or until golden brown and fully cooked. Remove from the oven. Mix melted butter with garlic powder and brush it on bread's top surface. Leave to cool. Enjoy!

Note: the dough is on the sticky side so lightly grease your hands and working surface for easier handling
Nutrition Facts
Calories:
73.2
kcal
,
Carbohydrates:
8.8
g
,
Protein:
2.5
g
,
Fat:
3.5
g
,
Saturated Fat:
1.9
g
,
Cholesterol:
25.1
mg
,
Sodium:
161.3
mg
,
Potassium:
61.9
mg
,
Fiber:
1.4
g
,
Sugar:
0.9
g
,
Calcium:
12.7
mg
,
Iron:
0.5
mg