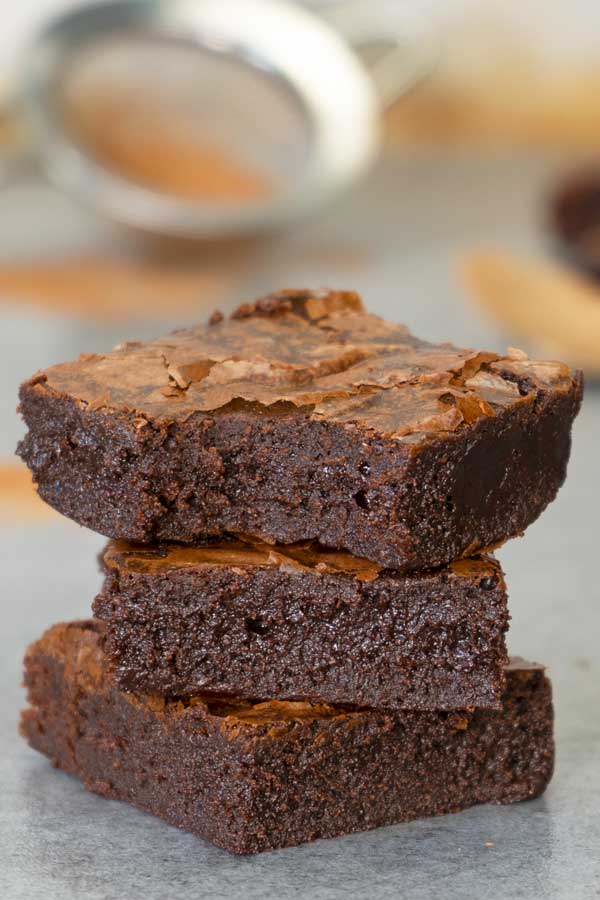 For chocolate lovers, fudgy brownies fanatics out there.. please spare some time in your life to make these ohh so amazingly yummy super fudgy chocolate brownies.
Ok, let's take a deep breath and get on with today's recipe.
Fudgy Brownies
Some like their brownies cakey and some like them fudgy. Me!
For me it's not that one is better than the other, it's just a matter of preference. Really.
I love fudgy brownies. My husband LOVES them.
I don't make brownies so often but when I do, I like to make them using this recipe. Go big or go home, right?
What I really love about fudgy brownies is the texture. Chewy and.. yes, fudgy. There's just something about the texture that gives such satisfaction when you have your first bite.
Oh la la!
The rich chocolate taste, the crinkly top. I could go on forever. I could, but I won't.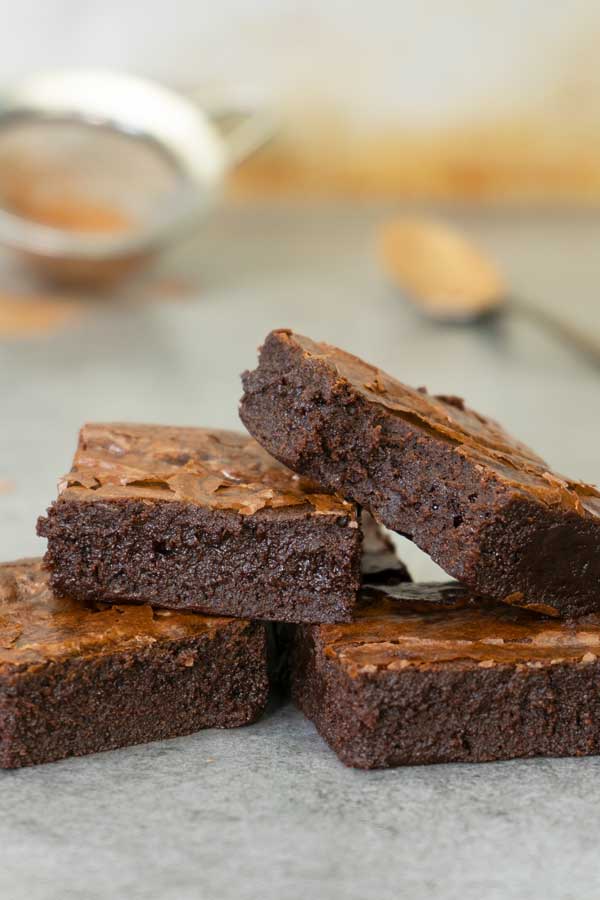 How To Achieve Fudgy Brownie Texture
Brownies are the easiest treat to make. You don't need any fancy machine or device. Just a bowl, a whisk and you're ready to go.
There are some tips, if you could call them that, on how to convert ordinary brownies to yummilicious ones like these fudgy brownies.
more butter and chocolate - yes, you'll be needing more butter and chocolate or fat content for your fudgy brownies compared to cakey brownies
all purpose flour - don't use cake flour or leavening agent for your fudgy brownies
brown sugar - somehow brown sugar helps in creating that chewy fudgy texture
don't over bake - keep checking towards the end of cooking time because your brownie can go from perfect moist fudgy to hard dense, and dry ones
Honestly, it's not such a complicated recipe to begin with. If anything, I would say just don't over bake them, you'll be fine.
How To Know When The Brownies Are Cooked
As I mentioned earlier, it's important that you don't over bake your fudgy brownies.
What I usually do is I keep checking on it when it's nearing 18 minutes cooking time.
I use a wooden skewer and insert it in the middle of the pan. If the skewer comes out wet, then I will continue baking the brownies for 2 minutes more and then check again.
If the skewer comes out crumbly wet, then it's perfectly cooked. The key is the skewer needs to still come out wet yet there are crumbs on it also.
If the skewer comes out totally clean then, yea.. you've over baked it. It's still going to taste delicious but you will not have the fudgy texture.
I hope you will give this super simple and delicious brownies a try.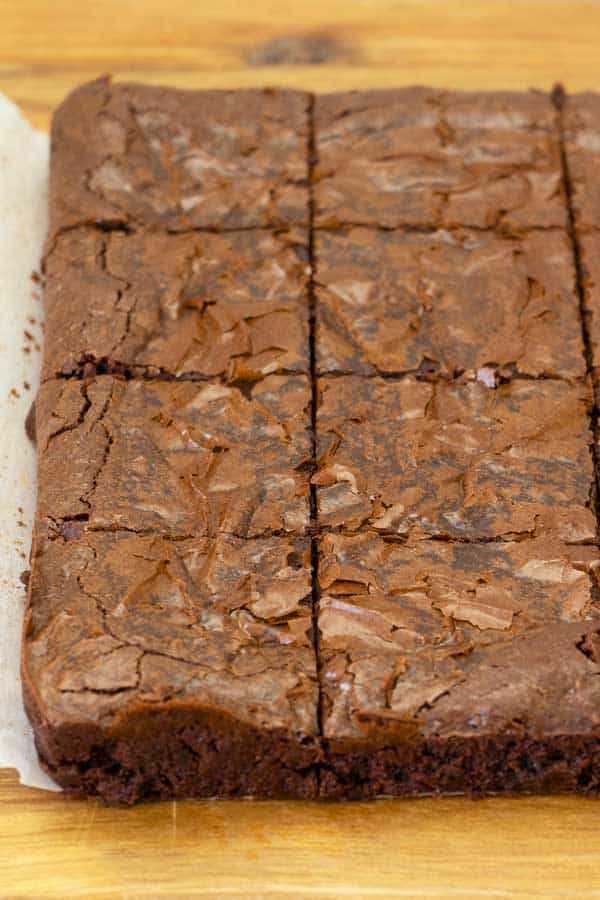 In Summary
There fudgy brownies are:
super easy to make, all you need to do is whisk manually by hand
only needs 1 bowl and a whisk to make it. less washing up!
though decadent but this recipe actually has less sugar than typical brownies would
have those wrinkles top that we are particular about in brownies! haha!
SUPER DELICIOUS, a great treat to enjoy
Before You Go
Maybe you would also be interested in these recipes:
Video
📖 Recipe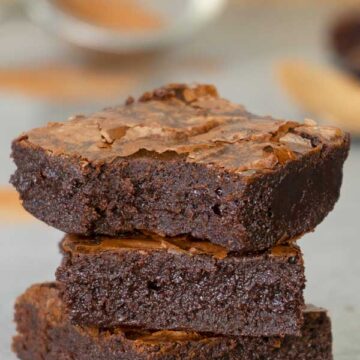 Fudgy Brownies
Calling out to chocolate lovers and fudgy brownies fans out there! Try these beauties, they will make you smile with satisfaction. Super easy to make, a bowl, a whisk and you're ready to go.
Print
Pin
Rate
Ingredients
8.5

oz

semi sweet chocolate 55%

(

240

gr), cut into small chunks

½

cup

butter

(

113

gr)

½

cup

sugar

(

100

gr)

½

cup

brown sugar, compacted

(

80

gr)

2

eggs

¼

teaspoon

salt

1

teaspoon

vanilla extract

⅔

cup

all purpose flour

(

85

gr)

2

tablespoon

unsweetened cocoa powder

(

16

gr)
Instructions
Put chocolate and butter in a bowl and melt them using bain-marie method.

Place the bowl on a kitchen towel. Add in both sugar and whisk everything good until they're well combined.

Add in 1 egg, salt and vanilla extract. Continue whisking until the egg is well combined. Add in the other egg and whisk to combine.

Sift flour and cocoa powder into the bowl. Gently mix everything just to combine. Don't over mix at this point.

Pour batter into an 8 inch (20 cm) square pan that has been buttered and lined with baking sheet. Spread batter evenly.

Bake in a preheated oven at 350ºF (175ºC) for 25 minutes or until when you insert a skewer it comes out crumbly wet.
How To Serve
Leave to cool or slightly warm before lifting the brownies out from the pan else they will break. Cut into 16 equal potions and serve as it or with a scoop of ice cream on the side 😉
How To Store
Keep in an airtight container at room temperature. Best eaten within 1 or 2 days.

To freeze: wrap them individually with cling film, put them in a ziplock bag and keep in freezer. Defrost at room temperature. Heat slightly on low potency in microwave to bring it back to life.
How To Get Fudgy Brownies Texture
Do not over baked your brownies. Read my detailed tips in the post above.
Nutrition Facts
Calories:
224.1
kcal
,
Carbohydrates:
26.2
g
,
Protein:
2.4
g
,
Fat:
12.5
g
,
Saturated Fat:
7.4
g
,
Cholesterol:
37.5
mg
,
Sodium:
96.7
mg
,
Potassium:
120.5
mg
,
Fiber:
1.6
g
,
Sugar:
19.3
g
,
Calcium:
22
mg
,
Iron:
1.4
mg