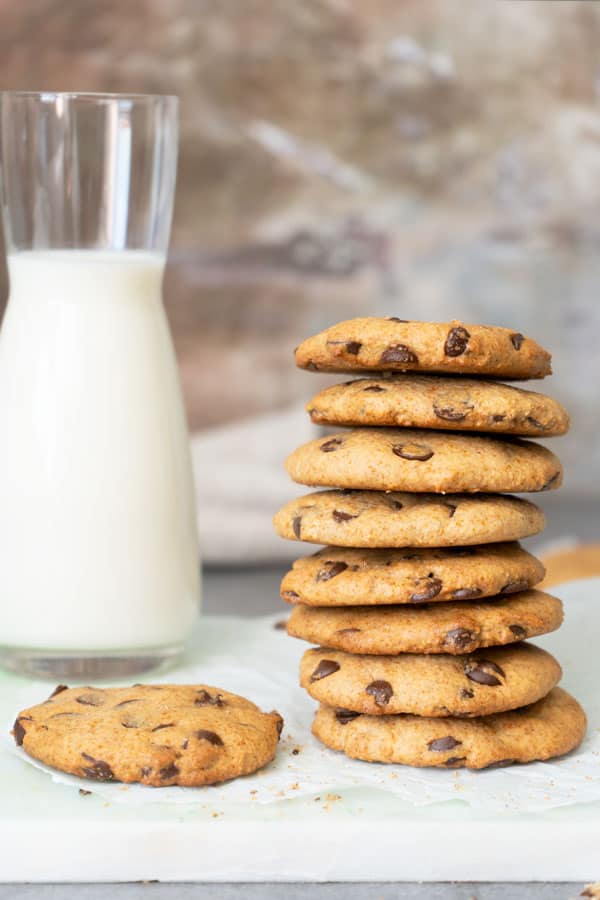 Did you miss us? We've been away a few times starting this year but now we're back! And today I'll be sharing with you these healthy chocolate chip cookies and guess what? They're extremely easy to do!
Anyway, cookies. Let's get to the cookies please.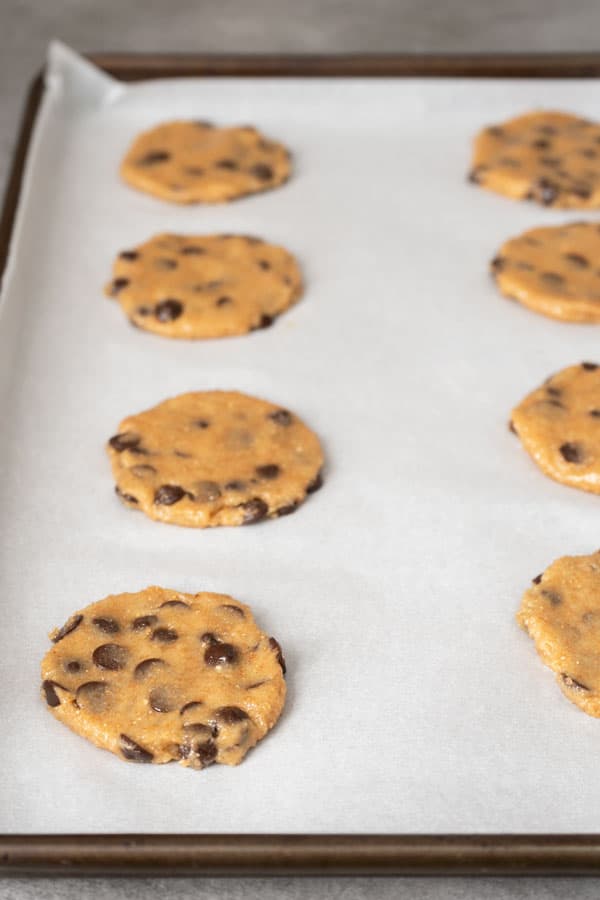 Cookies CAN Be Healthy
And what I meant by healthy is, using healthy and nutritious ingredients. In this case, I'm using spelt and almond flour, with just a bit of coconut oil and honey as the sweetener. Well of course then there's egg and chocolate chips.
We in general just love to enjoy our sweet treats, don't we? When you make desserts or bake a cake or make cookies, it's always because you're celebrating something special. Right? And I'm just fascinated with the idea of transitioning our typical sweet treat recipes into healthier ones, in any way.
It doesn't mean every single ingredient in that recipe needs to be in the group of "healthy food". We can go slow, can we not? As simple as changing white sugar to coconut sugar or honey. Or fine white salt to Himalayan salt. Simple small baby steps. And I'm hoping you would come along with me on this journey.
And it also doesn't mean that every recipe needs to be considered a healthy recipe, right? If in a month I can offer you one delicious healthy recipe, I would be beyond happy! Baby steps, baby steps.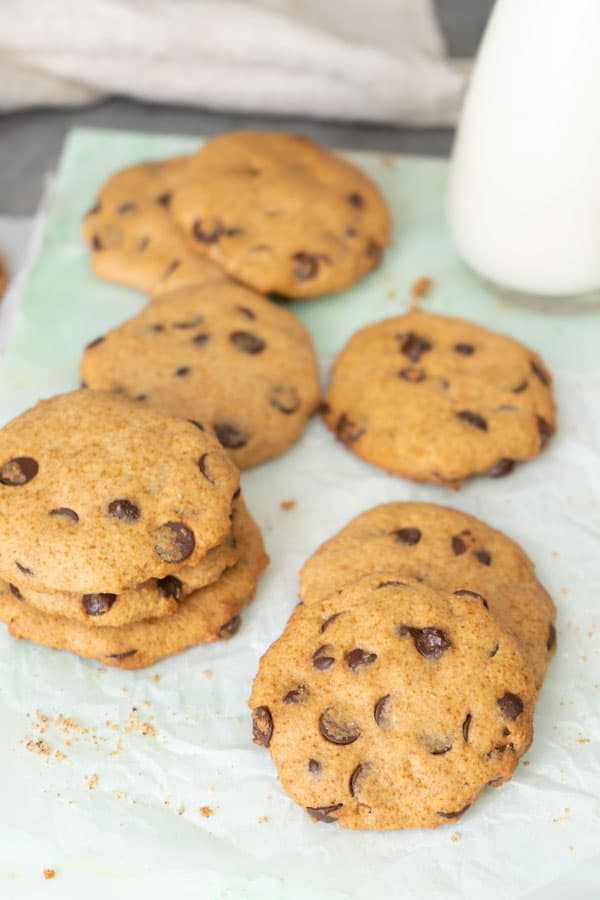 Chocolate Chips
Use your favourite chocolate chips. Yeaaaaay!!
If you love dark chocolate chips, by all means, use those. If you want to use zero-sugar chocolate chips, then nobody's stopping you. You can also use chocolate bar and cut it into small chunks. And if you're nuts about peanut butter then use peanut butter chips. The cookies won't be chocolate chip cookies, but you get what I mean, right?
There're no rules here. Choose your own happiness and your own choice of chocolate chips.
The reason that I'm saying this is because I get some comments saying chocolate chips are not healthy. I mean, I don't even know how to respond to that because personally for me, there's a million ways to adapt a recipe to your liking. And an ingredient that's so easy to swap to your taste like chocolate chips, it goes without saying.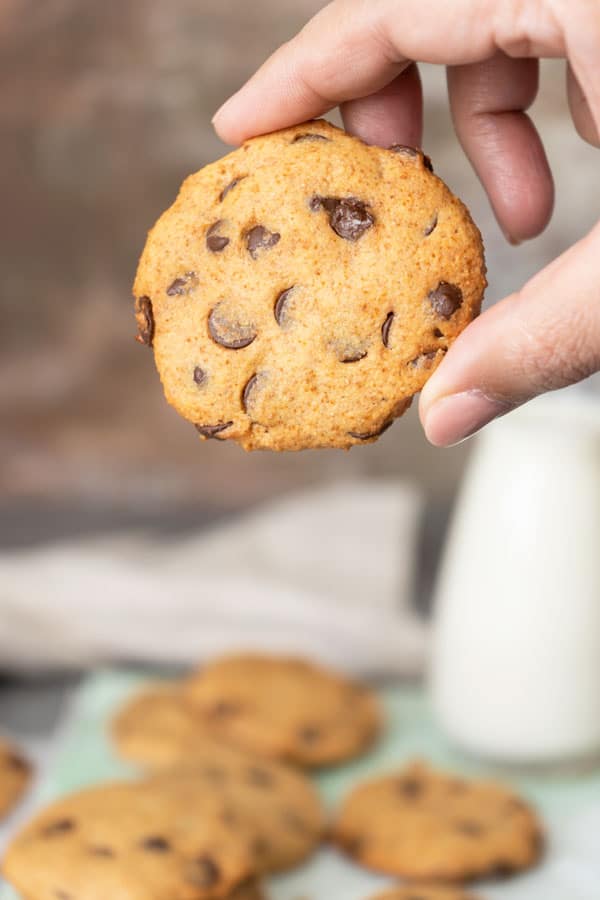 Chewy To Crunchy
This is also another aspect of this recipe that you can adapt to your liking.
If you love your cookies soft and chewy then bake them for 10 minutes. If you love them crunchy then bake them for a few minutes more.
Hungry For More Healthy Recipes?
Check these out:
Video
📖 Recipe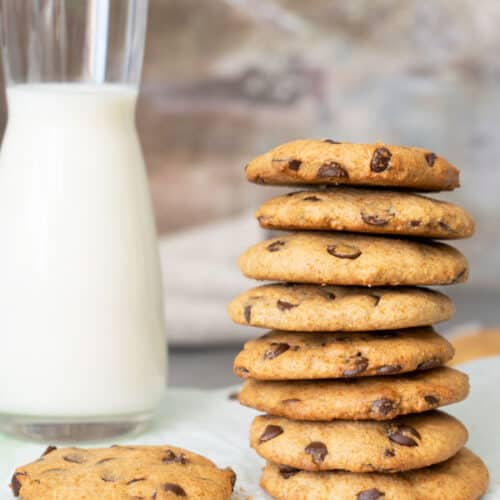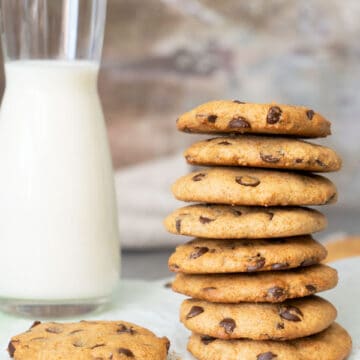 Healthy Chocolate Chip Cookies
Come and try these healthy chocolate chip cookies that are not only delicious (I mean, of course right?) but they are ridiculously easy to make. Less sweet and definitely fulls you more than the typical ones. Try!
Print
Pin
Rate
Ingredients
Dry Ingredients
¾

cup

spelt flour

(

100

g)

½

cup

almond flour

(

45

g)

½

teaspoon

baking soda

¼

teaspoon

salt
Wet Ingredients
2

tablespoon

coconot oil

(or

25

g, melted)

¼

cup

honey

(

60

g)

1

large egg

, room temperature

1

teaspoon

vanilla extract
Other
1

cup

chocolate chips of choice

(

100

g)
Instructions
Dry Ingredients
Add all of dry ingredients into a bowl and mix well. Set aside.
Wet Ingredients
Add coconut oil and honey into another bowl and whisk using a hand held machine until creamy, for a minute or two. Then add in egg and vanilla extract. Mix everything well.

Now add in the dry ingredients and mix until everything is well combined. Finally add in the chocolate chips and fold them together using a spatula. The dough will be slightly wet, don't worry. Leave for 10 minutes for the almond flour to absorb the liquid.

After 10 minutes, scoop the dough using a 1 ½ tablespoon ice cream scoop (don't pack it too much) and place on top on a baking tray lined with parchment paper. Leave around 2 inches (5 cm) distance between them.

Using slightly greased fingers, press and flatten the dough into 4 mm thickness, more or less. Don't make them too thick as they will rise in the oven.
Baking
Bake in a preheated oven at 375ºF (190ºC) with no fan, in middle rack, using top and bottom heat. Bake for 10 minutes if you want the cookies to be chewy and soft. Bake for a few minutes longer if you prefer them crunchy.

Remove from the oven and cool completely. Enjoy!
Nutrition Facts
Calories:
126.7
kcal
,
Carbohydrates:
15.5
g
,
Protein:
2.8
g
,
Fat:
6.8
g
,
Saturated Fat:
3.4
g
,
Cholesterol:
13.3
mg
,
Sodium:
87.4
mg
,
Potassium:
8.7
mg
,
Fiber:
1.8
g
,
Sugar:
5.4
g
,
Calcium:
11.3
mg
,
Iron:
0.9
mg