I'm a sucker for easy cakes, like this healthy olive oil raspberry swirl cake. This is one of the cakes that you know you'll be making over and over again, to enjoy with your family and friends.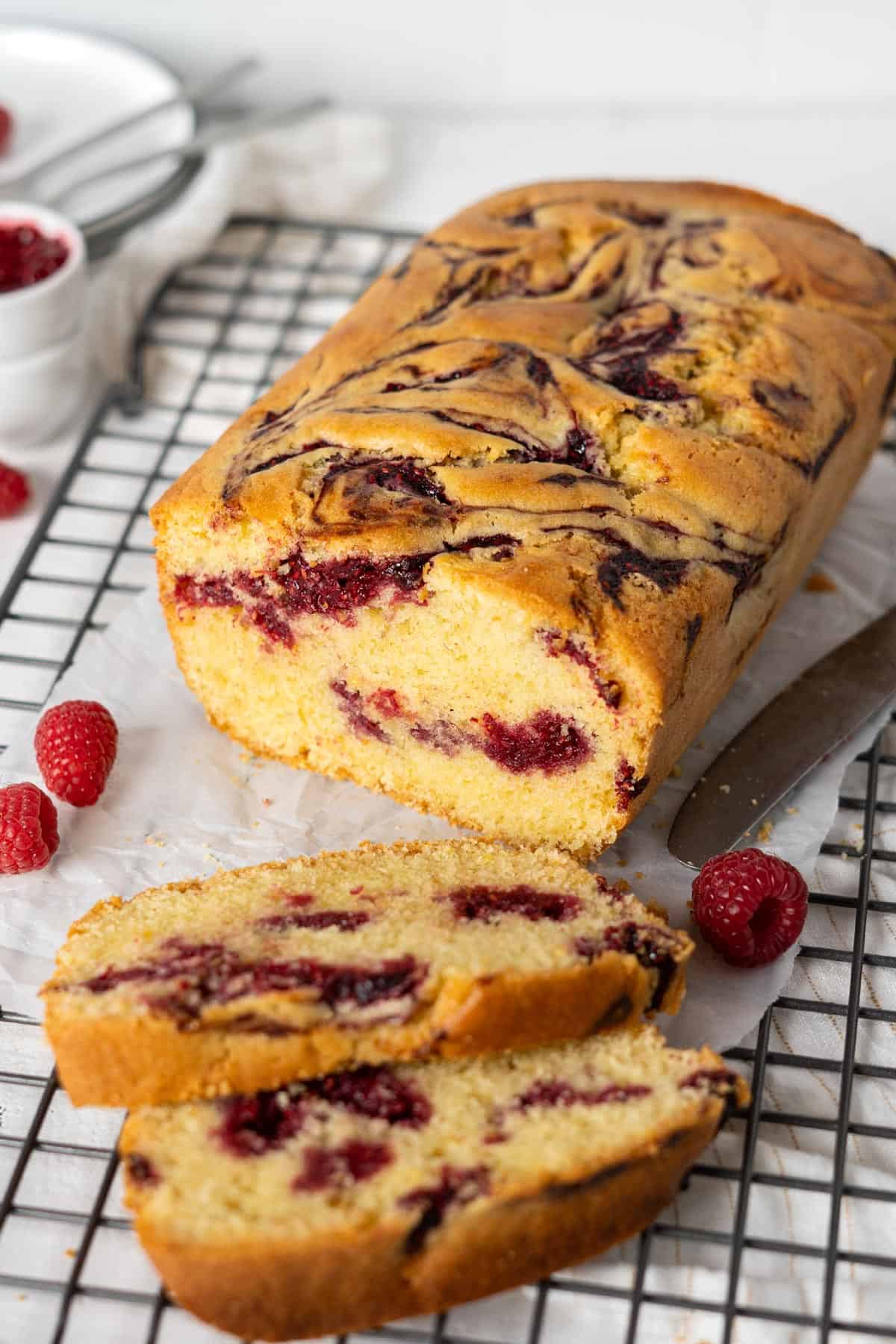 It's a homemade cake, true to its nature. The one where you'd want to make when somebody comes to visit.
I modified my classic orange olive oil cake to make it healthier by using more nutritious ingredients.
If you like to bake with fruits, check out my peach cobbler with cake mix, a delicious and easy summer dessert.
Jump to:
Ingredients Talk & Substitutions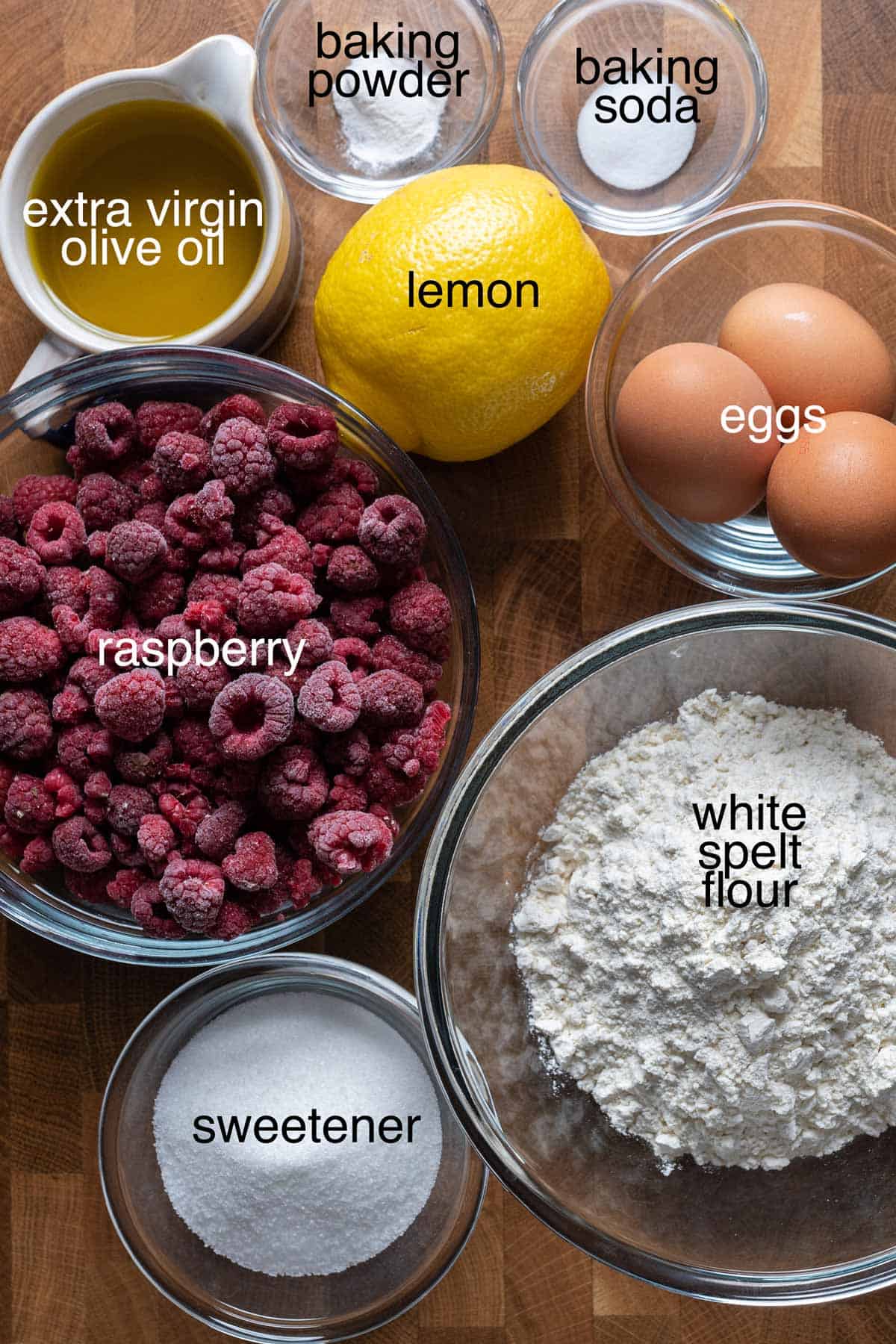 Olive oil - As I mentioned earlier, opt for extra virgin olive oil. We are making olive oil cake, to begin with.
SUBSTITUTIONS: You can use regular olive oil. Or any other oil that you prefer at the end if you don't care for the olive oil flavor in this cake.
BUTTER: Although this is an olive oil cake, you can use butter instead also. Use 1 cup melted butter (250 ml).
Flour - I'm using white spelt flour, just to preserve the bright yellow look of a classic olive oil cake.
SUBSTITUTIONS: You can use whole-grain spelt flour. Just know that the cake won't be as bright yellow. All-purpose flour also works fine.
Sweetener - I'm using erythritol. It's a healthier sweetener and since it's white, it doesn't affect the cake's color. It's usually less sweet than most dry sweeteners, so bear that in mind if you're swapping it.
SUBSTITUTIONS: 1 cup of white sugar = 1 ⅓ cups of erythritol (30% more). Use it to calculate the amount as you see fit if you're using another dry sweetener.
Raspberry - Fresh or frozen work beautifully in this.
Utensils To Use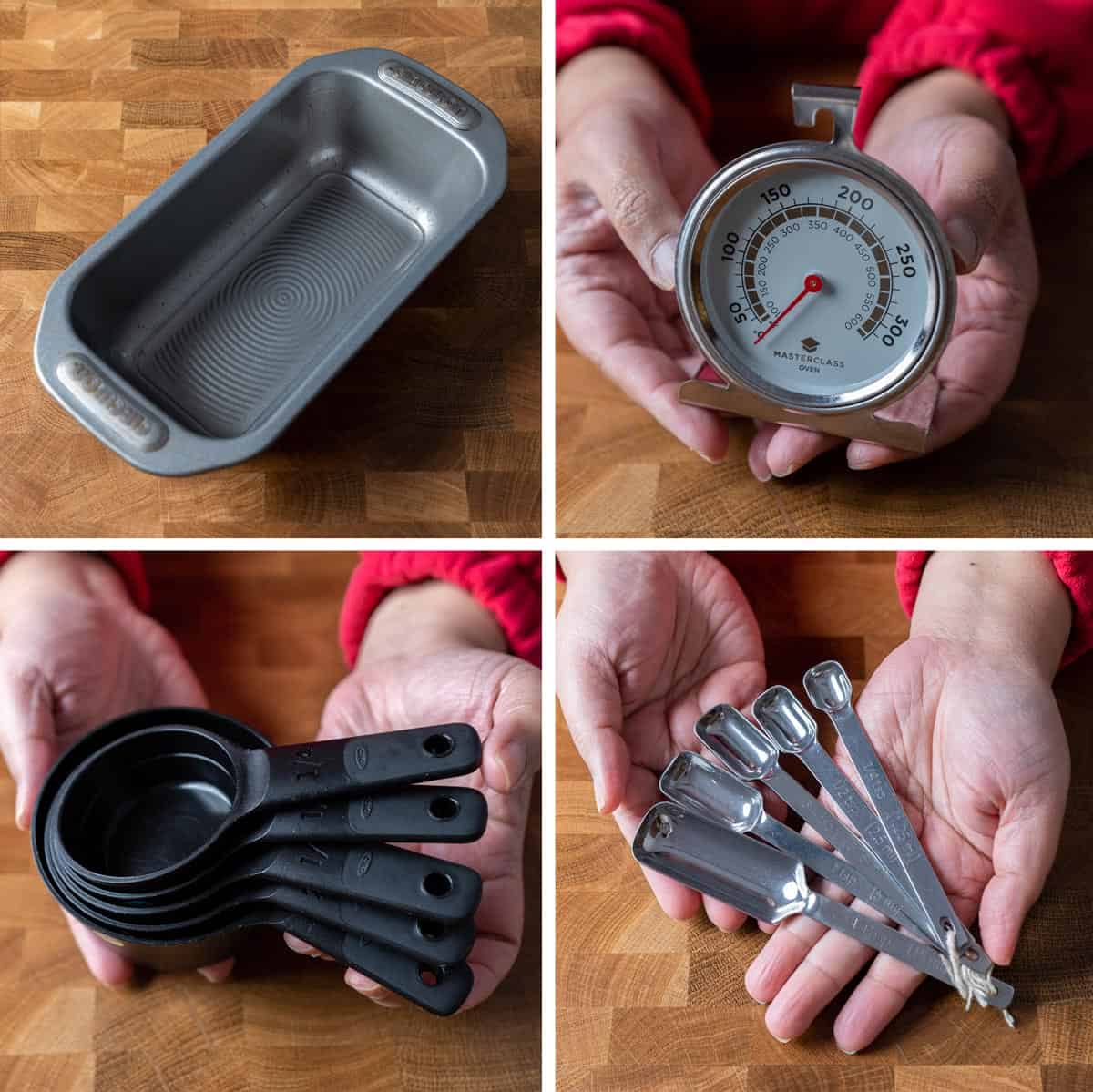 Loaf pan - I love this 5x9-inch loaf pan and have been using it for years. You can tell from the look. This is perfect for the amount of ingredients in this recipe. Due to its silver or lighter color, it reflects the heat. That means that it cooks the cake slower, doesn't make it too brown, and also makes it easier to control so the cake doesn't get dry.
Portable oven thermometer - Each oven heats differently, although it could be showing the same temperature. Yours is not the same as mine. I strongly recommend you use a portable oven thermometer to make sure the temperature that you're using is accurate. I use it every single time I use the oven. Having the right temperature will determine if the cake is beautifully baked or a disaster.
Measuring cups - Cooking is by heart but baking is a science. Each ingredient together with its amount, has its own purpose. I highly advise you to have proper measuring cups if you're into baking. I've been using these for years.
Measuring spoons - Proper measuring spoons are also very important. These spoons and the ones we use in our daily meals are not the same.
How To Make Olive Oil Raspberry Swirl Cake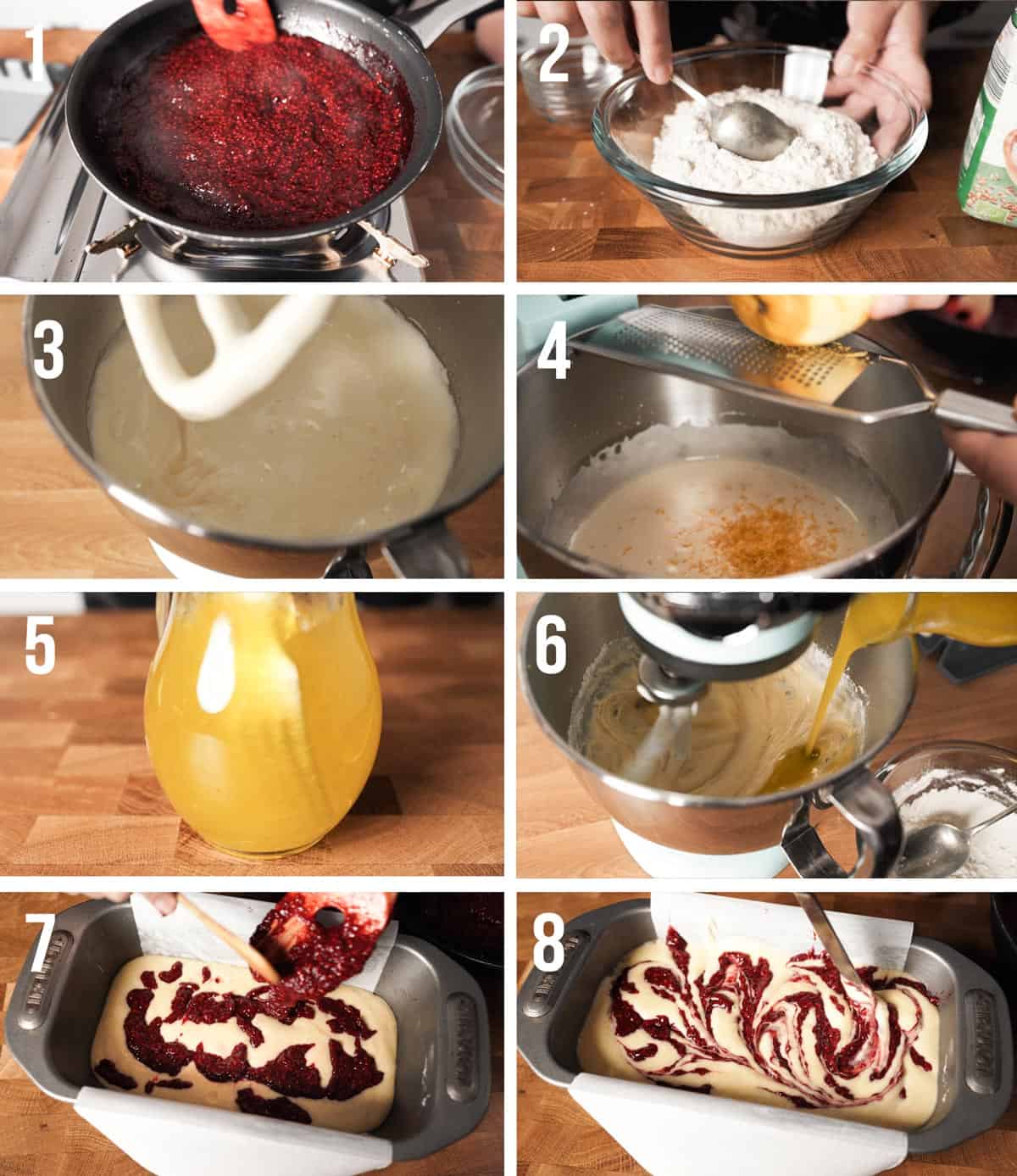 Make the raspberry jam: Add raspberries and sugar in a pan, and cook until it thickens and cools completely.
Prepare dry ingredients: Mix flour, baking soda, baking powder, and salt in a bowl, and set aside for later.
Whisk until ribbons stage: Whisk eggs and sweetener. I love using my standing mixer for this, it's easier and faster.
Lemon zest: Add lemon zest into the mixing bowl before juicing it.
Prepare olive oil mixture: Mix olive oil and lemon juice in a jar with a fork.
Alternate: Add dry ingredients in thirds while alternating with the olive oil mixture.
Assembling: Pour half cake batter into the loaf pan, together with some raspberry jam.
Bake: Pour the rest of the batter, more raspberry jam, and make swirls. Bake.
Tips For Making The Cake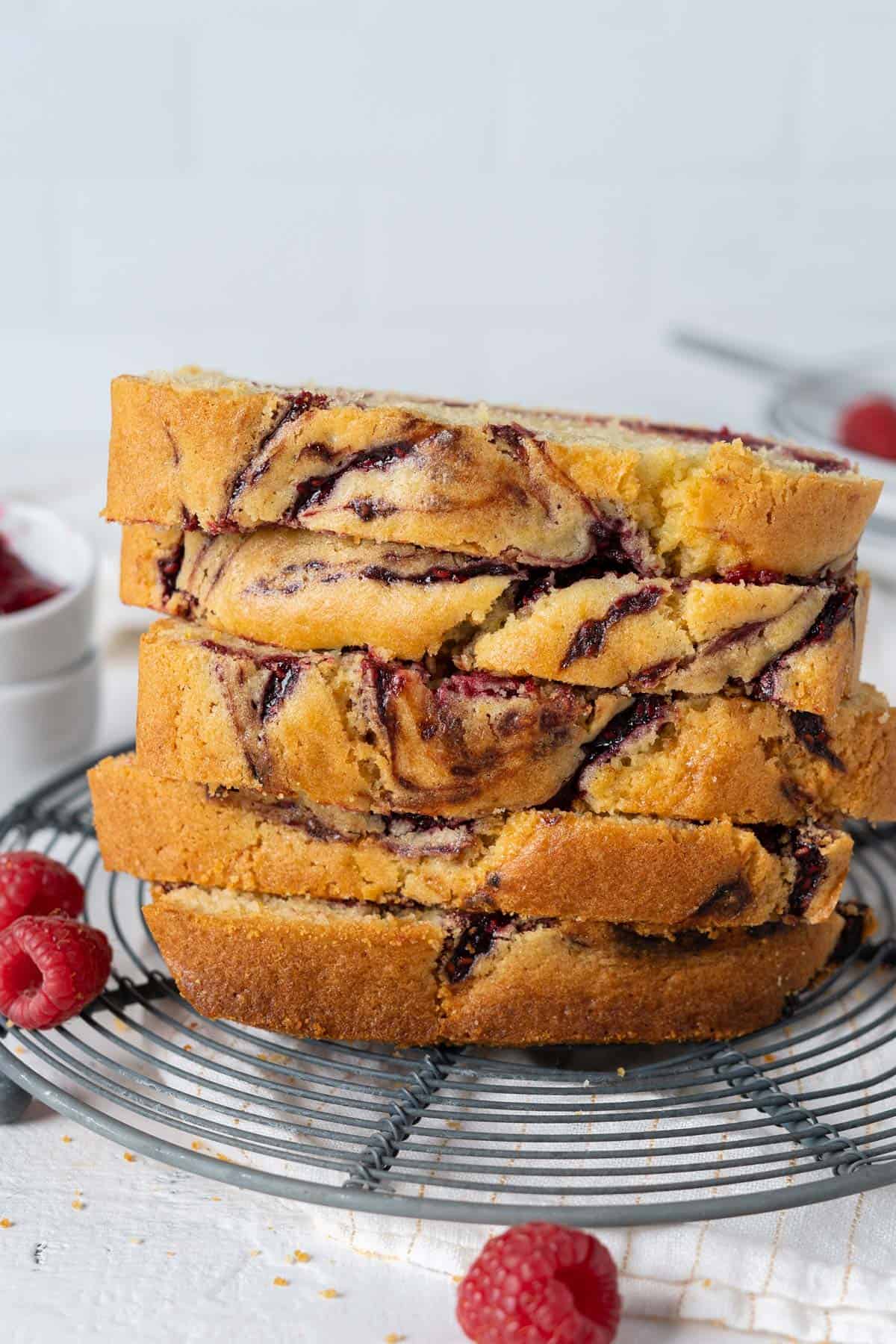 Preheat the oven - Make sure the oven temperature is stable for at least 10 minutes before placing the cake in. I usually start preheating the oven once I start measuring my ingredients for the cake.
Room temperature eggs - They mix easier and faster with our sweetener. Always use eggs at room temperature, unless specified otherwise.
Don't over mix - Over mixing the cake batter will make your baked cake tough and dense. Always use the lowest speed and minimal mixing.
10-minute buffer - I'd recommend you always check the doneness of the cake 10 minutes before it's supposed to be cooked (or stated in the recipe). This will prevent over baking, if your oven's temperature is too high.
How To Store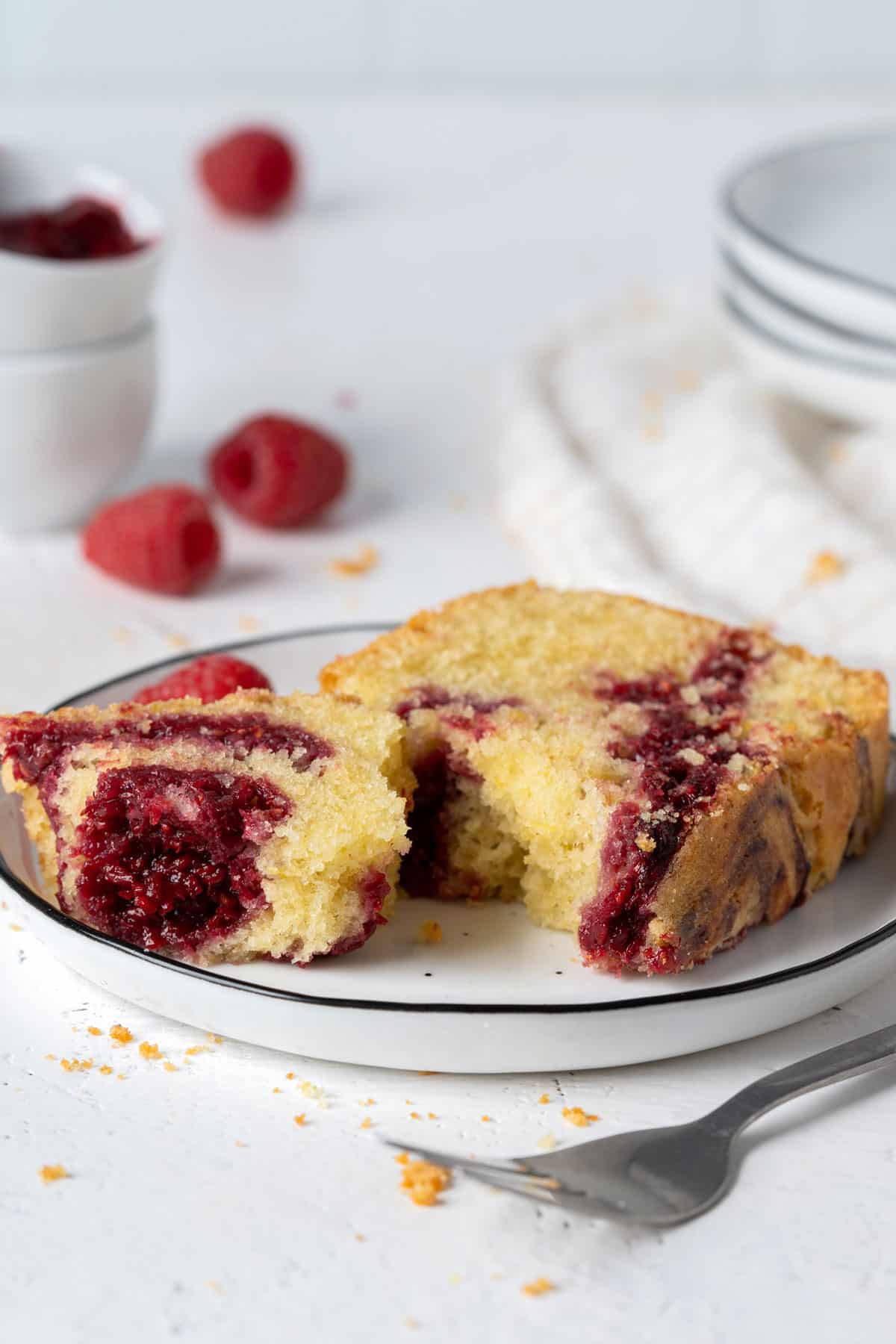 Keep in an air-tight container, at room temperature. This beauty lasts up 4 days. Keep in the fridge for a week, bring to room temperature before serving. Reheating for a few seconds in the microwave really brings it back to life, as if recently baked.
It's freezer friendly. Wrap each slice individually with cling film, place in a ziploc bag. Thaw at room temperature or defrost in the microwave, it's totally fine.
FAQs
What is Olive Oil Cake?
It's exactly as the name states. It's a cake that uses olive oil as the fat source, in a significant amount, together with other ingredients such as flour, eggs and sugar.
Olive oil cake has that mild delicious taste of olive oil that lingers. It's not overpowering at all. If you appreciate the unique amazing taste of olive oil, then this is the cake for you.
What's The Best Oil To Use?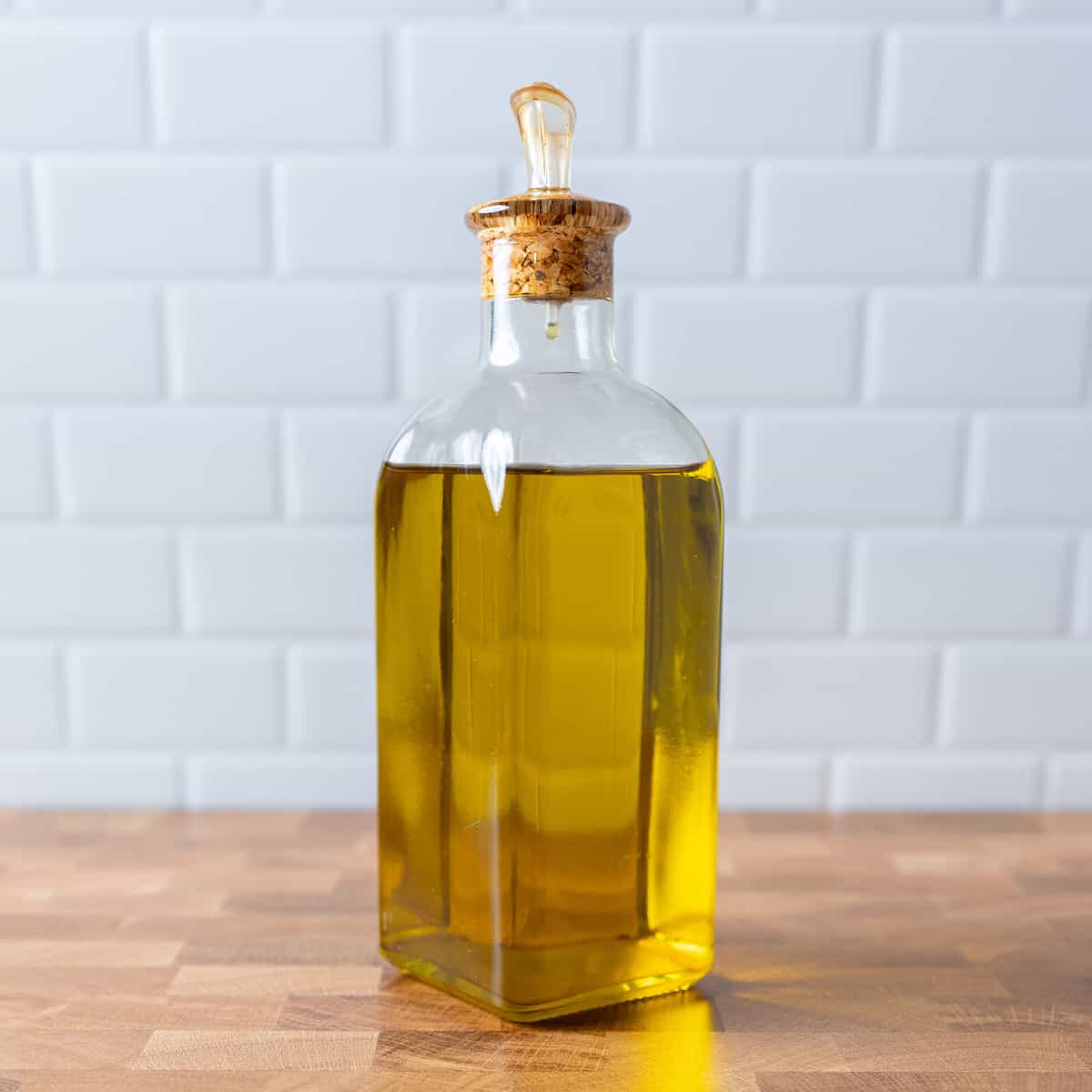 I would strongly recommend extra virgin olive oil. It's fruity and slightly peppery.
Extra virgin olive oil means that it's made from pure, first and cold-pressed olives. No heat is involved. It's the highest quality of olive oil and is highly appreciated.
Regular olive oil is made from both cold and hot-pressed, which means that it involves heat. The flavour isn't as delicate and strong as extra virgin olive oil.
Is It Healthier?
Just by using extra virgin olive oil, or regular olive oil, the cake is already healthier. This is because olive oil is natural, rich with antioxidants and is a better source of fat, in general.
This recipe goes further by using healthier flour and sweetener. So yes, it's healthier!
Why Is It So Good?
Olive oil gives that unique fruity and peppery touch. Olive oil cakes are known to be super moist because the use of the oil that's liquid at room temperature, keeps the cake continuously humid.
Olive oil cake also tastes even better the next day.
Watch How To Make It
📖 Recipe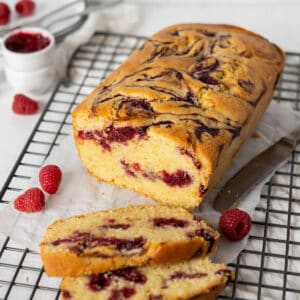 Healthy Olive Oil Raspberry Swirl Cake
Moist cake with sweet, tangy, homemade raspberry jam and fruity olive oil flavour. One of the cakes that's easy to make, despite its fancy looks. Keeps great at room temperature and is freezer-friendly.
Print
Pin
Rate
Ingredients
Raspberry Jam
1

lb

raspberry

(

450

g), fresh or frozen

⅓

cup

erythritol

(

60

g)
Dry Ingredients
2

cup

white spelt flour

(

260

g)

½

teaspoon

baking powder

½

teaspoon

baking soda

½

teaspoon

salt
Wet Ingredients
3

large eggs

, room temperature

⅔

cup

erithritol

(

130

g)

1

lemon

, zest and juice separately

¾

cup

extra virgin olive oil

(

190

ml)
Instructions
Raspberry Jam
Add both ingredients to a pan and cook on medium-high heat for more or less 10 minutes, until the jam thickens. Leave to cook completely while you proceed with the other steps. The jam will thicken more as it cools.
Dry Ingredients
Add all ingredients into a bowl and mix thoroughly with a spoon. Set aside.
Wet Ingredients
Using the paddle hook, whisk eggs and erythritol for a few minutes until you get to the ribbons stage. Grate in lemon zest, leave it for a second.

Meanwhile, squeeze the whole lemon into a jar. You'll get around

¼

cup (60 ml). Add in olive oil and mix well with a fork. Set aside.

Going back to the standing mixer, now alternate adding in the dry ingredients and olive oil mixture while mixing on the lowest speed. Add ⅓ of dry ingredients, ½ of olive oil mixture and repeat until you finish up with the dry ingredients.
Assemble & Bake
Pour ½ cake batter into the loaf pan, followed by dollops of raspberry jam, more or less ⅓ cup. Pour the rest of batter, and another ⅓ cup of jam. Using a knife, make swirls.

Bake for 60 minutes on lower ⅔ rack until a skewer inserted in the middle comes out clean. Remove from the pan and cool completely before slicing.
Notes
Use spoon and level method for cup measurements.
Use a portable oven thermometer to get the accurate temperature for your oven.
Check the doneness of the cake at the last 10 minutes of baking.
You'll have around ⅓ cup balance of the raspberry jam. Slab more on the sliced cake, yum!
For this 1 loaf, you can get 9 slices of 1 inch (2.5 cm).
Nutrition Facts
Calories:
236.6
kcal
,
Carbohydrates:
36.2
g
,
Protein:
4.9
g
,
Fat:
16
g
,
Saturated Fat:
2.3
g
,
Cholesterol:
40.9
mg
,
Sodium:
178.8
mg
,
Potassium:
76.6
mg
,
Fiber:
4.3
g
,
Sugar:
1.8
g
,
Calcium:
26
mg
,
Iron:
0.6
mg