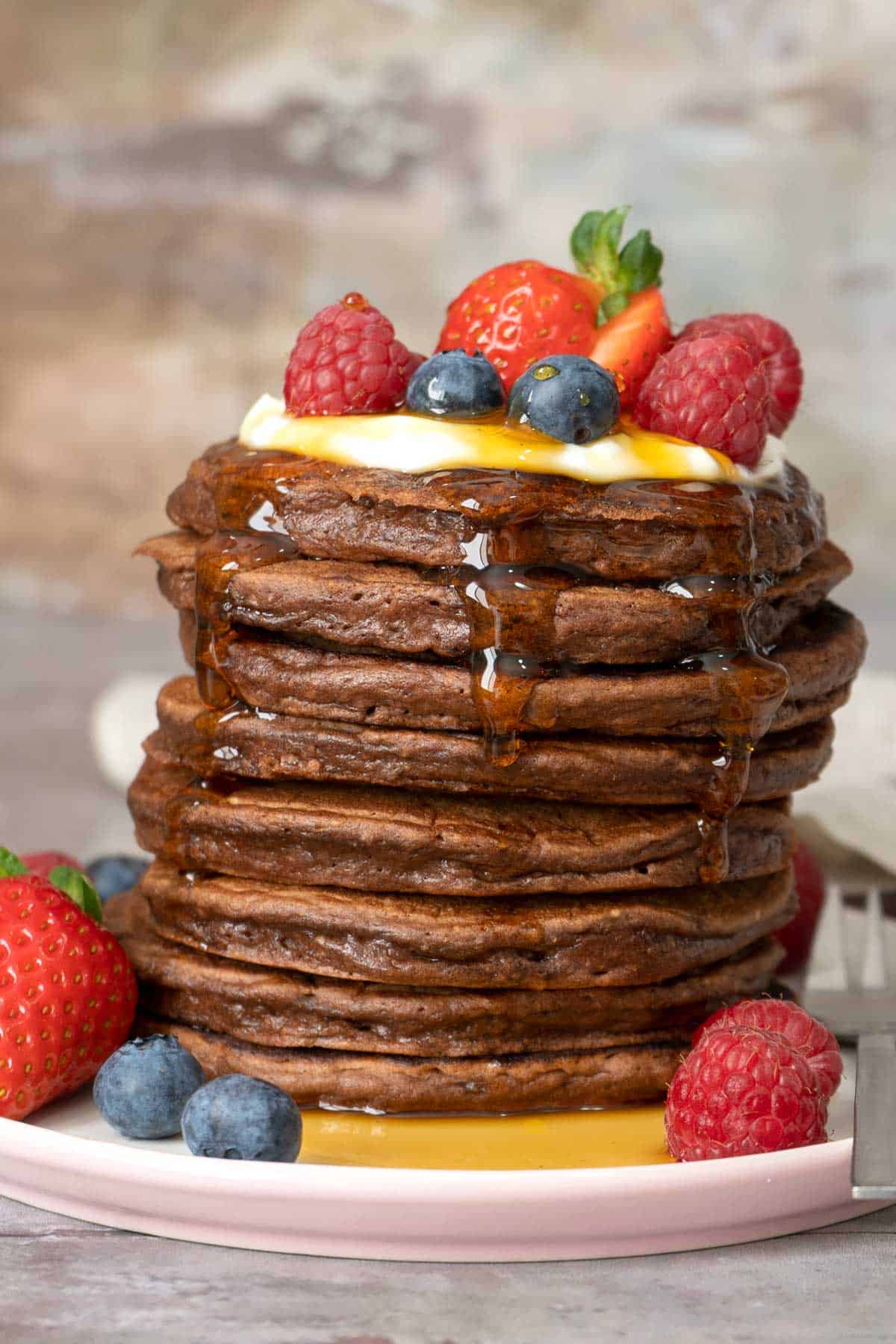 Did you guys know about Pancake day? It was on last Tuesday. Well, I didn't know until I saw all these posts of pancakes from everybody in the world chanting the same thing, pancake day, Tuesday pancake day, pancake Tuesday. Haha!
And the thing is, just by coincidence that in our schedule, our healthy pancake 3 ways come in the same week! I mean, how perfect is that, right?
Well, yeah perfect would be this recipe came out last week so that you guys can make them last Tuesday but hey, EVERYDAY is a pancake day if we want it to be!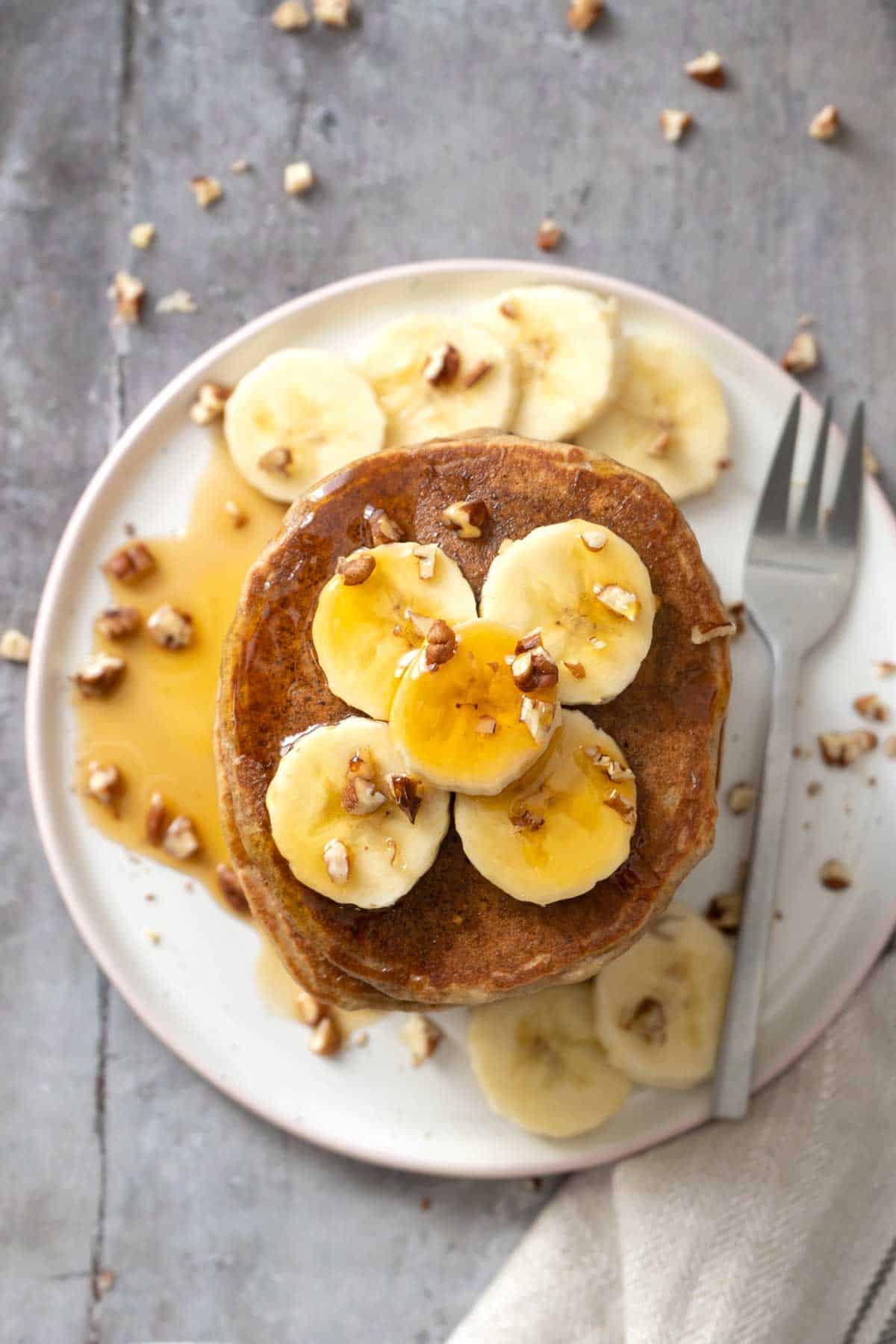 Pancakes In Our Family
I didn't grow up eating pancakes (I'm an Asian who came from Asia. Haha!). I grew up having noodle soups, rice porridge, stir fry noodles, nasi lemak, curry puff for breakfast. Pancakes were just something that I watch on tv where westerners enjoyed having for breakfast.
I got more familiar in a personal level with pancakes since I met Marco and as I grew older. Pancakes are nothing new to him, of course. His favourite is blueberry pancakes.
Oh we looooove having pancakes in the weekend. Late, in bed while watching Property Brothers (do you watch them too?) for several hours until it was time for lunch . It's like a special lazy breakfast for us.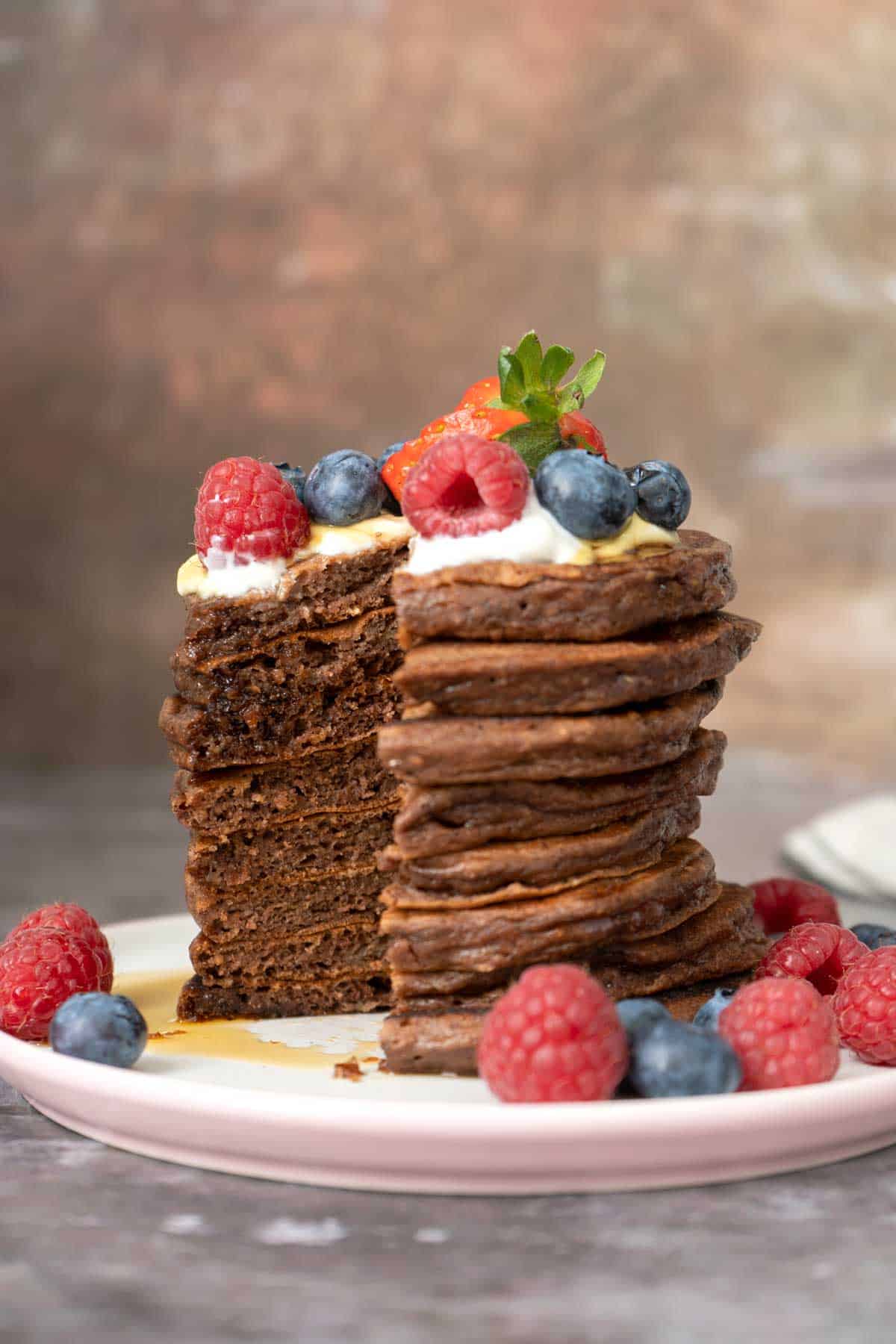 A few years ago, Marco bought a Kodiak pancake mix box online and after looking through the ingredients we realised that pancakes can be delicious and healthy at the same time! I mean, fast forward a few years (err.. I mean now), of course anything (almost) can be healthified. And that's just amazing!
I've been playing around and healthifying the ingredients every time I make pancakes for us. The truth is, we were thinking, why we didn't do this earlier? Seriously there's no difference at all (for us, at least) in taste, texture wise, from a typical pancake and a healthified pancake. And yes, healthy pancakes for the win!
Plain Pancakes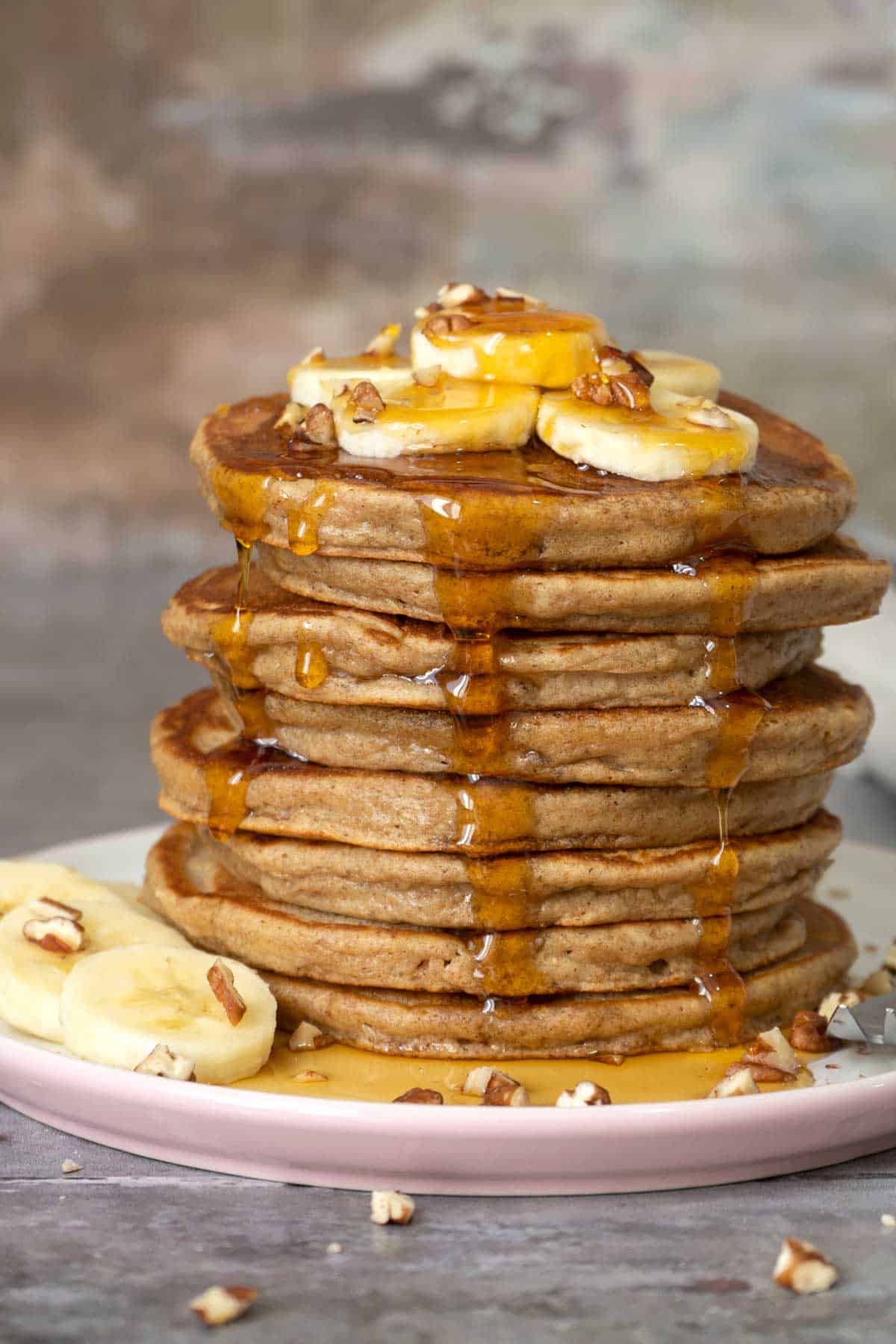 So this is the base recipe for the other 2 recipes that follow, which are chocolate and coconut pancakes.
I like to use spelt flour in my pancakes because it makes them fluffier. I've used oats flour before and yeah, it was fine but it made the pancakes a tad dense. If you wonder what the heck is spelt flour, well then wonder no more. I wrote a post about it, do check it out.
Pimp up your pancakes! Throw in some blueberry in the batter and you'd get blueberry pancakes. Throw in some pecans, walnuts for texture. Add coconut sugar if you like your pancake sweeter.
My point is you can use this as a guide to make your own pancakes.
Chocolate Pancakes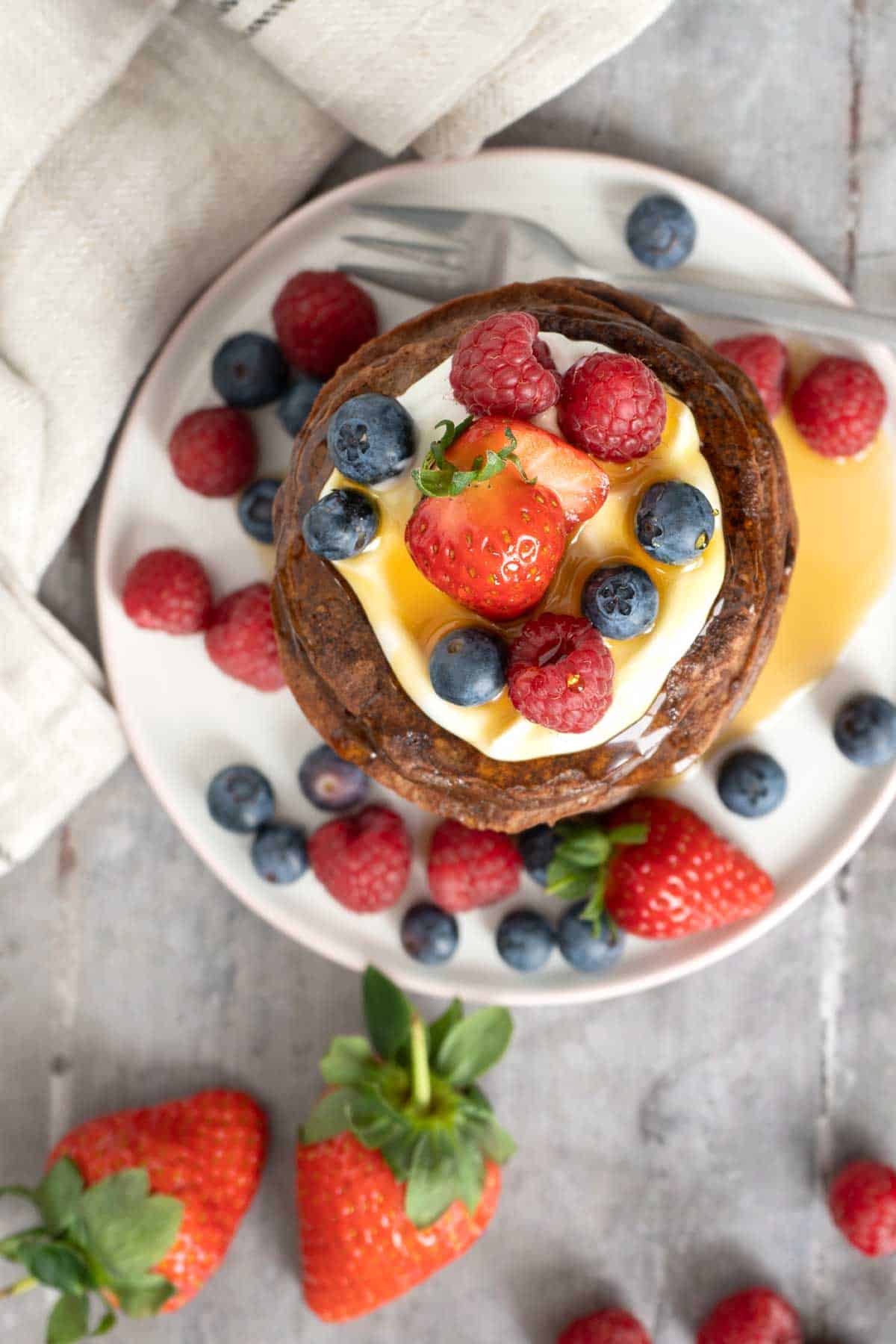 Ohhhh who doesn't love some chocolaty pancakes, right?
Just by adding some chocolate powder to the plain pancake recipe, you will get these beautiful chocolate pancakes! And yes, play around with it also. Want more chocolate? Double the amount. Add a splash of milk if the batter is too thick.
And hey, perhaps throw in some chocolate chips also. Why not? Experiment to your liking. Pancake batter is quite forgiving.
Coconut Pancakes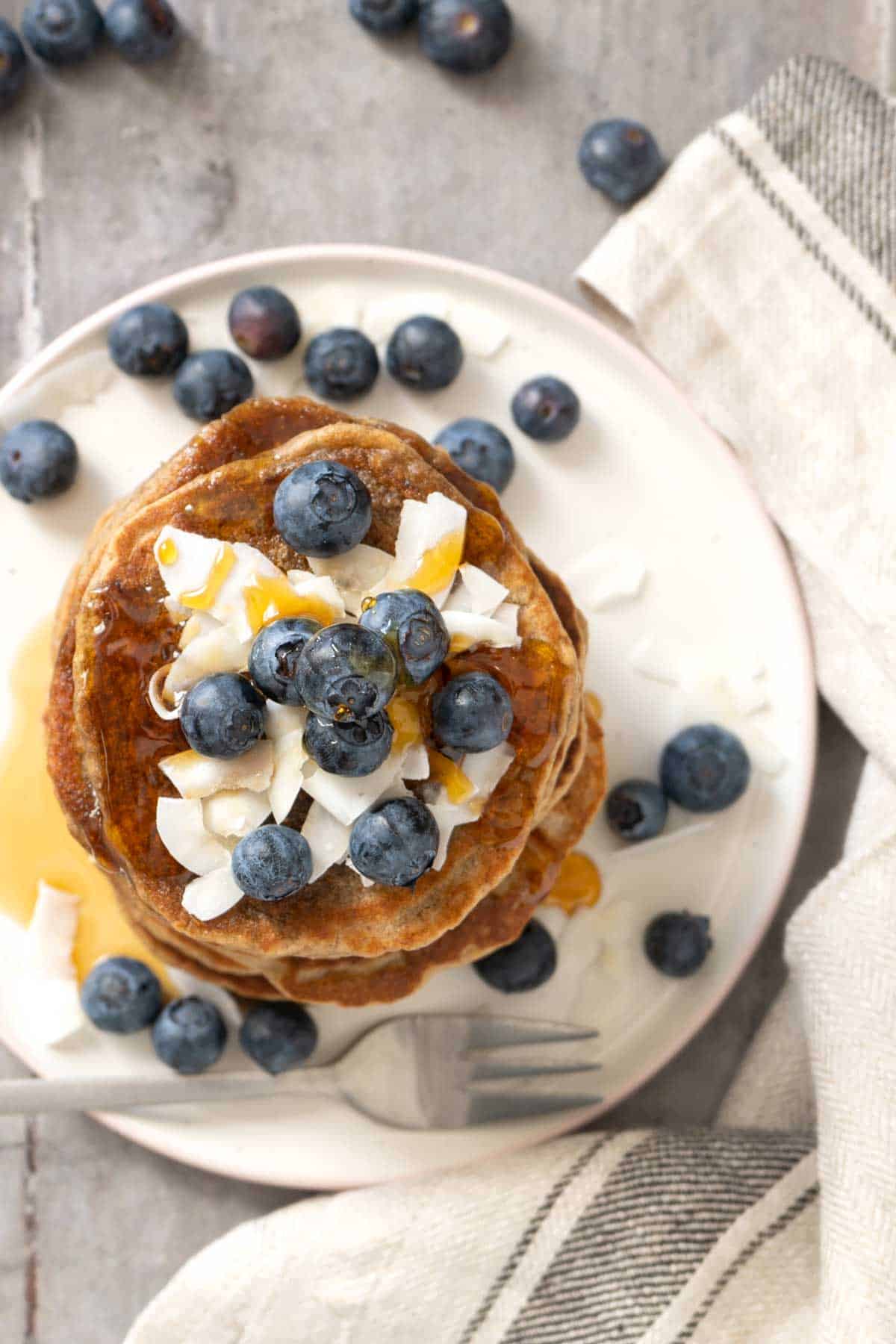 Banana can't go wrong with coconut, right? They compliment each other. They need each other. They are each other's lobster! (To Friends lovers, go find your lobster! Haha!)
Anyway, trust me. These banana coconut pancakes are super yum!
I hope you'd give these pancakes a try. Send me your pancake pictures or tag me in your pancake instagram photos. I'm @elmundoeats. I'd love to see!
In Summary
These healthy pancakes 3 ways are:
using healthier ingredients
as delicious as the typical pancakes but with health benefits to us
fluffy!!
just super easy to prepare
AMAZINGLY DELICIOUS!
Looking For More Healthy Breakfast Options?
Video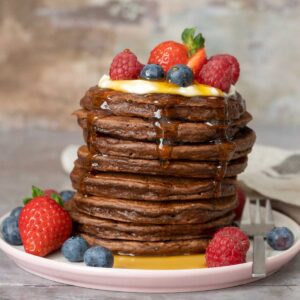 Healthy Pancakes 3 Ways
Get your morning started in an amazing way with these healthy pancakes 3 ways! Super easy and fluffy pancakes in just minutes. Pimp them up to your liking. Everyday is a pancake day!
Print
Pin
Rate
Servings:
10
pancakes/recipe
Ingredients
Dry Ingredients
½

cup

spelt flour

(

65

g)

¼

cup

vanilla protein powder

(

23

g)

½

teaspoon

baking powder

½

teaspoon

baking soda

¼

teaspoon

salt
Wet Ingredients
½

cup

milk

(

125

ml), room temperature

½

tablespoon

apple cider vinegar

1

banana

, mashed

1

large egg

, room temperature

2

tablespoon

olive oil

, or any oil

1

teaspoon

vanilla extract
- Use Plain / The Base Pancake recipe
- ADD this to Dry Ingredients
1

tablespoon

cocoa powder

(

5

g)
- Use Plain / The Base Pancake Recipe
- ADD this to Dry Ingredients
¼

cup

desiccated coconut

(

20

g)
- SWAP milk in Wet Ingredients with
½

cup

coconut milk

(

125

ml)
Instructions
Dry Ingredients
Add all ingredients into a bowl, mix well and set aside.
Wet Ingredients
Pour milk into another bowl together with apple cider vinegar and leave for 10 minutes to make buttermilk.

Now add in the rest of the ingredients and whisk well. Finally add in the dry ingredients and mix well, just don't over do it.
Cooking
Heat a pan with some oil on a medium low heat. Using a 3 tablespoon ice cream scoop, pour the batter onto the pan. Cook until you see bubbles start bursting on the pancake, the surrounding look matte and the bottom edges look brown. Flip the pancake using a thin spatula.

Leave until it's cooked through, place into a plate and continue with the rest of the batter.
CHOCOLATE PANCAKE
Follow the same steps in making and cooking the plain / the base pancake recipe.

The only difference is, you add in cocoa powder together with the rest of your dry ingredients.
COCONUT PANCAKE
Follow the same steps in making and cooking the plain / the base pancake recipe.

Add in desiccated coconut with the rest of your dry ingredients.

Use coconut milk instead of milk.

Note: Each pancake recipe yields 10 pancakes.
What If I Don't Have Protein Powder?
No problem! Use 1 cup spelt flour (130 g) and ⅓ cup milk (80 ml), instead.
Nutrition Facts
Serving:
1
plain pancake
,
Calories:
88.3
kcal
,
Carbohydrates:
8.7
g
,
Protein:
3.9
g
,
Fat:
4.2
g
,
Saturated Fat:
0.9
g
,
Cholesterol:
26
mg
,
Sodium:
155.8
mg
,
Potassium:
81.4
mg
,
Fiber:
1.2
g
,
Sugar:
2.3
g
,
Calcium:
46
mg
,
Iron:
0.5
mg