Don't Knock It Until You've Tried It
HOLD ON.
I know what you're thinking. WHAT? ZUCCHINI in a BROWNIE?
Well first is, it's healthy zucchini brownies.
Second is, you REALLY need to try these. Seriously they're so good!
Just forget about the zucchini word. Just focus on the look and texture of these beautiful brownies.
Imagine the soft texture as you bite it and that chocolate explosion taste in your mouth.
Yep. Yep. Yeeeeep!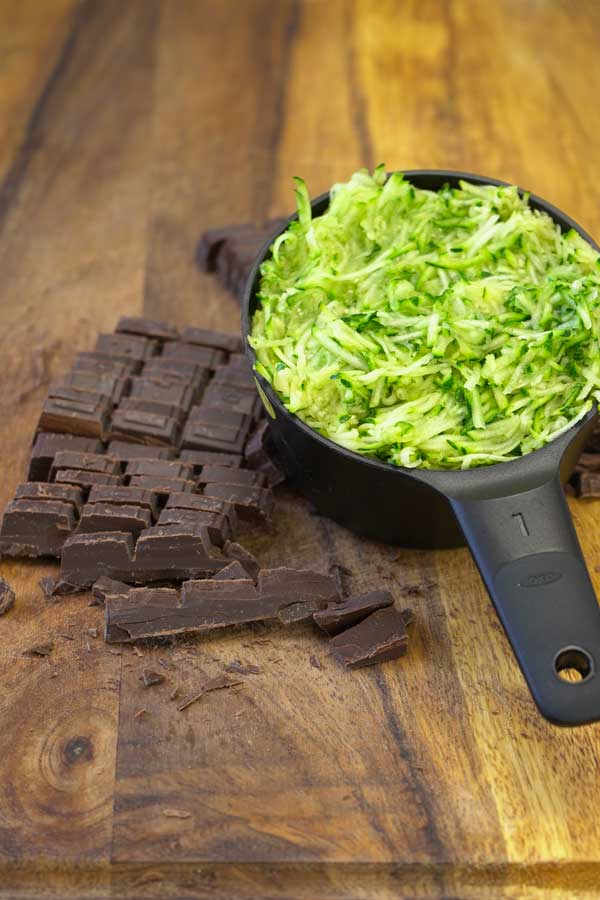 Healthy Option
I've been wanting to post this recipe for quite a while but I just didn't know how you guys would react to it.
I know we LOVE it. These are our healthy cheat whenever we crave for something that taste decadent, chocolaty and refuse to be burdened with that guilt after eating it.
I know you know that feeling.
First you're all excited to be biting into something naughty that you've been craving and the second that you finished your last bite, you're overwhelmed with this guilt and regrets that lasts for days.
Life is cruel. I know.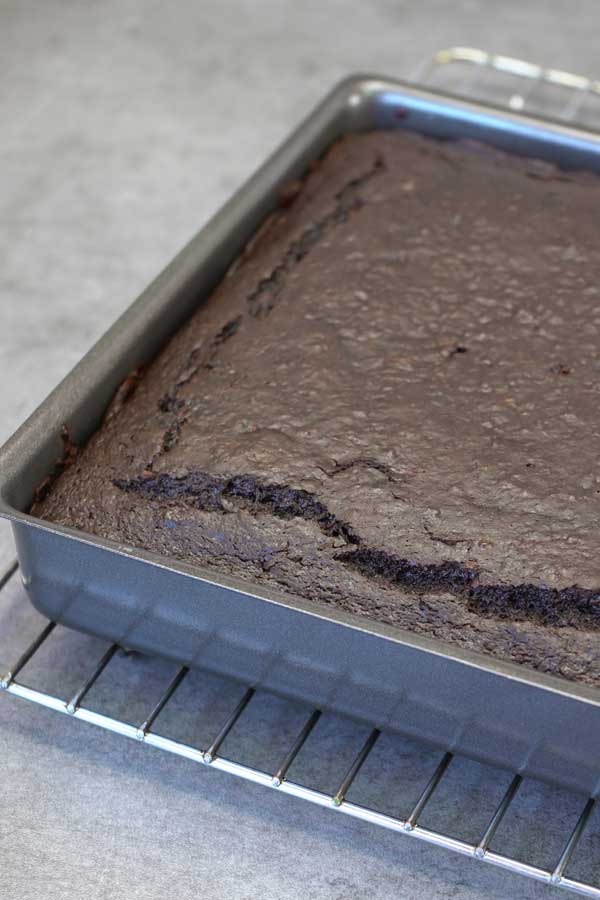 But hey, with these brownies you don't have to feel that ever again. I promise.
These brownies have zucchini but you will NEVER ever taste nor realise that it's there.
These brownies also don't use any butter nor oil. Instead it uses applesauce which really helps in making them super moist.
Also, less sugar. This whole batch of 16 pieces of brownies just takes ½ cup of sugar. Coconut sugar to be precise. You can use brown sugar or granulated sugar if you want. No problem at all.
For this recipe I'm using 2 types of chocolate which are cocoa powder and semisweet chocolate. I feel the combination really brings out the chocolaty flavour that we look for whenever we crave for something chocolaty.
A touch of salt definitely helps also.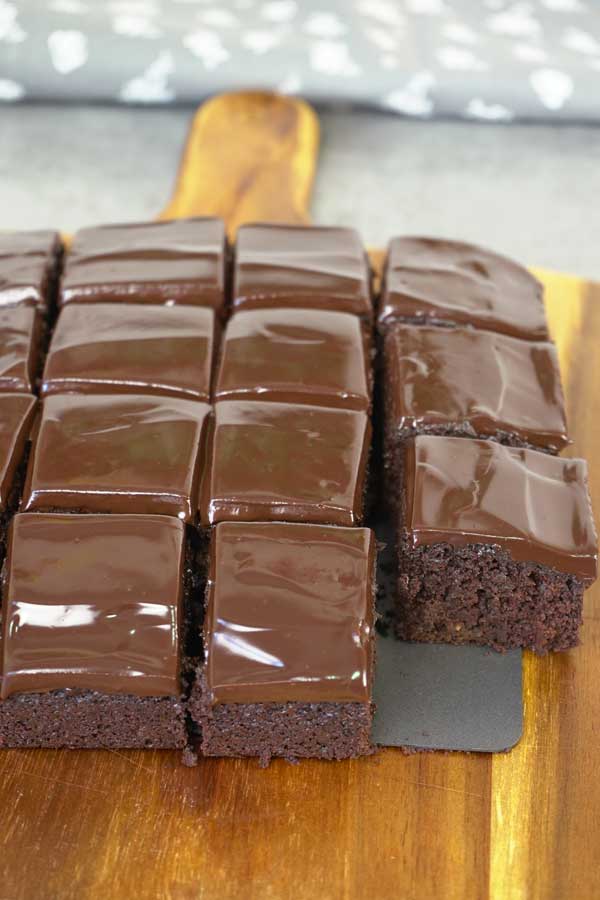 A slice of brownie ONLY (with no topping) is 98 calories. ONLY. Imagine that.
Yes I add the chocolate topping on them but it's something that you can easily skip. Less work even.
And if you're wondering are they good without the topping. The firm answer is YES, they are.
If I haven't convinced you yet until now, then I think I deserve a brownie to help with my frustration. Haha!
Do give it a try, I promise you won't be disappointed. It's an easy recipe to do anyway.
More Brownie Recipes
Video
📖 Recipe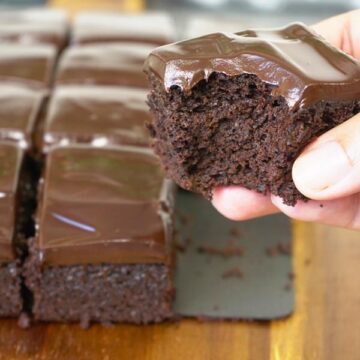 Healthy Zucchini Brownies
Yes I know it sounds weird but just trust me, these healthy zucchini brownies will totally impress you. Fudgy and super soft, you will not even know there's zucchini inside it if I didn't tell you. Yep.
Print
Pin
Rate
Ingredients
The Brownie
5.3

oz

semisweet chocolate

(

150

gr)

½

cup

coconut sugar (

100

gr)

1

egg

, room temperature

½

cup

applesauce

(

140

gr)

1

teaspoon

vanilla extract

1

cup

all purpose flour

(

130

gr)

½

teaspoon

salt

¾

teaspoon

baking soda

¼

cup

cocoa powder (

30

gr)

1

cup

packed grated zucchini

(

200

gr)
The Topping
4.4

oz

semisweet chocolate

(

125

gr)

½

cup

whipping cream

(

125

ml)
Instructions
The Brownie
Chop the chocolate into small chunks and put it in a bowl. Melt in microwave or using double boiler. Set aside.

Add sugar, applesauce, egg, vanilla extract into a bowl and whisk just to combine. Then sift in the flour, salt, baking soda and cocoa powder. Mix just to combine again, don't over mix. Then add in grated zucchini and mix to combine.

Now add in the melted chocolate and mix everything together for one last time. Pour the batter into a buttered 8x8 inch (20x20 cm) pan and spread it evenly.

Bake in a preheated oven at 350ºF (175ºC) for 40 minutes or until when you insert a skewer stick it comes out slightly crumbly wet. If it comes out clean, it means that you've over baked it.

Remove from the oven and set aside to cool completely.
The Topping
Chop the chocolate and place it in a bowl. Heat cream until it's about to simmer and then pour it into the bowl with chocolate. Leave untouched for 3 minutes.

Gently whisk until the mixture comes together. Pour onto the cooled brownies and spread evenly. Place in the fridge for 30 minutes or until the chocolate sets. Then simply slice and enjoy!
Notes
Applesauce substitute:  same amount of mashed banana or sweet potato.
Nutrition Facts
Calories:
167.4
kcal
,
Carbohydrates:
23.5
g
,
Protein:
1.9
g
,
Fat:
8.6
g
,
Saturated Fat:
5.5
g
,
Cholesterol:
20.5
mg
,
Sodium:
144
mg
,
Potassium:
69.9
mg
,
Fiber:
2.1
g
,
Sugar:
4.7
g
,
Calcium:
11.7
mg
,
Iron:
1.5
mg