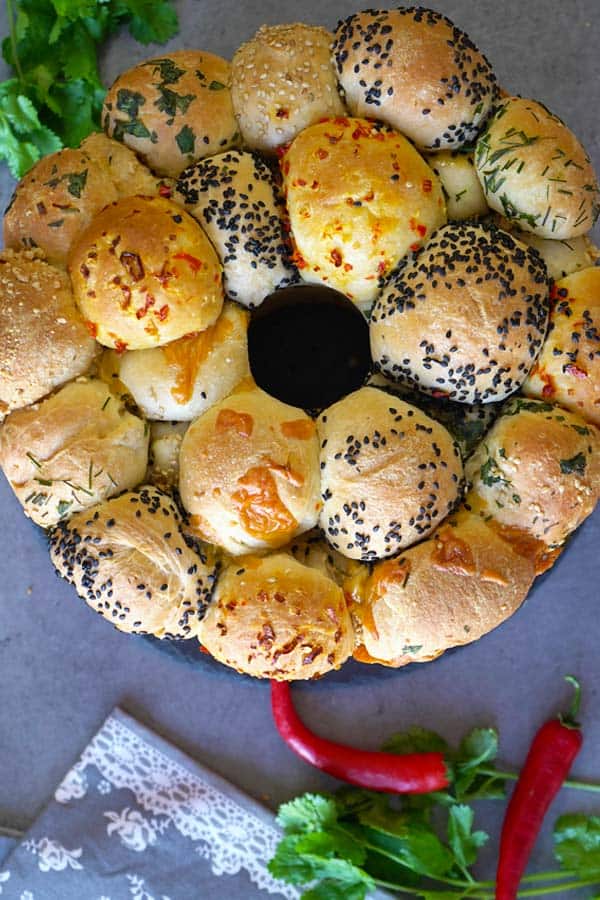 So instead of the typical sweet monkey bread, why don't today we look at this super soft and fluffy savoury monkey bread.
If I haven't told you already, well I'm telling you now.
I LOVE making breads. All types of bread. With yeast, no yeast, knead, no knead. I get excited when it comes to bread making.
Are you like me too? Share your bread stories with me!
Super Soft And Fluffy Bread
Yes, it is. Seriously.
As you can see in the video below, the texture is just so soft and fluffy.
And the smell. Oh the smell when this bread is baking. The smell of a bread being baked is the best smell, don't you agree?
The dough for this bread is towards the sticky side. But not that much. After kneading it in my trusty Kitchenaid for 15 minutes, I put some oil in my hands before I take the dough from the bowl and shape it into a ball.
That way the dough won't stick to my hands. I would recommend you do the same.
If you want to knead the dough manually, by all means do it. It's going to take longer and a bit messy at first since like I mentioned earlier, this dough is a tiny tad sticky.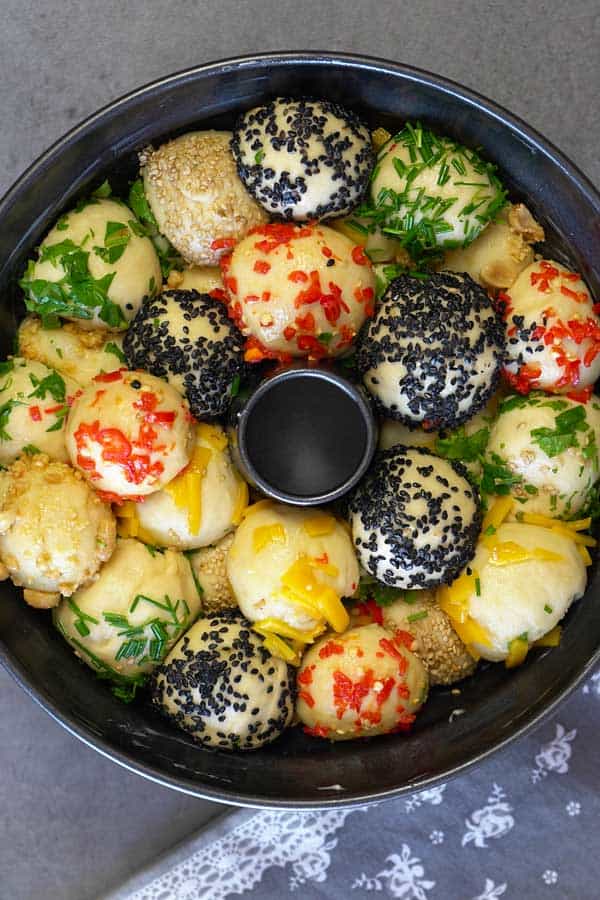 But yes, you can knead it by hand.
I make a total of 48 small balls of around 1 inch size for this recipe. Here's how.
After the dough has risen I lightly knead it into a log and cut it into 4 equal pieces.
Each of the ¼ dough piece I cut it into 4 equal pieces.
And each of the smaller ¼ dough piece I cut it into 3 pieces. And then I form each piece into a ball.
Then I do the same with the other 3 pieces of dough.
Cutting it like that makes the balls more or less with equal size.
The Toppings
I thought I would take this savoury monkey bread to the Asian route with the toppings.
So I'm using sesame seeds, both the white and the black ones, chili, chives, coriander leaves and peanuts.
And yes, cheddar cheese. Though it's obviously not Asian but I thought it would give the color and taste to this beautiful monkey bread. Don't you agree?
You can basically use any toppings that you like. Use several types of different cheeses, your favourite herbs or paste like pesto, pizza sauce. That's the beauty of this recipe, you can easily make it yours.
Assembling
I think this is the best part about this bread. Assembling it!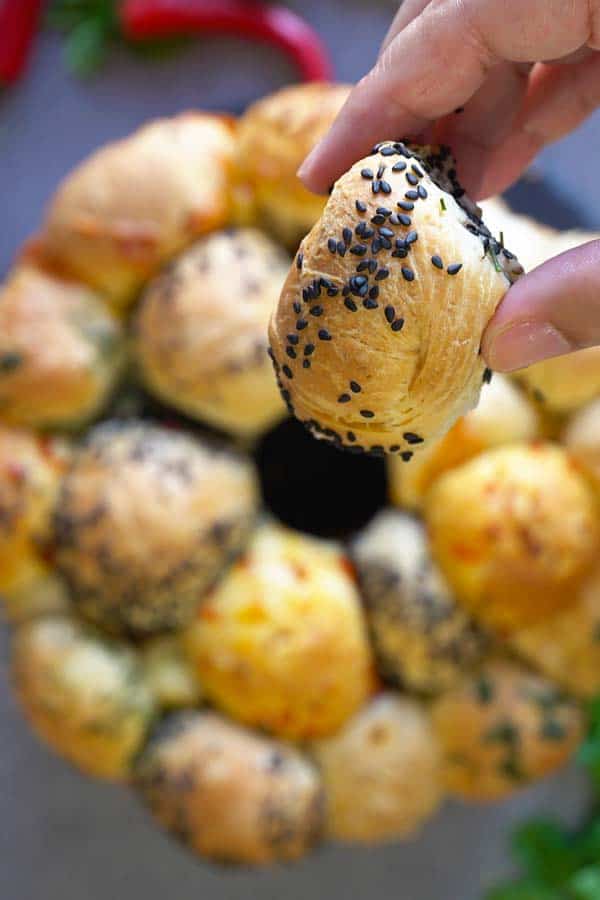 I butter my 10 inch (25 cm) bundt pan generously so that it's going to be easier to flip the whole beauty later.
I also dip each ball in some melted butter first before I coat it with any topping.
I like to place the balls randomly, alternating the topping. This way they will look more beautiful.
They do look beautiful, don't you think?
Serving
I don't know about you but for this savoury monkey bread, I like to serve it top up since that way it will show all the beautiful toppings better than when it's bottom up.
So what I do is leave the bread for 5 minutes after it's done baking. Then I just gently push the bread from the side of the pan just to make sure nothing sticks.
Then I place a rack on top of it and flip. Since I want to serve it top up, I place my serving plate on the bottom and flip it again.
Serve it like that to your guests and they'll be amazed! Well at least mine did.
Other Bread Recipes
Video
📖 Recipe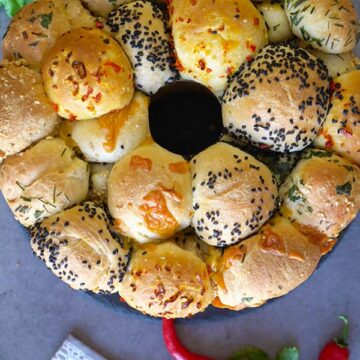 Homemade Savoury Monkey Bread
A change to the typical sweet monkey bread, let's make this savoury monkey bread. The bread is soft and fluffy and each ball is coated with different yummy toppings. Though it might look complicated but it's seriously not at all. It's in fact a fun bread to make.
Print
Pin
Rate
Ingredients
1 ¼

cup

milk

(

310

ml), warm

2

tablespoon

honey

(

40

gr)

1

tablespoon

dry yeast

(

10

gr)

5

cup

bread flour

(

650

gr)

2

teaspoon

salt

2

eggs

, room temperature

¼

cup

unsalted butter

(

60

gr), melted
The Toppings
½

cup

unsalted butter

(

113

gr), melted

¼

cup

chopped chives

(

10

gr)

¼

cup

chopped coriander leaves

(

10

gr)

1.8

oz

shredded cheddar cheese

(

50

gr)

1.8

oz

crushed peanuts

(

50

gr)

2

tablespoon

sesame seeds

2

tablespoon

black sesame seeds

1

red chili

, chopped
Instructions
The Bread
Mix honey with warm milk and then sprinkle dry yeast. Give it a mix and leave for the yeast to activate, around 3-5 minutes.

Add the rest of the bread ingredients in a standing mixer bowl, including the yeast mixture. Mix to incorporate and then knead for 15 minutes. The dough will be a bit sticky. Coat your hands with some oil and form the dough into a ball. Place it in a greased bowl and cover the bowl tightly with a cling film. Leave until the dough rises double its size.
Assembling
Once doubled its size, place the dough on a floured working surface and lightly knead it into a log. Cut it into 4 equal pieces and then cut each of the ¼ piece into 12 small pieces. Form those pieces into balls. Repeat with the other 3 pieces of dough to get a total of 48 balls.

Dip a ball into melted butter and then coat it with a topping. Place it in a buttered 10 inch (25 cm) bundt pan. Repeat with the rest of the balls, placing them randomly in the pan and alternating the topping.

Cover loosely with cling film and leave for the balls to puff up a bit, around 30 minutes. Bake in a preheated oven at 340 ºF (170 ºC) for 40 minutes or until fully cooked. Cover loosely with aluminium foil if the bread gets brown too fast.

Once cooked, remove from the oven and leave it for 5 minutes. Gently push the bread on the sides to make sure nothing sticks. Then flip it on a rack. Then flip it again onto a serving place so that the top is facing up. Serve warm, enjoy!
Nutrition Facts
Calories:
101
kcal
,
Carbohydrates:
11.5
g
,
Protein:
2.9
g
,
Fat:
4.9
g
,
Saturated Fat:
2.5
g
,
Cholesterol:
16.7
mg
,
Sodium:
116
mg
,
Potassium:
44.9
mg
,
Fiber:
0.6
g
,
Sugar:
1.2
g
,
Calcium:
28
mg
,
Iron:
0.3
mg