Don't be intimidated on making your own potsticker or gyoza wrappers. They're way easier to make than you think. Seriously.
And not only that, they don't take time to make at all. Once you tried making homemade wrappers, you don't want to use store-bought ever again. Trus me.
In the recipe video below, I'm going to show you how to:
Make the 3-ingredient dough
Cut it in a brilliant and unique way, so that the wrappers are equal sizes. No kitchen scale needed.
Correctly roll the wrappers so that they're the same thickness after being shaped.
Cook and get that golden brown crispy bottoms.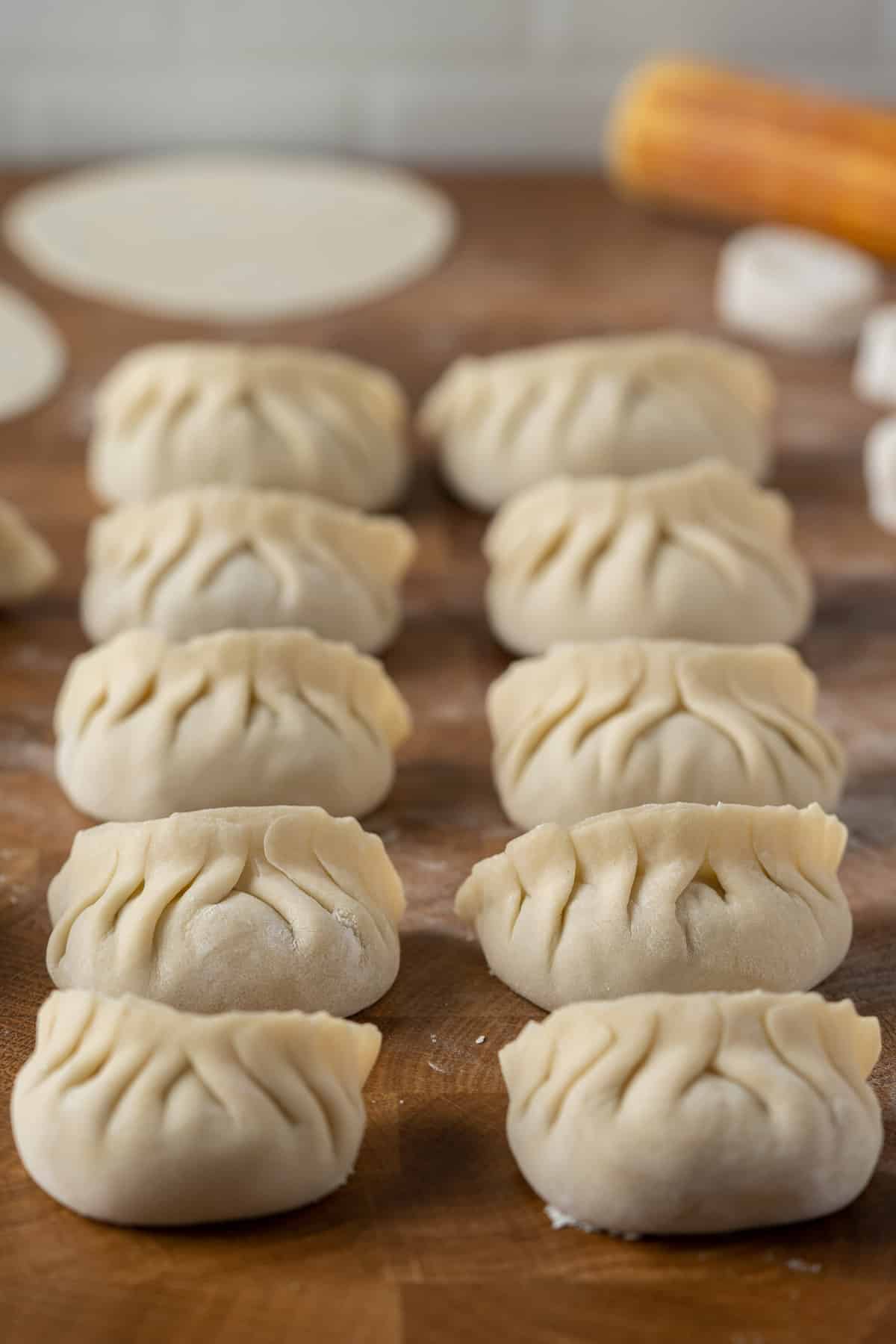 Jump to:
Recipe Highlights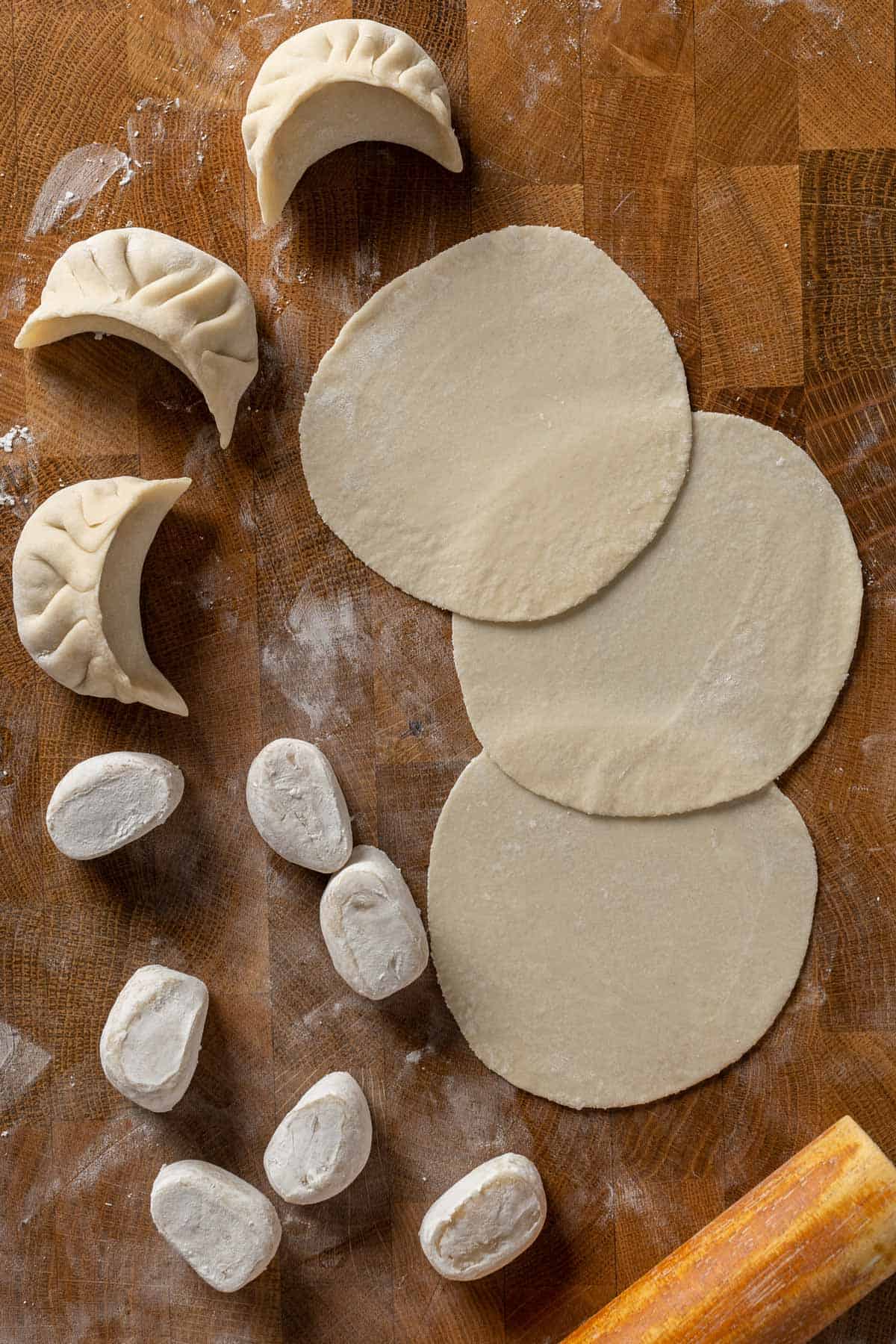 Texture and flavour - Soft flexible dough, making it super easy to fill and shape. They're perfect to carry all your juicy delicious filling. Or simply try my go-to chicken and shrimp filling recipe, it's amazing!
Size - 32 wrappers.
Level - Easy, brief kneading with hands.
Lets Talk Ingredients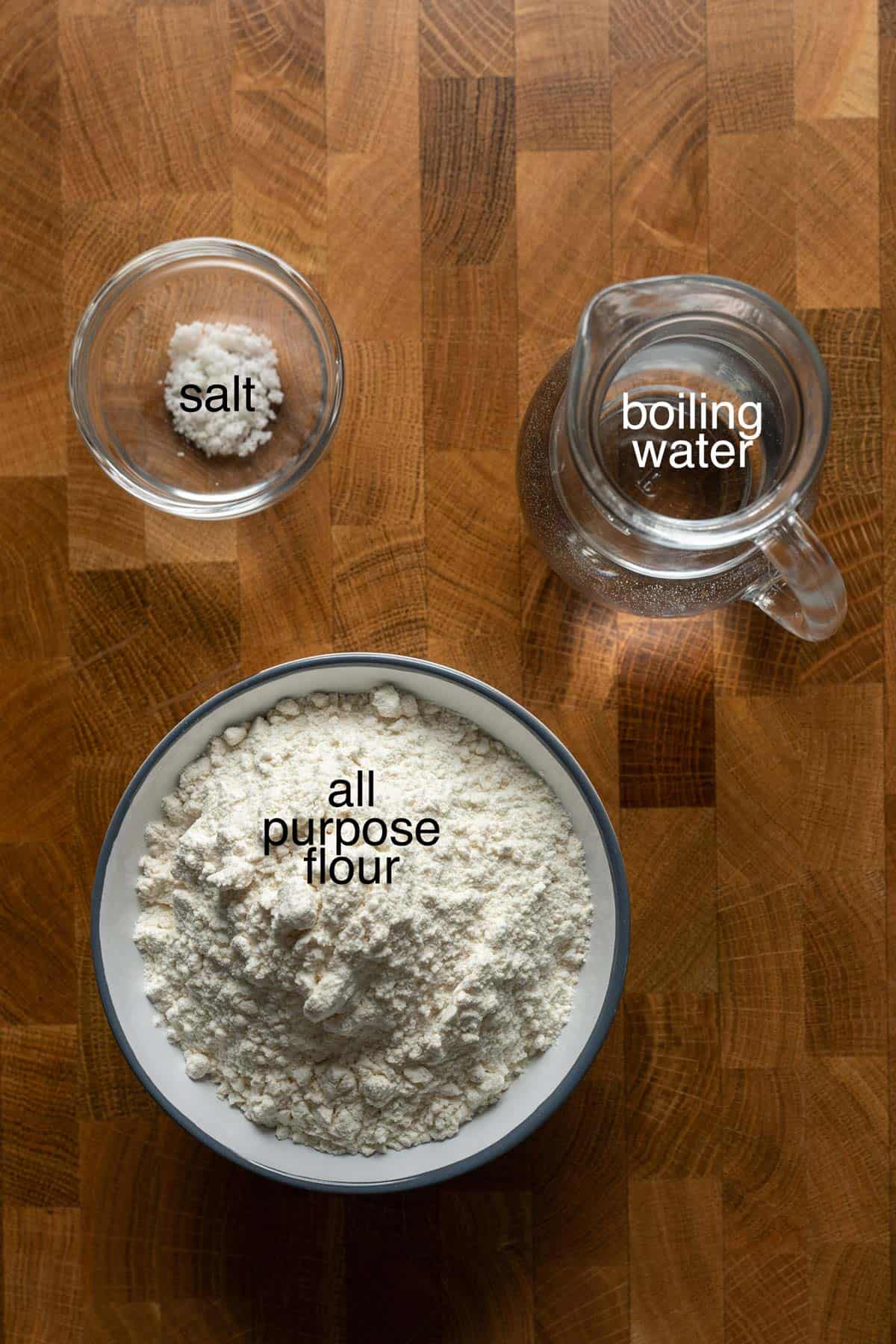 All purpose flour - This low protein flour makes our potstickers and gyozas soft with super crispy bottoms.
Boiling water - Using boiling water will gelatinized the flour. This will make it easier to roll the wrappers thin, making them cook faster also.
Salt - Just a touch to bring out the flavour.
The Different Between Potstickers And Gyozas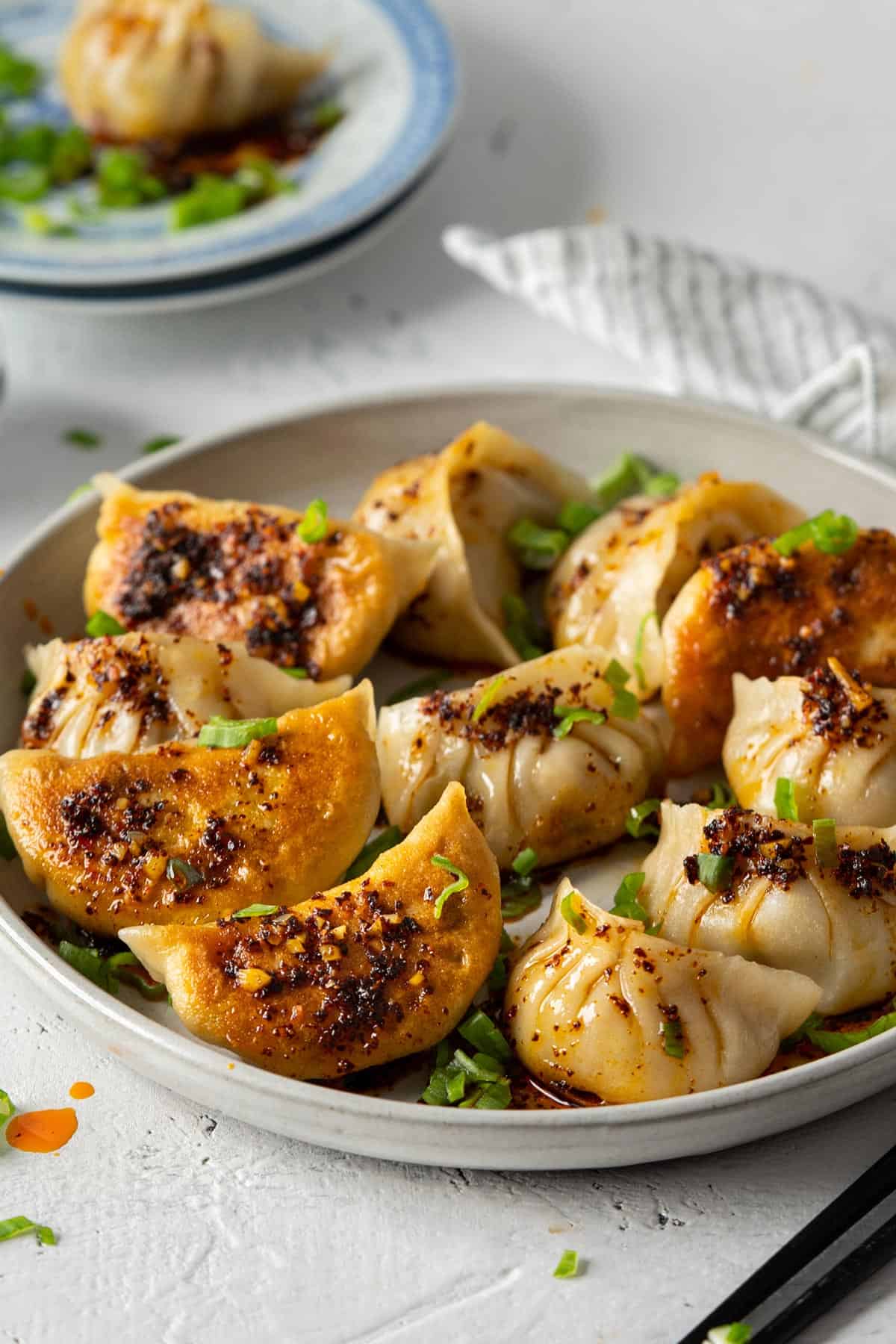 Potstickers and goyzas are basically the same. They're dumplings with juicy delicious fillings that your mind can think of. They're also cooked using the "fry-steam-fry" method. That's how you get the soft casings with super crispy bottoms. Yum!
But, there are 2 significant differences between them.
Gyozas - Are of Japanese origin. They're generally smaller, with just 2 bites.
Potstickers - Are of Chinese origin. They're generally slightly bigger than gyozas by 2,3 bites more.
I'm showing you a classic recipe but hey, if you're feeling a bit fancy, you could try these delicious gochujang and spinach flavoured wrappers.
Secret For Perfect Wrapper Texture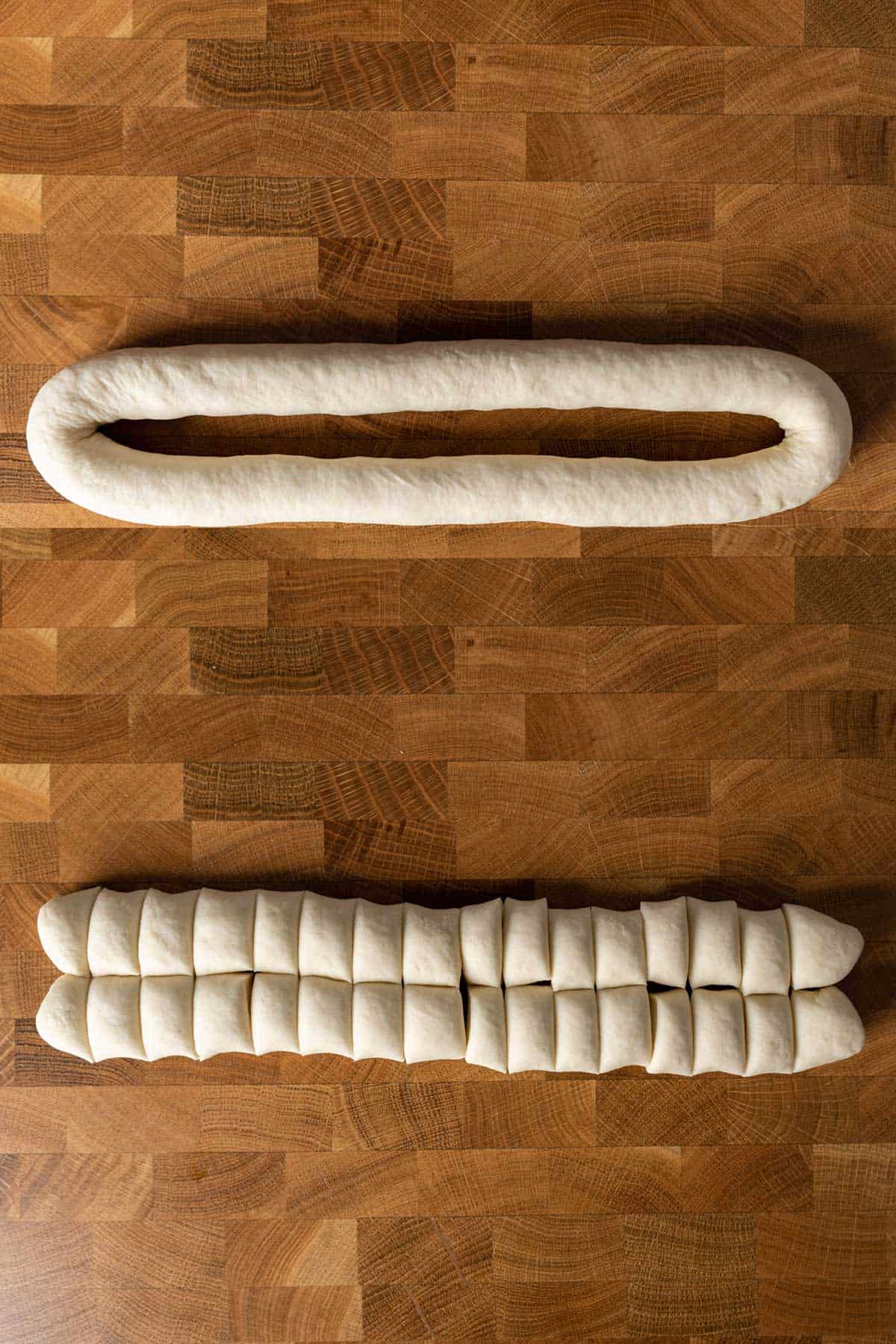 The dough for these wrappers is a bit stiff. Don't be tempted to add more water. Although the dough looks like it's never could work, just have faith.
Kitchen scale - This will help because you will get an accurate amount of flour, compared to using cup measurement. Cup measurement tends to measure more flour than what the recipe actually needs.
Since this dough is stiff to begin with, you don't want even more flour to make it stiffer.
Rest - For 1 hour. In that time the dough will relax and it'll be softer and easier for you to use later.
How To Roll Potsticker Wrapper Correctly
Don't you hate it when you're eating a potsticker and you notice that the part where the wrapper is pinched together is way thicker? And even worse when that part is not properly cooked.
Well there's a secret to avoid those 2 problems! Here are what you should do to get the potstickers the same thickness after being shaped.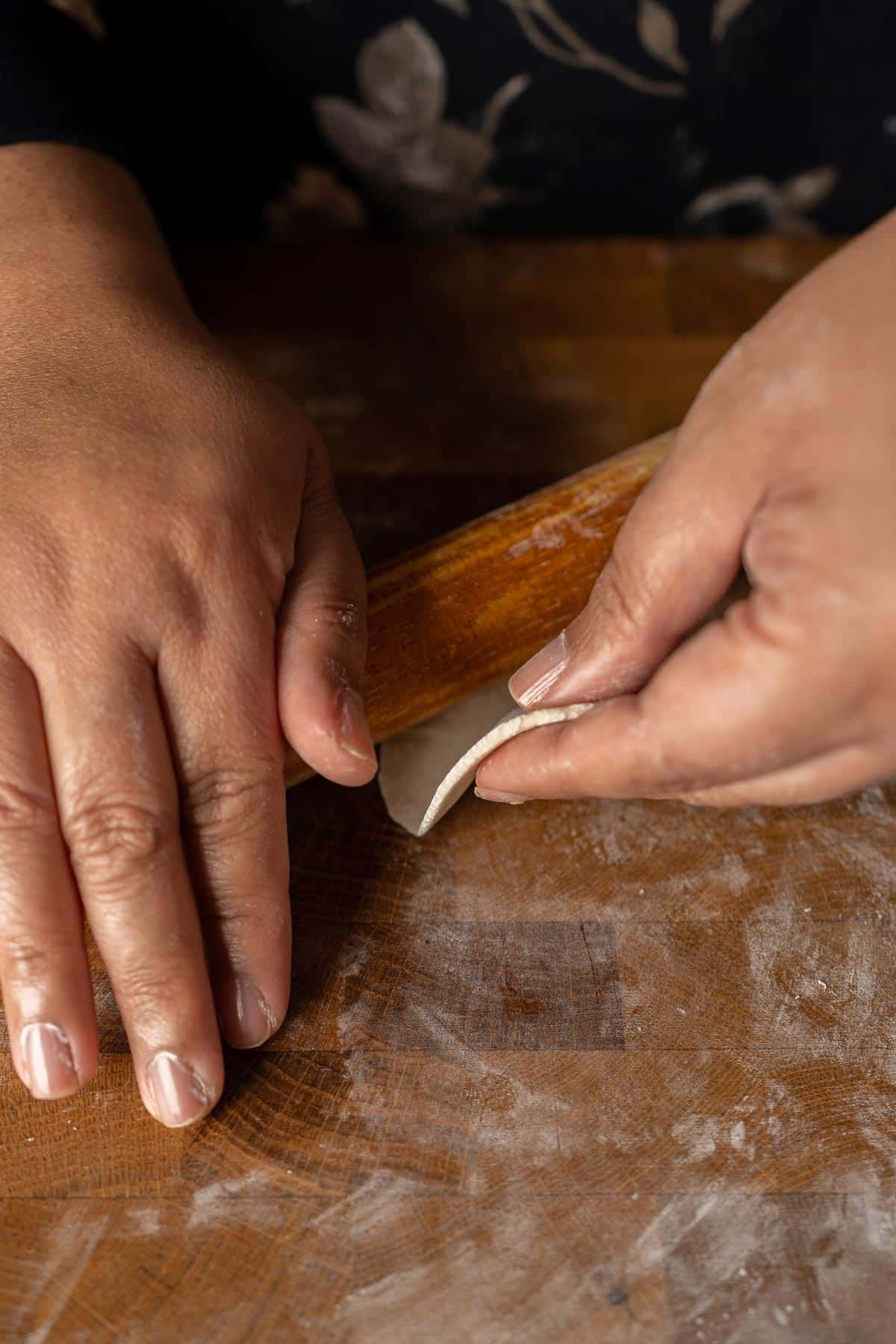 Initial roll - Roll a piece of dough in circle shape, slightly thicker than what you would like it to end up with.
Roll ⅓ in - Twist and roll but only ⅓ in of the dough. This will make the edges thinner while the center is thicker. The reason for this is, when you're shaping the potsticker, you will be joining and pinching the thinner edges together, making that part not so thick. And it'll cook perfectly.
How To Handle Them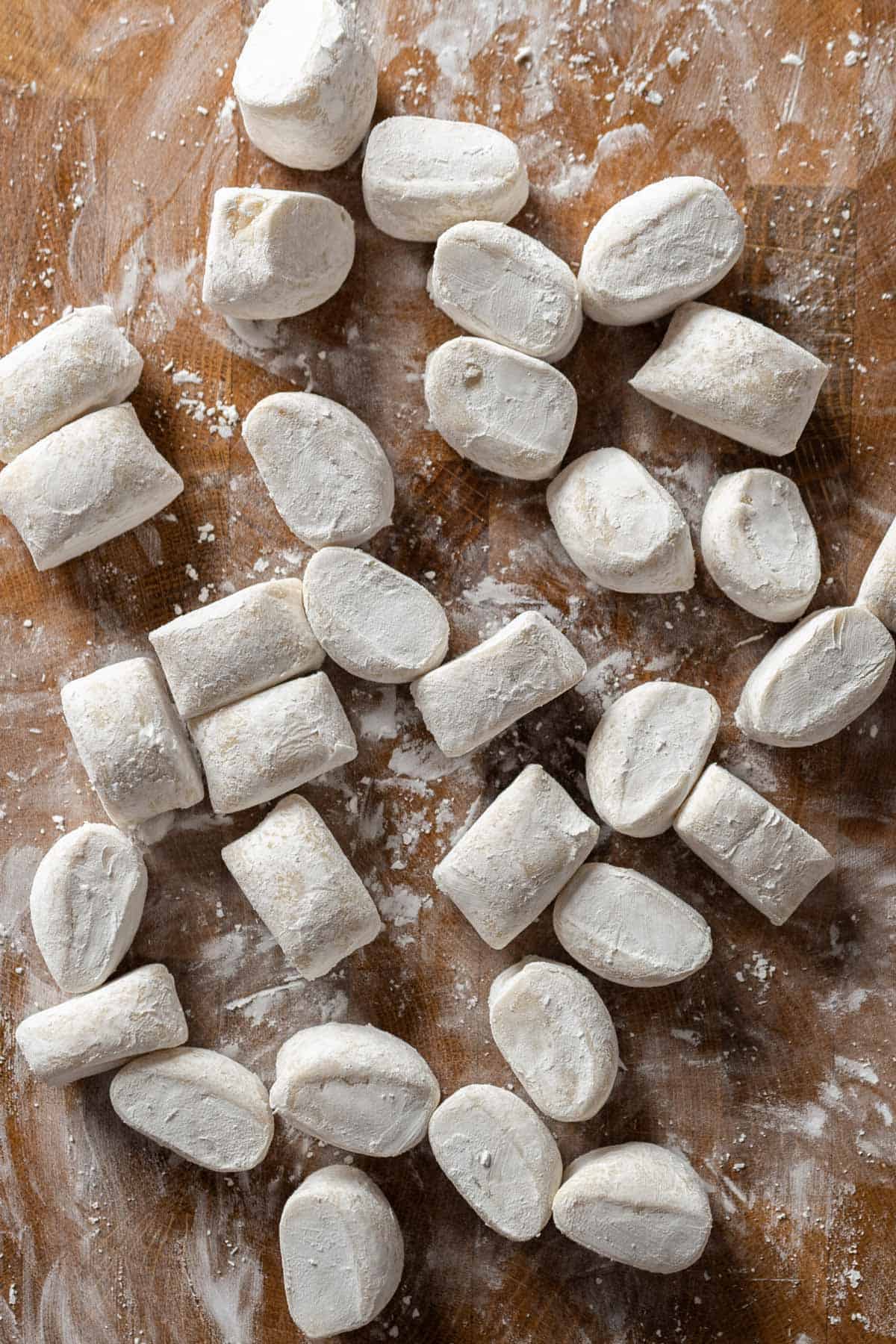 I do this alone. No helpers. Marco is of course eager to help, but I rather do everything myself because I'm a control freak like that. Haha!
So I have a system to make the process calm and smooth for me.
Prepare the filling - Make sure the filling is ready before I start rolling my wrappers.
A place to put shaped potstickers - I like to place a kitchen cloth on my big wooden cutting table for the shaped potstickers. Just to make sure they don't stick. I also prepare this before I roll the wrappers.
Corn starch - Sprinkle and coat each piece with corn starch to avoid them getting stick to each other. Don't skip this.
Cover - Since I'm doing everything alone, so obviously I'm slower. I make sure I cover the pieces of dough with cling film so that they don't try out. When they get dry, it's difficult to roll and shape.
Batches - I usually roll 2 or 3 pieces of dough, at a time. Then I fill and shape them. And then I repeat the process. I don't recommend rolling them all at once and only then fill them. Because the first ones are going to dry out and that's a huge no. So roll in batches. If you have somebody to do this with you then there's no problem. 1 person roll and the other fill and shape.
Don't stack - To avoid them sticking to each other.
How To Cook Potsticker Or Gyoza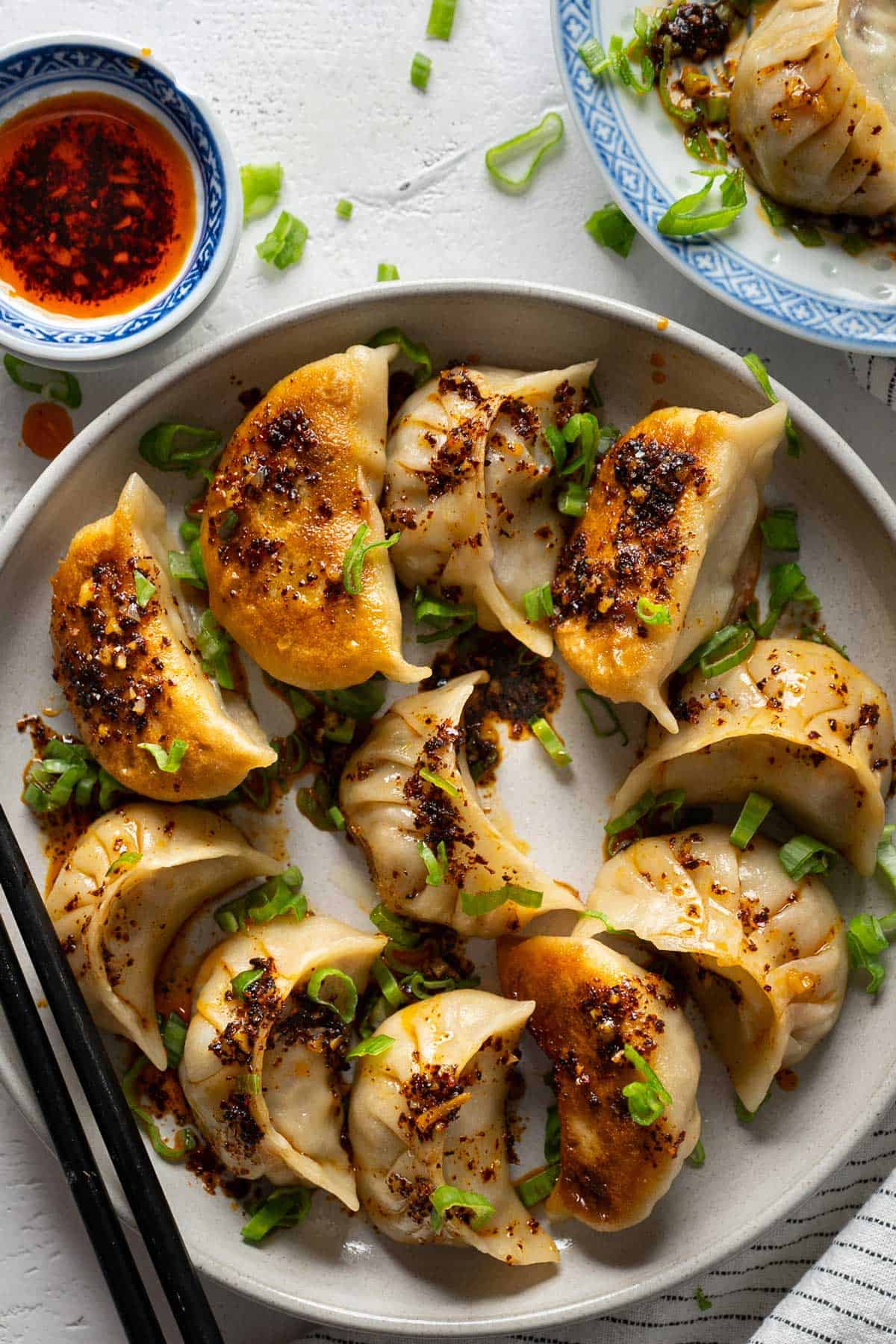 I love to use the "fry-steam-fry" method to get that super crispy bottoms. Such a contract to the soft casing with the juicy filling.
It's super easy and it works every single time. Here's how:
Fry - Shallow fry the potstickers with a bit of oil until the bottoms are golden brown. I like to use a non-stick pan to avoid them from sticking.
Steam - Have a pan lid and boiling water ready. Once the bottoms are golden brown, then add in a splash of water in the pan, and immediately put the lid on. Be careful because they tend to splash at this point.
Fry - Cook until the water is evaporated and you start hearing the frying sound again.
Serve immediately with lots of this 5-minute chili garlic oil.
Watch How To Make It
📖 Recipe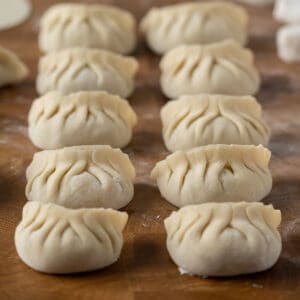 How To Make Potsticker Or Gyoza Wrappers
With only 3 basic ingredients, you're going to have fresher and more flexible wrappers. They're perfect to carry all the juicy delicious filling that you're thinking about. Once you've made this homemade wrappers, you'd never use store-bought ever again.
Print
Pin
Rate
Ingredients
2

cup

all purpose flour

260

g

⅔

cup

boiling water, minus 2 tsp

150

ml

½

teaspoon

salt
Instructions
The Dough
Mix flour and salt in a bowl, using a wooden spoon. Add boiling water and mix everything together until you get a shaggy mixture. Place on a working surface and knead for 5 minutes.

Form in to a ball and wrap it with a cling film. Leave to rest for 1 hour.
Cutting
Poke a hole in the middle with a finger and make a ring that's around 1 inch (2.5 cm) thick. Bring the ring together into 2 lines and cut on each end. Cut each of them into 2. Again, cut each of those into 2. And cut each of those into 4. You'll end up with 32 pieces. Cuttting in the middle each time will ensure the dough pieces are the same size.

Sprinkle and coat each pieces with corn starch. Cover with cling film when you're not using them.
Rolling
Take a piece of dough and roll into a circle slightly thicker than what you'd want. Now roll ⅓ in around the edges as you twist the dough, so that it's thinner. Do 2,3 pieces at a time and then fill and shape them. Repeat.
Cooking
Heat some oil in a nonstick pan on medium heat. Gently place in your potstickers, making sure they have more or less 1 inch (2.5 cm) space between them. Cook until the bottoms are golden brown.

Add in ¼-1/3 cup (60-80 ml) boiling water and immediately cover the pan with a lid. Cook for 10 minutes until the water has evaporated and you hear the frying sound again.

Serve immediately with some chopped spring onion and lots of chili garlic oil. Enjoy!
Notes
Use a kitchen scale for accurate measurement of the flour. You don't want to use more flour than needed.
The dough will be slightly stiff, do not add more water.
Don't roll them all at once, or leave them uncovered to prevent them from drying out. This will make them difficult to shape.
Don't pile them on top of each other, to prevent them from sticking.
Nutrition Facts
Calories:
30
kcal
,
Carbohydrates:
6.3
g
,
Protein:
0.9
g
,
Fat:
0.1
g
,
Saturated Fat:
0.01
g
,
Sodium:
37.3
mg
,
Potassium:
8.8
mg
,
Fiber:
0.2
g
,
Sugar:
0.02
g
,
Calcium:
1.4
mg
,
Iron:
0.4
mg