My first instant pot recipe here in our website and I'm starting with my instant pot chicken congee!
I'm so excited to share this super easy yet very delicious meal with you.
Let's begin.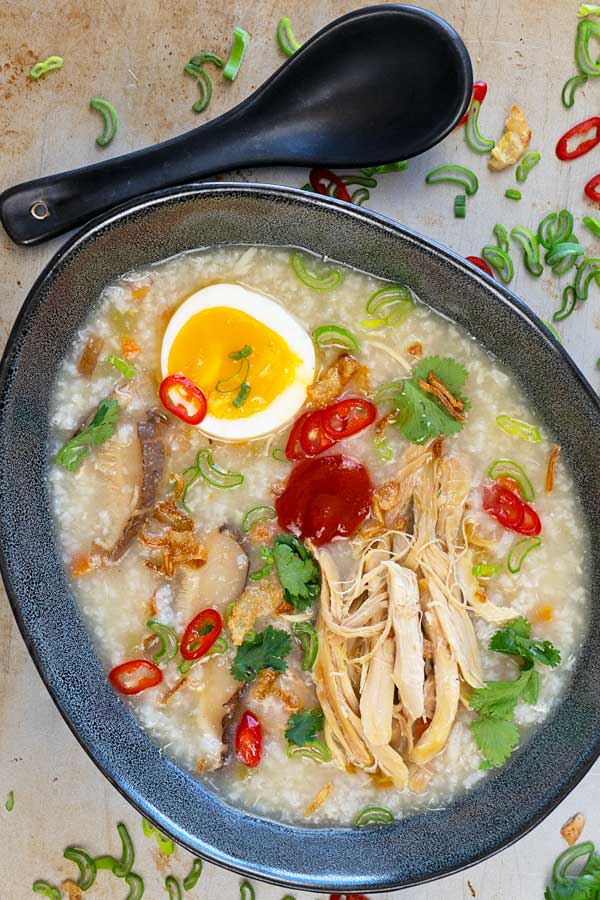 What Is Congee?
Congee is a rice porridge and is a very popular meal in Asian countries. It is made by boiling rice in abundance water for a long time until the rice soften and disintegrated.
Due to its mild taste, it is commonly eaten with some type of side dishes like salted fish, salted egg, veggies or some sauces.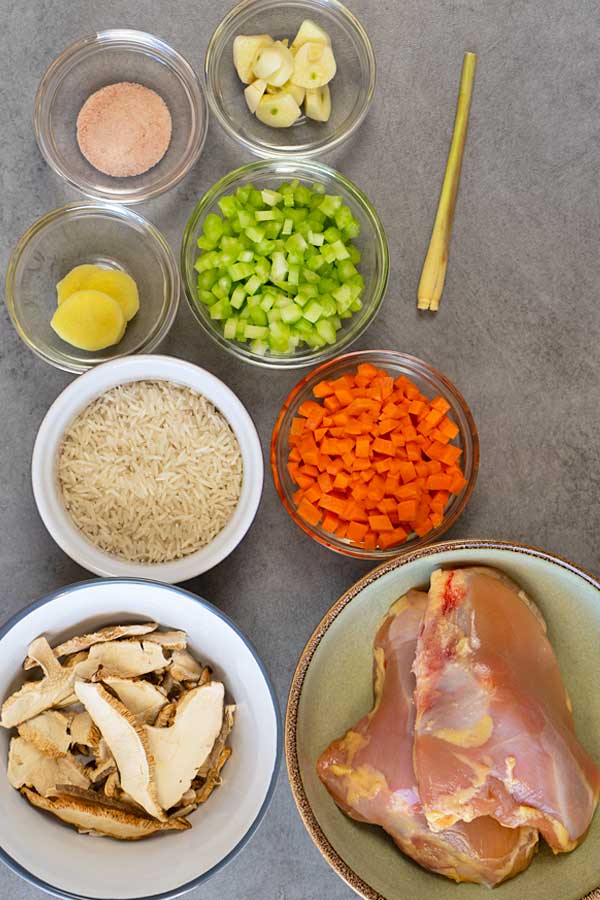 It's also often served plain by itself to babies who are starting to eat or to sick people because it's so easy to digest.
We Got An Instant Pot!
So today I'm sharing with you my all-in-one instant pot congee that's very flavourful without you having to cook some side dishes to eat with it.
If you're following me on my instagram, maybe you noticed that we recently bought an instant pot for Christmas. A gift to ourselves.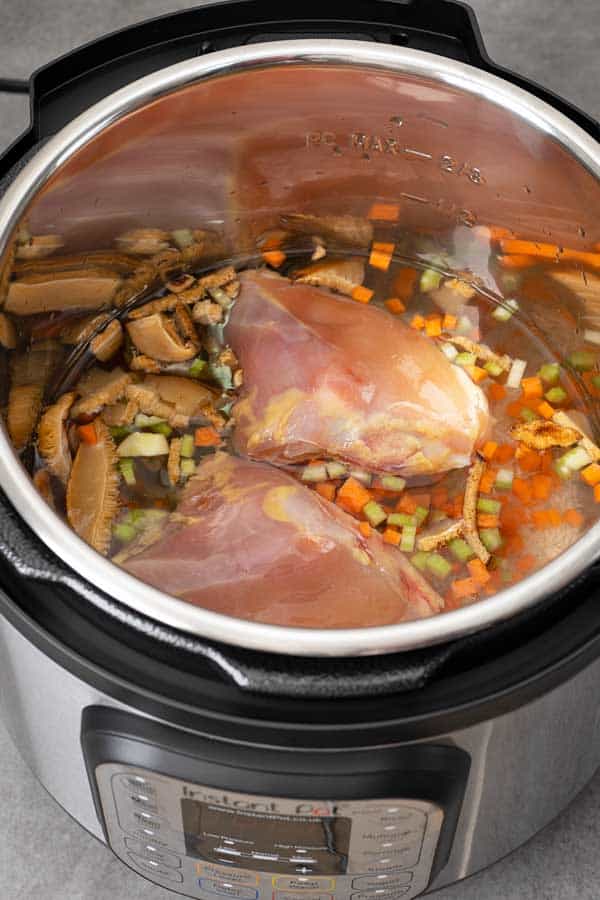 The main reason to having it is to help us with our meals since when we're filming recipe videos during the weekdays, I don't really have time to cook in between filming.
And it really helps, A LOT. I can prepare lunch or dinner in it, leave it to cook while I tend to other things.
And we're LOVING our instant pot! There's a new model of the one that I'm using, you can check it out here.
I've been cooking and testing recipes with it all this while. I can't wait to share them with you.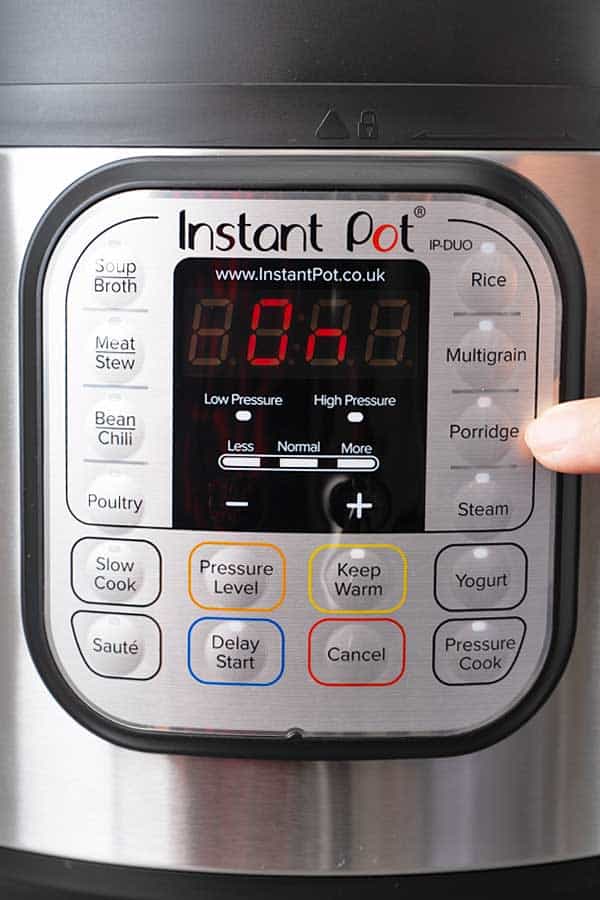 In Sickness And Health
If you're following my instagram, maybe you noticed also that I got sick like 2 weeks ago. It started with my mother-in-law, followed by my husband a few days after.
Since my father-in-law is a unique cook, so I was cooking hearty healthy meals for both houses, holding down the fort. Just as Marco was getting better, boom! I was totally knocked off, sick.
And this is one of the meals that I had when I was sick. Such a comforting meal. Marco who was still recovering himself, made an amazing chicken soup with the instant pot. Bless him.
My Instant Pot Chicken Congee
As I mentioned before, congee is often served for ill people because it's very easy to digest.
With this cold weather and the flu virus all around, this is a very useful recipe to have because it's super simple to prepare.
I love to cook with veggies so I thought instead of just making plain congee, I would throw in some veggies also. They really help with the flavour and of course, you get to eat them. Yum!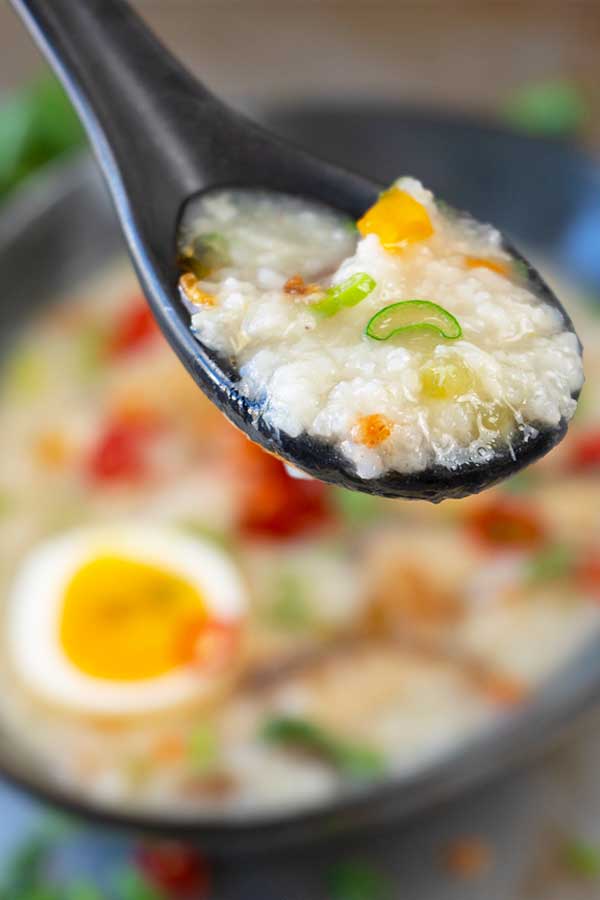 Since this is a one pot meal, I'm also adding in some chicken thighs as the protein source.
Instead of using chicken breast, which gets dry easily and has less flavour, I opt for bone-in chicken thighs. The meat is with much more flavour and the bones not only help enrich the flavour, they also have many good properties to battle the sickness.
By adding veggies and protein in this congee, it becomes very flavourful that you don't need to prepare any side dishes to go with it.
I hope you would give it a try. You won't regret it, I promise.
In Summary
This instant pot chicken congee is:
a one pot meal
has veggies and protein in it
super easy to prepare and super delicious
perfect to have when you're feeling sick
easy to digest
can be eaten as is or with some side dishes if you want
Before You Go
If you like this recipe, maybe you would want to check these other recipes:
Video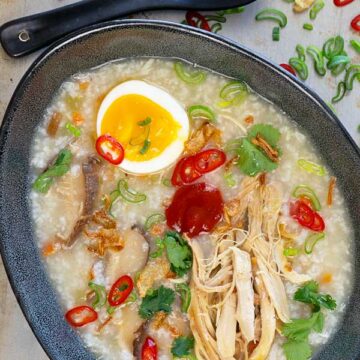 Instant Pot Lemongrass Shiitake Chicken Congee
Super fast and easy one pot meal using instant pot. This delicious chicken congee is so flavourful that you don't need any side dishes to go with it. A great meal to have when you're sick.
Print
Pin
Rate
Ingredients
½

cup

basmati rice

(

95

gr)

½

cup

dry sliced shiitake

(

10

gr)

1

celery stalk

, cut into small cubes

1

medium sized

carrot

, cut into small cubes

1

thumb sized

ginger

, sliced

2

garlic cloves

, sliced

1

lemongrass

, bruised

2

skinless, bone in chicken thighs

1 ½

teaspoon

salt

, adjust as needed

4

cup

water

(

1

liter)
Others
some 6 minutes eggs

some chopped spring onion

some coriander leaves

some chopped chili

some fried onion
Instructions
Instant Pot
Put all of the ingredients into the inner pot inside the base unit. Place the lid on and close it. Make sure the steam release valve is at "sealing". Choose "Porridge" program with 20 minutes cooking time.

Once cooked, leave for natural release of pressure. Push the steam release valve to "venting". Open the lid.

Remove the chicken into a plate. Shred the meat, discard the bones and fat. Add the chicken back into the pot and mix well.

NOTE: if you don't have "Porridge" program, cook on high pressure for 20 minutes.

If you don't have an instant pot, cook in a regular pressure cooker for 20 minutes.
Stovetop
Put all ingredients into a pot, bring to a boil on high heat then reduce to low. Simmer until the rice is softened and disintegrated. Add more water as needed.
How To Serve
Ladle some congee into a bowl. Put half of 6 minutes egg and then sprinkle with some chopped spring onion, coriander leaves, chopped chili, fried onion, a drizzle of sesame oil and some sriracha. Serve hot.
Adjusting Congee Thickness
Add more water if you like your congee thinner. Adjust seasoning as needed.

Congee will get thicker when it's cold. Heat in microwave/stovetop and add water as needed.
Notes
Before cooking time starts the Instant Pot will take 10-15 minutes to reach pressure.
Nutrition Facts
Calories:
188.8
kcal
,
Carbohydrates:
24.8
g
,
Protein:
13.8
g
,
Fat:
3.5
g
,
Saturated Fat:
1
g
,
Cholesterol:
94.7
mg
,
Sodium:
993
mg
,
Potassium:
294.7
mg
,
Fiber:
1.2
g
,
Sugar:
0.9
g
,
Calcium:
35.9
mg
,
Iron:
1.1
mg