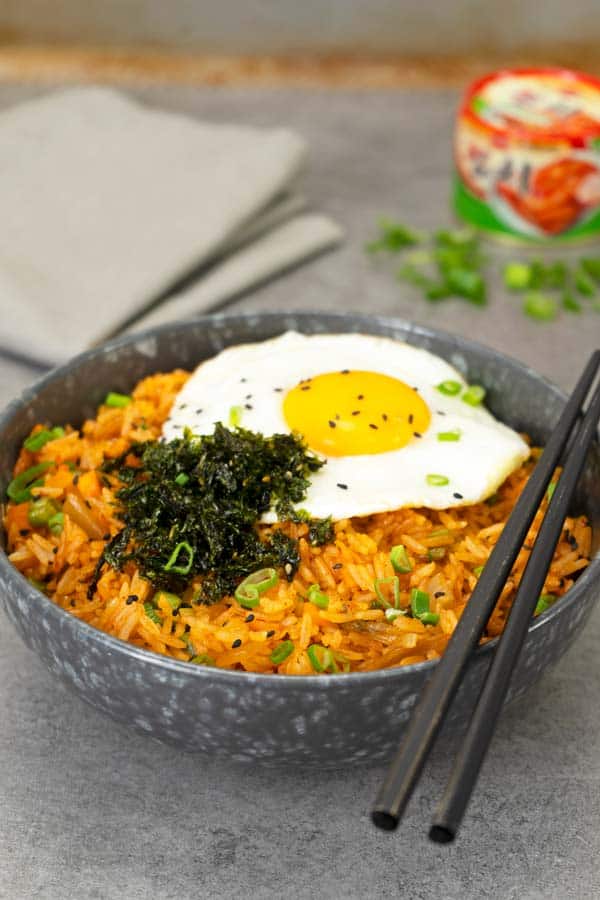 Ever since we've found out about the existence of gochujang (yes I know we're late in the game), we're very fascinated with Korean food.
Today's easy kimchi fried rice recipe is one of the homemade Korean food that we have been enjoying recently.
You know I love to share recipes with you, so today let's take a look on this super easy and delicious kimchi fried rice.
What Is Kimchi
Kimchi is famous, common and typical food in Korea. It's fermented vegetables with various seasonings and is typically served as a side dish.
The common vegetables that are used in kimchi are napa cabbages and Korean radishes.
The seasonings that are typically used are salted seafood, garlic, ginger, scallions and chili powder.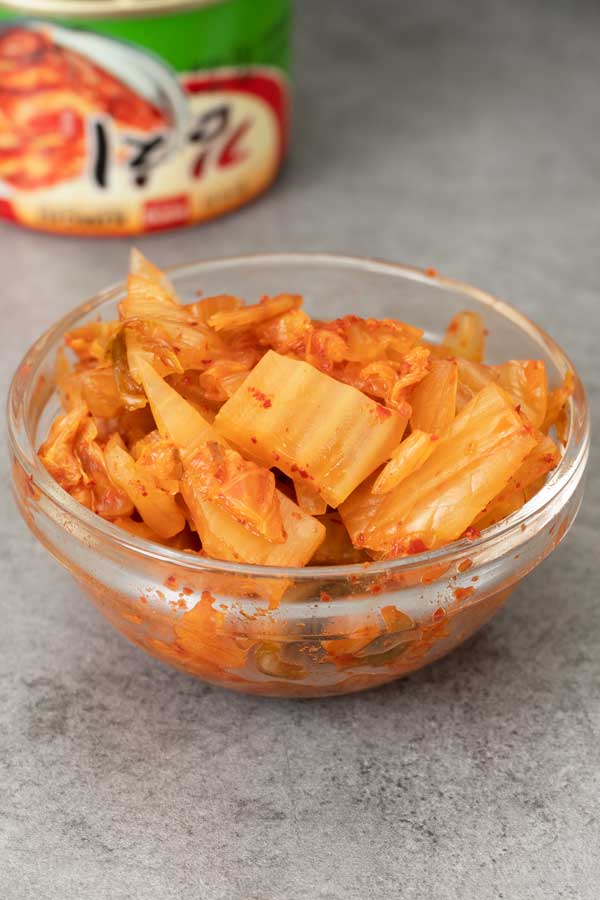 Traditionally kimchi are stored and fermented in jars and placed underground to maintain its temperature during season change.
The kimchi that I bought to use in this recipe came in a can. It was a Korean product.
What I did was drain the juice from the vegetables and only use the vegetables in the recipe. I'm not using the juice in the recipe because I don't want my fried rice to get soggy.
But hey, don't throw the juice. It tastes delicious! We drank it between the two of us.
Day Old Cooked Rice
This recipe is perfect when you have some leftover rice in the fridge.
Leftover or day old rice works great in any type of fried rice.
Why? Because it's more dry, firmer and less starchy or sticky when it's cold or left for hours.
Freshly cooked rice on the other hand is just the opposite of day old rice. It's softer, tends to stick and doesn't hold its shape as much.
Tips On Using Freshly Cooked Rice
Having said that, it doesn't mean that if you didn't have any leftover rice or day old rice you cannot make this super yummy recipe.
Let's not have too much rules in our life, shall we?
Of course you can make this kimchi fried rice!
Just cook the rice that you want to use and once it's cooked, don't fluff the rice like we would normally do.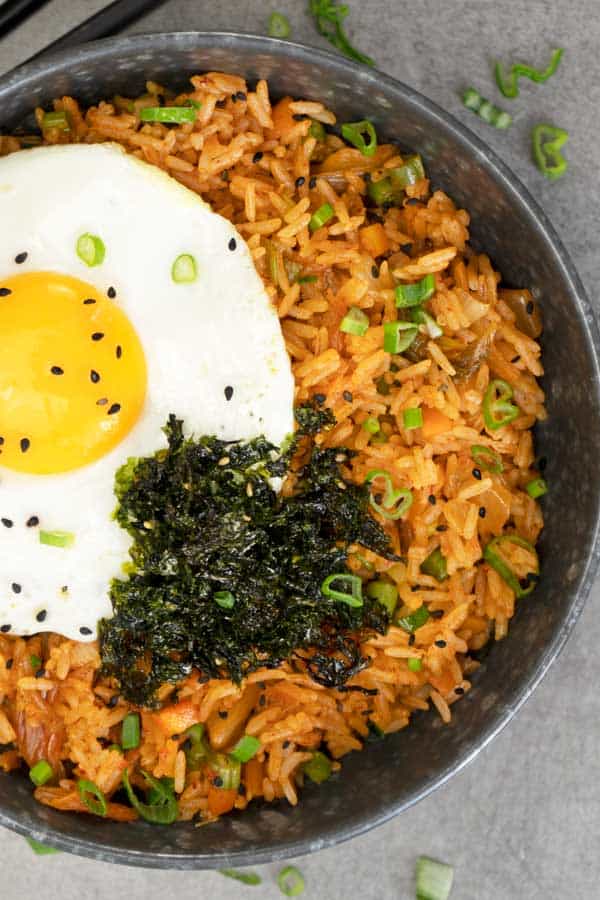 Just remove the pan from the heat and leave it uncovered until it's totally cold. It won't even take 1 hour.
Then simply use it in your fried rice.
What Rice To Use
You can basically use any type of rice, really. Well except for one though.
I would not recommend using basmati rice since it doesn't hold it's shape good when we stir it a lot. And with fried rice, we would be doing a lot of stirring.
I only have 4 types of rice in my kitchen pantry. Brown rice for the weekdays. Bomba rice for paella. Jasmin and basmati for whenever we feel like letting loose, but basmati rice is more towards when I make biryani or rice pilaf.
For this recipe I'm using jasmine rice because it holds its shape great and it's not starchy. I've written a post on how to perfectly cook jasmine rice
Brown rice is also good for this recipe.
This recipe is just perfect if you're interested in Korean food and would like to try it for the first time. It's also a super fast recipe that you can easily make during the weekdays. Do give it a try!
In Summary
This easy kimchi fried rice is:
super fast and easy to make even during the weekdays
a good introduction to Korean food
only requires a few ingredients
make use of your leftover rice, avoid food waste
simply DELICIOUS!
Before You Go
Here are some recipes that you might also be interested in:
Video
📖 Recipe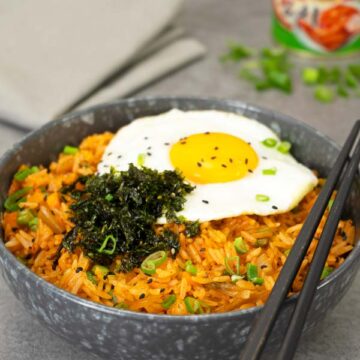 Kimchi Fried Rice
Easy and fast kimchi fried rice. It's delicious and perfect for a busy day and to finish up the leftover rice and whatever veggies you have in the fridge. Also a perfect choice if you're new to Korean food.
Print
Pin
Rate
Ingredients
1

bulb

spring onion together with the green part

2

garlic cloves

, grated

½

thumb sized

ginger

, grated

1

medium sized

carrot

, cut into cubes

8

green beans

, cut into ¼ inch (5 mm) thick

½

cup

drained kimchi

(

120

gr), roughly chopped

1

tablespoon

gochujang (

15

gr) or use sriracha to taste

2

tablespoon

soy sauce

or to taste

½

tablespoon

sugar

3

cup

day old cooked rice

(

480

gr)

1

teaspoon

sesame oil
Others
2

fried eggs

some sesame seeds

some shredded nori
Instructions
Separate the white and green part of the spring onion. Dice the white part. Slice the green part and reserve for later.

Heat some oil in a pan on medium high heat. Add in diced white part of spring onion together with grated garlic, ginger, carrot and green beans. Cook until the veggies are softened a bit.

Add in kimchi, gochujang and mix together well. Next add in cooked rice, soy sauce and sugar. Continue cooking and mixing until everything is well combined.

Turn the heat off. Sprinkle reserved sliced green part of spring onion together with sesame oil. Give everything one last mix and serve immediately.
How To Serve
Scoop some fried rice into a bowl. Place 1 fried egg on top. Lastly sprinkle some sliced spring onion and sesame seed. Place some shredded nori on the side. Serve hot.
Best Rice For Fried Rice
Use leftovers or day old cooked rice for this recipe for better result.

If you don't have any, simply cook some rice and leave it cool completely uncovered.

I would recommend using jasmine rice or short grain rice.

Refer to my post above for more tips and details.
Veggies
Use whatever veggies you have, just don't use the ones that release so much water like mushroom and zucchini. We don't want the fried rice to get soggy.
Nutrition Facts
Calories:
469.1
kcal
,
Carbohydrates:
83.6
g
,
Protein:
15.7
g
,
Fat:
7.5
g
,
Saturated Fat:
1.9
g
,
Cholesterol:
163.7
mg
,
Sodium:
1260.9
mg
,
Potassium:
423.9
mg
,
Fiber:
3.3
g
,
Sugar:
6.9
g
,
Calcium:
94
mg
,
Iron:
3
mg