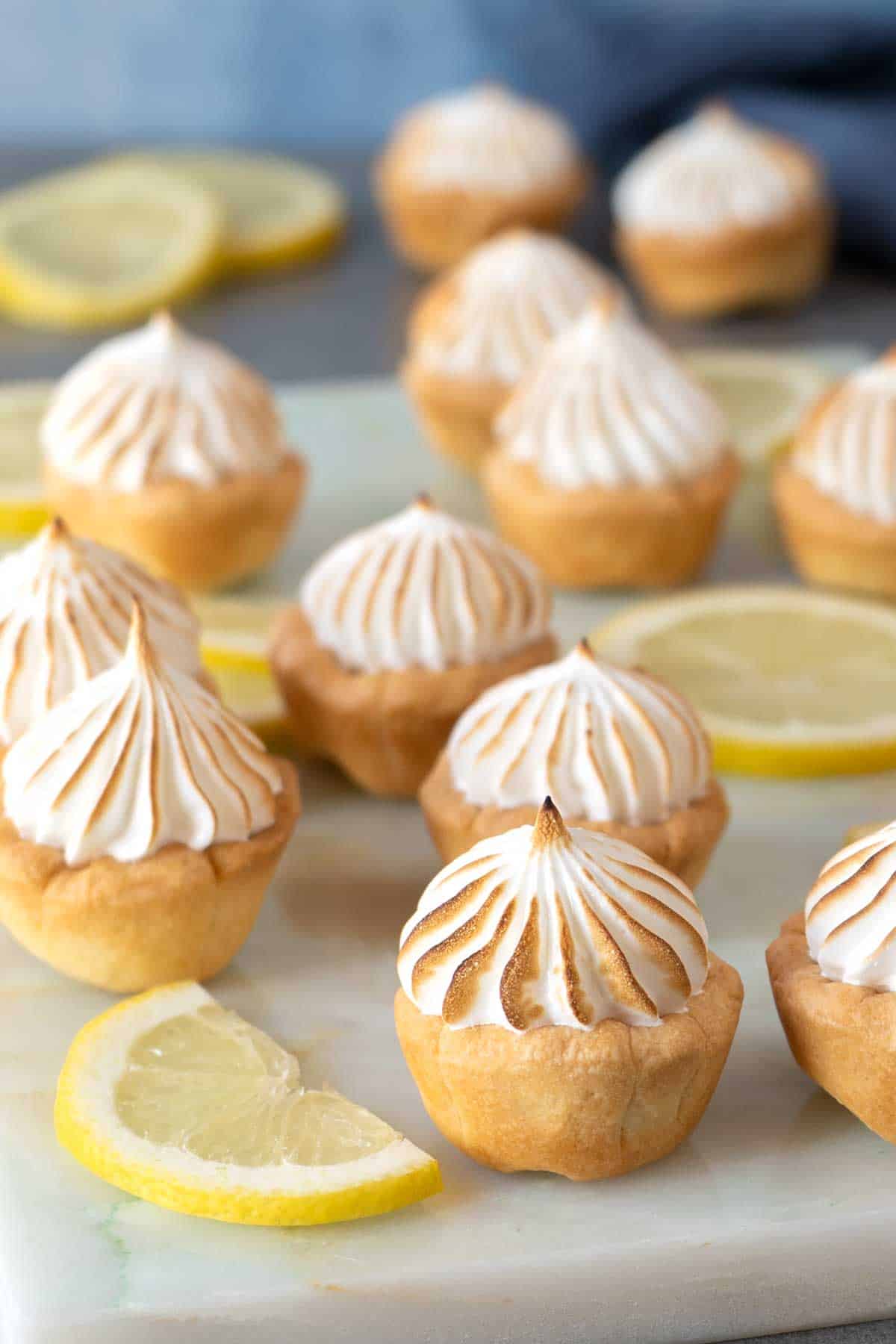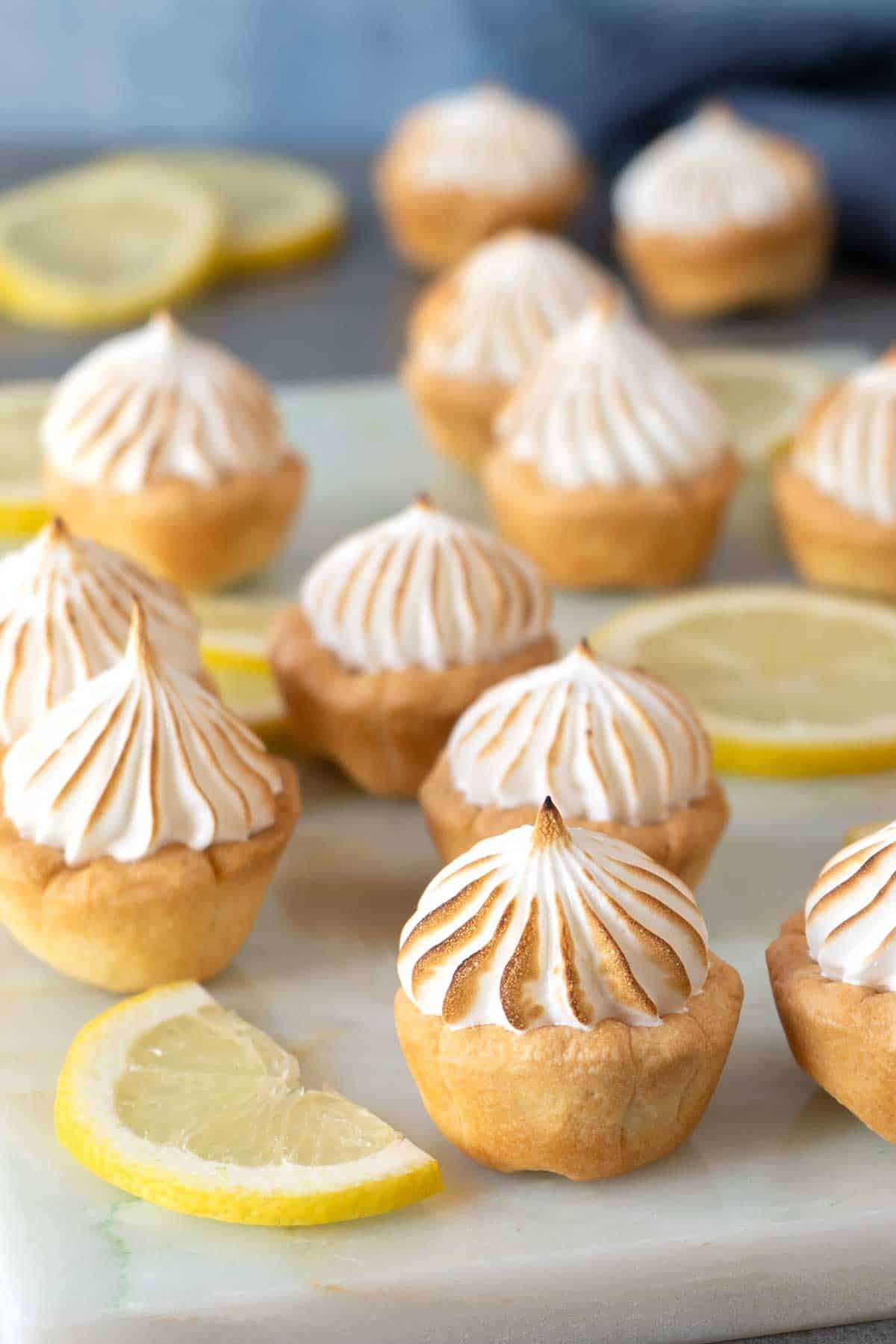 Summer is just around the corner and what better way to pre-welcome it than with these lemon meringue pie bites. Am I right?
And when I said bites, I meant they are literally just a 2 bites worth! Well you can do a 1 bite if you're feeling adventurous.
These lemon meringue pie bites are with crunchy crust, creamy tangy lemony filling and ohh that luscious silky sexy meringue on top.
Oh la la!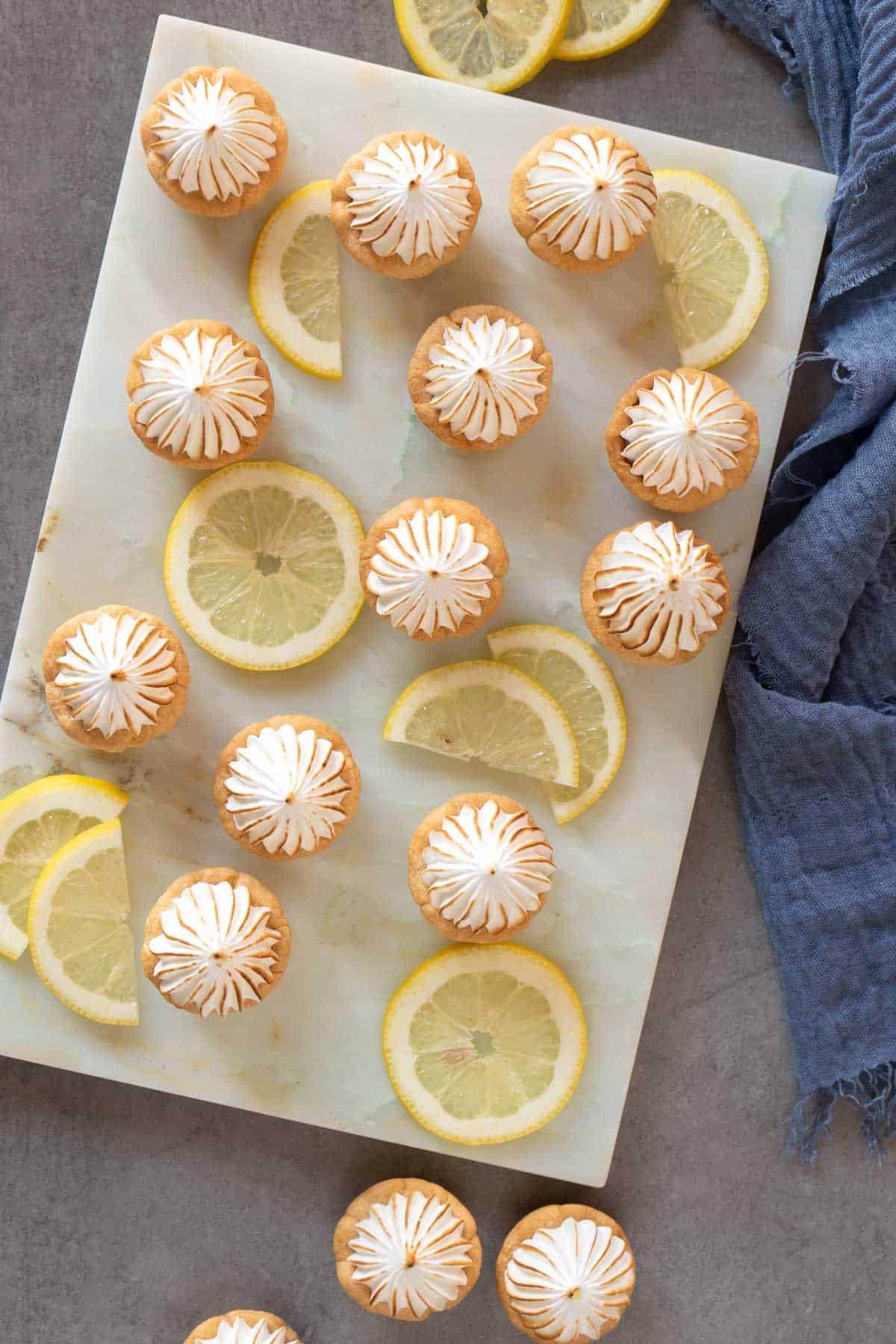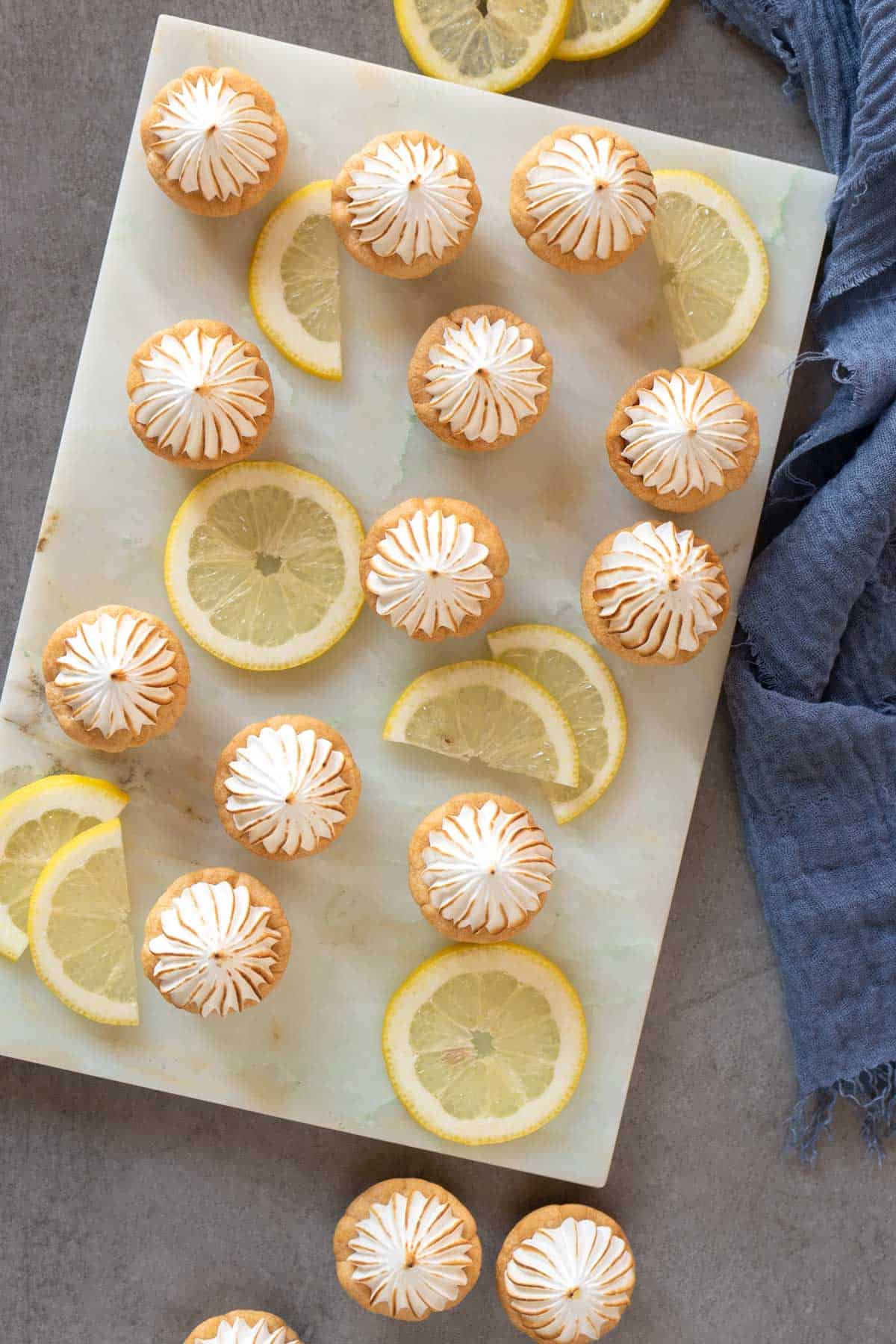 The Base
I'm really making this already super easy recipe into an even easier one (or is it an excuse for being lazy?) by using store bought shortcrust pastry.
I just thought Ok, why complicate things when under 1 hour I can easily enjoy these cute beauties. Am I right? Of course I am. Haha!
But you do you, alright? If you're feeling fancy, you can definitely make your own shortcrust pastry and use it. Nobody's going to sue you for that. I even applaud you!
Anyway, I pre-bake the base first until it's golden brown so that it's crunchy. I've tried baking it together with the filling (I was trying to save time) but I didn't like it. The base was too soft to my liking.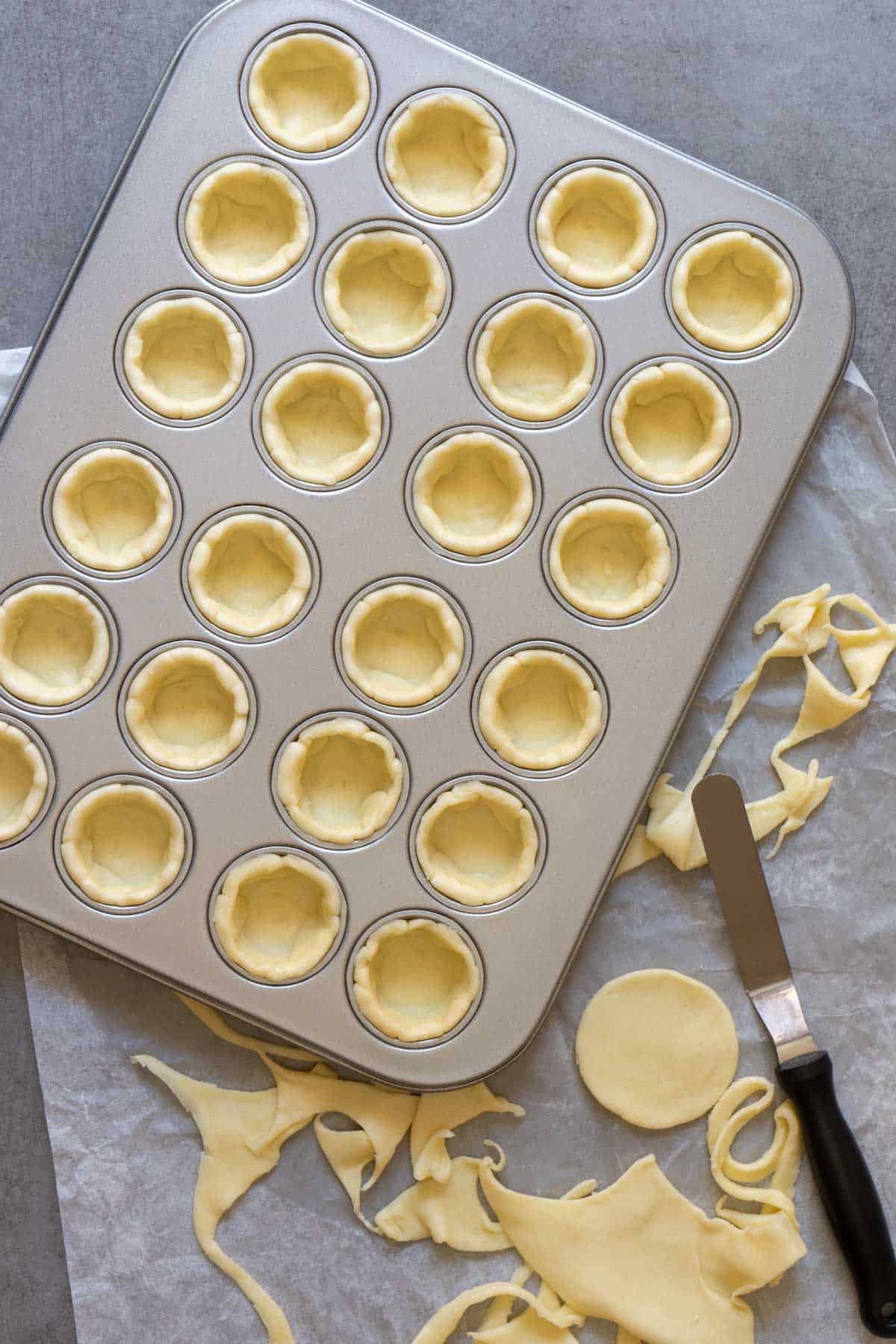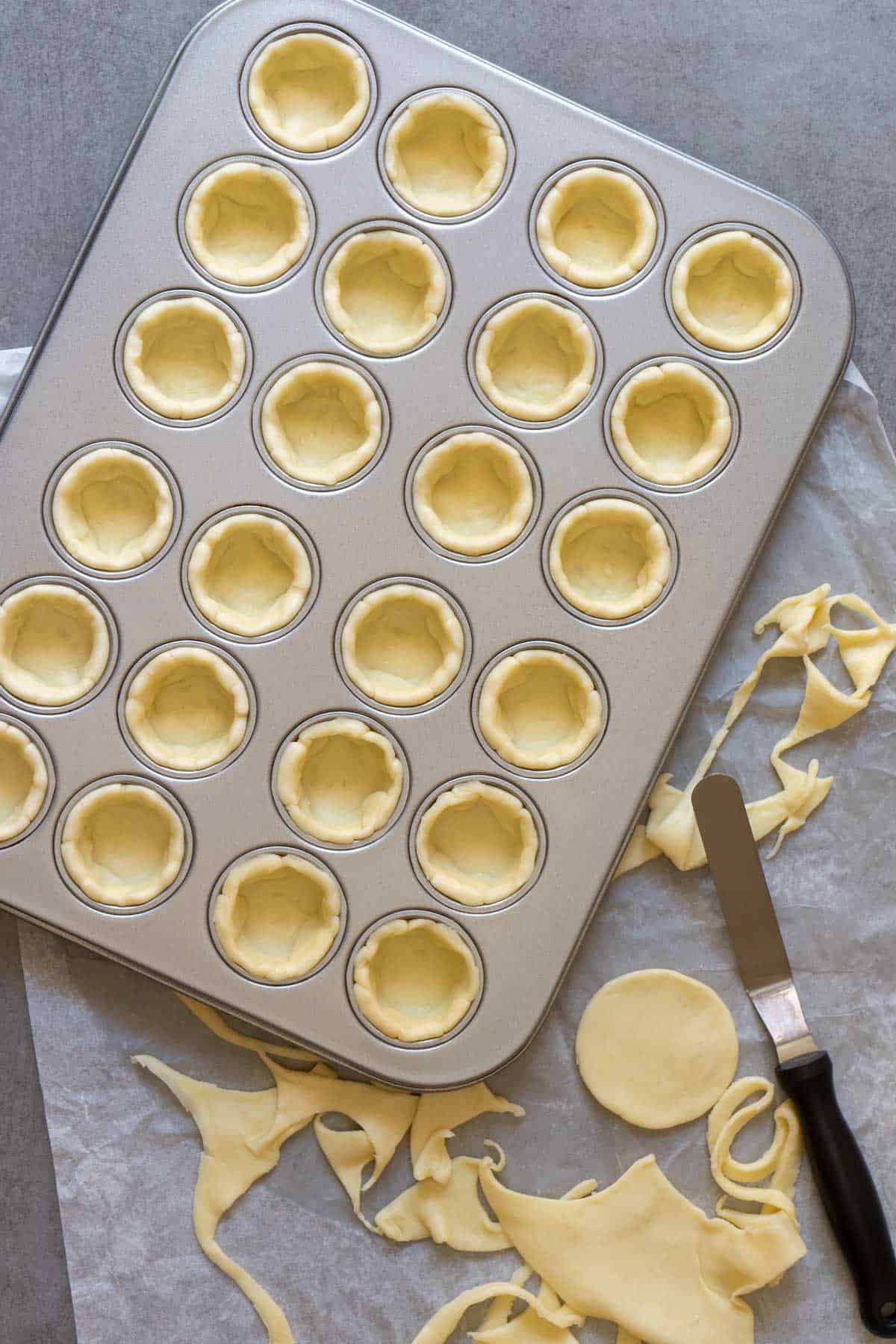 The Magical Filling
Oh you have got to try this!
I call it magical filling because you only need 3 ingredients for it, which are sweetened condensed milk, egg yolk and lemon juice.
Method? Oh ridiculously easy. Just whisk everything together and that's it. Yep. That is all my friend.
This filling gives you a more luscious silky texture than the one where you have to cook it on stove, due to the sweetened condensed milk. Trust me, you will love it!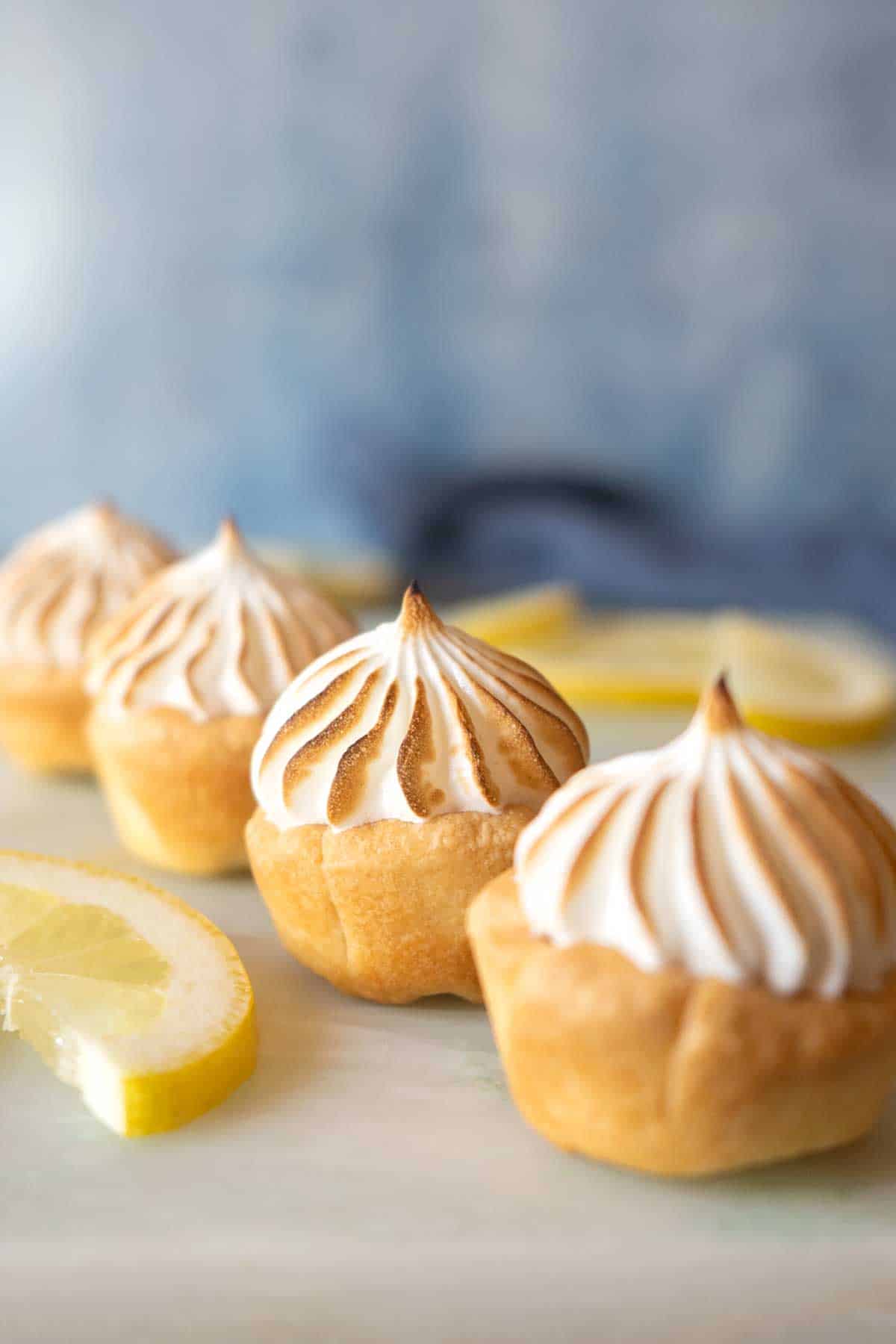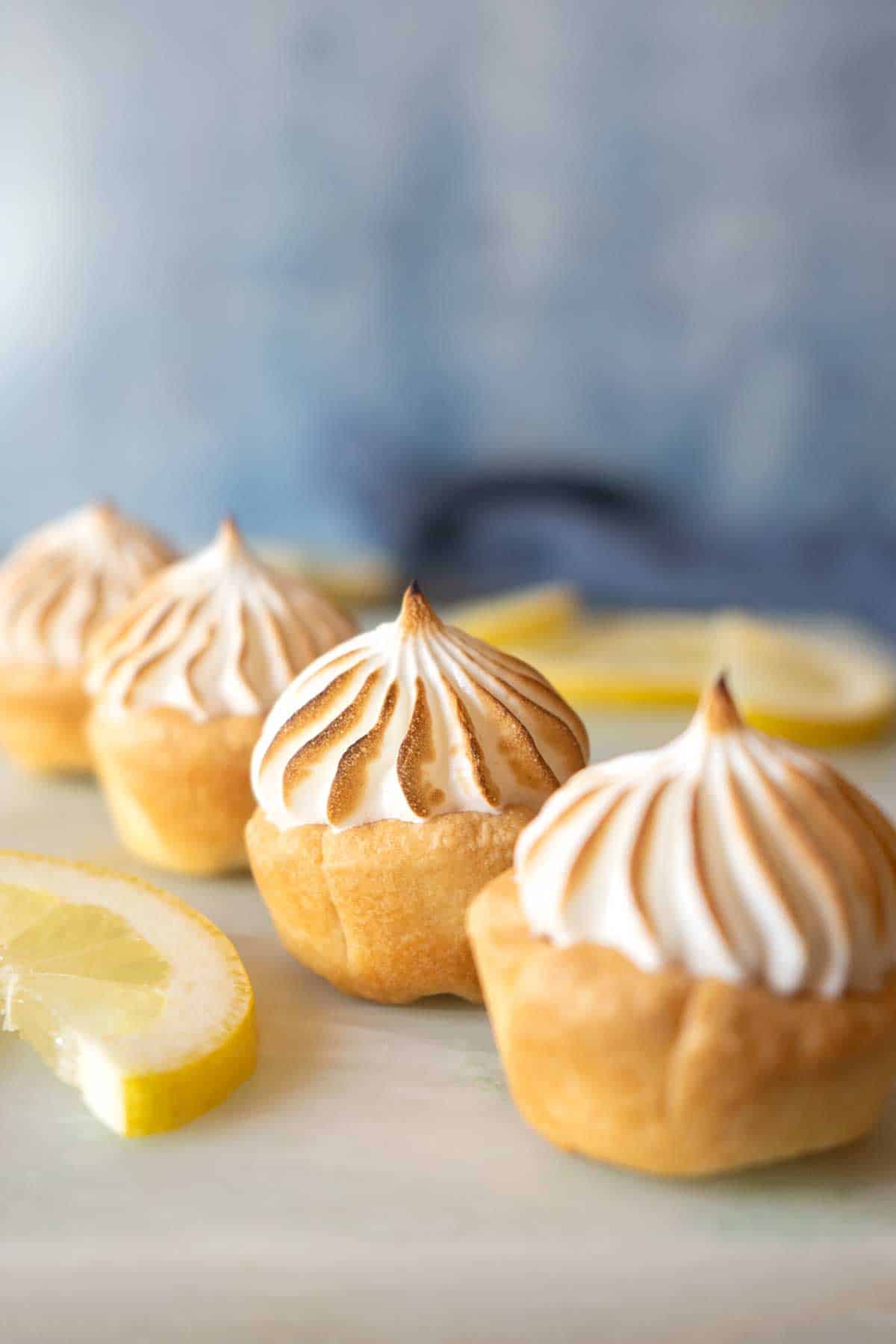 Basic Meringue
Again, still on the theme of super duper easy recipe, I opted for the basic meringue for this. Or some refer to it as French meringue.
All that you need is egg whites, sugar and some lemon juice. And all that you need to do is whisk and whisk until you get your meringue. No cooking at all.
You might have some balance of the meringue, depending on the size of meringue dollop that you pipe on the lemon pie bites. But hey, that's nothing to be mad about at all. Simply bake the balance meringue in the oven and you'll get yourself some crunchy meringue instead. Break some in your yogurt and add your favourite berries. Delish!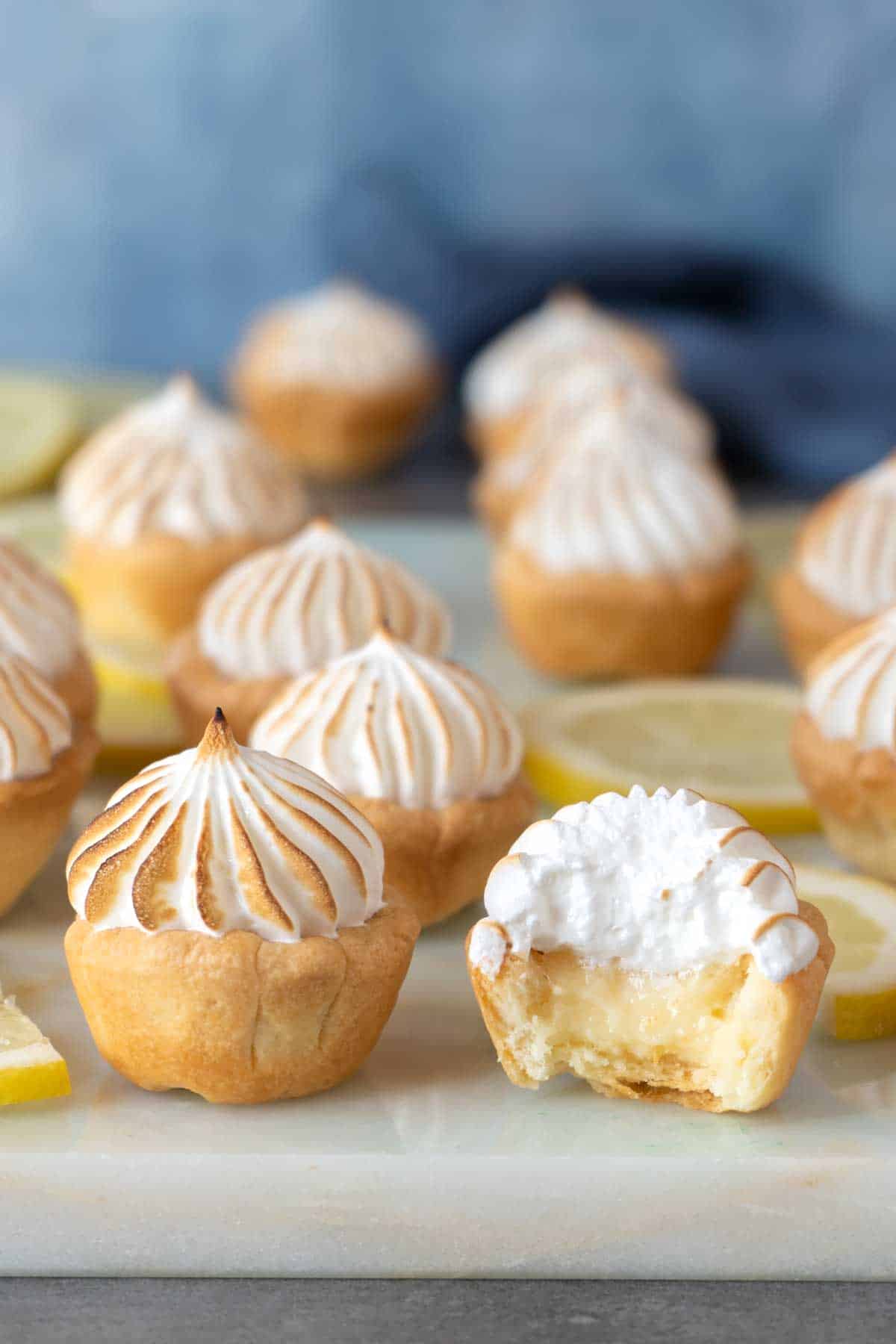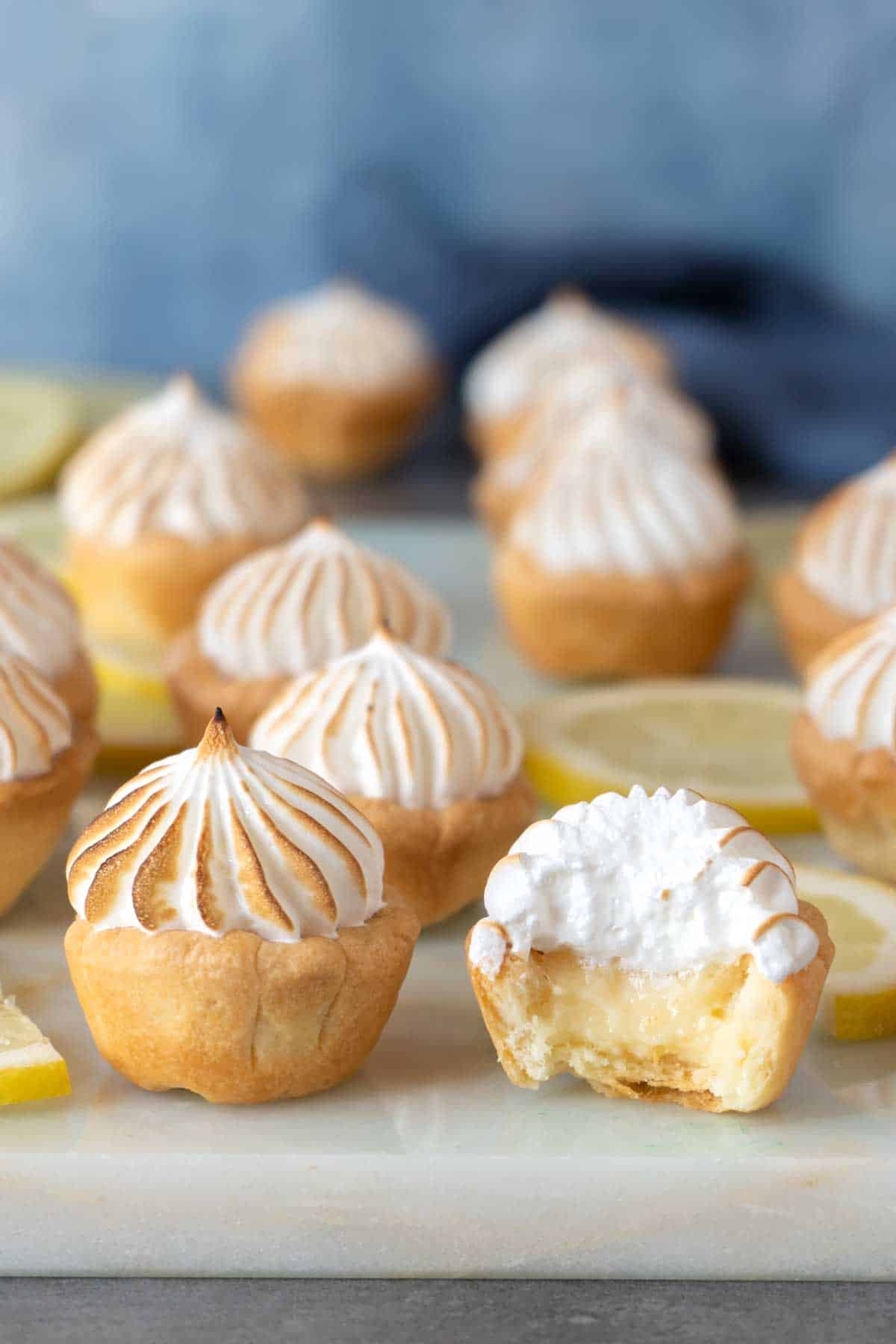 To Blowtorch Or To Grill In The Oven
Yeah, I know. Not everybody have a blowtorch laying around in their kitchen. It's not because it's expensive or anything (because it's definitely not expensive at all) but because you don't use it that often. Well until lemon meringue or lime pie come into the picture.
I like to use blowtorch. But no worries if you don't have it. Use your oven instead. Grill for a few minutes and you're good to go. My reasons for choosing blowtorch instead are these:
Color of caramelisation - Blowtorch makes a beautiful dark golden color contrast against the white meringue. Grilling in the oven will leave a light brown color all over the meringue.
Texture - Blowtorch maintain the creamy texture of a meringue while grilling in the oven makes the meringue a bit hard and dry.
So there you go. I really hope you'd give this recipe a try. Let me know what you think! And oh, these cuties are adapted from my lemon meringue pie (normal pie size). Also yum!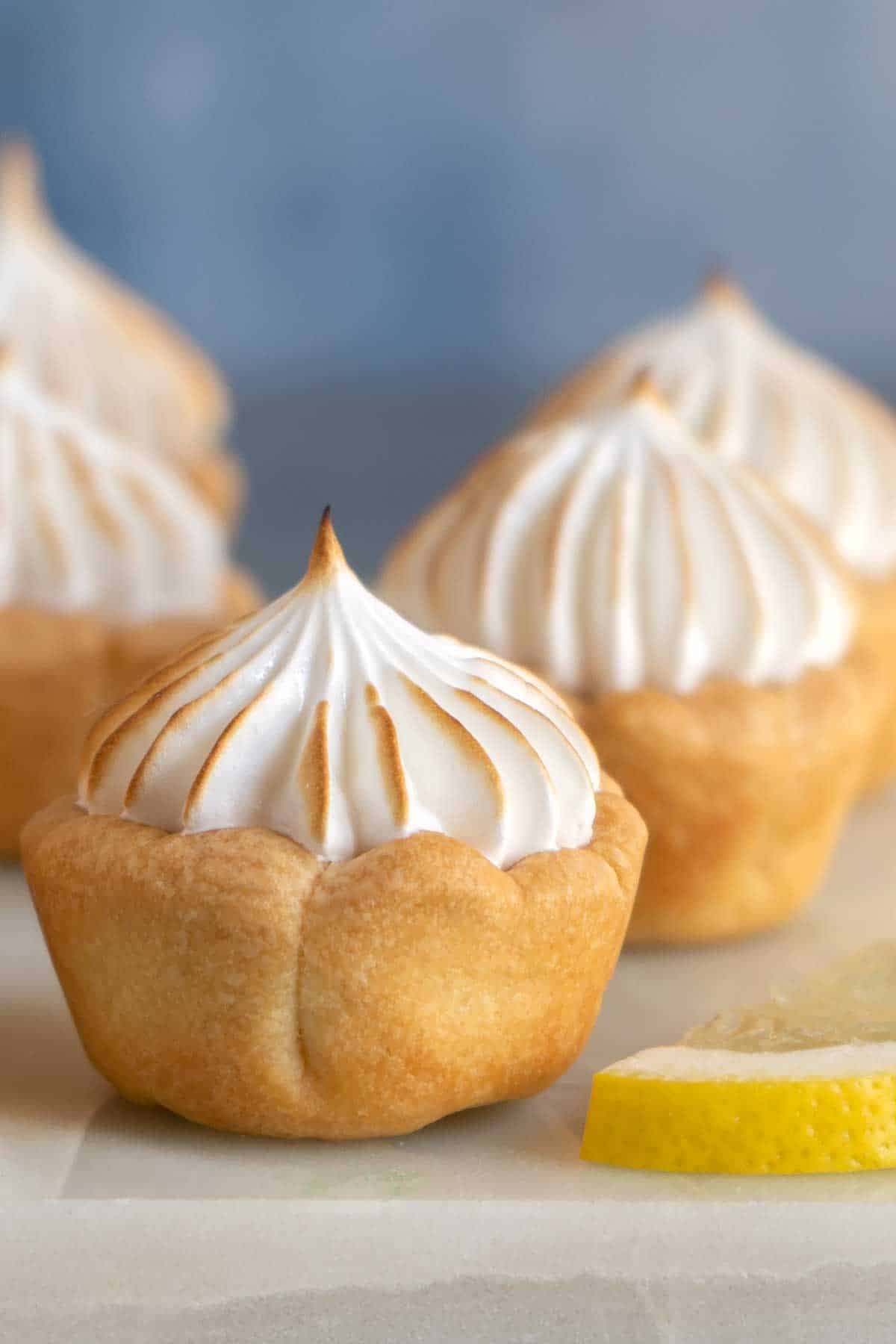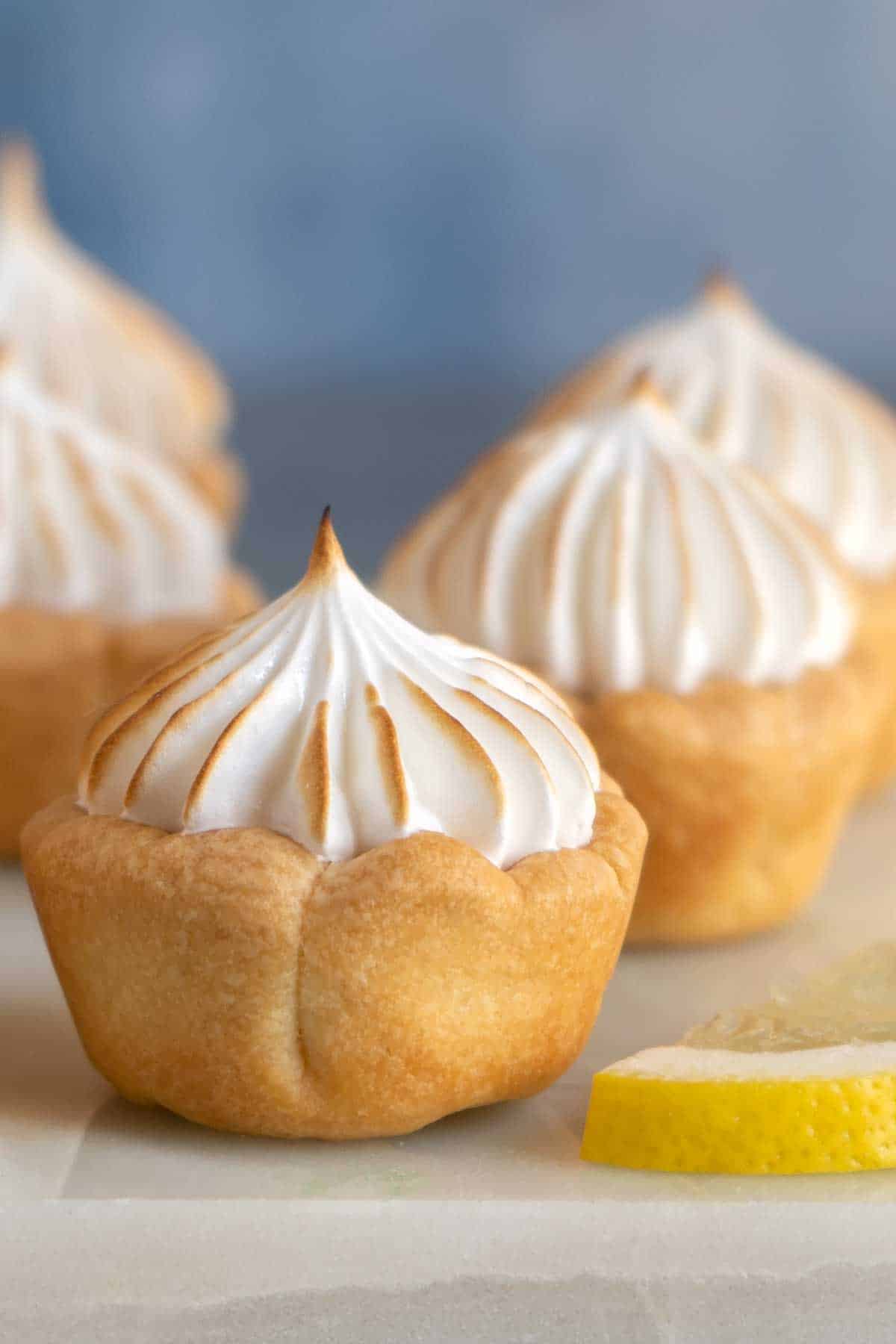 Hungry For More?
Check these out:
Video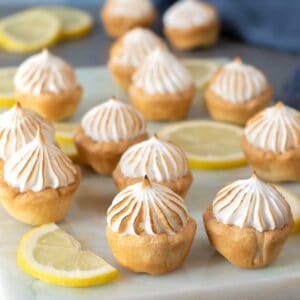 Lemon Meringue Pie Bites
Come and try these not only cute but delish lemon meringue pie bites. When I say bites, what I mean is, they're just 2 bites worth. Yep. Crunchy base, creamy tangy lemony filling and luscious meringue. Do try!
Print
Pin
Rate
Ingredients
The Base
1

lb

shortcrust pastry

(

450

g), or as needed
The Filling
½

cup

sweetened condensed milk

(

150

g)

1

large egg yolk

¼

cup

lemon juice

(

60

ml)
The Basic Meringue
2

large egg whites

, room temperature

¼

teaspoon

lemon juice

½

cup

sugar

(

100

g)
Instructions
The Base
Lay out the shortcrust pastry and cut out 24 circles of 3 inch (7.5 cm). Place them in a 24 holes muffin pan, pressing and adjusting them to the pan.

Bake in a preheated oven at 375ºF (190ºC), upper and lower heat, at lower ⅔ rack, for 15 minutes or until they turn golden brown. Remove from the oven and set aside. Lower the oven temperature to 320ºF (160ºC).
The Filling
Add condensed milk and egg yolk into a bowl. Using a hand whisk, mix everything together. Now add in lemon juice and continue mixing until the mixture thickens.

Spoon the filling evenly into the baked base. Now bake again for another 10 minutes or until the filling starts to swell. Remove from the oven and cool completely before topping with meringue.
The Basic Meringue
Add egg whites and lemon juice into a bowl. Using a handheld whisk on medium speed, mix the mixture until it becomes frothy. While still mixing, gradually add sugar bit by bit. Change speed to max and continue whisking until stiff peaks.
Assembling
Pipe meringue on top of the lemon meringue bites. Gently caramelise the meringue using a blowtorch. Serve and enjoy! You can also chill them in the fridge first. Delish either way!
Notes
do not over bake the filling until they crack. this will make the texture turns grainy instead of creamy.
to grill in the oven: set oven function to grill (upper heat only) at 400ºF (200ºC) and grill for 1-2 minutes on upper ⅔ rack or until you see the meringue is caramelised. pay close attention to prevent them from burning. refer to my post above about using blowtorch vs grilling in the oven.
you might have some balance of meringue.
Nutrition Facts
Calories:
45.3
kcal
,
Carbohydrates:
8.7
g
,
Protein:
1
g
,
Fat:
0.8
g
,
Saturated Fat:
0.5
g
,
Cholesterol:
9.9
mg
,
Sodium:
17.4
mg
,
Potassium:
33.7
mg
,
Fiber:
0.02
g
,
Sugar:
8.2
g
,
Calcium:
20.5
mg
,
Iron:
0.1
mg