Family Recipe
I never tried lemon meringue pie until I met my husband. His family and he are very into sweets and they're amazing at making sweets and desserts.
Actually, this recipe is my husband's recipe. He has had it since he was in the university and over the years he has been perfecting this recipe. He's even known amongst his family and relatives for his lemon meringue pie.
Anyway, ever since I've tasted it I was in love. Yes, I still love my husband but this lemon meringue pie is difficult to resist. I've been learning from my husband how to make this pie and now I'm the one who's making it for our family. He still gets the fame though..oh well.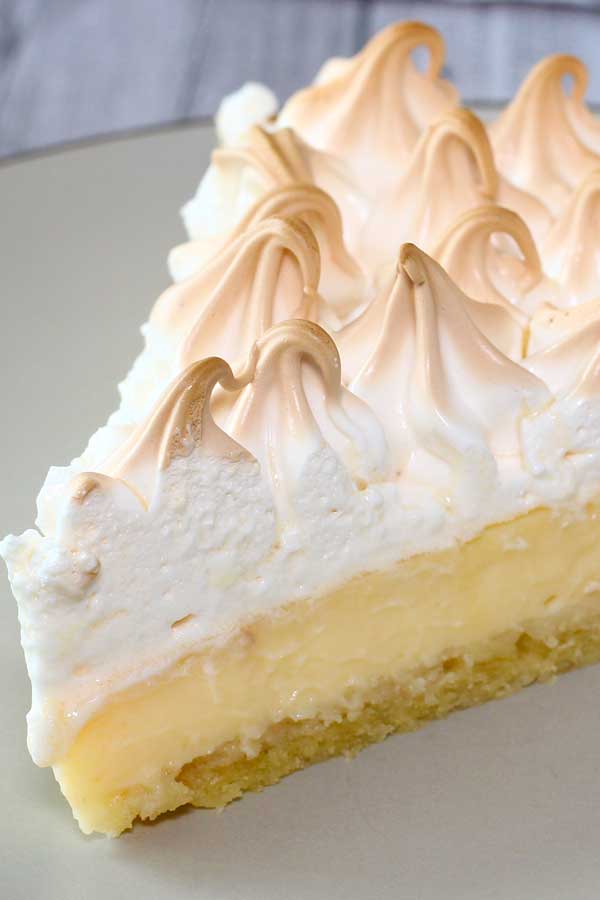 The Base
If you know or have tried lemon meringue pie then you will notice that there are different types of base for it. There's no right or wrong in this as of course everybody has their own preferences. Live life, be free. Don't you agree?
As for this recipe, the texture for the base is in between a cake and a short-crust pastry. It has that soft cakey touch to it and at the same time holds its own firmness. Makes any sense? Of course, it does!
I will tell you that the dough for this base is a bit soft and sticky. But don't worry. I totally understand if you get panicky upon hearing that or while you're touching the dough. Why? Because I was like that when I first made it.
Though it's like that, it is extremely forgiving. Meaning if it breaks or falls when you move it, you can simply pick up the pieces and patch them here and there. Trust me, I've done that more times than I can remember.
For this recipe video, I've come up with a method so that it would be not so nerve-wracking if you're trying to make it for the first time. What I did was roll the dough between 2 cling films. Using the pie pan that I was going to bake the pie in, I rolled it slightly bigger than the pan. Just to consider the depth or the height of the pan.
Then I uncover the top cling film and sprinkle some flour on the dough. I spread the flour evenly on its surface. I did that so that when I flipped it into the pan I can easily adjust or move it without it being stuck to the pan. Then I simply uncover the other cling film and start patching the dough here and there.
Voilà, done! It's easy, trust me.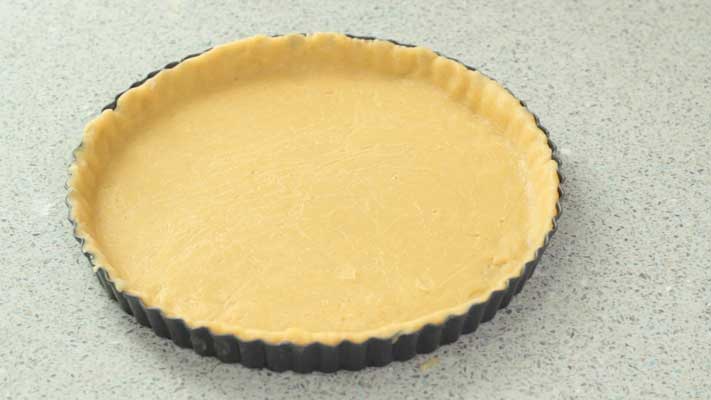 The Filling
Like the base, there are many ways to make the filling for this lemon meringue pie. As far as I know, the traditional way of making the filling for this pie is by cooking it and then pouring it into an already-baked base.
The ingredients are eggs, water, lemon juice, cornstarch, and sugar. So you basically have to cook it until it thickens and leave it to cool before using it.
For this recipe, the ingredients are only 3 things which are condensed milk, eggs, and lemon juice. You just whisk everything together and it's ready in 1 minute. You don't need to cook it beforehand. You cook it together with the base. Both the filling and the base will be perfectly cooked at the same. Convenient, right?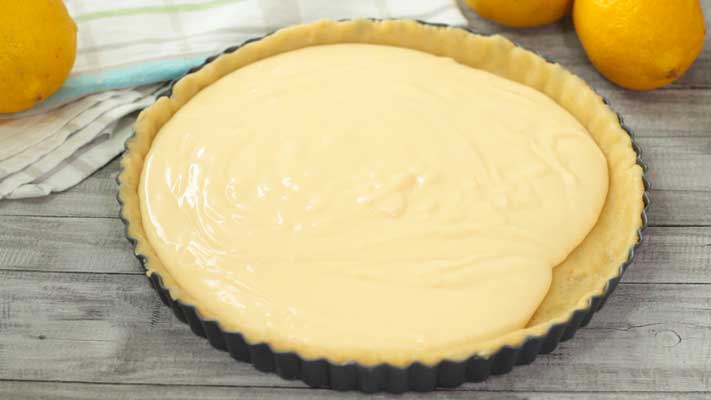 As for the texture and taste, I love this version better. I'm not being biased (or am I?) because I've tasted the other version many many times when we traveled to France and for me, my husband's version is creamier and tastier.
Creamy, sweet with that tangy taste to it. That's how I would describe it. That creamy sweet taste is thanks to the condensed milk.
If you like lemon desserts, you will love our lemon blueberry cake with cream cheese frosting and my 3-ingredient lemon mousse.
The Meringue
Like the other two components of this pie, there are different ways to make meringue for it. I have been experimenting a lot and one thing I would advise is not to use the typical normal meringue. Where you just beat the egg whites with sugar until stiff peaks? Yea that one, try not to use it.
Why? Because I find that after a while it leaks liquid and makes the base of the pie all moist and damp. It also shrinks when you grill it in the oven for that final char touch. And it also doesn't hold its shape that well. Well, those are reasons for me personally not to use it.
I've also tried Italian and Swiss meringue. The one that I love the most is this Swiss marshmallow meringue. Yep. Imagine meringue with that marshmallow texture. The golden syrup is what gives it that texture. Yup yup yup!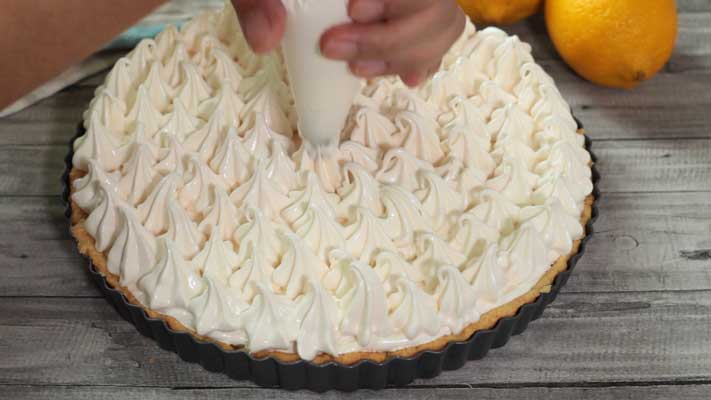 It's all that it's not from the typical normal meringue. Try it, you might like it too.
Well while you're at it, try the whole lemon meringue pie won't you?
More Lemon Desserts
Video
📖 Recipe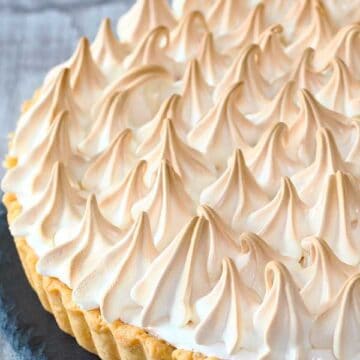 Lemon Meringue Pie
Creamy sweet and tangy lemon meringue pie with soft crumbly crust and Swiss marshmallow meringue, heaven in a slice! Easy recipe that you'll love.
Print
Pin
Rate
Ingredients
The base
1

cup

all purpose flour

, plus

1

tablespoon more (

150

g)

½

teaspoon

baking powder

2

tablespoon

granulated sugar

(

25

g)

⅓

cup

unsalted butter

(

75

g), cold and cut into small cubes

1

large egg

, cold from the fridge
The filling
1

can

condensed milk

(

400

g)

3

large egg yolks

⅔

cup

lemon juice

(

150

ml)
The Swiss marshmallow meringue
¾

cup

granulated sugar

(

150

g)

¼

teaspoon

cream of tartar

¼

teaspoon

salt

½

teaspoon

vanilla extract

2

tablespoon

golden syrup

3

large egg whites

(

100

g), room temperature
Instructions
The base
In a food processor, add in flour, baking powder, sugar and cold butter. Blend for a few seconds until the mixture becomes sand-like. Add in egg and blend again until it becomes a dough.

Form into a flatten ball and place it on a cling film and cover it with another cling film. Roll the dough into a 23 cm (9 inch) diameter disk. We will be using a 20 cm (8 inch) pie pan.

Remove the top cling film. Sprinkle some flour on top of the dough and spread evenly. This is to help the dough not to stick to the pie pan when we flip onto it. Gently but swiftly flip the dough (floured side facing down) onto the pie pan. If it breaks, don't worry. Just patch it here and there. The dough it a bit sticky but it is very forgiving. Adjust and accommodate the dough in the pie pan. Leave to chill in the fridge while we make the filling.
The filling
In a bowl, add in condensed milk and egg yolks. Mix just to combine. Add in lemon juice and mix again just to combine.

Pour the filling into the chilled base and spread evenly. Bake at 170ºC (340ºF) in preheated oven for 20 minutes or until the base is golden brown and the filling is fully cooked. Set aside while we prepare the meringue.
The Swiss marshmallow meringue
I use the ratio of 3:2 of sugar:egg white. I first weigh my egg whites and then calculate the ratio for the sugar.

In a small pot, bring some water (around 2 inches height) to a gentle simmer. Place a bowl on top of it, it should not be touching the simmering water below. Add all of the meringue ingredients and whisk until the sugar is totally dissolved. The easiest way to check is rub the mixture between your 2 fingers and if it doesn't feel grainy then it's ready.

Pour the mixture into a bowl of a standing mixer with the balloon attachment. Start with low speed and continue to the highest. Whisk until the bowl is totally cold. Your meringue is ready.
Assemble
Spoon some meringue on top of the pie and spread evenly. Pipe more meringue on top and decorate as your heart desire. Grill in the oven for a few minutes to get that char effect. Remove from the oven, slice and enjoy!
Notes
To make it easier to move around the removable bottom pie pan, I always put it on a baking tray.
Nutrition Facts
Calories:
350.2
kcal
,
Carbohydrates:
55
g
,
Protein:
7
g
,
Fat:
12
g
,
Saturated Fat:
7
g
,
Cholesterol:
105.3
mg
,
Sodium:
156.1
mg
,
Potassium:
220.6
mg
,
Fiber:
0.4
g
,
Sugar:
43.9
g
,
Calcium:
139.6
mg
,
Iron:
1
mg