A Classic
Marble cake was one of the first cakes that I've tried when I was a kid. I remember my mother preparing the ingredients, whisking everything by hand as back then we didn't have any mixers.
The part that got me excited the most was when she started to dollop the chocolate batter and make some swirls. I was so fascinated with that!
And then when she sliced the cake, I would be in awe looking at the marble of the cake. Eating it was heaven! I know you have similar memories like me because marble cake is a classic everywhere.
It can be a different type of marble cake of a different flavors, it doesn't matter. Right?
The Vanilla Batter
This cake is super soft, moist and bursting with that chocolate and vanilla flavors. It's very easy to prepare, trust me. It doesn't require such fancy ingredients either, trust me on that too.
For this cake I first prepared the vanilla batter. Into a bowl, I sifted the flour, baking powder and salt. I put them aside while I proceeded with the wet ingredients. Using another bowl, I put the sugar, butter and oil.
I used both butter and oil because butter gives the cake its rich taste and oil makes it super moist. Then I mix them until very creamy.
After that I added vanilla extract and the eggs, one by one and mixing good to combine after each addition. While mixing I poured in the milk and I continued mixing until it was fully combined. Then came the flour.
I added only half of the flour mixture first because I wanted it to be easier to mix. After fully combined, I added the rest of the flour. I always try not to over-mix any batter after adding flour. Why? Because I don't want the cake, muffins or whatever to be hard and dense.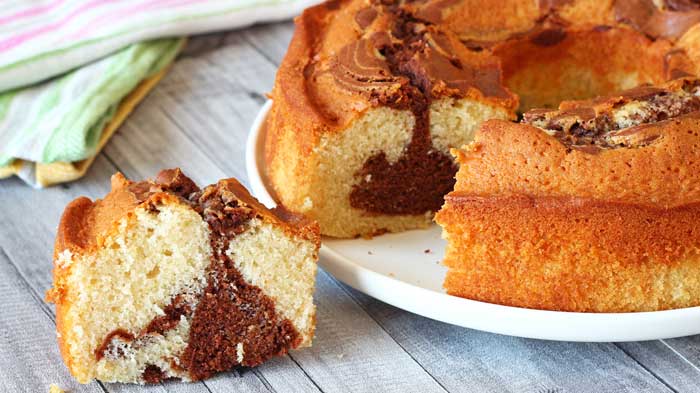 The Chocolate Batter
For this recipe I used semi-sweet 55% cocoa baking chocolate bar. I cut the chocolate bar into small chunks first. Then I used the microwave to melt it. How? I put the chocolate chunks in a microwave safe bowl.
Then I microwave it at max for 30 seconds. I took the bowl out and stir everything together. I repeated until all the chocolate chunks were fully melted. I rather melt chocolate using microwave because it's easier than double-boiler method. Well for me at least, personally.
For the chocolate batter, I scooped ⅓ of the vanilla batter into a bowl. Then I poured in the melted chocolate, and immediately folded it in. Again, I tried not to over-mix the batter.
Baking
I used a round 10 inch pan with a hole in the middle for this recipe. I greased it before hand, generously. You can flour it too, just to make sure the cake comes out easily after baking. For me, greasing generously was enough.
Now comes the simple part. I simply poured in all the vanilla batter into the pan. Then I spooned in the chocolate batter on top. There's no rule for this, just spoon it in 😀 . Then using a knife, I just make some swirls.
I didn't go crazy with the swirls because I didn't want the batters to mix that much and ended up with just 1 chocolate cake.
Like always, I preheated my oven already by now. I baked the cake at 160ºC (320ºF) and it took 1 hour for the cake to cook. Since all ovens varies in temperature, you just adjust to yours. To check if the cake is fully cooked, simply insert a knife in the center and if it comes out clean then the cake is fully cooked.
The hardest part of making this cake is to wait for it to cool down. I got anxious! I just wanted to take it out from the pan and start cutting it right after it came out from the oven! But of course, I couldn't. Patience, patience, patience!
But it was worth the wait! The cake was super moist! It tastes buttery and the chocolate taste was heaven! Do give this a try, you will not regret it.
More Cake Recipes
Video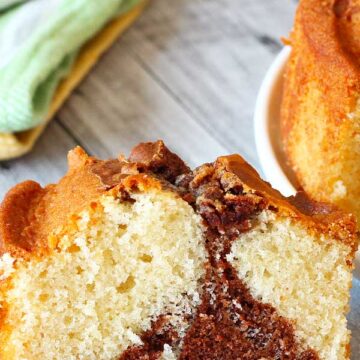 Marble Cake
The classic marble cake, who doesn't love it? This cake is rich with chocolate and vanilla tastes with buttery, soft and moist texture.
Print
Pin
Rate
Ingredients
Dry Ingredients
2 ½

cup

all purpose flour

(

325

gr)

2

teaspoon

baking powder

½

teaspoon

salt
Wet Ingredients
2

cup

granulated sugar

(

400

gr)

½

cup

unsalted butter

(

113

gr), room temperature

½

cup

sunflower oil

(

125

ml)

1

tablespoon

vanilla extract

4

large eggs

, room temperature

1

cup

milk

(

250

ml), room temperature

4

oz

semisweet chocolate bar

(

100

gr), (55% cocoa), melted
Instructions
Dry Ingredients
Sift all dry ingredients into a bowl, set aside.
Wet Ingredients
In another bowl, add in sugar, butter and oil. Mix until they're very creamy. Add in vanilla extract and the eggs, 1 by 1, mixing to combine well after each addition. While still mixing, pour in the milk and continue mixing until fully combined.

Add in ½ of flour mixture and mix to combine. Do not over-mix to avoid hard, dense cake. Add the rest of the flour and mix to combine also. Again do not over-mix.
Assemble & Bake
Take out ⅓ of batter and put it in a separate bowl. Pour in the melted chocolate and immediately fold everything together. Do not over-mix.

Pour the vanilla batter into a generously greased

10 inch pan

. Spoon in the chocolate batter on top. Using a knife, make some swirls but not too much as we don't want the batters to mix into one.

Bake at 160ºC (320ºF) preheated oven for 1 hour or until golden brown and fully cooked. Remove from the pan after 5 minutes and leave to cool completely on a rack. Slice and serve!
Nutrition Facts
Calories:
484.4
kcal
,
Carbohydrates:
62.5
g
,
Protein:
6.1
g
,
Fat:
23.8
g
,
Saturated Fat:
9.1
g
,
Cholesterol:
79.2
mg
,
Sodium:
202
mg
,
Potassium:
140.4
mg
,
Fiber:
1.5
g
,
Sugar:
39.9
g
,
Calcium:
87.3
mg
,
Iron:
2.2
mg