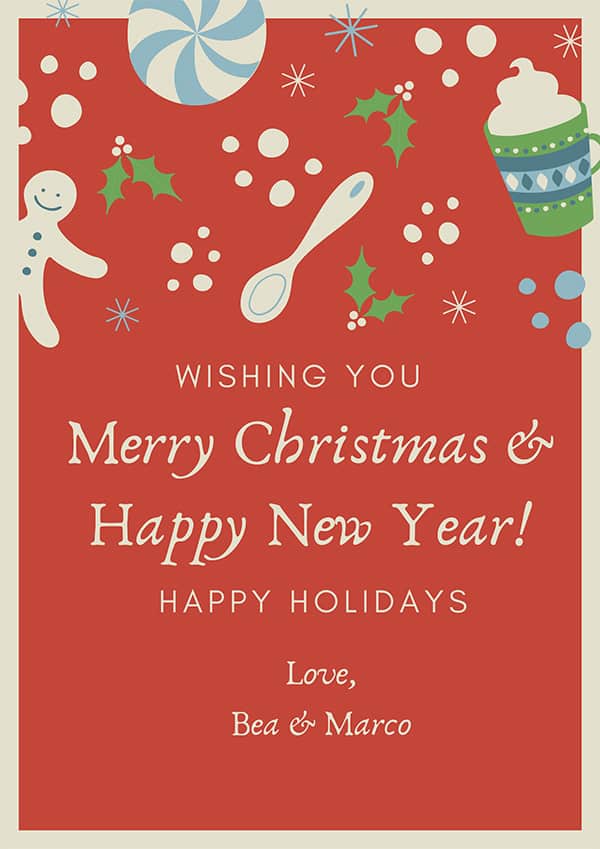 Merry Christmas & Happy Holidays!
It's that wonderful time of the year again, isn't it?
We both would like to wish everyone a very merry Christmas for those who are celebrating and a happy holidays to the rest.
So how are you celebrating and enjoying this holidays?
As for us, we were supposed to be at Marco parents house since yesterday but we are still not.
I still have some chores to finish in the house. I have not packed anything yet.
I'm always dreading the packing process as I always seem to wanting to take more than I need. As if I was moving permanently to that place.
Do you have the same problem?
Marco packs everything in 5 minutes and the magic thing is, everything fits in his backpack. How is that even possible?
Ok enough about that. Let's talk a bit about food 😉
My mother-in-law is the head chef for Christmas this year and I will be her assistant. The kitchen is going to be crazy (well honestly, when is it not). Hopefully I can remember to take some pictures and share them in my Instagram 😀
For New Year, I will be in charge of the cooking. I'm so excited (honestly, when am I not)!
All menu are planned and let's hope for the best.
What are you having?
Happy 2019!
We both would love to thank you for all your support and love throughout this amazing 2018.
You are the best, and we really mean that.
We love creating recipes and videos, and you have made it possible for us to do what we love.
Our website and YouTube channel are fairly new and even that, the support from you is beyond words.
In 2019 we will work even harder to share more wonderful recipes and videos with you.
Time Off
We will be taking 2 weeks off to spend time with the family. We will see you again on 10th Jan 2019 with more delicious recipes 😉
Till then, have an amazing time and take care!