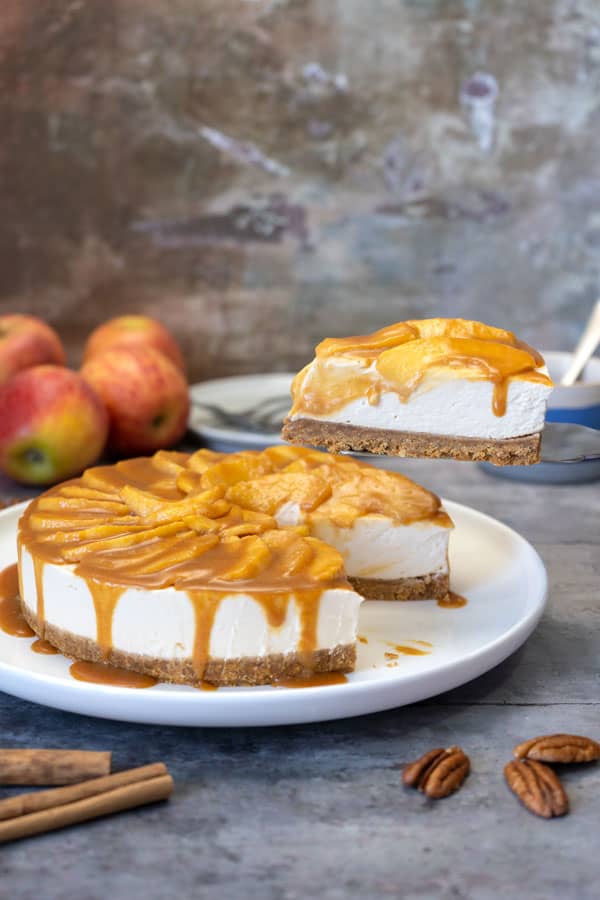 Come my friends, let the festivities' mood begin!
What do you think of a hassle-free stress-free no-bake caramel apple cheesecake?
Imagine buttery base, oh super creamy cheesecake filling, and the crown of it all.. caramel apple sauce on top and dripping all over.
I have to say, of all the cheesecakes that I've made, this is definitely one of my favorites!
Now, let's start.
Make It Your Own Base
Digestive biscuits have been the go-to biscuits that I like to use for the base of my cheesecakes. What the heck are digestive biscuits, you might ask? Well no worries, I've got a post about digestive biscuits for your to read if you want to know more.
But I know not all of us have access to digestive biscuits or don't like them for some personal reason and that's okay.
You can easily use your favorite ones for this recipe. Use graham crackers, speculoos biscuits, ginger biscuits.. whatever you want. Make it your own.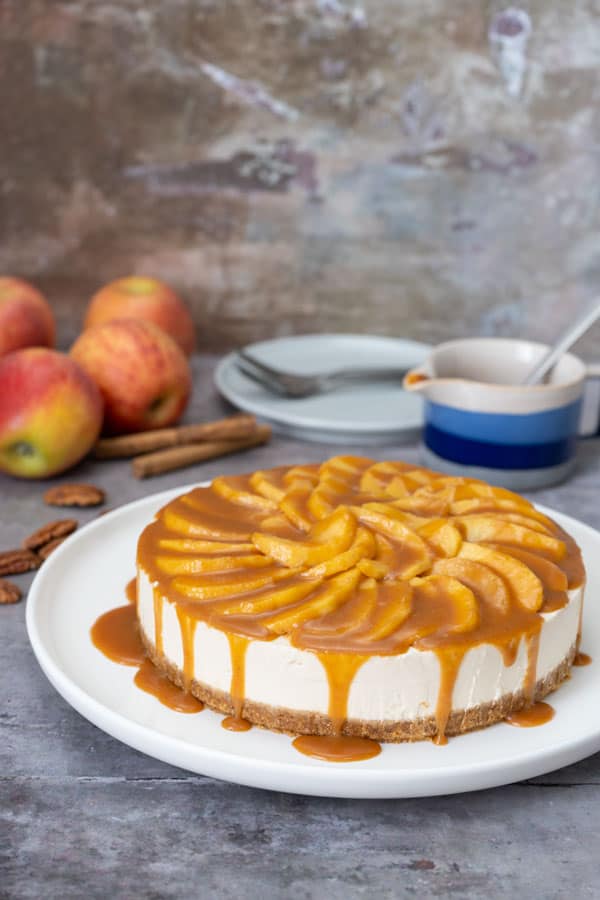 No-Bake Cheesecake Filling
Watch the video to see how creamy this cheesecake is and the amazing part about it is that we don't need to stress out about baking it.
Everybody knows baking a cheesecake is a very delicate thing, you need to pay attention when you're mixing ingredients and nailing that perfect temperature so that it doesn't crack.
And hey, having said that, did you see my easy (and I really mean EASY) mini cheesecakes? They are baked ones but so ridiculously easy that everybody's loving them! And I also wrote tips on how to make them right. Go and check it out!
Back to this no-bake cheesecake. I'm not using any gelatin or agar-agar. Another bonus, don't you think?
I'm also adding a touch of spices to the cheesecake with that luscious cookie butter. Believe me, just a little amount really boosts up the flavor. And who doesn't like spices with apple and caramel, right?
Tips On Making Apple Caramel
Ok, always remember to be careful when you're working with caramel. Alright? Caramel tends to splatter and will burn you, so again, be careful.
Here are some tips that I find very useful when I'm making this apple caramel:
Use medium-low heat - you don't want your sugar to burn. Slow and steady heat will do it.
Even surface - after adding sugar to your pan or pot, shake it so that the sugar's surface is even. That'll make the sugar melts evenly.
Don't stir - this is debatable, I guess but this is how I do it. I don't stir the sugar until I see almost everything starts to caramelize and only then I will swirl my pan around to help the caramelized sugar to melt the rest.
Cut butter into pieces - this helps in melting the butter faster.
Don't cook apple too long - apple will release liquid and break down when heated so you don't want to cook the apple in the caramel sauce for long. 1 minute should do it.
Remove apple from sauce - when I tested this recipe I noticed that when I left the apple in the caramel sauce until the sauce cool completely, the apple got too soft for my liking. So what I do now is remove the apple from a plate and let the sauce cool completely on itself.
There you go! Don't get anxious about all those points, alright? They are just tiny simple things to pay attention to help you so that you don't feel frustrated and cry (like I did) when things go wrong.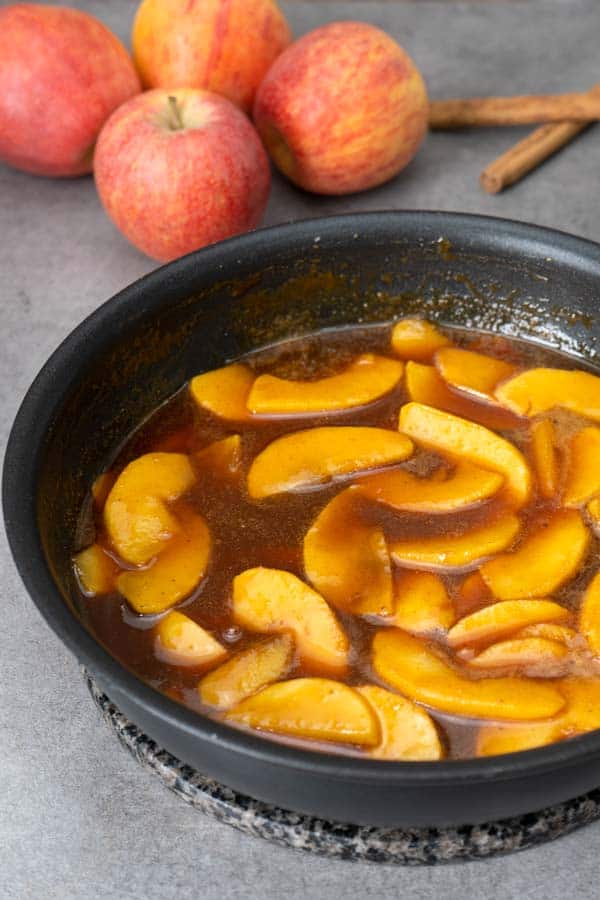 Tips On How To Assemble
Remember I mentioned to you that this no-bake cheesecake doesn't use any gelatin or agar-agar?
So having that in mind, this creamy cheesecake will not stand too long outside the fridge. Well, any no-bake cheesecake will actually.
When I tested this recipe, I did it with my usual steps with all of my no-bake cheesecakes with no gelatin or agar-agar. Meaning chilling it in the fridge for min 8 hours, then taking it out for a fast decoration and directly serving.
But since we will be decorating this one with the caramelized apple which took a bit of time to place everything nicely, I found out that it was getting too soft for my liking when I was cutting it to serve.
So after another test, this is how I do it so that I don't need to super rush and still have a nice neat slice when I cut it.
Chill in the fridge - for a minimum of 8 hours for the cheesecake to set.
Then in freezer - 1 hour before serving, I put my cheesecake in the freezer. Yes, freezer. This will help it holds its consistency when I take my time decorating it nicely later. Place it longer in the freezer if you think you will take longer assembling the apples on top.
Do it like this and you'll have a beautifully decorated cheesecake with a neat slice.
Share With Me
Do you follow me on Instagram? Well I think you should I'm also active there and I share random daily stuff and exclusive fast easy recipes in my Insta stories.
I'd love to see your photos whenever you make my recipes so TAG me in your wonderful photos so that they will appear on my Tagged page. Tag me using @elmundoeats, alright? I'm so excited to see it!
Also, don't forget that if you like my recipes you can rate them by selecting the stars in the comment section below. That will really help us, thanks in advance!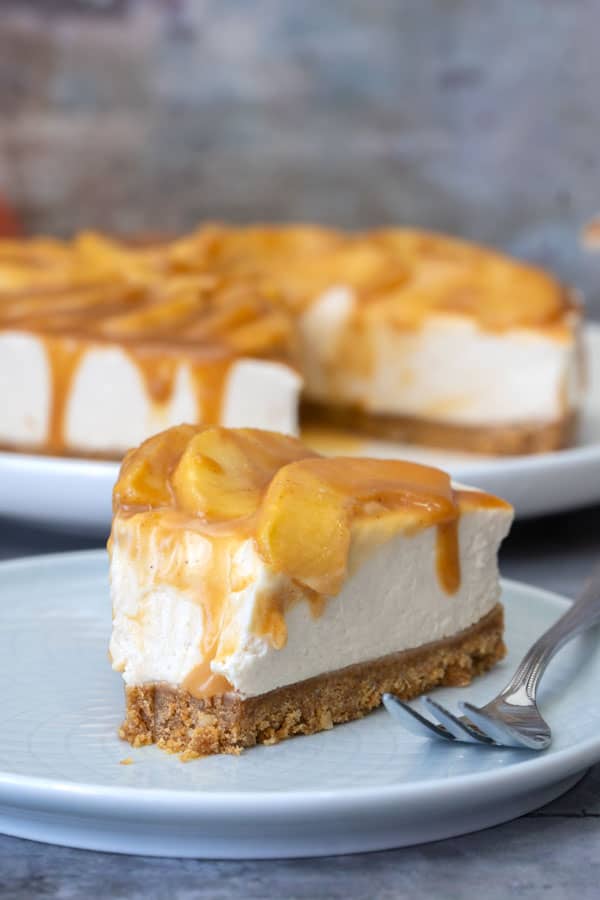 In Summary
This no-bake caramel apple cheesecake is:
perfect for this festive season!!
doesn't use any gelatin or agar-agar
just super creamy and so easy to make!
will take your no-bake cheesecake game to another level, trust me 😉
oh what can I say, it's just SO AMAZINGLY DELICIOUS!
Hungry For More No-Bake Cheesecakes?
Yeah, check these out!
Video
📖 Recipe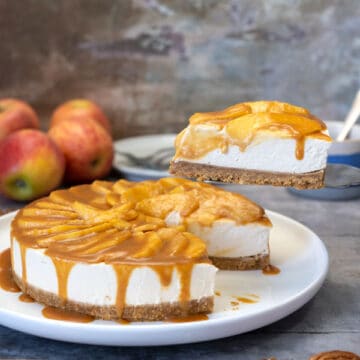 No-bake Caramel Apple Cheesecake
One of my favourite no-bake cheesecakes by far! No gelatin/agar-agar needed. This no-bake caramel apple cheesecake is a must try this season. Buttery base, super creamy luscious filling with a wonderful hint of spices and yes, that oozy caramel with sliced apples on top. Yum!
Print
Pin
Rate
Ingredients
The Cheese Filling
16

oz

full fat cream cheese

(

450

g), room temperature

½

cup

icing sugar

(

60

g), sifted

1

teaspoon

vanilla extract

2

tablespoon

cookie butter

(

35

g)

¼

cup

whipping cream, min 35% fat

(

60

ml), chilled
The Apple Caramel Sauce
2

gala apples

, peeled, cored and sliced thinly

¾

cup

sugar

(

150

g)

6

tablespoon

butter

(

90

g), cut into pieces

⅓

cup

cream

(

80

ml)

¼

teaspoon

salt

¼

teaspoon

cinnamon powder
Instructions
The Base
Add biscuits and pecans in a food processor and blend them until you get a fine texture. Pour into a bowl and add in melted butter. Mix well.

Pour mixture into a 7 inch (18 cm) springform pan. Press with the back of a spoon and spread evenly. Place in the freezer for 30 minutes.
The Cheese Filling
Add cream cheese into another bowl and whisk until fluffy, using a handheld whisk. Now add in icing sugar, vanilla extract and cookie butter. Continue to whisk until everything is well combined. Set aside.

Into another bowl, add in chilled whipping cream and whisk until soft peaks. Add whipped cream into cream cheese mixture and using a spatula, fold everything together gently.

Now pour the mixture into the pan and spread evenly using an offset spatula. Chill in the fridge for minimum 8 hours.
The Apple Caramel
Add sugar in a nonstick pan/pot and heat it, untouched, on medium low heat until the sugar starts to melt and caramelise. Now carefully add in butter (be careful of the splatters) and continue cooking until the butter melts and the mixture becomes bubbly. Use a whisk to gently mix everything.

Then add in cream and salt. Continue mixing until it becomes bubbly again. Finally add in sliced apples, mix everything together with a spatula and continue cooking for another 1 minute.

Carefully remove apple slices from the sauce, into a plate. Pour caramel into a jar and cool completely before using. The sauce will thicken more as it cools.

Note: Refer to my detailed TIPS above on how to get it right.
Assembling
1 hour before serving, place the cheesecake in the freezer. Place it in longer if you feel you're going to take more time to assemble the cheesecake.

Note: Refer to my detailed TIPS above on how to assemble this cheesecake with no fuss.
How To Remove Cheesecake From The Pan
Run a knife all around the cheesecake to help loosen it up. Release the spring and remove the ring. Run a knife all around under the cheesecake base to loosen it. Insert 2 big flat spatula underneath, on opposite direction. Swiftly yet confidently lift up the cheesecake using the spatulas and place it on a serving plate.

Now let's assemble this beauty. Arrange the sliced apples nicely on top. Pour caramel sauce on top. Slice, serve and enjoy! You might have balance of the sauce. Serve together with sliced cheesecakes on the side.
How To Serve
I would highly recommend you to assemble this cheesecake and then immediately serve it. Don't leave it out at room temperature for long. If you have balance, place it back in the fridge. This is a no-bake cheesecake without gelatin/agar-agar so for better result, please read and follow my tips.
Nutrition Facts
Calories:
503.2
kcal
,
Carbohydrates:
43.1
g
,
Protein:
4.8
g
,
Fat:
36
g
,
Saturated Fat:
19.8
g
,
Cholesterol:
89.9
mg
,
Sodium:
361.4
mg
,
Potassium:
151.9
mg
,
Fiber:
1.6
g
,
Sugar:
32.6
g
,
Calcium:
72.5
mg
,
Iron:
0.7
mg