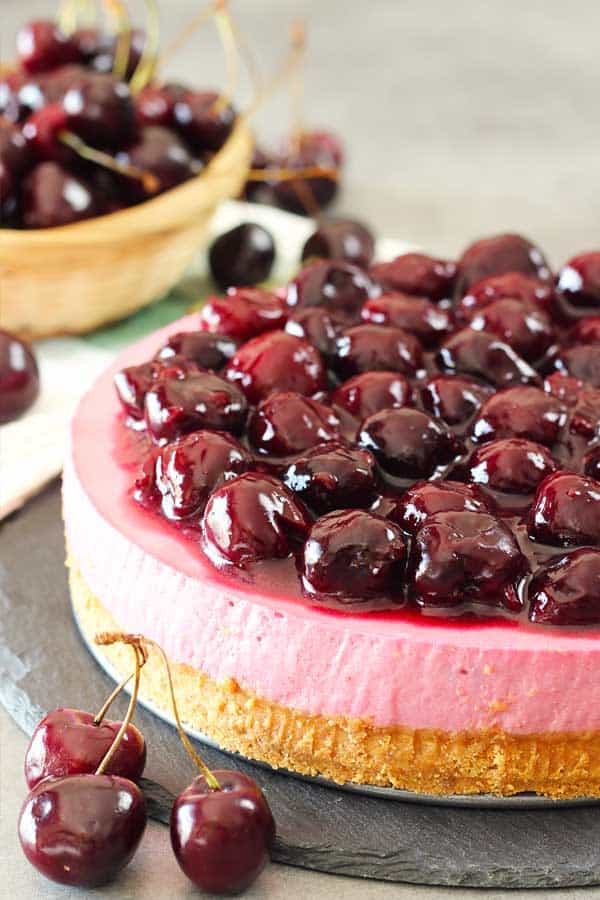 Excited
Yes I'm so excited about this recipe!
This is a recipe requested by one of our dearest viewers, Astrid. She even created her own cherry cheesecake recipe based on my no bake strawberry cheesecake recipe and was kind enough to share the wonderful photos of her creation and recipe with me.
Her cheesecake looked amazing and I bet it tasted no less. I'm excited to see how she used amaretti as her cheesecake base. In this recipe I'm incorporating her amaretti touch in my cherry cheesecake. This one's for you Astrid!
What Types Of Cherry To Use?
Use the ones in season as they're usually amazing! Also try to find sweet ones instead of tart ones. As for me, I'm using fresh Lapins cherry because they're sweeter and locally grown.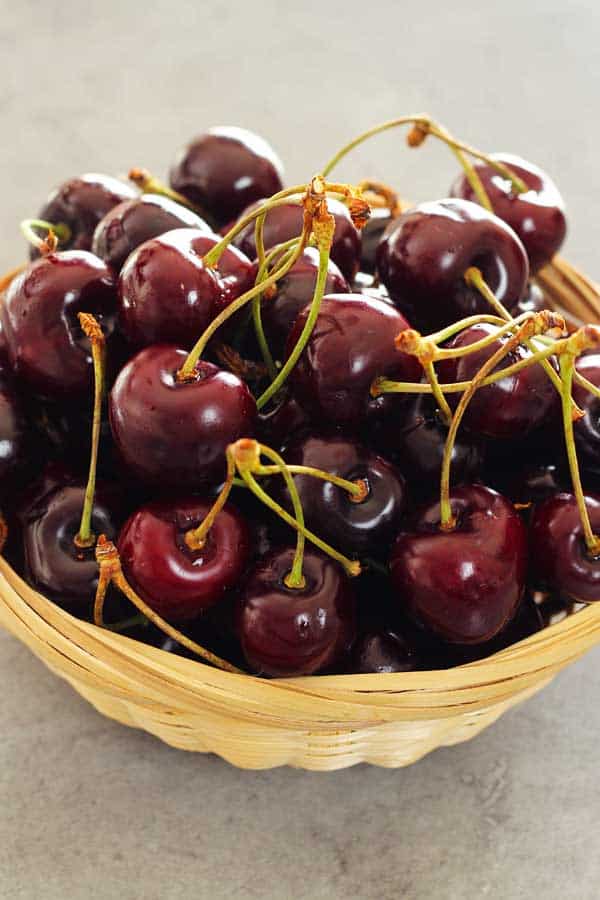 I'm using fresh cherries because they're just everywhere and looking gorgeous now. If cherries are difficult to find at your place, you can use store bought cherry pie filling.
Oooooor amarena cherry. They're Italian dark cherries that usually comes bottled in syrup. Oh boy, my husband goes crazy with amarena cherries. He likes to have them with chocolate ice cream.
I'm using quite a lot of cherries in this recipe. First I make cherry coulis and take 1 cup of it and blend it until smooth. The rest is for the topping while the blended coulis is to be used in the cheesecake.
Though I'm not using Italian cherries, I'd like to think that I'm trying to take this cherry cheesecake to the Italian route with the theme of ingredients that I'm using.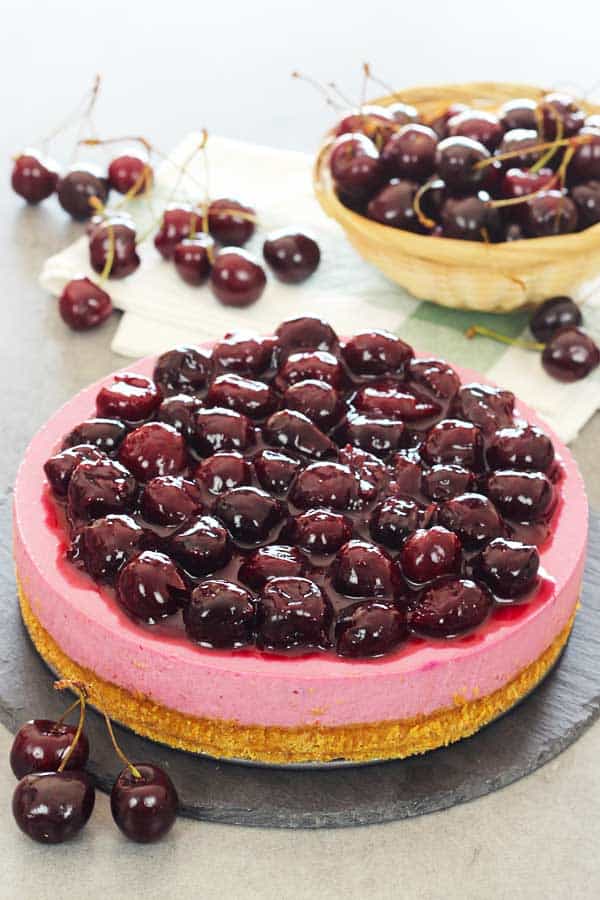 It's All About The Base
Yep.
So like I mentioned earlier I'm using some amaretti biscuits in my cheesecake base. Not all though as I feel amaretti biscuits have less fat and are a bit dry. I'm combining them with digestive biscuits.
The amount of amaretti biscuits is just enough to give it that amaretti flavour to the base. I also added a bit more butter to compensate the "dryness" (for me) of amaretti biscuits.
I'm also using more digestive biscuits in total as I blended my biscuits with my trusty food processor into very fine crumbs and I also want the base to be slightly thicker in this cheesecake. You can of course, simply use my normal cheesecake base recipe for example like in my no-bake lemon cheesecake recipe.
The Cheesecake
Summer is all about colors. So I though ok, let's incorporate that to this cherry cheesecake. Using the cherry coulis in the cheesecake mixture does that. It also infuses the flavour into the cheesecake.
I simply adore the color!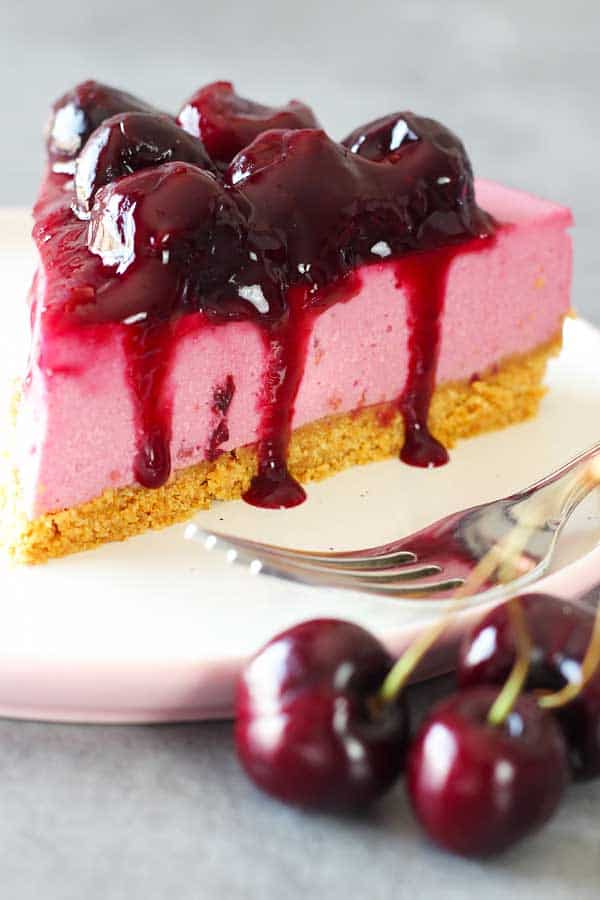 I'm also using some mascarpone cheese in this recipe, for that extra creamy smooth texture and taste. Yum!
I'm using a 8 inch (20 cm) springform pan in this recipe as I feel it's not too little and not too big. Just a perfect size to make a wonderful cheesecake for get together with close family and friends.
Last but not least, the topping. I simply use the rest of the coulis and pour it on top of the cheesecake. If you find your cherry coulis is a bit thick, simply add some water and gently mix everything together. Easy right?
I really hope you'd give this cherry cheesecake a try.
And Astrid, I hope you'll like it.
My Other No-Bake Cheesecakes
Video
📖 Recipe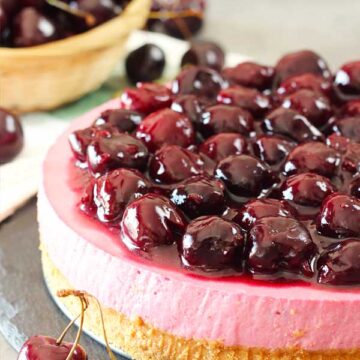 No-Bake Cherry Cheesecake
No bake cherry cheesecake made with fresh cherries. Cherries are in season right now so it's a perfect time to make this.
Print
Pin
Rate
Ingredients
The Cherry Coulis
3 ½

cup

pitted fresh cherries

(

490

gr)

⅓

cup

sugar

(

70

gr)

3

tablespoon

corn starch

2

tablespoon

lemon juice

½

cup

water

(

125

ml)
The Base
5.3

oz

digestive biscuits (

150

gr)

2.5

oz

amaretti biscuits

(

75

gr)

⅓

cup

unsalted butter

(

75

gr), melted
The Cheesecake
7

oz

full fat cream cheese

(

200

gr), room temperature

7

oz

mascarpone cheese

(

200

gr), room temperature

7

oz

condensed milk

(

200

gr)

¼

cup

lemon juice

(

60

ml)

1

tablespoon

gelatin powder

(

10

gr) or any amount/type that sets

2

cup water (

500

ml)
Instructions
The Cherry Coulis
Add the cherries together with sugar, corn starch and lemon juice into a pan and cook on medium heat until sugar is dissolved. Then add in water and mix well. Continue cooking until the mixture thickens slightly.

Separate 1 cup of cherry coulis and blend it into a fine mixture. Leave both the blended mixture and the rest of the coulis to cool completely before using.
The Base
Using a food processor, blend the digestive and amaretti biscuits into fine crumbs. Pour into a bowl and add in melted butter. Mix well to form wet sand like mixture.

Then pour it into a 8 inch (20 cm) springform pan. Press the crumbs tightly to the base. Place the base in the freezer for 30 minutes.
The Cheesecake
Add both cream cheese and mascarpone cheese into a bowl and whisk for a few minutes until fluffy. Then add in condensed milk and cooled blended cherry coulis. Mix until well combined and set aside.

In another bowl, add gelatin and lemon juice together and mix. Leave for the gelatin to soak, for 5 minutes. Then heat the mixture in the microwave until the gelatin is totally dissolved.

Add 1 tablespoon of cheesecake mixture into the gelatin mixture and mix well. Then pour it into the cheesecake mixture and immediately mix everything together until well combined. Note: Make sure your gelatin mixture is not hot when you pour it into the cheesecake mixture.

Pour everything into our chilled base and wiggle the pan a bit to level the surface. Then chill in the fridge overnight or until the cheesecake is fully set.
Serving
After the cheesecake is fully set, pour the rest of cherry coulis on top. Slice and serve. Enjoy!
Nutrition Facts
Calories:
372.7
kcal
,
Carbohydrates:
40.2
g
,
Protein:
6
g
,
Fat:
21.7
g
,
Saturated Fat:
12.6
g
,
Cholesterol:
53.2
mg
,
Sodium:
165.9
mg
,
Potassium:
208.9
mg
,
Fiber:
1.6
g
,
Sugar:
28.6
g
,
Calcium:
104.1
mg
,
Iron:
0.8
mg