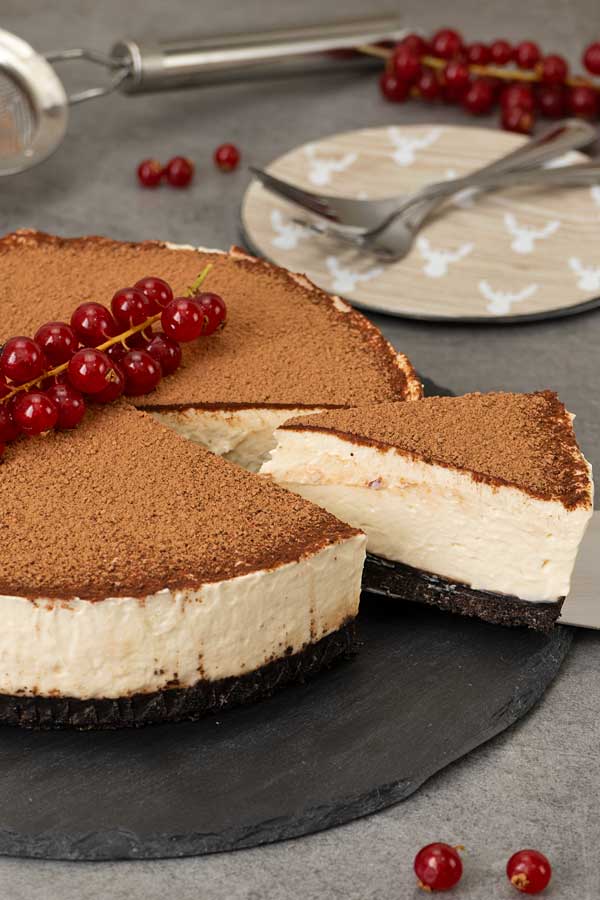 So it's almost the end of 2018!
I thought I would end this year's cheesecake recipe by sharing with you my no-bake Irish cream cheesecake.
Let's simply dive in, shall we?
Disclosure: some of the links below are affiliate links, meaning at no extra cost to you, I will get a small commission if you click through and make a purchase. Everything I mention in this post is what I personally use and recommend.
What is Irish Cream?
When we talk about Irish cream we would definitely think of Baileys, right?
And that's what I'm using in this delicious no-bake cheesecake.
Irish cream is a type of liqueur that's a mix of Irish whiskey and cream. Well among other side ingredients of course.
It's usually served as is or on the rocks. We prefer it on the rocks, please.
But today we will be adding some to our no-bake cheesecake! Yep.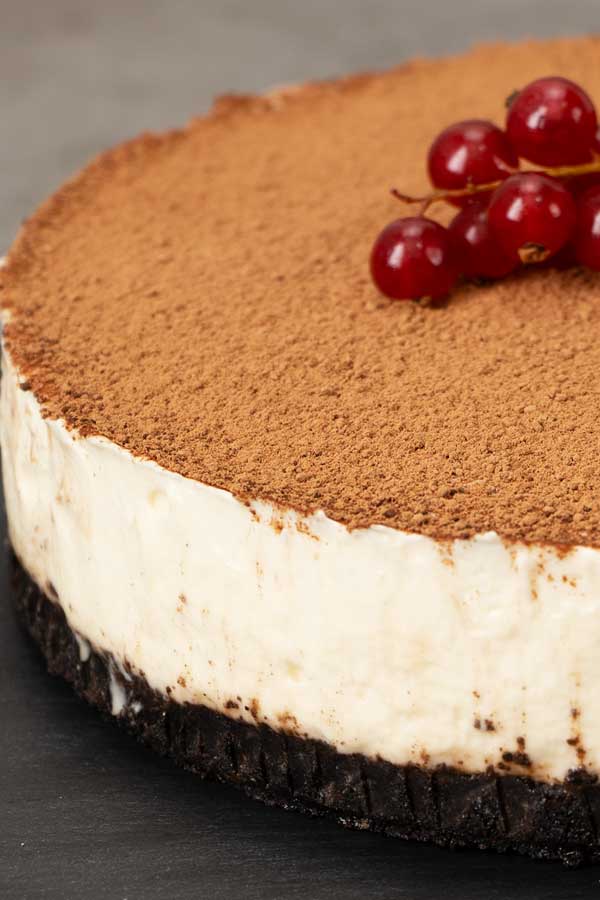 The Various Bases That You Can Make
For this recipe I'm using chocolate sandwich cookies. Not Oreo ones, if you're wondering.
Use your favourite chocolate sandwich cookies, no problem. I just thought in this recipe I would show that even not using the typical Oreo cookies, it works wonderfully.
You can use digestive biscuits, graham crackers, amaretti cookies, ginger cookies, speculoos cookies.. just to name a few.
Add some maltesers chocolate, chopped chocolate, chopped nuts..go nuts with it.
So there are many ways you can personalise the base of this no-bake cheesecake. Or any no-bake cheesecake.
The Cheese Filling
The filling is so creamy and has that delicate flavour of the Irish cream. Personally for me, the filling combined with the chocolate base and a dust of chocolate on top is just...amazing.
If you're wondering if this cheesecake has gelatin or not, then wonder no more my friend. It does NOT have any gelatin in it.
Yeaaaay!!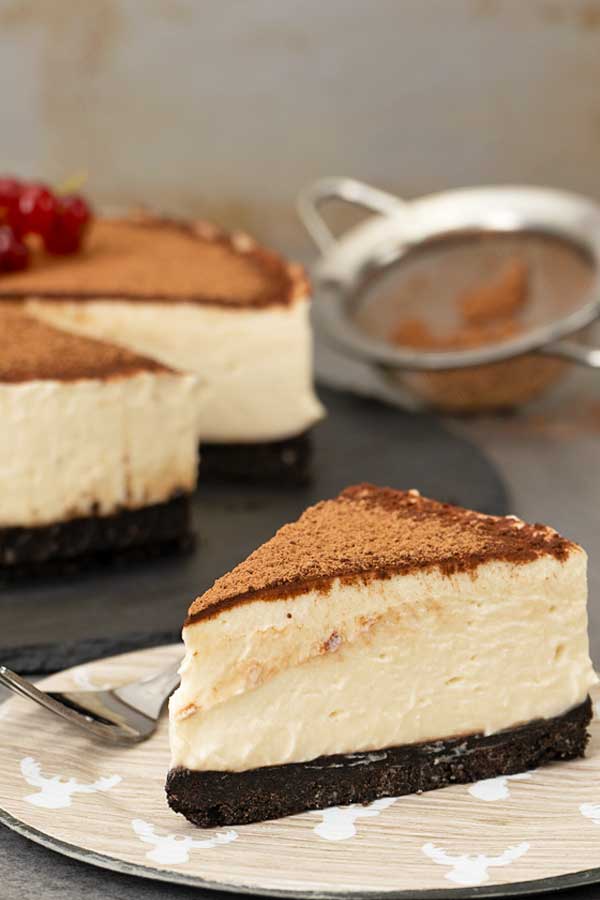 If you're familiar with my no-bake cheesecakes then you can see that this cheesecake is a tad softer than the rest.
I'm using quite a large amount of Irish cream in this recipe to flavour the cheesecake.
So when you're chilling it, make sure it's in the coldest part of your fridge to help it set better. Alright?
How To Serve
This is how I serve all of my no-bake cheesecakes.
I only take the cheesecake out from the fridge right before serving. Like 2,3 minutes before.
I would do the final touches, in this case it will be dusting the cheesecake with some cocoa powder and a touch of redcurrant on top.
Then I will slice and serve. I will then directly put the uncut cheesecake back in the fridge.
How To Store The Balance Of No-Bake Cheesecake
I always cut the balance of a cheesecake into portions and then separate them a bit from each other. This is so that it's easier to handle them.
Then I will put them in the freezer until they get firm, 2-3 hours should do the trick. Once they're firm, I will wrap the portions individually with cling film and only then I put them all in a ziplock bag and back in the freezer.
Easy.
To eat, I simply defrost them in the fridge.
Now I have to say, freezing a no-bake cheesecake and then defrosting it will not make it taste exactly the same.
My family doesn't mind it so that's why I do it.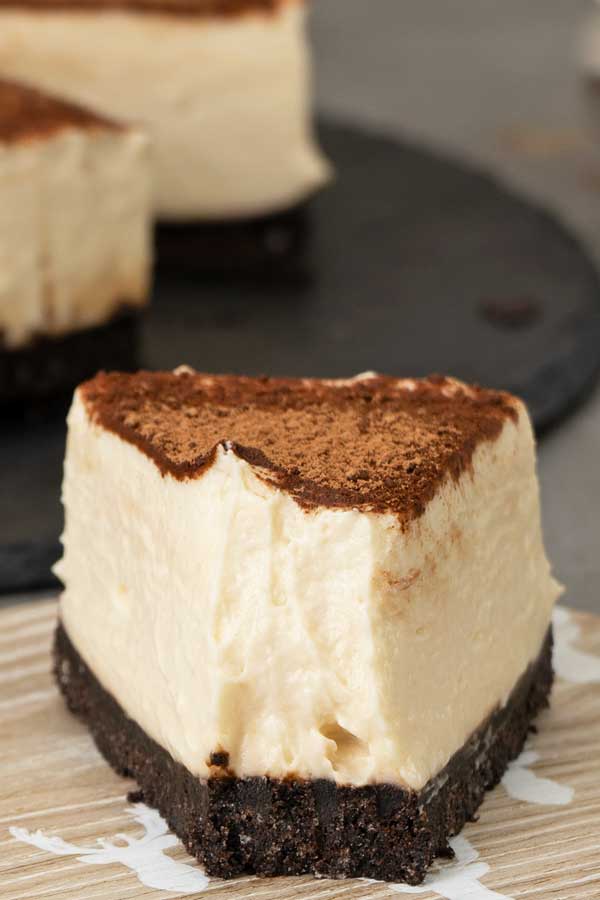 I hope you would give this super simple and wonderful cheesecake a try.
Thank you for making my no-bake cheesecakes all this while. Honestly when you guys come back to me saying how easy the recipes are and that you loved them... that really make me feel so happy and satisfied.
You guys are the best, bear hugs!
Before You Go
Here are some of my no-bake cheesecakes that I think you might want to check out.
You can find more of the similar recipes in my recipe page.
Video
📖 Recipe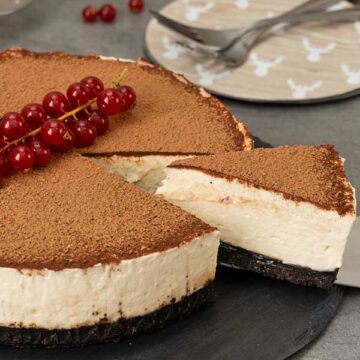 No-Bake Irish Cream Cheesecake
No gelatin and no-bake cheesecake with delicate Irish cream liqueur flavour and chocolate cookies as the base. This no-bake Irish cream cheesecake is creamy and not overly sweet, just how we like it. Do try.
Print
Pin
Rate
Ingredients
The Base
6.7

oz

chocolate sandwich cookies

(

190

gr)

3

tablespoon

butter

(

45

gr), melted
The Filling
14

oz

cream cheese

(

400

gr), room temperature

¾

cup

icing sugar

(

90

gr), sifted

¼

cup

Irish cream liqueur

(

60

ml)

1

teaspoon

vanilla extract

⅔

cup

whipping cream

(

160

ml), chilled
Instructions
The Base
Using a food processor, blend the chocolate sandwich cookies into a fine crumbs. Transfer into a bowl and add in butter. Mix well.
The Filling
Whisk cream cheese until light and fluffy. Then add in the rest of the ingredients except for whipping cream and mix everything well. Set aside.

In another bowl, whisk whipping cream until stiff peaks. Then add into cream cheese mixture and gently fold everything to combine.

Pour onto the base and spread evenly. Chill in the fridge overnight (24 hours) or until fully set.

Once set, run a knife all around the pan to help release the cheesecake. Dust some cocoa powder on top. Remove from the pan and decorate with some redcurrant. Slice and enjoy!
How To Transfer To Serving Plate
It's easy since this cake is small. First insert a knife under the cheesecake and carefully run it all around to detach the cheesecake from the base.

Using the same knife, gently lift the cheesecake a bit and insert 1 flat spatula. Do the same in the opposite direction.

Carefully yet confidently lift the cheesecake with both spatulas and place on a serving plate. Gently remove spatulas out.

Or place a baking sheet on the base of the springform pan before assembling. You will have a slightly bigger baking sheet coming out from the springform pan after assembling it. Before serving, gently slide the cheesecake onto a serving plate.
How To Serve
Keep the cheesecake in the fridge all the time until just a few minutes before serving. Cut the slices as needed and put back the cheesecake in the fridge to maintain chill.
Notes
Please use full fat cream cheese. Meaning, do not use light cream cheese else it won't set as good.
Please use minimum 35% fat content for the whipping cream. The fat is needed to help set the cheesecake.
This recipe doesn't uses gelatin so it usually takes longer to set.
Use unsalted butter.
Nutrition Facts
Calories:
378.3
kcal
,
Carbohydrates:
28.5
g
,
Protein:
4.4
g
,
Fat:
27.7
g
,
Saturated Fat:
15.7
g
,
Cholesterol:
68.2
mg
,
Sodium:
230.7
mg
,
Potassium:
143.7
mg
,
Fiber:
1.1
g
,
Sugar:
20.7
g
,
Calcium:
57.7
mg
,
Iron:
2.6
mg