Welcome summer and just letting you know (you hot summer!) that I'm still holding on despite the heat. Bring it on!
Resting my oven for this week's recipe, here is a super easy and no-bake dessert. Yes, no baking needed guys. We shall name it no-bake lime cheesecake bars!
For me, summer is all about citrus especially lemon and limes. And this being a no-bake dessert is like the cherry on top.
Let's break down this oh la la yummy treat, shall we?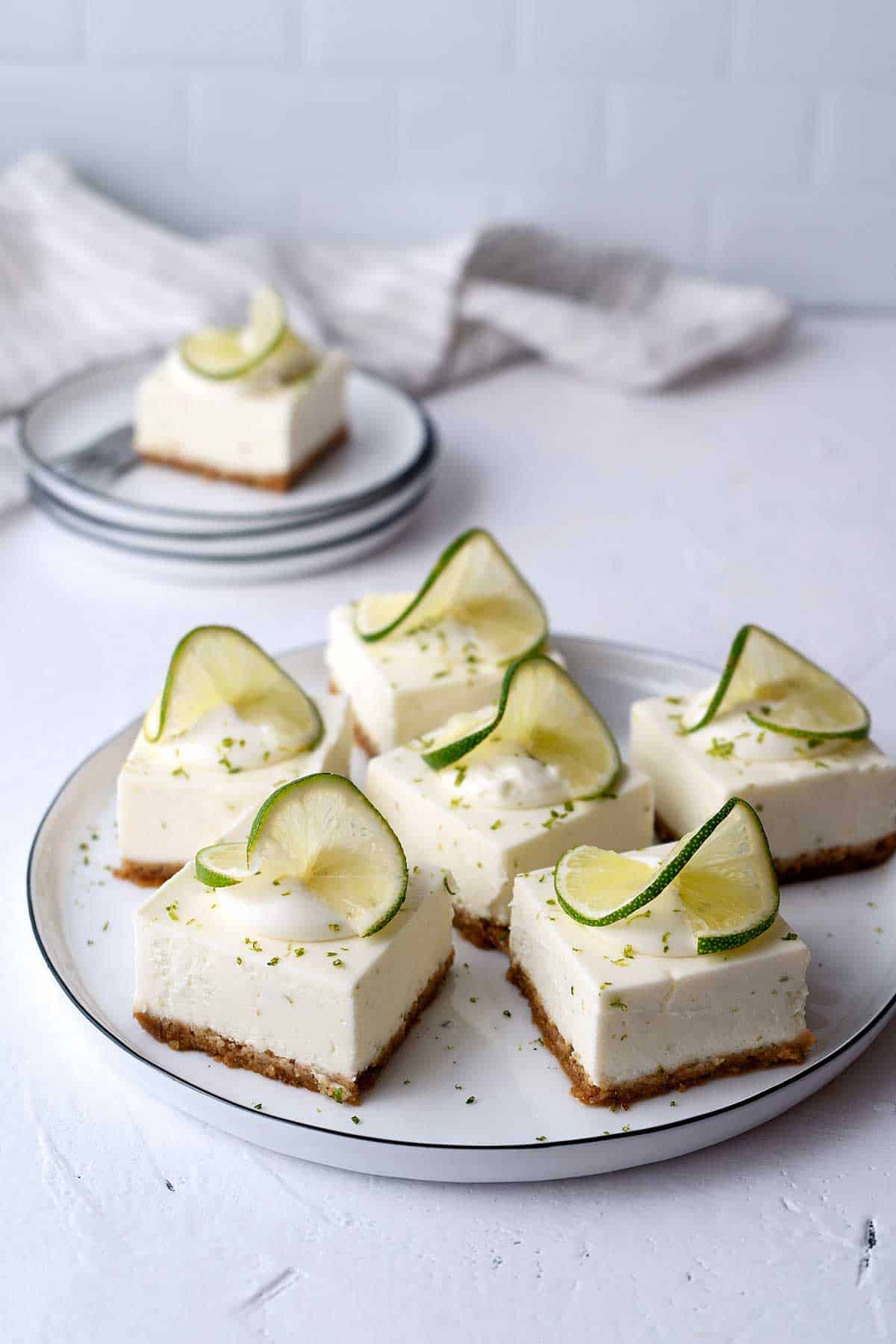 The base - Is from digestive biscuits (you can use graham crackers), slightly sweet with that salty touch to it. A perfect combo.
The filling - What's not to talk about the filling here? It's creamy, slightly tangy and not overly sweet. All that you'd imagine a summer dessert is.
The difficulty - Oh if you know me by now, you'd know that I only make easy recipes. So yeah, it's an easy one, don't you worry.
Tips On How To Get It Right
As I mentioned earlier, this is an easy recipe. Yep.
Having said that, there are a few things that I think you should pay attention to so that you get it right the first time. No wasting ingredients, no frustrations whatsoever.
And so that you can enjoy this dessert with your loved ones. Ok, so here it goes:
Ingredients temperature - Make sure you follow the temperature specified for the ingredients, it's important.
Cream cheese - Use full-fat cream cheese as the fat helps the cheesecake to set since we're not using any solidifying agent here. No gelatine whatsoever.
Whipping cream  - Use the one with a minimum of 35% fat. Just like the cream cheese, this helps in setting the cheesecake.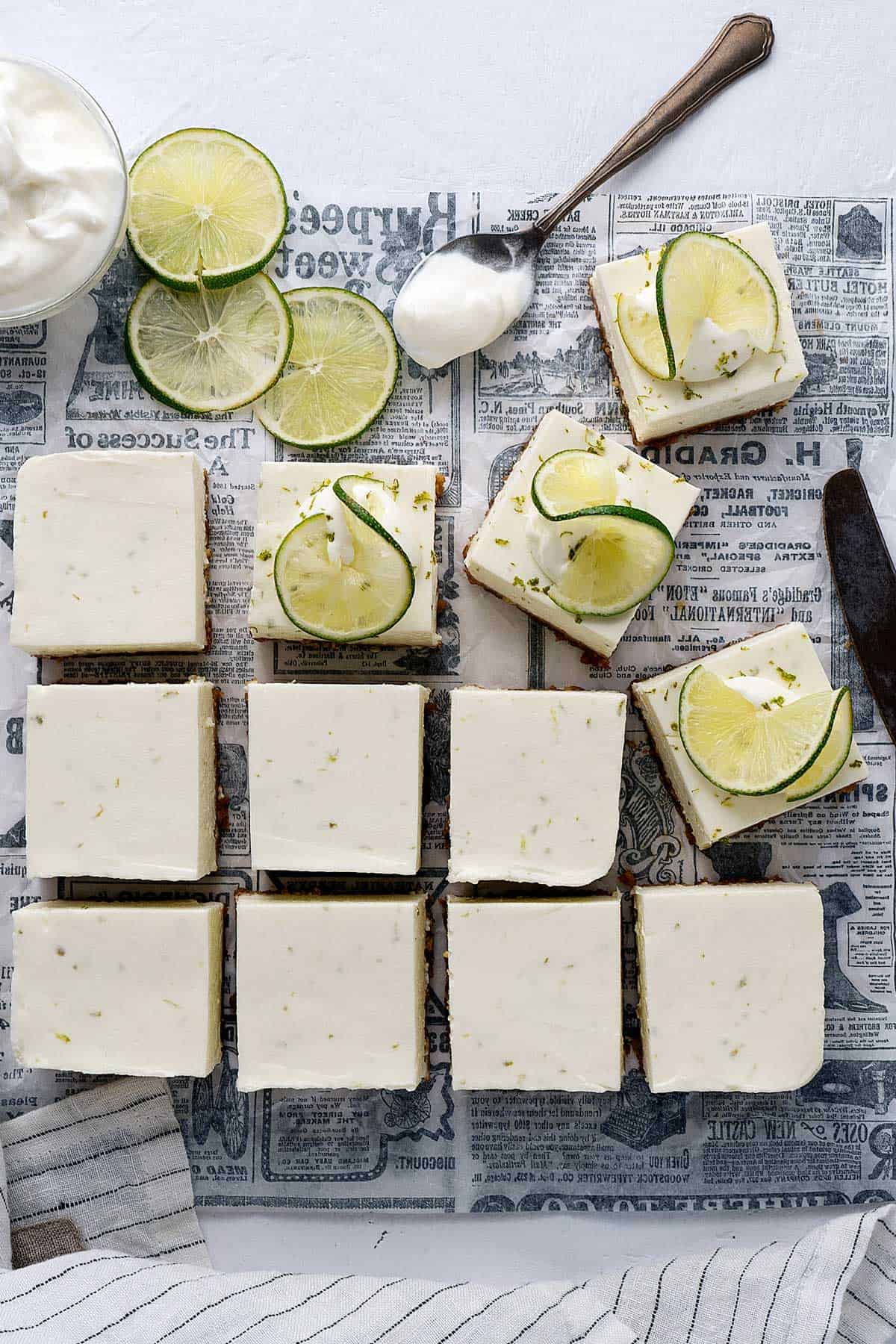 Chill - Always chill the cheesecake in the coldest part of your fridge. Since all fridges are of different strength so yours might not take the same amount of hours as mine did. You might need 1 or 2 hours less or more. What I always do is prepare the dessert in the morning the day before, that way I ensure that it'll definitely set.
Ok, baking up to whipping cream for a second.
I tested this recipe 2 times using these 2 different methods when incorporating the whipping cream into the cheesecake mixture and this is what I found:
One bowl - This means I add the whipping cream together with the cream cheese mixture and whisk until the whipping cream thickens. Although this means you're using just one bowl for everything, what I found is it's quite difficult to explain and teach when to stop whisking the mixture so that you don't over-whisk it, or under-whisk it. It's more of eye-balling it. And I don't like it.
Separate bowl - This means I whisk the whipping cream separately until stiff peaks (important) and then fold it gently into the cream cheese mixture. I find this method is definitely easier to explain and with less chance of failure.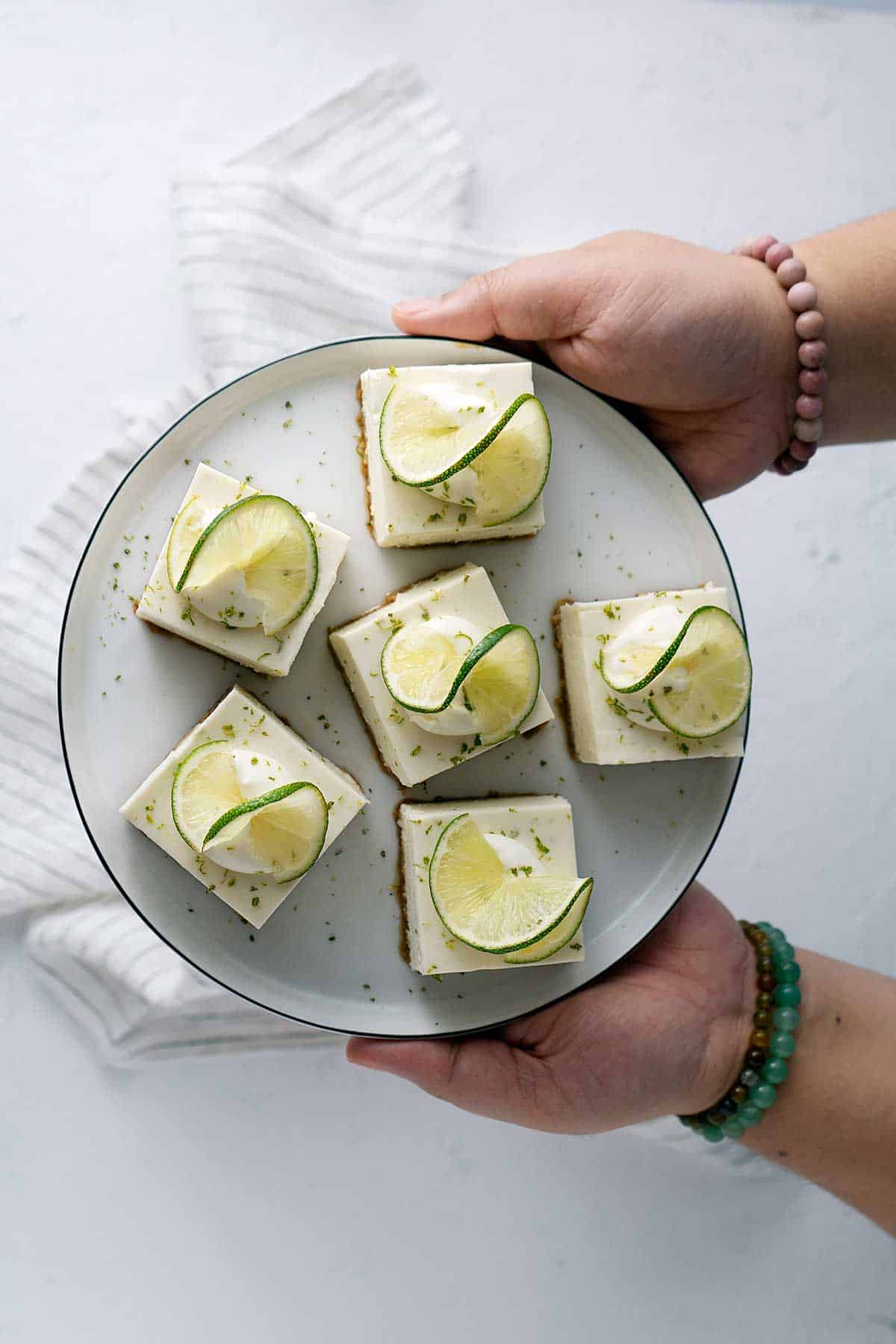 How To Serve And Store
It's very hot here where we are, in the summer.
So what I usually do is figure out how I want to serve it. If the dessert is going to be eaten immediately after serving, then yeah.. no worries.
But if the dessert is going to be on the table for quite a while before anybody eats it then I'd place it in the freezer for a good 1 hour. This is so that it holds for a longer time being outside of the fridge.
And yes, always keep all of your no-bake desserts in the fridge. They're not the type of dessert that you'd want to place on the dining table and then have your main course while chatting with your family about the summer vacations that we all don't get to go. Haha! No, don't do that.
More when they don't have solidifying agents, like these lime cheesecake bars.
If you have balance, you can place them on a baking tray with parchment paper and freeze for 1 hour. Once they're frozen, wrap them individually, throw them in a Ziploc bag and keep them in the freezer. Thaw at room temperature.
Hope you'll give these a try, they're yum!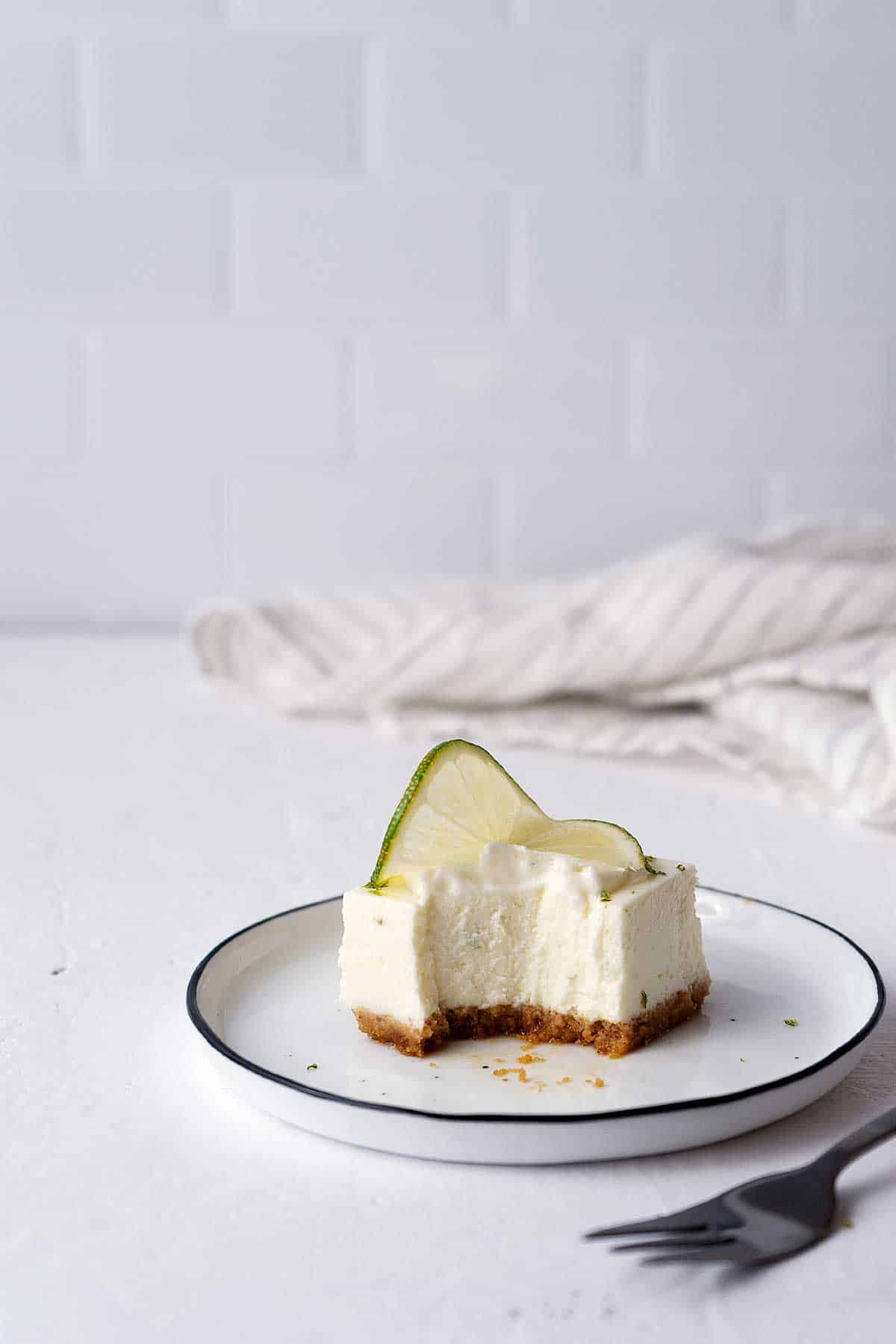 Hungry For More No-Bake Desserts?
Video
📖 Recipe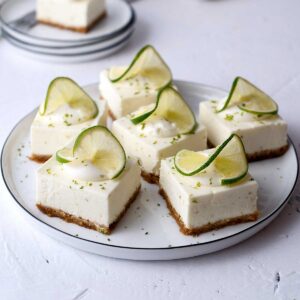 No-bake Lime Cheesecake Bars
These no-bake lime cheesecake bars are just perfect for summer dessert when you don't want to bother with the oven. They're very easy to make with just a handful of ingredients. No gelatine whatsoever. Do try!
Print
Pin
Rate
Ingredients
The Base
1 ½

cup

digestive biscuit crumbs

(

150

g)

¼

cup

unsalted butter

(

60

g), melted
The Filling
16

oz

full fat cream cheese

(

450

g), room temperature

¾

cup

powdered sugar

(

90

g), sifted

¼

cup

lime juice

(

60

ml)

zest of 1 lime

1

cup

whipping cream, min 35% fat

(

250

ml), chilled
Topping
some sweetened whipped cream

some lime zest and slices
Instructions
The Base
Mix all ingredients in a bowl and pour into an 8 inch (20 cm) square pan with removable bottom. Press and spread evenly using a spoon.

Place in the freezer for 30 minutes
The Filling
In a bowl, add cream cheese and whisk until fluffy, using a handheld whisk. Then add in sugar, lime juice and zest. Continue whisking until everything is mixed together. Set aside.

In another bowl, add in whipping cream and whisk until stiff peaks. Now add it into the cream cheese mixture and fold gently using a spatula until everything is well combined.

Pour mixture into our prepared pan and spread evenly using an offset spatula. Chill in the coldest part of the fridge for minimum 8 hours or until it fully set.
Serve
Run an offset spatula all round the cheesecake. Place the pan on a glass and remove the side pan. Place the cheesecake on a cutting board and slice it into 16 equal pieces.

Place on a serving plate. Put a dollop on sweetened whipped cream on top followed by sprinkles of lime zest. Enjoy!
Notes
Please refer to my tips on how to get it right, in my post above.
Please refer to post on how to serve and store this cheesecake bars.
Nutrition Facts
Calories:
263.7
kcal
,
Carbohydrates:
14.7
g
,
Protein:
2.8
g
,
Fat:
22
g
,
Saturated Fat:
12.7
g
,
Cholesterol:
58
mg
,
Sodium:
129.8
mg
,
Potassium:
67.2
mg
,
Fiber:
0.2
g
,
Sugar:
9.7
g
,
Calcium:
42.6
mg
,
Iron:
0.4
mg