Oreo Galore
Who doesn't LOVE oreos, right?
Chocolate biscuits sandwiched together with delicious cream. Have you tried dunking oreo in cold milk before eating it? If you haven't well then you should. It's yummy!
So today I would like to share with you a super easy no-bake Oreo cheesecake. From top to the bottom, it's all about oreo in this recipe.
Let's start, shall we?
Oreo Base
As you can see in the video below, the base of this cheesecake is dark and it's made from Oreo biscuits. I use the same base for my delicious no-bake chocolate cheesecake.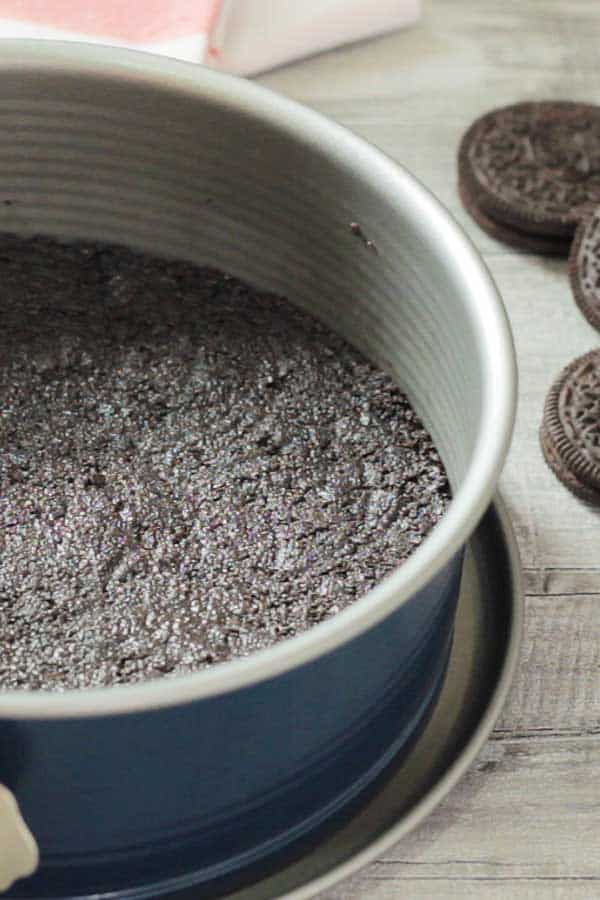 I'm using the whole biscuit together with the cream. I find it too much work just to scrape the cream out and then to throw it? A bit of a waste of a yumminess, don't you agree?
You can either make the crumbs for the base by putting the biscuits in a zip lock bag and bashing them like there's no tomorrow.
Or you can also put them in a food processor and blend them into fine crumbs.
Oreo Cheesecake
I have gotten many questions from you guys asking what type of cream cheese do I use for my no bake cheesecakes.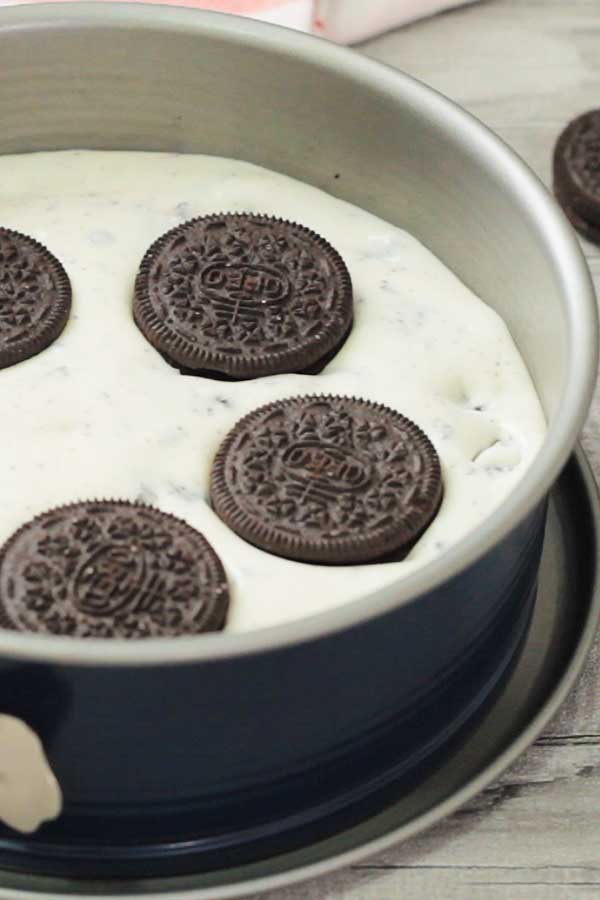 I always use Philadelphia cream cheese. And this post is not sponsored by any means. Haha!
When it's the best, it is the best. Don't you think?
I have tried using other local brands from Spain and unfortunately none of them works as perfect as Philadelphia cream cheese.
I also never use light cream cheese, even from Philadelphia brand. I've tried using light cream cheese, to find a way of making the cheesecake lighter but the texture was all off.
So if you're looking to substitute with light cream cheese, light yogurt, light cream.. I guess this cheesecake is not for you.

It's a decadent and delicious cheesecake that we only make for weekend gatherings or special occasions. I don't think anybody eats cheesecake on a daily basis. Right?
I'm using a 7 inch (18 cm) springform pan for this cheesecake. I think that's a perfect size.
As you can see in the video, there are traces of oreo bits in the whole cheesecake itself. Yes, we are squeezing the oreos biscuits as much as we can in this one.
Personally I like it because the oreo bits give some texture to the cheesecake.
The Chocolate Ganache
Go big or go home, right?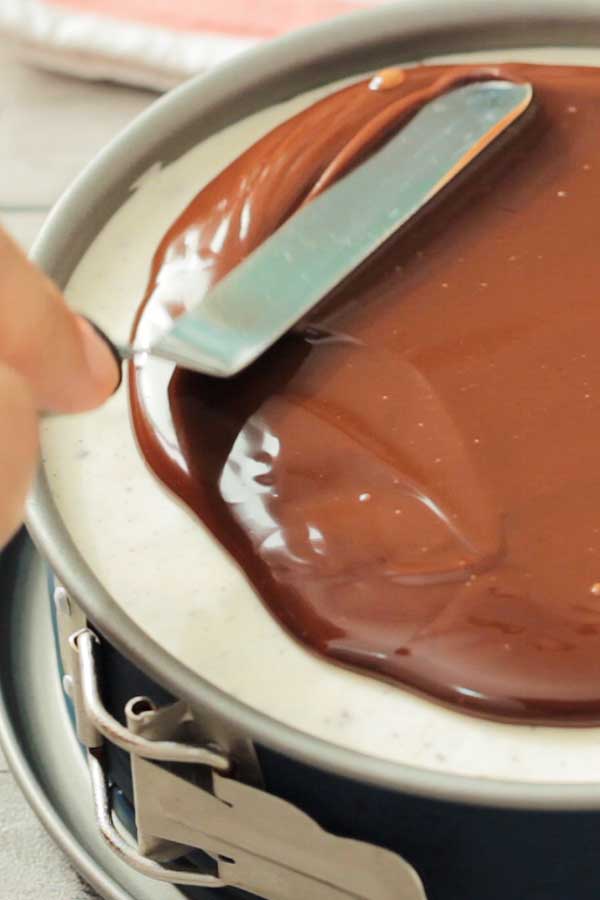 So for this already delicious and wonderful oreo cheesecake, I'm adding some chocolate ganache on top. Followed by some cute cream flowers and of course, finished off by some oreo biscuits.
The ganache is super easy to make and it gives the whole cheesecake an elegant look. Besides, nobody can say no to a chocolate ganache right?
So there you go, a beautiful and delicious no bake oreo cheesecake that's easy to make. Keep it in mind for your next gathering or event.
More No-Bake Cheesecakes
If you are reading until here it means that you're a cheesecake lover. Am I right?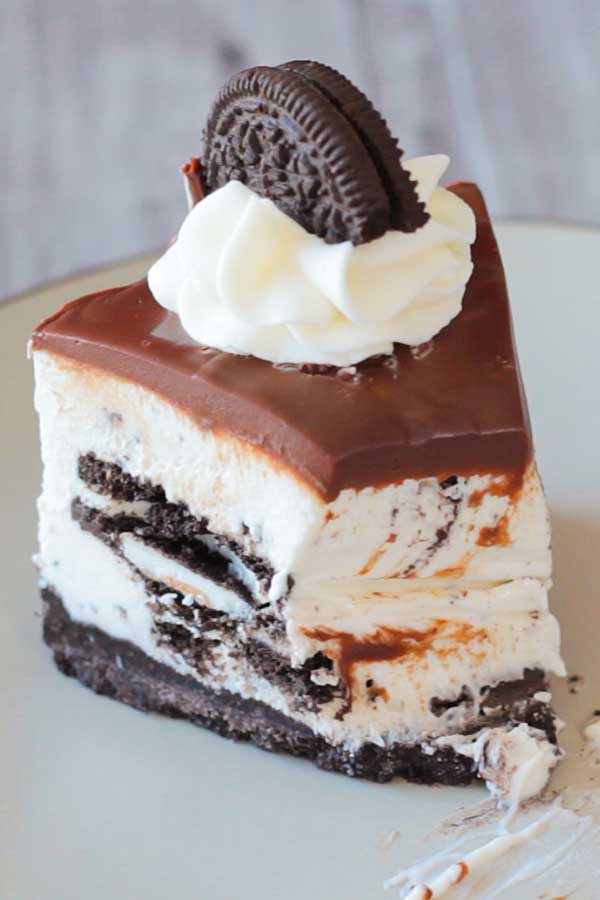 Then maybe I could entice you to more of my super delicious (I promise) no-bake cheesecakes?
Enjoy!
By the way, do tag me in Pinterest and Instagram whenever you make any of my recipes. I would really love to see your creations!
Video
📖 Recipe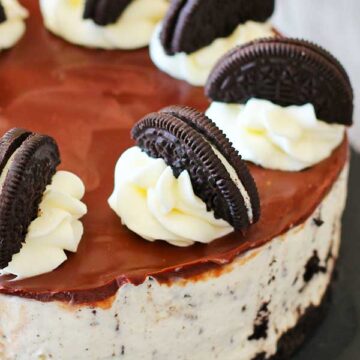 No-Bake Oreo Cheesecake
Creamy cheesecake with oreo bits, oreo base, ganache, whipped cream and more oreo on top. Oreo overload! A perfect no-bake dessert to enjoy with your loved ones.
Print
Pin
Rate
Ingredients
The base:
6.7

oz

oreo cookies (

190

gr)

3

tablespoon

unsalted butter

(

45

gr), melted
The cheesecake:
16

oz

full fat cream cheese

(

450

gr), room temperature

½

cup

granulated sugar

(

100

gr)

1

cup

whipping cream

(

250

ml), chilled, 35% fat

1 ½

teaspoon

vanilla extract

3.5

oz

oreo cookies (

150

gr), crushed

¼

cup

water

(

60

ml)

⅓

tablespoon

powdered gelatin

(

3

gr) or any type and quantity that sets

250

ml water
Ganache:
3.5

oz

chocolate

(

100

gr)

3.5

oz

whipping cream

(

100

ml), 35% fat
Others:
3.5

oz

whipping cream

(

100

ml), 35% fat

2

tablespoon

icing sugar

Oreo cookies halves

, to decorate
Instructions
The base
Crush the oreo cookies into a fine crumbs. Place in a bowl and add in melted butter. Mix everything together. Pour into a 7 inch removable bottom pan. Press to the base of the pan and place to chill in the fridge for 30 minutes.
The cheesecake
In a bowl, add in sugar and cream cheese. Mix on high speed for 3-5 minutes until smooth and sugar is dissolved.

Add in whipping cream and vanilla extract. Mix until the mixture thickens. Do not overmix to avoid splitting the cream.

In another bowl, add in water and powdered gelatine. Leave to soak for 5 minutes. Heat in microwave or double boiled until gelatine is dissolved. Add some cheesecake mixture (2-3 tbsp) into the dissolved gelatine to temper it, stir mix well to combine.

Add tempered gelatine mixture into cheesecake mixture. Immediately mix well to combine. Add in crushed oreo cookies and stir to combine.

Pour half of cheesecake mixture into the pan and spread evenly. Arrange some oreo cookies on top and slowly pour the rest of cheesecake mixture. Spread evenly and smooth out the top. Give it a gentle shake to settle everything in.

Leave to set in the fridge for 48 hours. It takes longer to set as it uses less amount of gelatine.
Assembling
After 48 hours or the cheesecake has set, take it out from the fridge. Make a simple ganache by melting chocolate with whipping cream in microwave or double boiler. Pour the ganache on top of the cheesecake, spread evenly and smooth out the top. Put back in the fridge to let the ganache set, for 1 hour.

Mix whipping cream with icing sugar. Place in a piping bag and pipe on top of ganache. Place oreo halves on top. Ready to serve.
Notes
This cheesecake takes a bit longer to set as it uses less amount of gelatine. Just make sure it's fully set before  proceeding with the rest. The waiting time is totally worth it, you'll see 🙂
Nutrition Facts
Calories:
583.4
kcal
,
Carbohydrates:
41.7
g
,
Protein:
6.4
g
,
Fat:
44.7
g
,
Saturated Fat:
25.5
g
,
Cholesterol:
106.4
mg
,
Sodium:
269.2
mg
,
Potassium:
228.7
mg
,
Fiber:
1.6
g
,
Sugar:
30.6
g
,
Calcium:
87.4
mg
,
Iron:
4.2
mg