What Is It?
Typically found in Malaysia, Singapore, Indonesia and Brunei.. this sweet treat is made from glutinous rice, pandan, gula melaka (coconut sugar) and grated coconut. It is considered as one of the traditional desserts or snacks in those countries.
The balls are made from glutinous rice flour. I added some rice flour also so that they don't get so chewy. The balls are then filled with gula melaka and then boiled. Once cooked, they are coated with grated coconut. That's ondeh-ondeh.
Disclosure: some of the links below are affiliate links, meaning at no extra cost to you, I will get a small commission if you click through and make a purchase. Everything I mention in this post is what I personally use and recommend.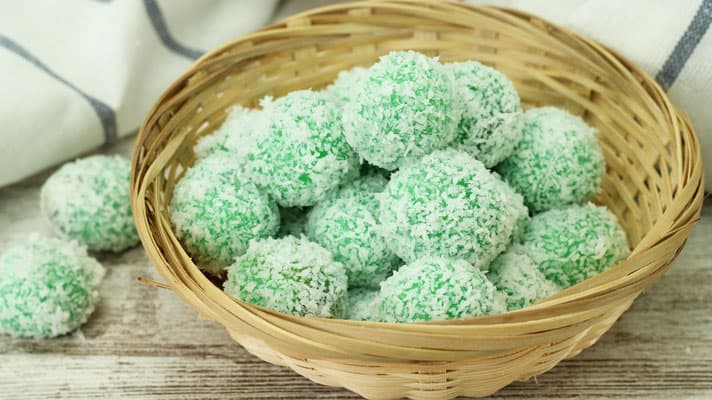 Making Them While Living Abroad
Gula Melaka
Growing up in Malaysia means I'm no stranger to ondeh-ondeh. I've had it for breakfast, tea, snacks or when I was bored. That's how much I've had it. Now, living abroad I didn't eat them as much because it's very difficult to find gula melaka outside Malaysia. At least where I'm living.
If you're living abroad and have gula melaka laying around in your house, just know that I envy you. Well but not anymore. Not long ago I found out that gula melaka is coconut sugar! Yeaaaaayyyy! Ok, if you already knew this then I only have one thing to say. Why in the world you didn't tell me?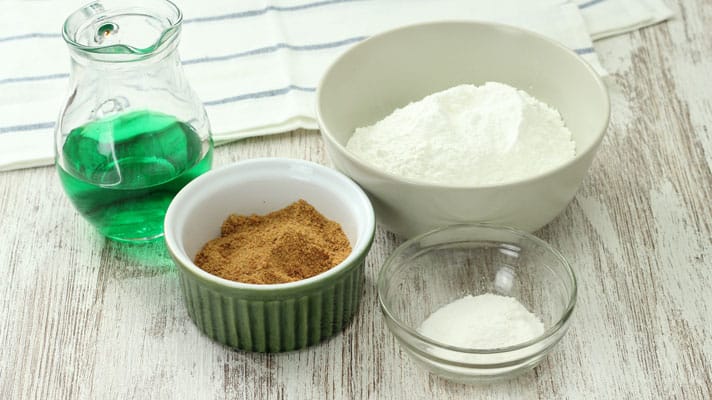 Anyway..
So actually gula melaka is coconut palm sugar. There are other sources for palm sugars, like date, palmyra, etc. Here where I live they label and sell palm sugar as the light brown coloured sugar in blocks.
Coconut palm sugar on the other hand, is labeled as coconut sugar sold in granulated form and is with dark color, which is the one that I'm using. Yes, I know it's not in the shape or form of our gula melaka but that doesn't matter.
You need to chop it into small pieces anyway for this recipe. What's more important is, anybody who is miserable for not having gula melaka in their kitchen now can live happily ever after. Buy yourself a packet of coconut sugar and you're good to go.
And I don't mean only for this recipe. Any recipes that call for gula melaka.. simply use coconut sugar.
How about palm sugar, you might ask. Even if you didn't ask, I'm going to answer anyway. I've tried using palm sugar but it's not the same. Since the palm sugar I can find in my place is not from coconut palm trees, so the taste, the color and even the texture are different from gula melaka.
If palm sugar is the only thing that you can find, well then ok. If not, find yourself coconut sugar and be happy.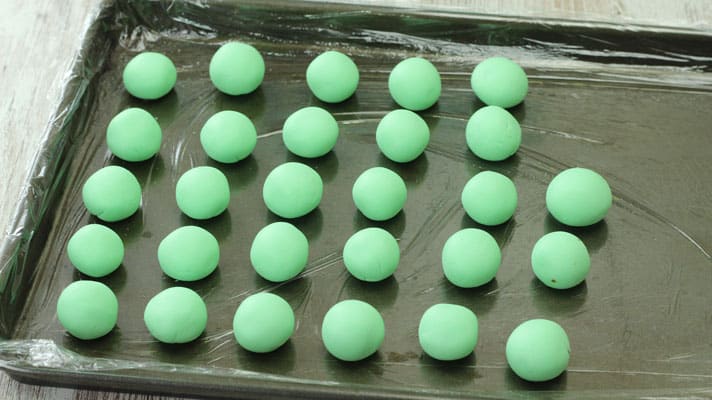 Freshly Grated Coconut
Finding freshly grated coconut in my home country is as easy as going to the nearest convenience store or market and buy some. Not that easy if you're living abroad. No worries though. I've been using coconut flakes to substitute freshly grated coconut and it works amazing!
I add some water to the coconut flakes and microwave at high for 1-2 minutes with 30 seconds intervals. I give them a mix between each interval. After that, you'll have exactly the same smell and texture of grated coconut just like the fresh ones.
Ok now that you know how to substitute gula melaka and freshly grated coconut, you need to try this ondeh-ondeh! Enjoy!
More Asian Sweet Recipes
Recipe Video
📖 Recipe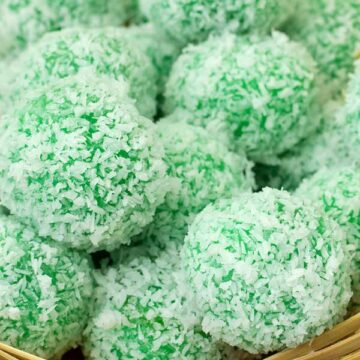 Pandan Balls with Coconut Sugar (Ondeh-Ondeh)
Delicious ondeh-ondeh perfect for you who're living abroad and struggling to find gula melaka and freshly grated coconut.
Print
Pin
Rate
Ingredients
1

cup

coconut flakes

(

75

gr)

¼

teaspoon

salt

¼

cup

water

plus

1

tablespoon more (

75

ml)

1

cup

glutinous rice flour

(

130

gr)

1

tablespoon

rice flour

½

cup

water

(

125

ml), with pandan essence and green food coloring
coconut sugar , I use less than

¼

cup (

40

gr)
Instructions
In a plate, add in coconut flakes, salt and water. Mix everything together. Microwave at max power for 2 minutes with 30 seconds intervals. Stir in each interval. Set aside.

In a bowl, add in both flours. Slowly pour bit by bit the pandan water and mix everything together until becomes a dough.

Take a thumb sized dough and make a cup shape, more or less. Then spoon in some coconut sugar. Pinch the seams to seal and gently roll it into a ball. Place it on an oiled cling film. Do the same to the rest of the dough.

Bring a pot of water to a boil. Carefully put some of the balls inside and cook until they start to float. Once they're floating, cook for another 1 minute. Take them out drain of water and place them in the coconut mixture that we've prepared earlier. Coat them with the coconut and place them in a serving plate.

Do the same to the rest of the balls. Enjoy!
Nutrition Facts
Calories:
56
kcal
,
Carbohydrates:
9.3
g
,
Protein:
0.6
g
,
Fat:
2
g
,
Saturated Fat:
1.7
g
,
Sodium:
29.9
mg
,
Potassium:
20.7
mg
,
Fiber:
0.6
g
,
Sugar:
3.2
g
,
Calcium:
1.6
mg
,
Iron:
0.1
mg