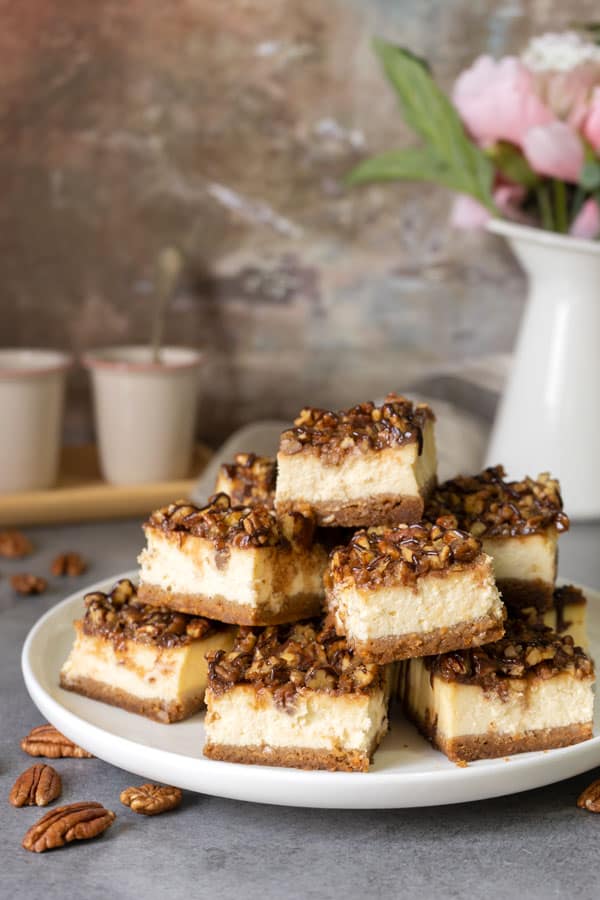 Ok so if you love pecan pie or anything pecan then you will definitely love these pecan cheesecake bars.
I mean, who doesn't love cheesecake, right?
And tell me, who doesn't love the combination of pecan pie AND cheesecake? And then you slice them into those cute little bars to serve. Your guests or whoever that you're serving these beauties to, they are going to be super impressed. And if they're not, then they don't deserve you. Haha! Seriously 😉
Pecan Oh Pecan Pie
I feel like only yesterday that the weather has been nicer and cooler. Without realising, Thanksgiving is coming up super fast. It's just a few weeks away!
And talking about, what more Thanksgiving-gy than a delicious pecan pie that in today's recipe, we will instead enjoy it in cheesecake bars. Yum!
I mean, let's pimp up our pecan pie a bit, right? 😉
These pecan cheesecake bars have everything that you want in a pecan pie, and more. A buttery base, creamy luscious cheesecake filling and then come the gooey caramel pecan topping. Oh la la! Trust me, you will WANT to make these.
What If I Don't Have Pecans?
Ok, this is a pecan cheesecake bars recipe but hey, everything is not carved in stone.
If you don't have pecans or you don't like them, no worries. Substitute them with walnuts, almonds, hazelnuts or any of your favourite nuts.
A part of cooking and baking is that we adapt the recipe to what we have and what we like. Don't you agree?
Disclosure: some of the links below are affiliate links, meaning at no extra cost to you, I will get a small commission if you click through and make a purchase. Everything I mention in this post is what I personally use and recommend.
Tips On Having Perfect Cheesecake
So baking a cheesecake is always tricky. Yes, I know. And then there's that part where you always need to use the bain-marie method or else your cheesecake will crack and all those disastrous things.
Well you CAN get away without using bain-marie method and still have a perfect cheesecake 😉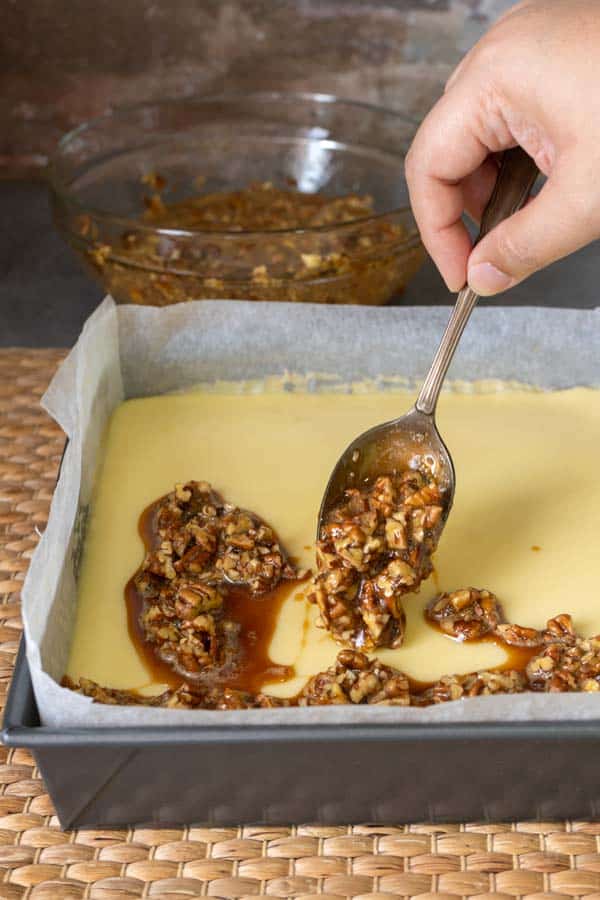 Here I'm sharing with you some tips that I find very useful when making a baked cheesecake.
Less is more - whisk as little as you can when you're mixing the ingredients. Over whisking/mixing will incorporate too much air into the batter and that's what is going to create cracks when we bake the cheesecake later.
Use low speed - use the lowest speed on your electric hand whisk when you're mixing. I use speed 1 in mine. If you're whisking it with a hand whisk, then don't go crazy. Remember, we don't want to incorporate air into the batter.
Low oven temperature - ok this is subjective. Every oven is made differently. Mine is not the same as yours, obviously. To get a precise internal oven temperature, I always use an oven thermometer like this one. And for baked cheesecakes, we want the temperature to be low. Baking it at a high temperature will make it crack.
Ingredients temperature - when I give out recipes I always specify the temperature of ingredients unless it doesn't matter. So if I specify cream cheese at room temperature, make sure you use the same. You might not think that's important but it is. Having certain ingredients at room temperature will make it easier to be mix/whisk and whatnots. And when they're easier to mix, then it means less whisking, then it means less air incorporated in the batter. See what I mean?
I really hope you'll try this recipe! Like always, tag me in your instagram photos using @elmundoeats. If you've made any of my recipes, do rate them by selecting the stars in the comment below. Thanks people!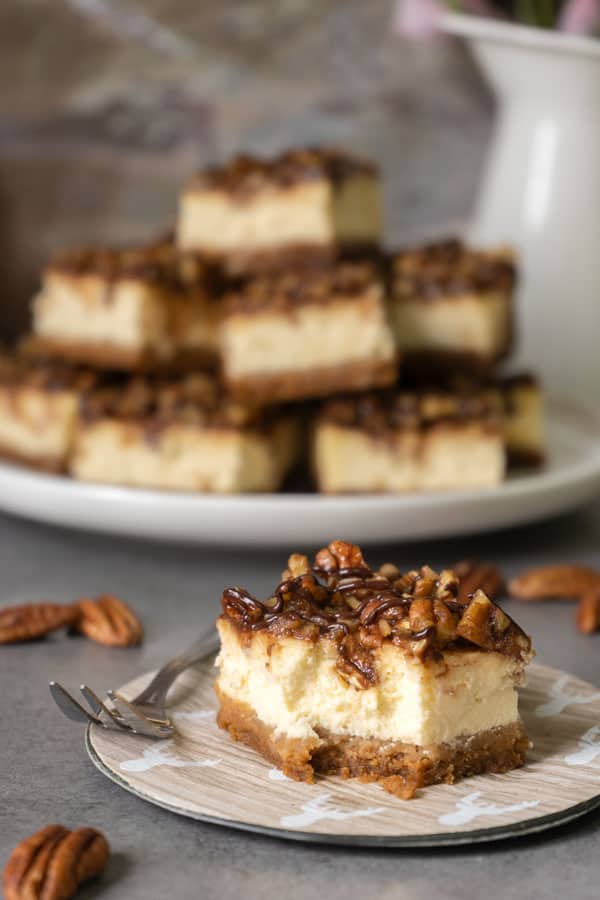 In Summary
These pecan cheesecake bars are:
perfect for this festive season!!
pimp up of the traditional pecan pie 😉
everything that you want in a pecan pie, and more!
look so complicated but we both know that they're easy. so wow your guests!
yeah, what can I say? They are just FREAKINGLY DELICIOUS!!
Hungry For More Cheesecakes?
Check these out:
Video
📖 Recipe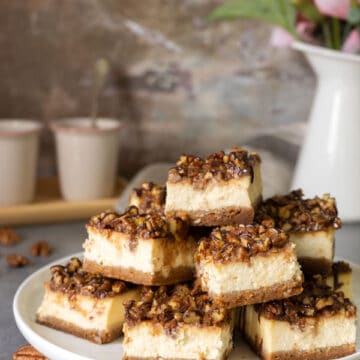 Pecan Cheesecake Bars
These pecan cheesecake bars are just everything that you love in a pecan pie, and more! Don't let the look or the name cheesecake intimidate you. Follow my instructions, refer to my tips and you will have an amazing and elegant looking dessert for the holidays. Do try!
Print
Pin
Rate
Ingredients
The Cheesecake Filling
16

oz

full fat cream cheese

(

450

g), room temperature

1 ¼

cup

sour cream

(

285

g), room temperature

¾

cup

sugar

(

150

g)

3

tablespoon

all purpose flour

(

24

g)

1 ½

tablespoon

lemon juice

1

teaspoon

vanilla extract

3

large eggs

, room temperature
The Pecan Topping
½

cup

coconut sugar (

70

g)

½

cup

golden syrup (

170

g)

¼

teaspoon

salt

1

teaspoon

vanilla extract

2

large eggs

, room temperature

1 ⅓

cup

pecan

(

160

g), chopped
Instructions
The Base
Place your digestive biscuits in a food processor and blend until you get a fine mixture. Skip this step if you're using a store-bought crumbs. Pour into a bowl together with melted butter.

Mix everything well and pour the mixture into a 9 inch (23 cm) square pan that has been buttered and lined with a parchment paper. Place in the freezer for 30 minutes.
The Cheesecake Filling
Put cream cheese into another bowl and using a hand held mixer, whisk just until it gets creamy. Now add in sour cream, sugar, all purpose flour, lemon juice, vanilla extract and mix everything well. Set aside.

Break the eggs into a different bowl and lightly whisk them. Pour the eggs into the cream cheese mixture and using a spatula, fold and mix everything together. Pour the mixture into our prepared pan.

Bake in a preheated oven (no fan) at 285ºF (140ºC) for 50 minutes or until the top has slightly set. Remove from the oven and set aside while we make the topping.

Note: please refer to my tips above on how to prevent the cheesecake from cracking.
The Pecan Topping
Add all of the ingredients, except chopped pecans, into a bowl and mix everything well. Now add in the pecans and give it one last mix.

Using a spoon, gently spoon the pecan topping on top of the cheesecake. You will have some balance of the sauce (syrup), so don't put it all.

Now put back in the oven and continue baking for another 30 minutes. Remove from the oven and leave it cool to room temperature and then chill in the fridge for min 8 hours. Slice and enjoy!
Nutrition Facts
Calories:
398
kcal
,
Carbohydrates:
36.8
g
,
Protein:
5.7
g
,
Fat:
26.2
g
,
Saturated Fat:
11.4
g
,
Cholesterol:
101.7
mg
,
Sodium:
235.5
mg
,
Potassium:
140.7
mg
,
Fiber:
1.3
g
,
Sugar:
27
g
,
Calcium:
70.9
mg
,
Iron:
1
mg