What is Penang Char Kway Teow?
In Chinese "char" literally means "fried" and "kway teow" refers to flat rice noodles.
Char kway teow is stir-fried flat rice noodles that are very famous in Southeast Asian countries like Malaysia, Singapore, Indonesia, and Brunei.
The noodles are cooked over very high heat with a combination of sauces, some protein like prawns, eggs, and some veggies like bean sprouts and chives. Traditionally it uses pork fat to stir fry instead of any other oil.
In my home country, Malaysia, this meal is one of the famous street food and is often being sold at street bazaars or night markets. The fast movements of stir-frying from the cook are really wonderful to watch.
Simplified Version
Yes, today I want to share with you a very simple version of making this delicious meal. If you're curious about this meal and would like to have a taste of it in the convenience of your own house, or if you're an ex-pat and just missing this delicious meal..do keep on reading.
Talking as a true Malaysian, I want to say that believe it or not, a delicious meal doesn't need to be limited to its ancient-traditional way of making it.
If we don't open our minds to adapt our wonderful meals to where we are then those wonderful meals will slowly be forgotten because we ourselves don't make them due to some restrictions.
People from other places and countries wouldn't be exposed to them because we couldn't proudly introduce those wonderful meals to them. Don't you agree?
Now, let's start!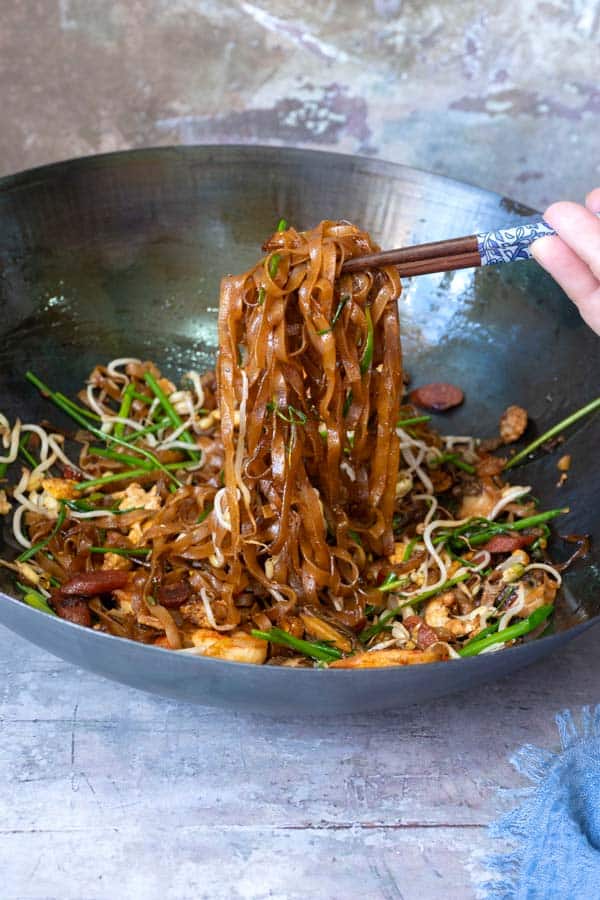 Fat
As I mentioned earlier, traditionally this meal uses pork fat. I'm not. I feel using olive oil or naturally flavored oil is enough.
Sauces
There are a few sauces in this recipe.
Dark soy sauce gives color to the meal. So if you don't have it, don't worry. Skip it. Just know that your char kway teow wouldn't look dark.
Soy sauce, oyster sauce, and fish sauce contribute to the taste of this meal, also the saltiness. We will not be using salt at all.
I'm using sambal oelek instead of chili paste just for convenience and it works amazingly. Adjust this to your taste. Just know that different type of sambal oelek comes with different level of saltiness.
I'm not using sweet soy sauce in this recipe because I want to reduce the amount of liquid used. This meal should not be wet and soggy. So instead I'm using sugar for the sweet component.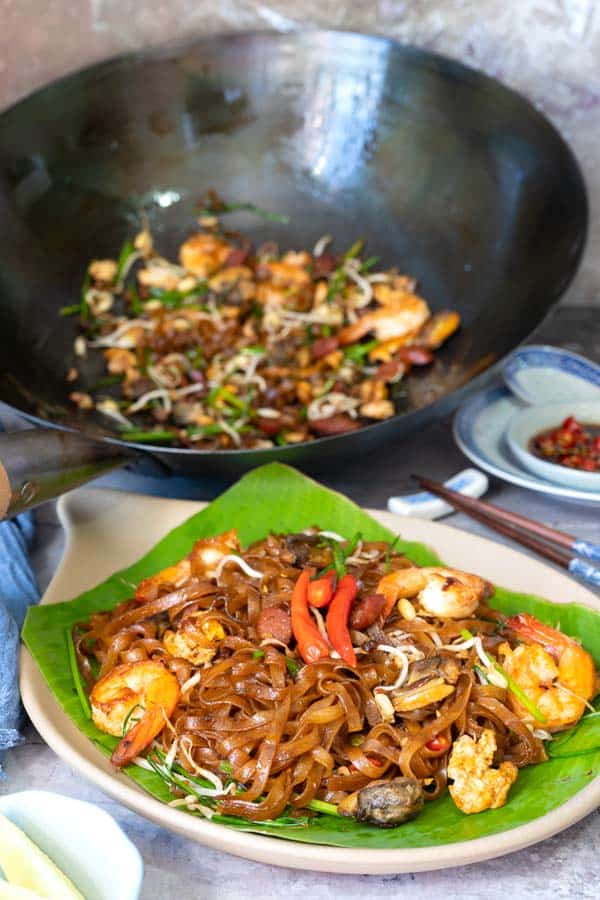 Protein
I'm using prawns. They're simply the best for this char kway teow.
I'm also using cockles. Usually, blood cockles are used but I'm using canned normal ones as it's easier to find in my place. I do drain the juice beforehand because remember, we don't want too much liquid in this meal.
Traditionally Chinese sausage or commonly known as lap cheong is used. It usually has a sweet touch to it. So if you can find something similar, that's great.
If not, do like me. I'm just using turkey sausage that I bought from my local supermarket. Or you can simply skip it.
Noodles
In my home country, the rice noodles used are wider and fresh. I can't find that in my place so I opted for the typical dry flat rice noodles available here. A tad smaller in width but the taste is the same.
What I do is prepare the noodles according to the packet's instructions. Which usually is soaking the noodles in hot water for 10 minutes. The noodles need to be pliable, that's all. We will continue cooking it later on during stir-frying.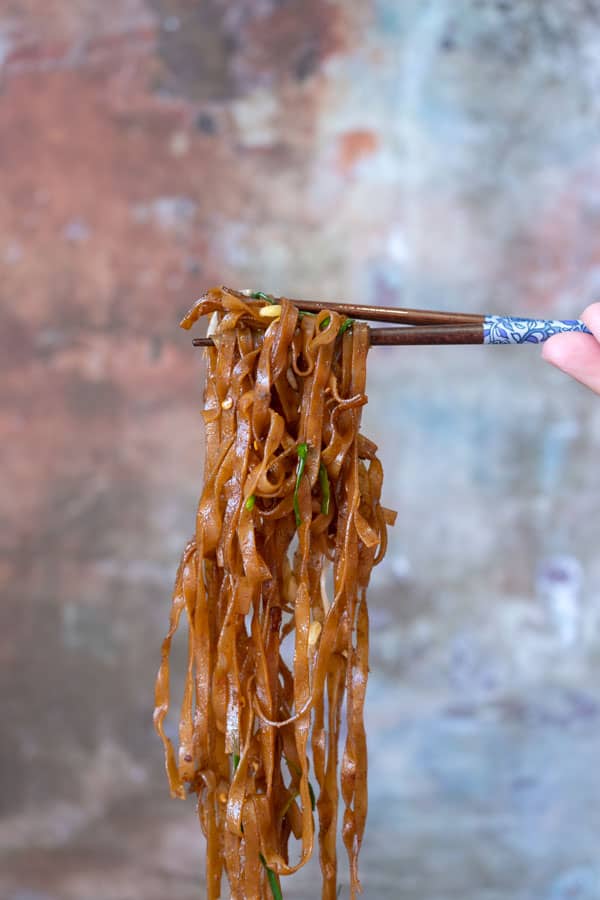 Veggies
Typically bean sprouts and Chinese flat chives are used. I make my own bean sprouts for this meal! I'm just so proud to tell you. By all means, you don't need to. Just buy some. It's not easy to find Chinese flat chives here so I'm just using the regular ones.
Stir-frying
Use high heat all the time. Yep. We want the charred marks on the noodles and proteins. I would also recommend using a wok as it will give a more authentic flavor.
I have a carbon steel wok that I use all the time and it is perfect for this meal, it is also very cheap and I wrote a post on how to season and care for the wok.
It's best that you prepare and measure all the ingredients beforehand. This meal should not take more than 10 minutes to cook, like my easy beef lo mein.
I would also recommend you make one batch at a time as crowding the wok will make it challenging to get the charred look that we're looking for.
Well and then that's it! I hope with all the substitution options and some tips here and there, I could persuade you to give this delicious meal a try. Let me know what you think.
More Stir-Fry Recipes
Video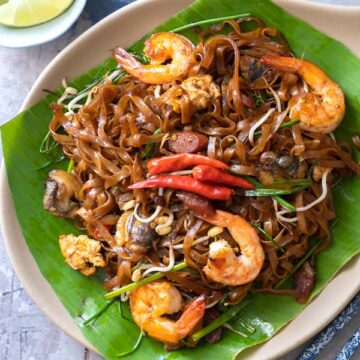 Penang Char Kway Teow
Simplified yet delicious Penang Char Kway Teow! Better than take outs, that's for sure. A very famous meal in my homeland country Malaysia.
Print
Pin
Rate
Ingredients
The Noodles
2.1

oz

dry flat rice noodles

(

60

gr)

1

shallot

, minced

2

garlic cloves

, minced

10

medium sized

prawns

⅓

cup

cooked cockles

(

50

gr), after its juice drained

1

egg

½

cup

bean sprouts

(

50

gr)

0.4

oz

chives

(

10

gr), cut into 2 inch (5 cm) length

1

oz

sausage (find one with sweet touch to it if possible, I'm using turkey sausage)

(

25

gr), sliced

red chili

, sliced
Instructions
The Sauce
Add all of the sauce ingredients into a bowl and mix well. Set aside.
The Noodles
Prepare the noodles according to the packet's instructions. The noodles need to be pliable. Set aside.

Heat some oil in a pan on high heat until it's smoking hot. Add in shallot and garlic and cook until they start to turn golden brown. Then add in prawns and cook until they're half cooked.

Now add in the noodles and give it a stir to mix. Pour previously prepared sauce together with cockles. Stir and continue cooking until the liquid evaporates and the pan is dry. By then the noodles will have charred marks.

Push everything to one side of the pan and put in egg on the empty side. Lightly break the egg and then pile the noodles on top of it and leave it for 30 seconds. Then mix everything well.

Turn the heat off and add in bean sprouts and chives. Stir and mix well for a few more seconds and then serve immediately with some slices of chili. Enjoy!
Nutrition Facts
Calories:
557.9
kcal
,
Carbohydrates:
76.1
g
,
Protein:
37.7
g
,
Fat:
11
g
,
Saturated Fat:
3.3
g
,
Cholesterol:
192.6
mg
,
Sodium:
3038.5
mg
,
Potassium:
519.4
mg
,
Fiber:
3.7
g
,
Sugar:
12.2
g
,
Calcium:
151.4
mg
,
Iron:
16.4
mg