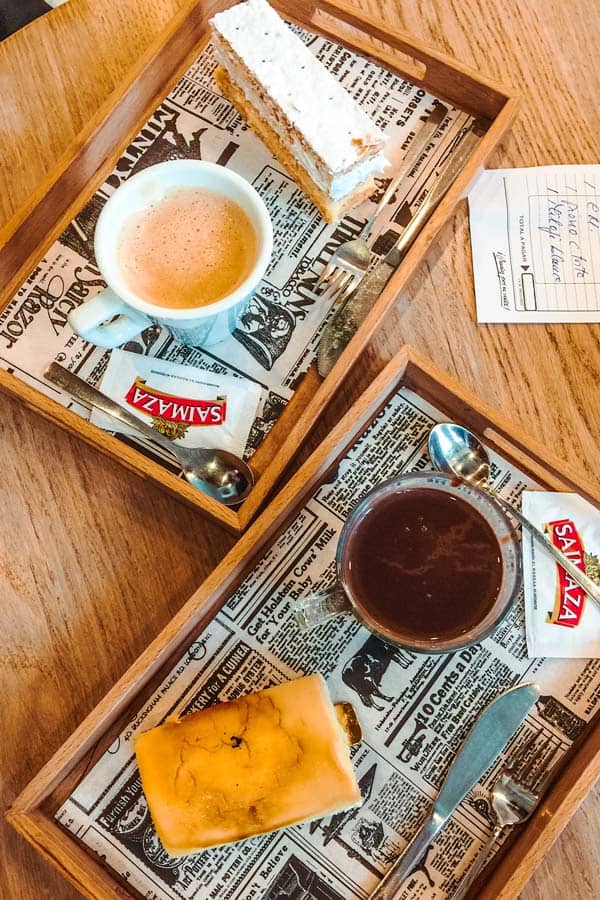 Oh wow! January has ended and I felt I just blinked once since the new year celebration passed. A lot had happened since then. Do you feel the same?
Hey on that note, I thought I'd write a post every month about what's going on in our lives. Soooooo.. I share our random stories and you share yours? How does that sound? Great? Amazing? Well then let's go!
---
The Big Move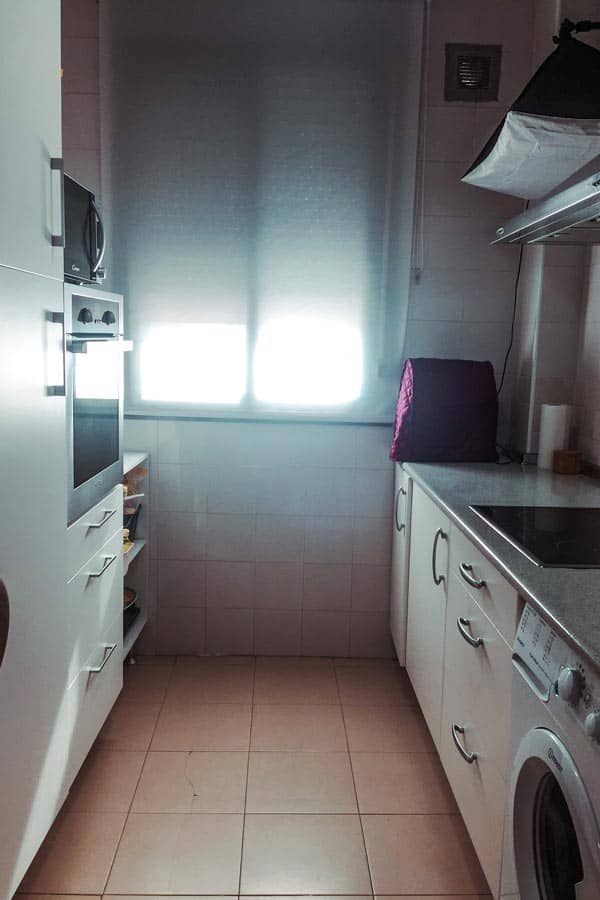 Urgh!! This is what's been occupying our minds these days. But before that! That's our current kitchen where we film all of our recipes! Small, yes I know.
It's really a struggle to work in this kitchen, you know. I wish you could see us both when we're filming, we're basically on top of each other. You see the oven on the left side? When I'm baking something in the oven, Marco has to have his back against the hot oven door while filming, and I always place a kitchen towel there to protect him, in a way. Haha!
Ok, so about our big move. We are sure that we are moving out from this apartment that we have been renting for 10 years (yes, I know!). We will be out by 1st April and hear me out... we still DON'T have or secured another place to live in.
And isn't that great in sense of stressing and freaking out? Haha!
Ok let me back up there a bit.
Is this a rushed decision? Not for us, at this moment, I feel. Since we need to give a 2 months notice, we will always not be able to secure a place immediately until we actually give the notice. You get what I mean? You see, we just feel we need a change. Now. A better place to live and work. A better environment in general.
And the most important thing for us is, at this stage in our lives, we would like to be able to have our own furnitures to our liking, to our taste. Our current apartment comes fully furnished and we ourselves have been buying our own things bit by bit but yeah, we want our own space that we can really make it our own.
On the brighter side, it's the first time that Marco and I are looking for a place to stay, and doing it together! It's fun! I get to say "No, that kitchen doesn't work for me." or "Uh? There's no bidet?" or "I'm so desperate, I like everything in that house!"
While Marco being Marco (he analyses things way better than I do, and is very patient throughout this, so thank god for him!) would say "Let's see as much as we can first before saying anything." Ok babe, you're right.
How are you when you are house hunting? Stressed out like me? Chill like Marco? A mix of both?
Soooooo... if everything goes good (pray for us, won't you?), in less than 2 months we need to find:
a place to stay!
the place needs to have a workable kitchen space and good lighting for our work
with at least 2 bedrooms, 2 bathrooms, a garage
in good, safe and friendly neighbourhood
not in the dead of city center
affordable! very important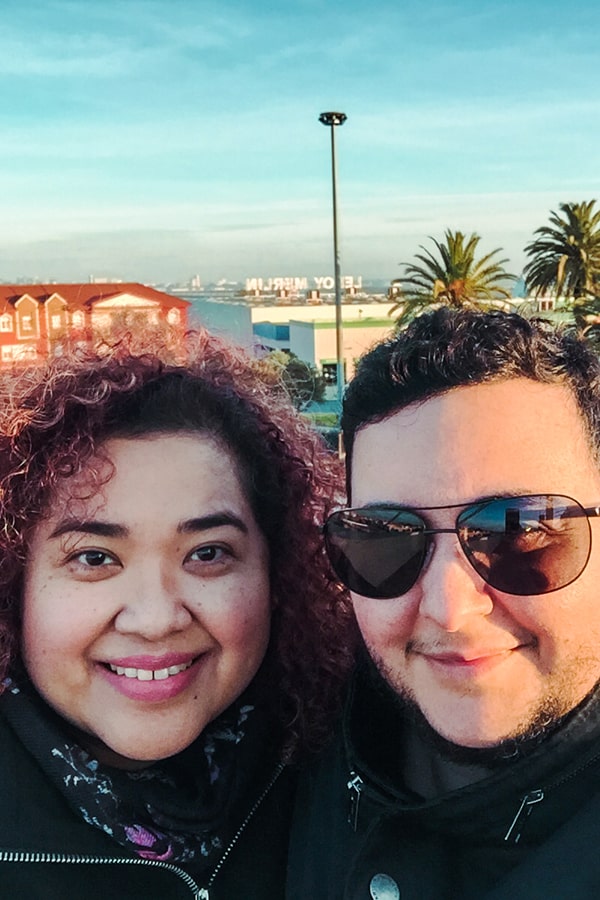 See? We are not fussy. And that was us when we just got back from checking out a house, which was a NO. But hey, you gotta smile and have fun, right?
Anyway, if we didn't find any place, our backup plan is:
rent a storage and put all of our stuff in
find an AirBnB meanwhile? We already looked and most cost more than 1k euro/month. Yikes!
stay with Marco's parents as our last resort, meanwhile we find something fast. We really really hope we don't get to this though since we don't want to trouble them.
What do you think? Do you think we're crazy or you've been through a more adventurous experience?
---
Recipe Testing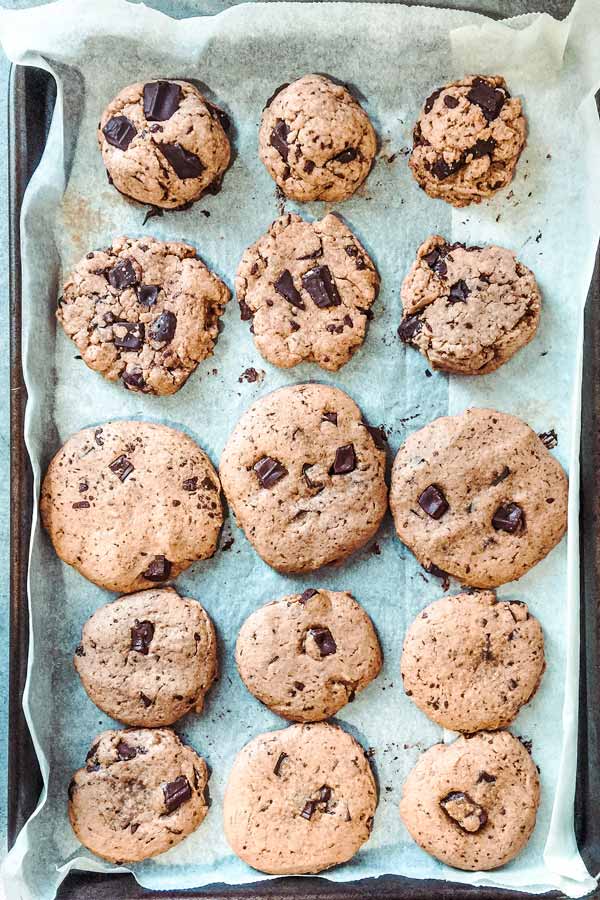 If you didn't know, I test all of my recipes first, before we put them out in our website and YouTube channel. I mean, of course, right?
The last thing I want is for you to come back to me saying a recipe didn't work, because then I would so feel bad that you've wasted all the ingredients and your time. I mean, who wouldn't right? And for this month I've done several recipe testings but there's one in particular that's very stubborn! Haha!
You see, both Marco and I have this idea of developing a chocolate chip cookie recipe that uses healthy ingredients and yet still look appetising, beautiful and not like cookies from the hospital ( I don't know if they give you healthy cookies in hospitals but it's a figure of speech).
So I've been baking a lot of healthy chocolate cookies. At the same time trying to prevent Marco from stealing cookies from my batches so that I can compare them from one batch to the other.. and the other.. and the other. You get my drift. So after 1 million of recipe testings on this one particular recipe, I think I've got it! Yeaaaaaayyy!
The recipe will be out in February and the cookies will definitely look better than those from the tests.
Are you excited for it? Or you don't care for healthy sweets?
---
Being Strong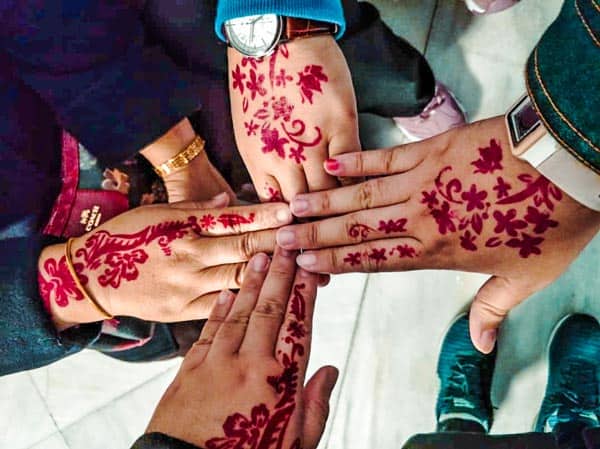 If you follow me in our instagram (@elmundoeats) then maybe you noticed when I mentioned in my InstaStory that my sisters and their husbands came all the way from Malaysia to visit us last Nov-Dec! For 3 weeks!! My youngest sister brought with her some henna and we did some henna-sisters session. As you can see in the photo. Yep!
It was the first time that they all came here and I was beyond ecstatic! Both Marco and I, of course. The 3 weeks passed super fast since all of us travelled from Barcelona-Paris-Granada-Seville-Huelva-Lisbon. It was the best 3 weeks of my life!
And then they left. Well of course, they have their own lives, kids waiting them back home in Malaysia. But their leaving hit me hard. I felt the same feeling like when my parents passed. It took me more than a month to come to the realisation (yeah, I know ) that I will see my sisters again. Well, of course! And Marco really helped me through it.
So if you're far away from your family, just know that things will get better. Reunions will happen. You will be hugging your loved ones again, and even more times after. Find someone that you can really tell what you feel. It doesn't matter if you're muffling your words through your cries (oh is that me?). Find someone that can listen and understand even as crazy as you paint the situation to be.
Keep remembering the good memories and focus on your life now. Things will get better.
Are you far from your family? How do you cope?