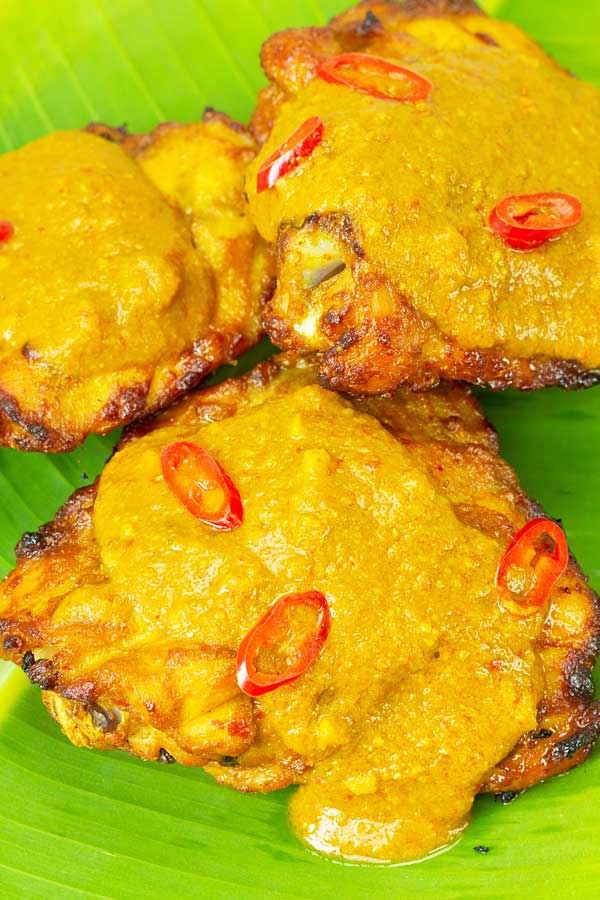 I'm already drooling as I'm writing this, if you must know.
If you asked me what is "Ayam Percik", I would describe it as a Malaysian traditional style roasted chicken with wonderful spices and coconut milk. Yes, usually it's roasted with charcoal fire to get that char bits and the beautiful look of a roasted chicken that we all love, regardless where we are.
Having said that, I have to say, not everybody can or have the time and will to go through the process of handling the charcoals and whatnots. Or in my case, I'm just being a tiny tad lazy and want to be in the convenience of my kitchen. So I'm baking these bad boys!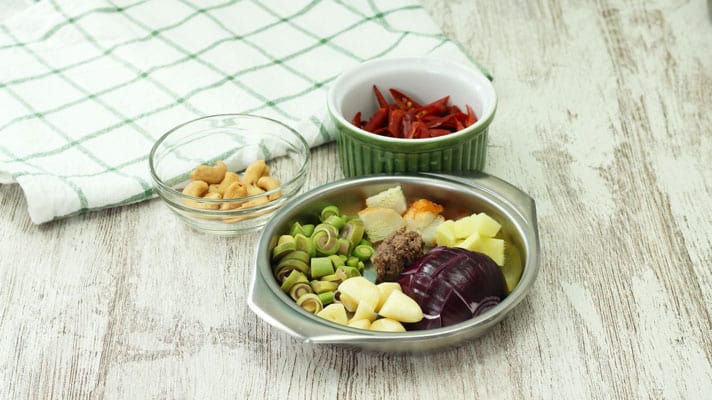 There are 2 components for this ayam percik. The sauce and the chicken itself. The ingredients for the sauce are pretty common, except for some items that I will share the substitutions for them if you're living outside Malaysia or just simple because they're not easy to find at your place.
Dried Chillies
We use dried chillies a lot in our Malaysian cuisine. They give a meal the reddish color, texture and of course the heat. You can substitute them with sambal oelek, adjusting the amount to your taste. You can also use chili powder or cayenne pepper powder.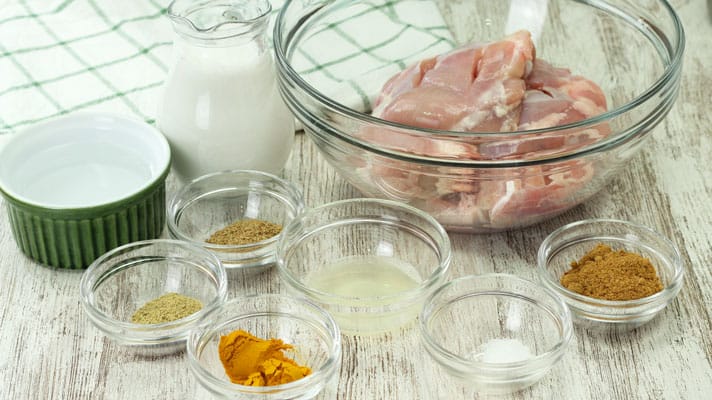 Gula Melaka
The sauce should have a sweet touch to it. In my home country it is common to use gula melaka for that sweet touch or if you're living outside Malaysia and gula melaka is an alien thing in your place (like in mine), simply use coconut sugar.
They are the same. Using brown or normal granulated sugar is also fine, no problem at all. The sauce needs that sweet touch but not a specific sweet taste.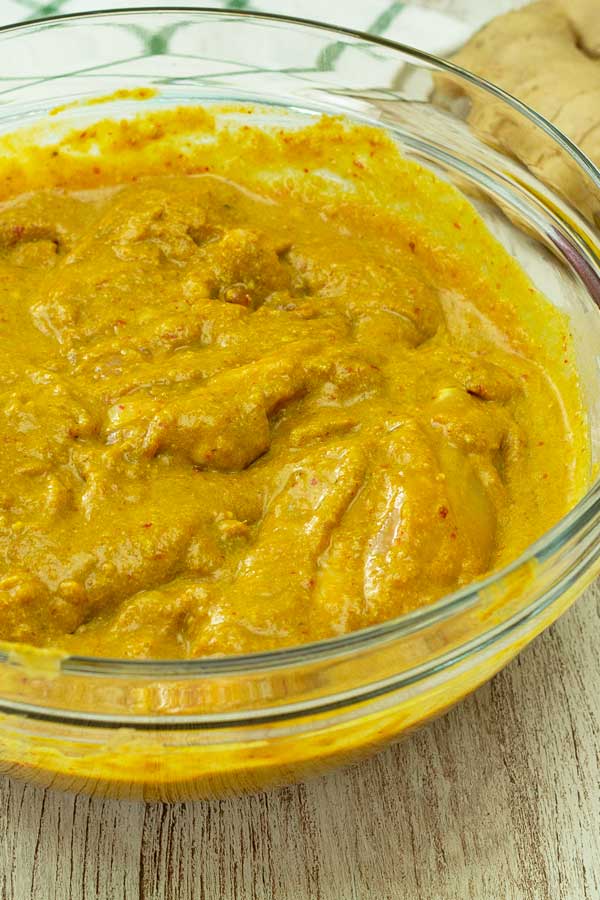 Shrimp Paste
It's optional in this recipe so you can skip it if you can't find it.
Asam Keping
It's used as a sour component to the sauce. Asam keping is sun-dried Garcinia atroviridis (Asam gelugor) in sliced form. You can easily use lemon juice like I did in this recipe or tamarind juice.
As for the chicken, I'm baking them in the oven as I mentioned earlier. You can marinate the chicken overnight if you wish. I find with just 1 hour is good enough. I would not recommend using chicken breast as it tends to get dry so fast.
As you can see in the video, spraying them with some oil helps in getting that charred look. This ayam percik is usually eaten with rice. It's also one of the components for "Nasi Kerabu", another delicious Malaysian traditional dish.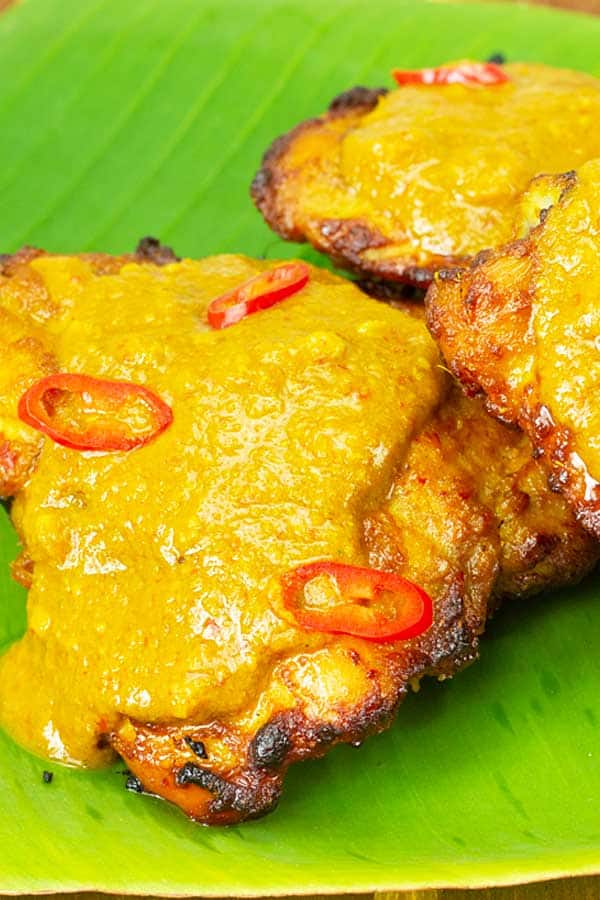 I hope you give this amazing Malaysian dish a try. It's great with our steamed turmeric glutinous rice or jasmine rice. Believe it or not, it's also amazing with our parmesan Duchess potatoes. Don't knock it until you tried it! They're all perfect for the amazing sauce!
Enjoy!
More Malaysian Recipes
Recipe Video
📖 Recipe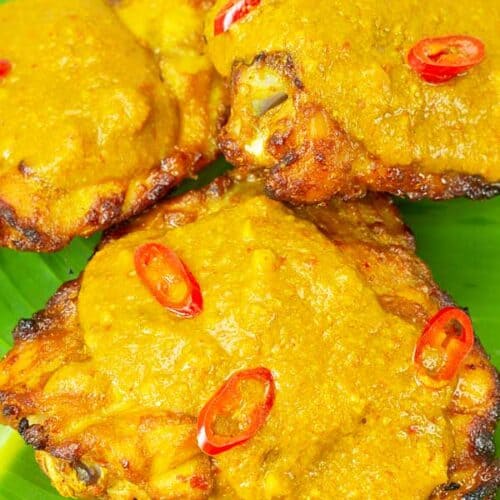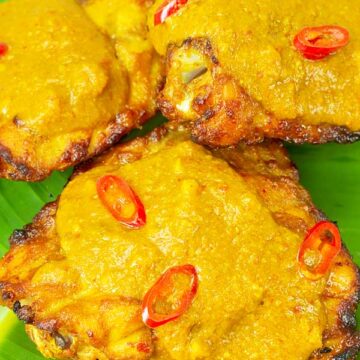 Spiced Chicken with Coconut Milk
A delicious traditional Malaysian roasted spiced chicken with coconut milk and a sweet touch to it. This wonderful chicken is known as ayam percik.
Print
Pin
Rate
Ingredients
½

red onion

10

dried chillies

, cut, soaked until soft and drained

4

garlic cloves

1

thumb sized

ginger

1

thumb sized

galangal

1

thumb sized

shrimp paste

2

lemongrass

8

cashew nuts

5

skinless bone-in chicken thighs

, around

1.5

lb (

700

gr)

1

tablespoon

coriander powder

½

tablespoon

fennel powder

2

teaspoon

turmeric powder

1

teaspoon

salt

3

tablespoon

coconut sugar

, or any sugar of your choice

1

cup

coconut milk

(

250

ml)

1

teaspoon

lemon juice
Instructions
Blend onion, garlic, chillies, lemongrass, cashew nuts, ginger and galangal into a fine paste. Set aside.

Slit the chicken pieces here and there. Place them in a bowl and add in the previously blended paste. Add in also coriander powder, fennel powder, turmeric powder, coconut milk and salt.

Mix everything together and coat the chicken well. Cover the bowl and place it to marinate for 1 hour in the fridge.

Prepare a baking tray lined with aluminium foil and place a rack in it. Arrange the chicken on the rack, removing any excess marinade sauce. Reserve the marinade balance for later. Spray the chicken with some oil to get that char looks.

Bake in a preheated oven at 400º (200ºC) for 20 minutes. After 20 minutes, flip the chicken and spray with some oil also. Continue baking for another 20 minutes or until fully cooked.

Meanwhile the chicken is cooking, let's prepare the sauce. Heat some oil in a pan on medium heat. Add in the reserved marinade balance. Stir and cook until the oil separates. Add water to your desired consistency and adjust salt if needed.

When the oil separates, add in lemon juice and give it one last stir. Turn the heat off and serve it together with the baked chicken and some rice. Enjoy!
Nutrition Facts
Calories:
275.9
kcal
,
Carbohydrates:
13.2
g
,
Protein:
21.9
g
,
Fat:
15.9
g
,
Saturated Fat:
10.3
g
,
Cholesterol:
99.2
mg
,
Sodium:
594.1
mg
,
Potassium:
475.3
mg
,
Fiber:
1.5
g
,
Sugar:
6.1
g
,
Calcium:
44.4
mg
,
Iron:
3.5
mg