One of our YouTube viewers asked for a choux recipe so here it is, strawberry cream puffs (choux craquelin).
I thought it would be nice to fill them with strawberry custard since the strawberry season has started.
Let's get on with the recipe, shall we?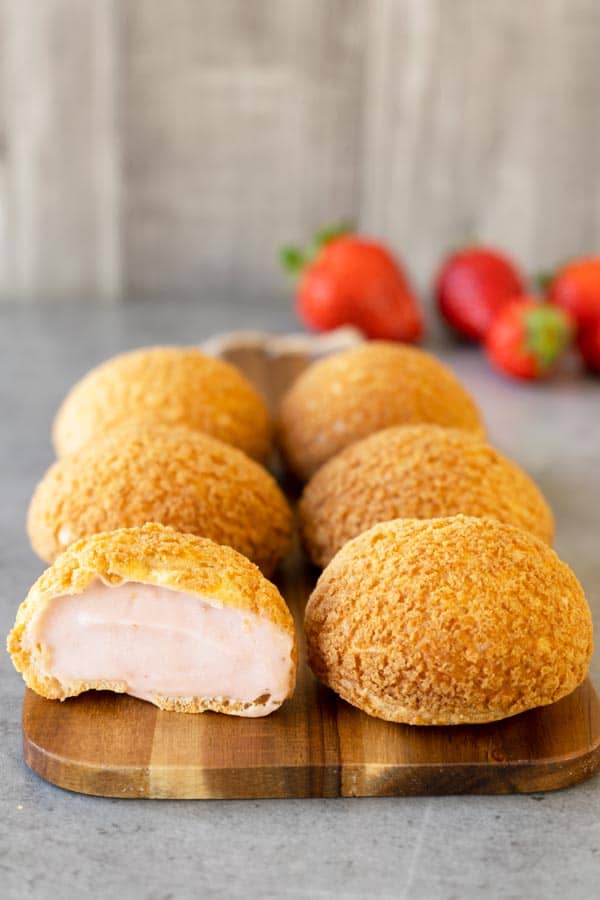 What Are Cream Puffs Or Choux?
They are known by different names like cream puff, choux or profiterole but they are the same delicious thing.
They are light pastry dough that are made from basic simple ingredients which are flour, butter, eggs and sugar.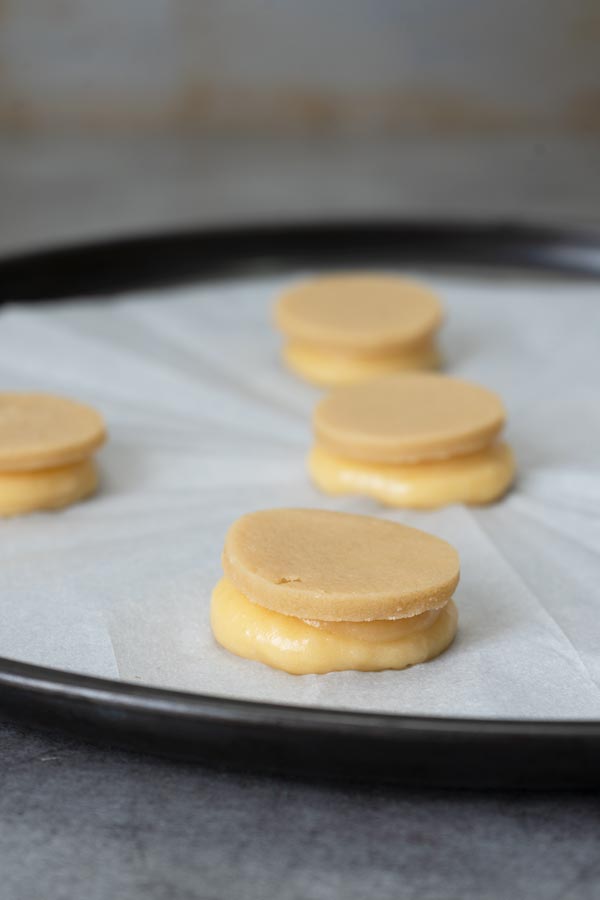 No leavening agent is used in this pastry dough and yet they rise or puff up so much when they are baked because of the high moisture content in the dough. High moisture content creates steam and that is what pushes the dough to rise and puff up.
Hence the name cream puffs?
These cream puffs can be enjoyed both as sweet or savoury puffs but yes, the most typical that you would find will be sweet ones.
Are Cream Puffs Difficult To Make?
Like I mentioned earlier, this recipe calls for some very basic ingredients in a kitchen. Flour, butter, eggs and sugar.
The recipe is also a basic one and is basically the same everywhere because that's just how they are made.
I LOVE cream puffs but honestly have never made them myself.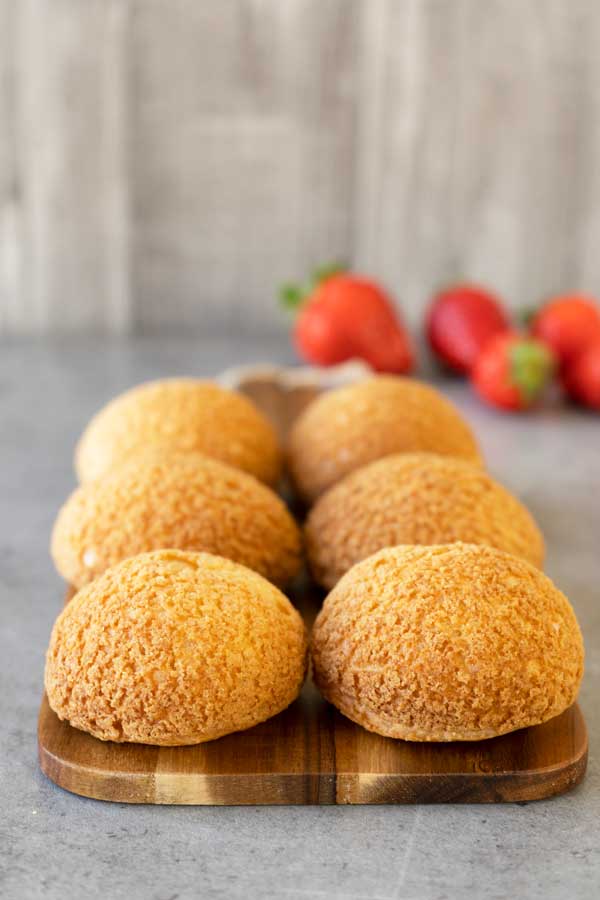 Since one of our viewers asked for it, I've been learning how to make it and have been testing the recipe.
My mother-in-law has been making loads of these when they were living in Argentina and she gave me the recipe that she always used back then together with notes, so that I can practise.
My conclusion is, it's very difficult to get it wrong!
How amazing is that, right?
This is such a simple recipe that if you follow the easy steps, you WILL have some amazing cream puffs.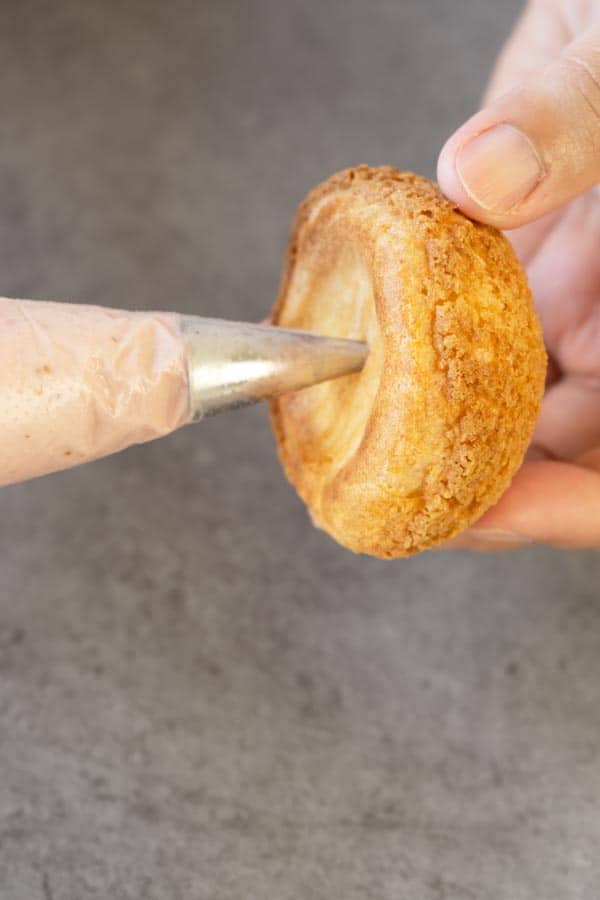 Tips To Get It Right
There are no important rules to this recipe but I do have some tips to share.
Eggs one by one - In this recipe I'm only using 1 egg since I don't want to make so much. If you're doubling this recipe then when making the cream puff batter, add in the eggs one by one and make sure you mix until the batter is smooth after each addition.
Fan forced oven - I normally don't bake with fan forced for my sweet bakings but I do notice that in this case it's really needed because you want the air to be circulated good to help the cream puffs dry/cook very well.
Pipe them tall - You will get more beautiful cream puffs if you pipe them tall instead of wider, before you bake them. I find using a piping bag really makes it easier.
Craquelin size - if you want the craquelin to cover the entire cream puff then cut the craquelin slightly bigger than the piped cream puff. If you want it to cover just halfway, then cut it slightly smaller.
Strawberry Custard
My city is known for its amazing strawberries in Spain. We love to buy local produce in season that are just fresh and amazing.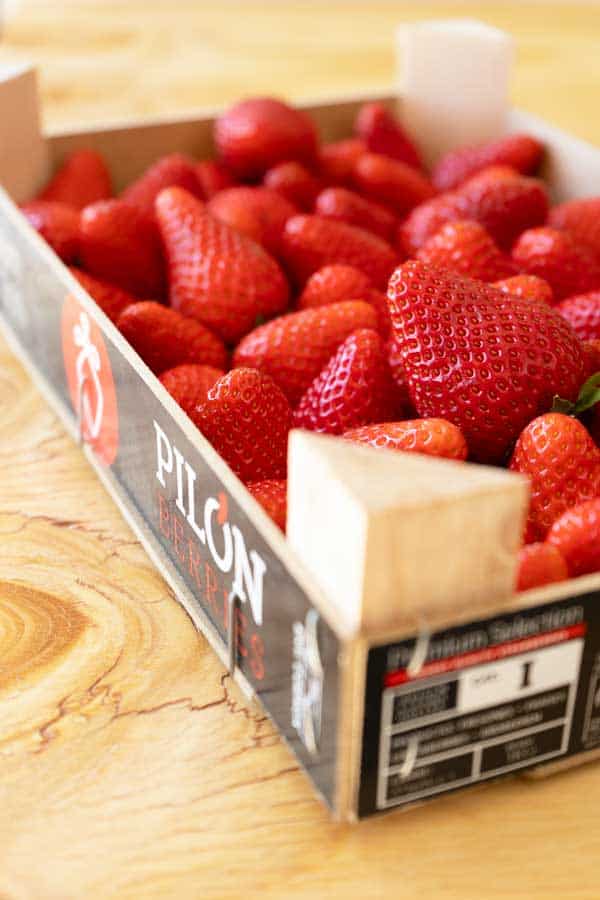 Now is the strawberry season and they are looking so wonderful. And not to mention they're also cheap.
So instead of vanilla custard or whipped cream as the filling, I'm using strawberry custard for these cream puffs.
You can make it ahead of time with no problem. It's even better to let it chill for several hours in the fridge so that it's firmer and easier to pipe later.
I hope you've enjoyed today's recipe. Do let me know what other recipes would you like to see.
In Summary
These strawberry cream puffs are:
so much more easier to make than it looks
use only a few basic ingredients
the filling can actually be whatever you want
just simple FUN to make and DELICIOUS!
Before You Go
Maybe you would like these recipes also:
Video
📖 Recipe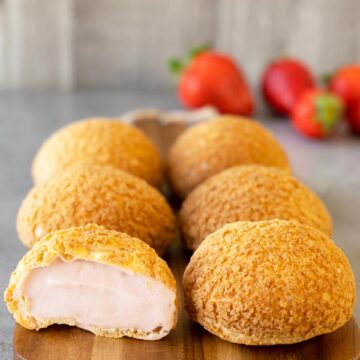 Strawberry Cream Puffs (Choux Craquelin)
These cream puffs are really easier to make than they look. Just follow these easy steps and you WILL get amazing cream puffs.
Print
Pin
Rate
Ingredients
The Strawberry Custard
3.5

oz

strawberry

(

100

g), cut into chunks

2

egg yolks

3

tablespoon

corn starch

(

24

g)

⅓

cup

sugar

(

65

g)

pinch of salt

½

teaspoon

vanilla extract

1

cup

milk

(

250

ml)

⅓

cup

whipping cream min 35% fat

(

80

ml), chilled
The Craquelin
¼

cup

butter

(

60

g), softened

⅓

cup

brown sugar

(

55

g)

½

cup

all purpose flour

(

65

g)
The Cream Puffs
2

tablespoon

butter

(

30

g)

¼

cup

water

(

60

ml)

½

tablespoon

sugar

pinch of salt

¼

cup

all purpose flour

(

30

g)

1

egg

, room temperature
Instructions
The Strawberry Custard
Blend strawberries into puree and set aside. In a bowl, add in egg yolks, corn starch, sugar, vanilla extract and pinch of salt. Whisk until the mixture turns pale. Set aside.

Pour milk into a pot and heat until it starts to simmer. Take ½ cup of the hot milk and slowly pour in the yolk mixture while whisking it.

Now pour the whole thing into the pot, together with strawberry puree and cook on medium heat until thickened. Whisk continuously.

Once thickened, sift the custard into a bowl. Place cling film on its surface, covering all. Leave to cool at room temperature and then chill in the fridge for 4 hours.
The Craquelin
Add butter and sugar into a bowl and mix them together using a spatula. Then add in flour and mix everything well. Form into a flat disk.

Place it between two baking sheets and roll it into ⅛ inch (3 mm) thickness. Place in the freezer for 30 minutes.
The Cream Puffs
Into a small pot, add in butter, water, sugar, salt and bring it to a boil and until the butter has melted. Remove from the stove.

Add flour all at once and immediately mix everything using a wooden spoon. Bring the pot back to the stove and continue cooking on medium heat until everything comes together into a ball. Remove from the stove and leave the dough to cool for 10 minutes.

Now add in egg and mix everything until smooth. Put the batter into a piping bag and pipe on a baking tray with baking sheet. Make sure to leave 2 inch (5 cm) space between them.

Take out craquelin from the freezer and cut out into circles using a cookie cutter. Place on top of piped dough.

Bake in a preheated oven, fan forced at 400ºF (200ºC) for 20 minutes. Cool completely on a rack.
Assembling
Whisk chilled custard until smooth, set aside. In another bowl, whisk whipping cream until stiff peaks. Add into custard bowl and gently fold everything together.

Put mixture in a piping bag with a small round nozzle. Gently poke a hole at the bottom of a cream puff and pipe the filling in. Continue with the rest.

Note: I would recommend you to make the custard cream filling and have it chilling in the fridge for a while to make piping easier.
How To Serve
These cream puffs are best served immediately after piping the filling in. If you leave them too long, they will absorb the humidity of the filling and start losing the crunchiness of the craquelin.

Empty cream puffs are great on the day of baking. The craquelin will not be crunchy the next day.
How To Store
Keep empty cream puffs in air tight container at room temperature.
How To Get It Right
Please refer to my post above where I wrote some tips on how to make them without any problems.
Nutrition Facts
Calories:
195.1
kcal
,
Carbohydrates:
22.8
g
,
Protein:
2.9
g
,
Fat:
10.5
g
,
Saturated Fat:
6.2
g
,
Cholesterol:
74.2
mg
,
Sodium:
73.8
mg
,
Potassium:
80.2
mg
,
Fiber:
0.4
g
,
Sugar:
14.4
g
,
Calcium:
47.2
mg
,
Iron:
0.6
mg