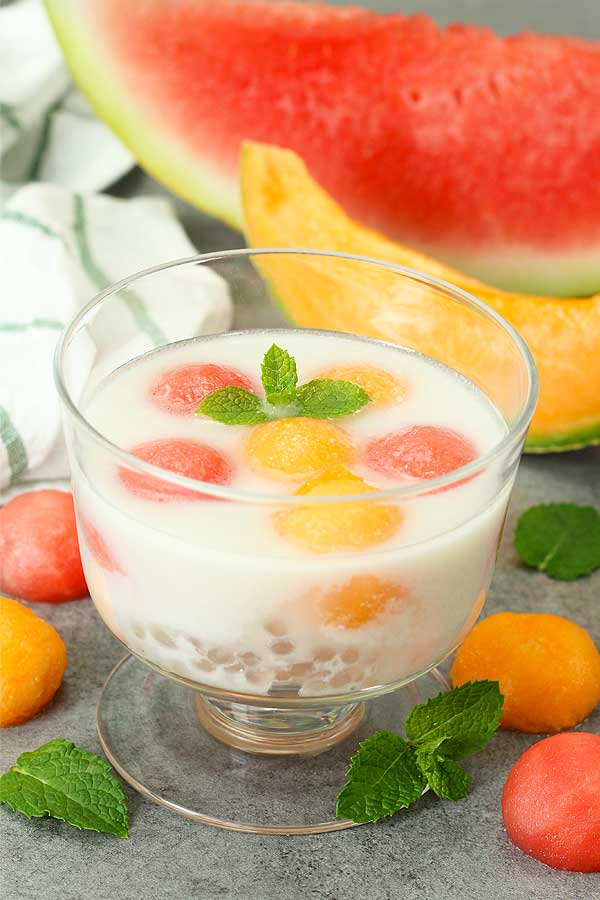 A Different Type of Summer Dessert
Why not venture out from the ice creams for dessert this summer? Try something new. Try this tapioca pearls with sweet coconut instead. Wait, what is that, you might ask.
It's a dessert or sweet treat that's very common in Southeast Asia. There are quite several variations to this dessert. Some like to simply have the tapioca pearls with coconut milk and coconut sugar syrup.
The recipe that I'm sharing with you is simpler and uses the fruits that are available everywhere in the summer. Watermelon and cantaloupe. Not only they're refreshing, they also add beautiful colours to this dessert.
What Are Tapioca Pearls
Well tapioca pearls are exactly what they're called. Small balls made with tapioca starch and when boiled to cook, they turn into these beautiful transparent looking balls. Exactly like pearls. The texture is a tad chewy, which is amazing for this dessert.
Cooking tapioca pearls is easy. Just boil them. They have high content of starch so just make sure your water is on rolling boil before adding in your pearls. This is to avoid them getting all clumpy.
Keep on boiling for around 20 minutes or until you see the pearls are transparent with small white dot in the center. That means the pearls are ready and cooked. Then carefully drain and rinse them under cold water to remove the excess starch and stop them from further cooking.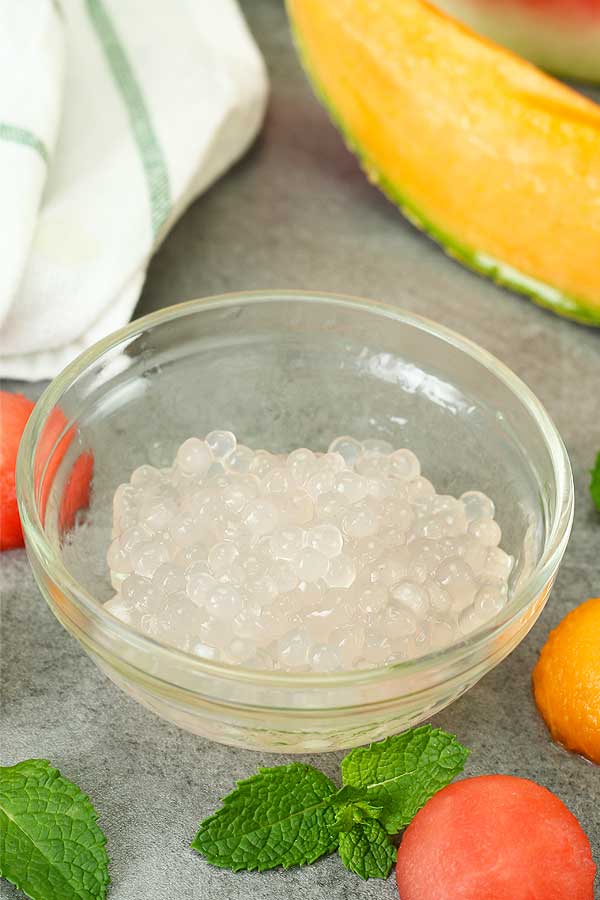 Sweet Coconut
In general, Asian desserts always have coconut component to them in some way. This is no different. The soupy component consist of coconut milk and coconut water.
As coconut milk goes, it's always great to add a tiny amount of salt to bring out the taste of it. And for the coconut water, do adjust the sugar accordingly as some coconut waters come sweeter than others.
Some people like to have this dessert at room temperature and some people (like me) like to have it cold. What I like to do is prepare the sweet coconut first and then chill it in the fridge for a few hours before I start preparing the rest.
Asian Dessert In A Bowl
There are several ways to serve this delicious and refreshing dessert. I'm sharing with you the way I always serve it.
Tapioca pearls tend to absorb liquid and get bigger in time. So what I like to do is prepare the pearls when I'm about to serve it. I like to prepare the sweet coconut a few hours beforehand hand and have it chilling in the fridge.
So when it's time to serve, I simply spoon some tapioca pearls, add some fruits, in this case watermelon and cantaloupe and then pour in the chilled sweet coconut. Easy, right?
You can use your favourite fruits, there are no rules to this recipe. Try strawberry, peach, papaya, lychee..the choice is yours. Enjoy!
More Refreshing Desserts
Video
📖 Recipe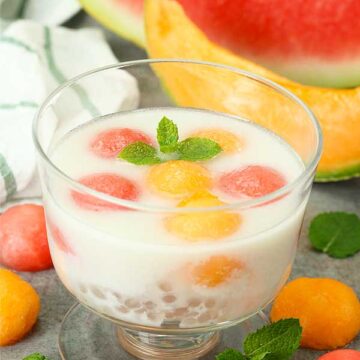 Tapioca Pearls with Sweet Coconut
Refreshing summer dessert, Asian style. Tapioca pearls, sweet coconut, watermelon and cantaloupe. A different and delicious dessert to enjoy this summer.
Print
Pin
Rate
Ingredients
1

cup

coconut milk

(

250

ml)

½

cup

coconut water

(

125

ml)

¼

cup

granulated sugar

¼

teaspoon

salt

½

teaspoon

vanilla extract

½

cup

tapioca pearls

(

80

gr)

some fruit pieces

, I used watermelon and cantaloupe
Instructions
Add the coconut milk, coconut water, sugar, salt and vanilla extract to a sauce pan on low heat. Cook until the sugar is dissolved. Then chill in the fridge.

Bring a pot with abundance of water to a rolling boil. Add the tapioca pearls. Cook for 20 minutes or until the pearls are transparent with a small white dot in the center. Drain and rinse under cold water to remove the starch.

Scoop some cantaloupe and watermelon flesh and set aside.

To assemble, scoop some of the cooked tapioca pearls in a bowl, add the pieces of fruit and complete with the sweet and chilled coconut soup. Enjoy!
Nutrition Facts
Calories:
346.5
kcal
,
Carbohydrates:
49.2
g
,
Protein:
2.3
g
,
Fat:
17.2
g
,
Saturated Fat:
15.1
g
,
Sodium:
252.4
mg
,
Potassium:
345.1
mg
,
Fiber:
0.9
g
,
Sugar:
23
g
,
Calcium:
33.9
mg
,
Iron:
3.3
mg