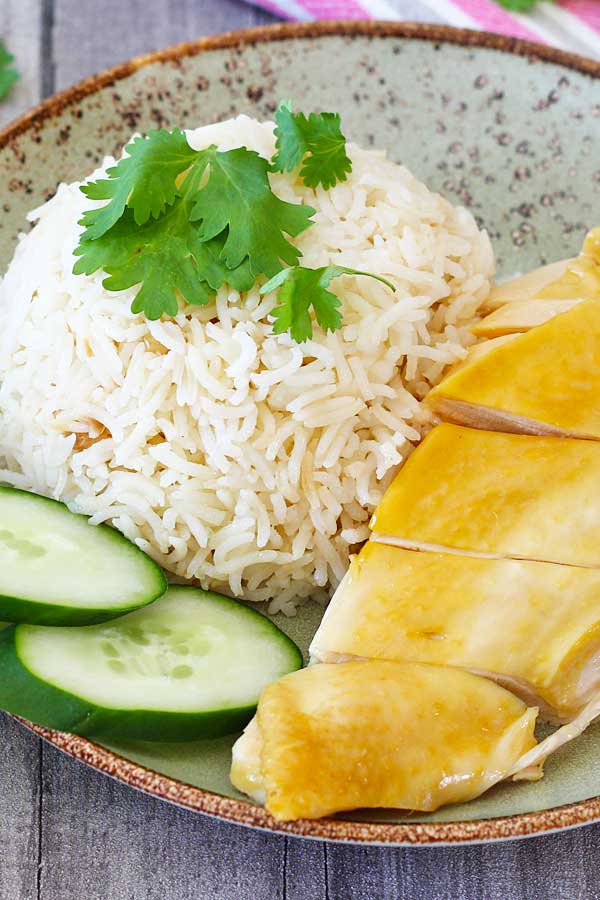 Background
Chicken rice is a very well known and loved meal in Southeast Asia. There are of course many variations of it, according to each country. If you have tried any chicken rice dish, maybe you would remember Hainan or Hainanese chicken rice. Very delicious!
This Thai chicken rice is very similar to Hainanese chicken rice but with simpler steps and elaborations. At least, for me. In our house, both Thai and Hainanese chicken rice dishes are winners! Well for me personally between those two, I would go for Thai chicken rice.
More when I see I'm limited with time and yet we want to indulge in our chicken rice feast.
There are 4 parts of this Thai chicken rice recipe. They're the chicken, the rice, the soup and of course the sauce. We will go through them one by one, in my version of this delicious Thai chicken rice recipe.
The Chicken And The Broth
First we will prepare the chicken and the broth. The broth is going to be used for cooking the rice, as a soup and in our sauce.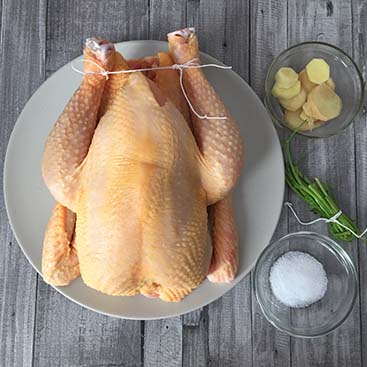 I used free range chicken for this recipe and it was around 1.7 kg. A medium sized chicken I would say. First I cleaned and scrubbed the skin with some coarse salt. This is to take out any impurities on the skin and it also makes the skin looks brighter.
Or is it just me? I tied the legs together so that it would be easier for me to handle. One tip, if you haven't known it already, tuck in the tip of the wings under well.. the wings themselves. This is to prevent them wailing around in the pot.
There's not an exact amount of water used for cooking the chicken and making the broth. But it's going to be more or less the same. Find a pot that fits nicely for your chicken and fill it with some water. Bring it to a boil.
When it started to boil, then add in the whole chicken, salt, sliced ginger and coriander stems. I tied them together so that it would be easier to take them out later. Originally, coriander roots are used but since I didn't have any so I used the next best thing, the stems. Add more water just until covering the chicken.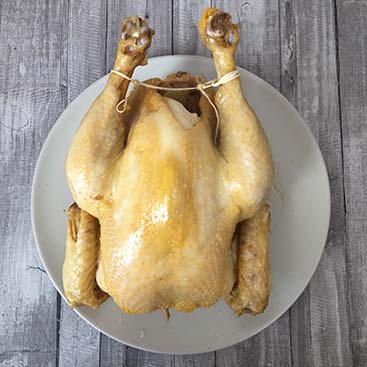 I cooked the chicken on low heat. Very gently simmer. This is to preserve the chicken skin and make it plump. As you can see, the cooked chicken looked equally fresh, intact and with beautiful skin.
The reason to pay such importance to the skin is because for this meal, the chicken is served with its skin. The same with Hainanese chicken rice.
I cooked my chicken for 30 minutes. The time varies depending on the size and the heat used, of course. After it was cooked, I carefully took it out and put it on a plate. I didn't want it to continue cooking in the hot broth.
I brushed the whole chicken with a bit of oil, just so the skin didn't get dry. For this meal, we will serve the chicken at room temperature.
After done with the chicken, I took out the sliced ginger and knotted coriander stems from the broth. I saved the broth as I will be using it later to cook the rice, preparing the soup and the sauce.
One tip. When the chicken is cooked, I put my basmati rice to soak. As I only needed it to be soaked for 20 minutes, it would give me enough time to proceed with the rice preparation meanwhile.
The Rice
For me, the essential component in cooking this Thai chicken rice is the fried garlic. LOTS of them. Combined with the chicken broth and fried garlic, the rice released such an aromatic smell that you will know it in your heart that it was going to be great!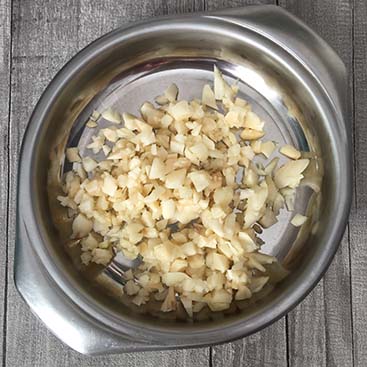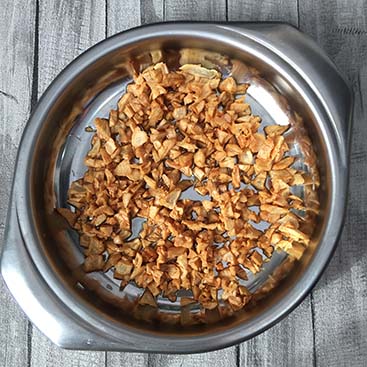 I used 1 head of garlic and chopped them. Not too fine as I wanted the garlic to be visible in the rice. I simply fried the chopped garlic in my wok, with quite lots of oil. Well just enough to do the frying, you get what I mean.
I kept on stirring them so that they didn't stick to each other and so they cooked evenly. Then I remove them from the oil and set aside while I proceeded on with my rice.
By this time, my basmati rice would be soaked and ready. I used ratio of 1 cup of basmati rice to 1.5 cup liquid. In this case the liquid will be the chicken broth. For my 2 cups of basmati rice, I measured 3 cups of chicken broth that I saved earlier and pour in into my casserole pan.
I like to use casserole pan for its width, as this ensures the rice to be cooked evenly. Using medium heat, I let the chicken broth came to a boil. Then I added my previously soaked and drained basmati rice into the pan with some salt. Then went in the fried garlic.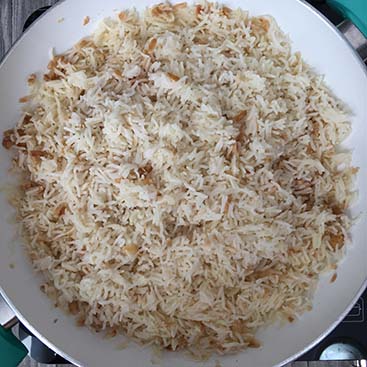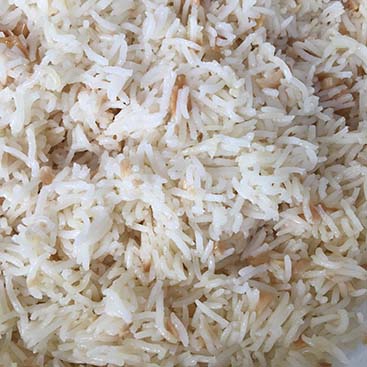 I gave it a quick stir so that everything was mixed together and let the broth came to a boil again. Then I reduced the heat to low and cooked the rice for 15 minutes. I have an induction stove in my house and I used heat level 2.
When the rice was cooking, the smell was incredible! The whole house smelled so aromatic. After 15 minutes the rice was cooked, like always I just gave it a quick fluff all over and cover the lid back on.
The Soup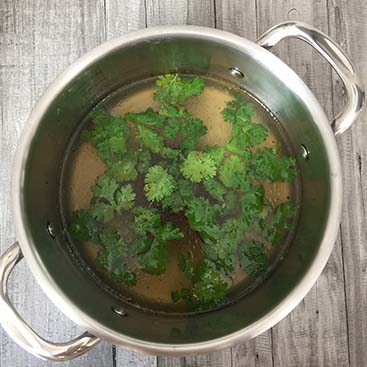 The soup was so easy that I feel it needed no recipe for it. I measured just 1 liter of chicken broth that I saved earlier and put in into a pot. Then I added some salt, black pepper and some coriander leaves. I simply heat the soup, I didn't boil it. It didn't need it.
The soup was simple and refreshing, perfect component to this Thai chicken rice. You can of course modify it according to your taste. No harm done. Just try to make it as simple as you can to preserve the refreshing taste and component to this meal.
The Sauce
These were the ingredients that I used for the sauce. I switched from using coriander roots to using coriander leaves and the stems. It's very difficult to find coriander roots in my place. So I went for the next best thing.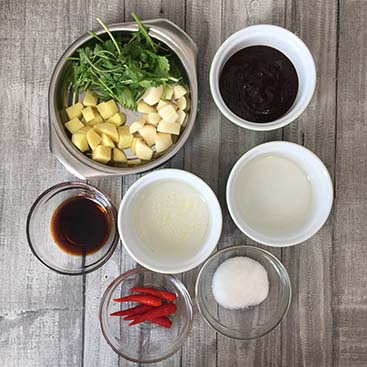 The second thing that I switched was, using black bean sauce. The sauce requires fermented yellow soy bean sauce and again, I didn't have it. Using black bean sauce, for me, was as delicious! Black bean sauce is less salty than fermented yellow soy bean sauce so that's a plus.
I simply use my food processor and blend the coriander leaves, the stems, ginger, garlic, Thai red chillies together with black bean sauce, soy sauce, rice wine vinegar, some chicken broth and salt. It was that easy!
You can adjust the heat by adding or reducing the amount of Thai red chillies. I didn't make my sauce Asian level spicy as my husband hasn't reached that level yet.
Assembling
Time to eat!!
The normal way to serve the rice is to put it in a bowl, slightly press it and flip it onto a plate. This will create a beautiful small mountain rice shape. I cut out one chicken breast from the whole chicken, carefully not to break its skin.
Then using a cleaver, I press down the chicken breast so that it was a bit flatter. Then I sliced it and place it alongside with my rice. I added some cucumber slices too.
I served the soup and the sauce in separate bowls, on the side. Simple and straightforward recipe, don't you think? If you ever wanted to try a refreshing chicken rice dish, do consider this Thai chicken rice dish. I think (and hope) you're going to like it!
More Thai Recipes
Video
Note: The amount of chicken broth should be 3 cups, not 6 cups as put in the video. Type error. Sorry for the inconvenience.
📖 Recipe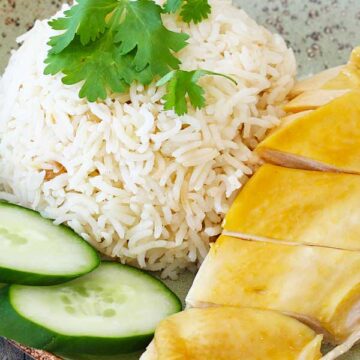 Thai Chicken Rice
Aromatic fluffy rice cooked in chicken broth and fried garlic, juicy chicken, refreshing soup and a sauce with a kick to it, that's how I would describe this Thai chicken rice dish.
Print
Pin
Rate
Ingredients
The chicken and broth
1

whole chicken

, around

3.7

lb (

1.7

kg)

2

teaspoon

salt

2

inch

ginger

, sliced

water

, enough to cover the chicken

coriander stems

, tied into a bundle
The rice
1

head

garlic

, peeled and chopped

2

cup

basmati rice

(

380

g), soaked for 20 minutes and drained

3

cup

chicken broth

(

750

ml), from cooking the chicken

1 ½

teaspoon

salt
The soup
4

cup

chicken broth

(

1

liter), from cooking the chicken

1

teaspoon

ground black pepper

½

teaspoon

salt
The sauce
½

cup

black bean sauce (

125

g)

1

oz

ginger

(

30

g), chopped

1

oz

garlic cloves

(

30

g), peeled and chopped

some coriander leaves and stems

¼

cup

white vinegar

(

60

ml)

¼

cup

chicken broth

(

60

ml), from cooking the chicken

5

Thai red chillies

, add or reduce to your taste

1

tablespoon

granulated sugar

1

tablespoon

soy sauce
Instructions
The chicken and broth
Choose a pot that fits your chicken nicely. Fill it with water and bring to a boil. Add in chicken, ginger, salt and coriander stems. Reduce heat and let it simmer very gently for 30 minutes or until the chicken is fully cooked.

Remove the chicken from the broth, to prevent it from continuing cooking. Optional, brush it with some oil to prevent the skin getting dry. Remove ginger and coriander stems from the broth. Save the broth for later use.
The rice
Heat some oil and add in the chopped garlic. Stir frequently and fry until they're golden brown. Remove from the oil and set aside.

In a casserole pan, add in the chicken broth and bring it to a boil. Add in drained basmati rice together with salt and previously fried garlic. Give it a quick stir and bring it to a boil again. Reduce the heat to low, cover the lid and cook for 15 minutes or until the rice is fully cooked. Fluff it and cover the lid back on and set aside while proceeding with the rest.
The soup
In a pot, pour in 1 liter of previously saved chicken broth. Add in salt, black pepper and coriander leaves. Just heat it though, no need to boil. Set aside.
The sauce
In a

food processor

, add in all the sauce ingredients and blend. Set aside.
Assembling
Place some rice on a plate together with some cucumber slices. Cut out one chicken breast (in this case), carefully to preserve the skin. Using a cleaver, press a bit on the chicken breast and then slice it into pieces. Put it alongside with the rice and cucumber. Serve the soup and the sauce in separate bowls, on the side. Enjoy!
Nutrition Facts
Calories:
588.7
kcal
,
Carbohydrates:
64
g
,
Protein:
33.1
g
,
Fat:
20.9
g
,
Saturated Fat:
5.7
g
,
Cholesterol:
101.2
mg
,
Sodium:
2951.6
mg
,
Potassium:
455.9
mg
,
Fiber:
2.5
g
,
Sugar:
6.2
g
,
Calcium:
66.6
mg
,
Iron:
2.7
mg