First bread of the year and let's make it healthier with this whole grain wheat spelt bread!
Yep, quite a mouthful isn't it.
But trust me, you will be excited to know that this delicious nutritious bread is so simple to make.
Let's start.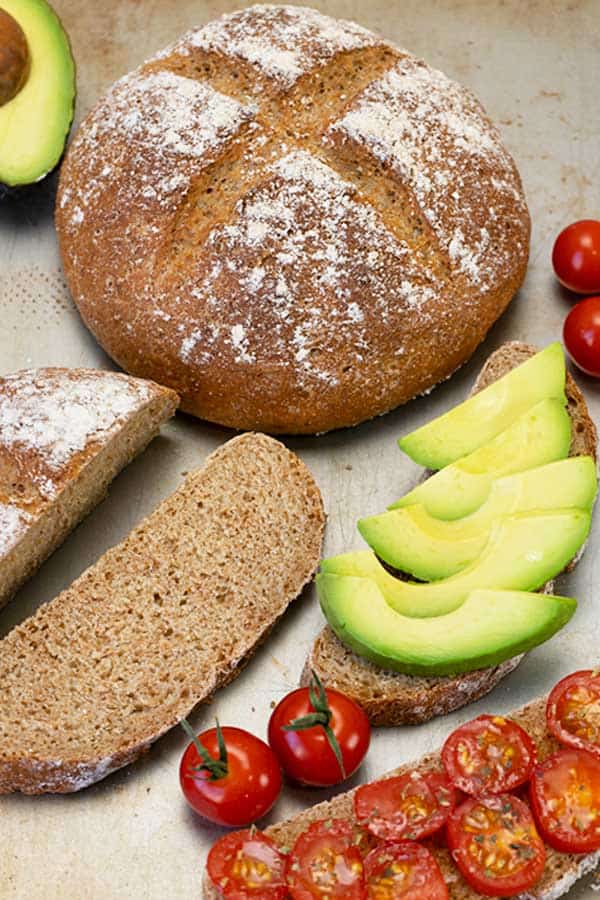 What Is Whole Grain Flour?
Ok first let's get some simple terms clear.
We make breads from flour. In general we get flour from milling grain kernels into fine powder.
Grain kernel consist of 3 parts:
the innermost germ
the endosperm that surrounds the germ
the bran that envelops them both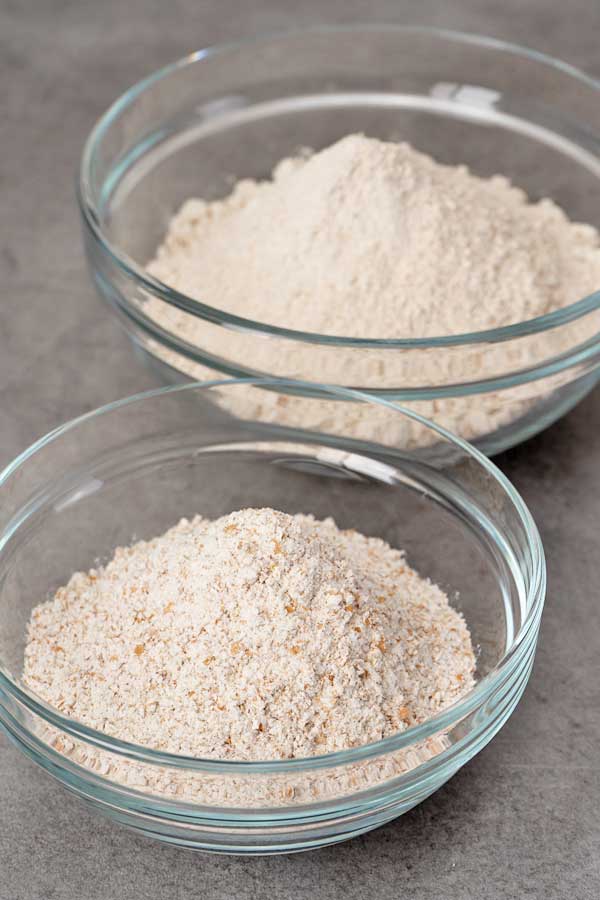 Wheat is a type of cereal grain and is the typical grain used for most breads.
White bread or wheat bread means that the bread is made using wheat kernels that have been processed, leaving only the endosperm. The innermost germ and the bran have been removed. White bread has lighter texture but with less nutrients.
Whole wheat bread means that the bread is made entirely from wheat kernels, no other types of grains are mixed in. The word whole means all 3 parts of the kernels are intact. Whole wheat bread is a healthier option than white bread (wheat bread) and is usually a bit heavier.
Whole grain bread means the bread is the same to whole wheat bread but the grain can be from other type of whole grains like whole barleys, whole oats and whole rice (brown rice).
Phew! End of class now?
So what I'm using in this recipe is whole grain wheat flour AND whole grain spelt flour.
Ok! I'll stop now. I promise.
What Is Spelt?
Spelt is an ancient grain and as an ancient grain it is said to have more nutrients and healthier than modern grains like wheat, corn and rice.
It has made a comeback as a healthy food.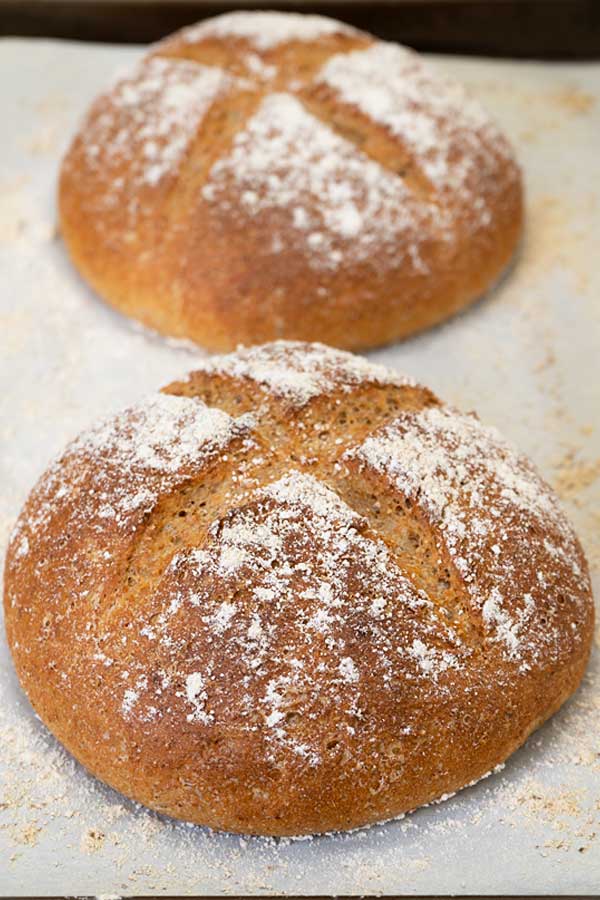 Spelt is strongly related to wheat but is not really the same like wheat.
Let's just say spelt is Thor's superhero great uncle that came back from the dead and now offers more valuable assets than Thor in the Avengers' team.
Healthier Option
This bread is a well rounded healthier option if you're into breads and still want to maximise the benefits from enjoying them.
Using whole grain wheat spelt flour means this bread is high in protein, fibre and makes you fuller than the typical white bread.
Due to spelt flour also, this bread has that delicious nutty taste to it. We absolutely love it!
We like to toast some slices and have them with some avocado or sweet cherry tomatoes. Don't forget to drizzle some extra virgin olive oil on the tomatoes and a sprinkle of oregano and salt.
They are not only healthy and delicious, they are also beautiful. Don't you agree?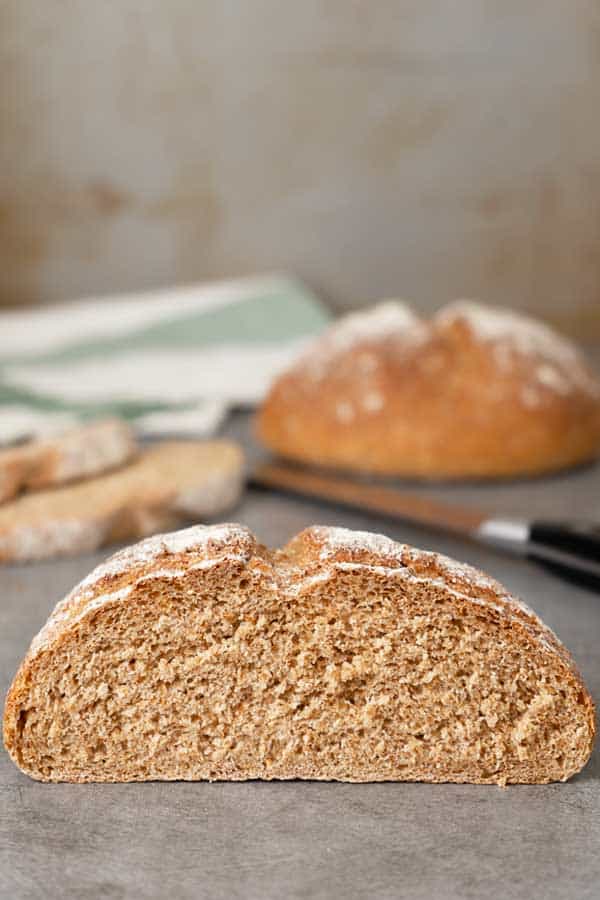 I hope you will give this super amazing and easy bread a try.
In Summary
This delicious homemade bread:
is with high fibre and healthier than white or wheat bread
has no processed sugar or fat
has lots of nutrients because it uses whole grain flours
is with extra nutrients benefits from whole grain spelt flour
easy to make, can be frozen with no problem
Before You Go
If you're into more of healthy recipes in general perhaps you would want to check these out:
Video
📖 Recipe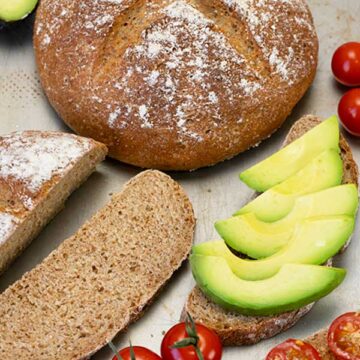 Whole Grain Wheat Spelt Bread
Definitely a healthier option of a bread. Simple and delicious. Spelt lends that amazing nutty taste to this bread.
Print
Pin
Rate
Ingredients
1

cup

warm water

(

250

ml)

2 ¼

teaspoon

dry yeast

(

7

gr)

1

tablespoon

honey

(

20

gr)

2

cup

whole grain spelt flour

(

260

gr)

1

cup

whole grain wheat flour

(

130

gr)

1 ½

teaspoon

salt
Instructions
The Bread
Mix honey with warm water and then sprinkle in dry yeast. Give it a mix and leave for 3-5 minutes for the yeast to activate.

Add the rest of the ingredients in a standing mixing bowl, including the yeast mixture. Mix to incorporate and then knead for 5 minutes.

Form the dough into a ball and place it in a lightly greased bowl. Cover the bowl tightly with a cling film. Leave for the dough to rise double its size.

Place the risen dough on a working surface and cut it into 2 equal pieces. Lightly form each piece into a ball and place them on a baking tray with a lightly floured baking sheet. Loosely cover them with a cling film and leave until the balls double their size.

Preheat oven at 410ºF (210ºC) with a deep baking tray at the bottom of the oven.

Sprinkle some flour on top of the balls. Using a very sharp knife, make a cross on top of each ball with ¾ inch (2 cm) depth.

Pour some hot water in the hot deep baking tray to create steam. Place the baking tray with the balls in the oven and bake for 25 minutes or until fully cooked. Cool completely on a rack.
How To Serve
Slice a fresh loaf and eat with some avocado, tomato cherry, cheese or your favourite marmalade.

You can also toast the slice for that crunchy texture and also bring it to life if you were to eat it after a day or two.
How To Store
Keep in a closed paper bag at room temperature.

Or slice the loaves, place in a ziplock bag and freeze. Take as needed, toast directly in a toaster.


Or keep whole loaves in a ziplock bag and freeze. Defrost at room temperature. Bring it back to life in the oven at 350ºF (175ºC) for 5 minutes.
Nutrition Facts
Serving:
1
loaf
,
Calories:
737
kcal
,
Carbohydrates:
141.9
g
,
Protein:
32.1
g
,
Fat:
5.1
g
,
Saturated Fat:
0.4
g
,
Sodium:
1784.2
mg
,
Potassium:
366.8
mg
,
Fiber:
21.3
g
,
Sugar:
9
g
,
Calcium:
31.1
mg
,
Iron:
2.6
mg