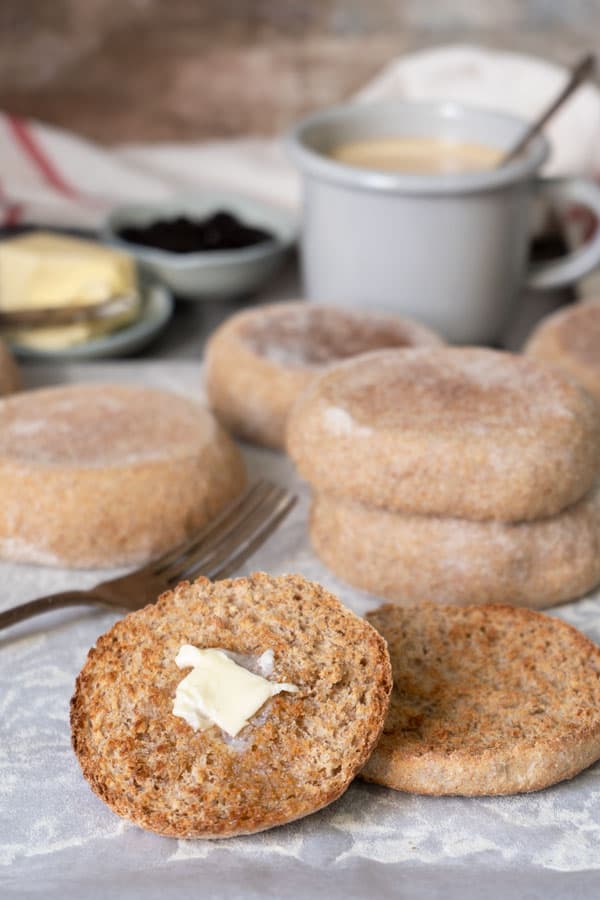 Hi folks, here we are yet again for another simple (yes you know it) and delicious (but of course, right?) recipe.
Today I'm sharing these whole wheat english muffins that are not just definitely a healthier option but these beauties have absolutely NO white flour or refined sugar.
Yes! Let's start!
Soft & Fluffy
Ok so when we hear the word whole wheat bread we will automatically imagine a dense bread, right?
Yea I know since that's the typical texture of whole wheat bread out there. But you know what? I will prove you wrong with these whole wheat English muffins 😉
These muffins use only whole wheat flour (yes, no other flours mix here) and I guarantee you soft fluffy texture on the inside, and when toasted you will get a crunchy texture on the outside.
The secret in working with whole wheat flour (at least personally for me) is using egg. It helps to avoid that dense texture and instead you'll get this amazing soft and fluffy breads/muffins.
Check out my everything but bagel whole wheat pull apart bread recipe, you'll see 😉
And hey, of course this one too! So if you're worry if these are going to be horrible, then worry not. Alright?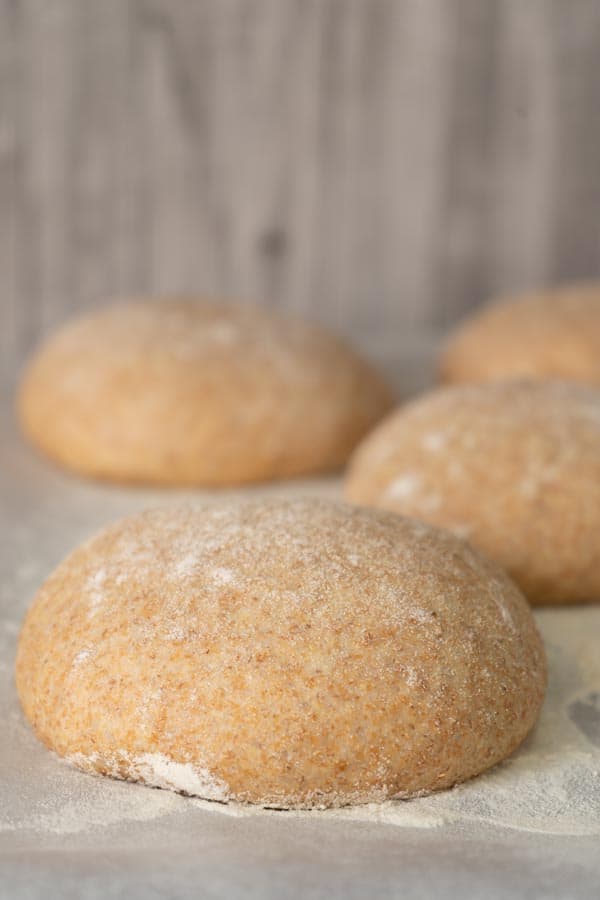 Healthier Breakfast Option
Why do I say that? Because in this recipe, I'm using healthier ingredients options.
Whole wheat flour is a better and healthier ingredient compared to all purpose flour, if you're thinking of going healthy. Well, I have to admit. With all the holidays and being carefree (maybe a bit too much? 😀 ), I always like to start the new year with somewhat healthier options. Don't you agree?
Whole wheat flour is high in fibre and protein content. Consuming high fibre food items is always good for our health. I mean, there's no secret about that.
I'm also using honey and extra virgin olive oil instead of sugar and butter. Another 2 more healthier ingredients 😉
And this recipe is the non traditional way of making English muffins so it's faster. No overnight rising whatsoever.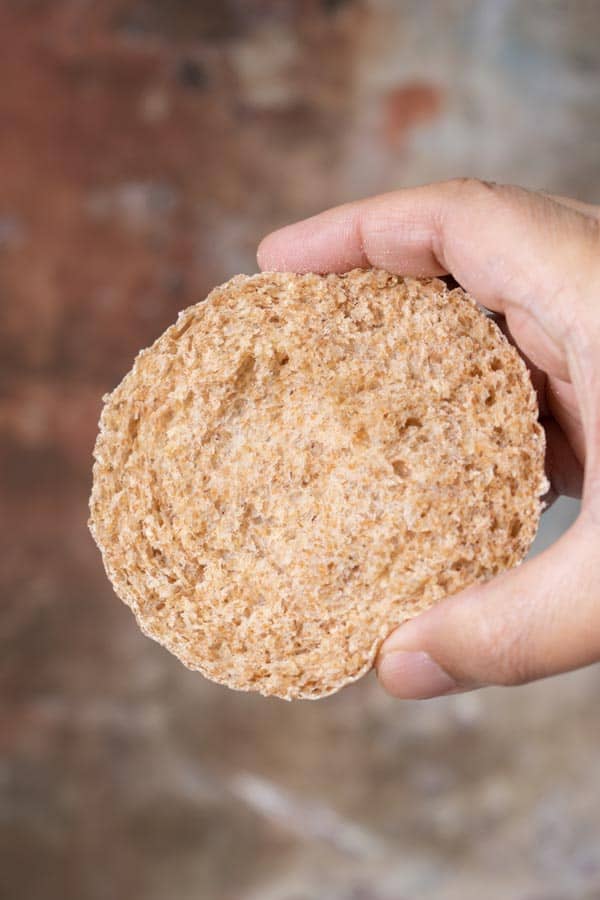 It's All About The Fork
Yeah baby!
So let's forget about our beautiful bread knives for these English muffins, we won't be needing any. In fact, the rule says (I don't know who invented it though 😀 ) that to slice up an English muffin, it is mandatory to use a fork.
What? A fork?
Yes! A fork. Ok so what you do is start stabbing all around the muffin with a fork, in a straight line of course. And then gently pull the muffin apart into 2. Genius, right?
And believe me, you will want to use a fork if you want that rough crunchy texture after you toast your English muffin.
Using a bread knife will make the surface too flat. Too boring in this case. And warm English muffins open up easier than cold or room temperature ones, just letting you know. Toast and spread my walnut basil pesto, oh la la!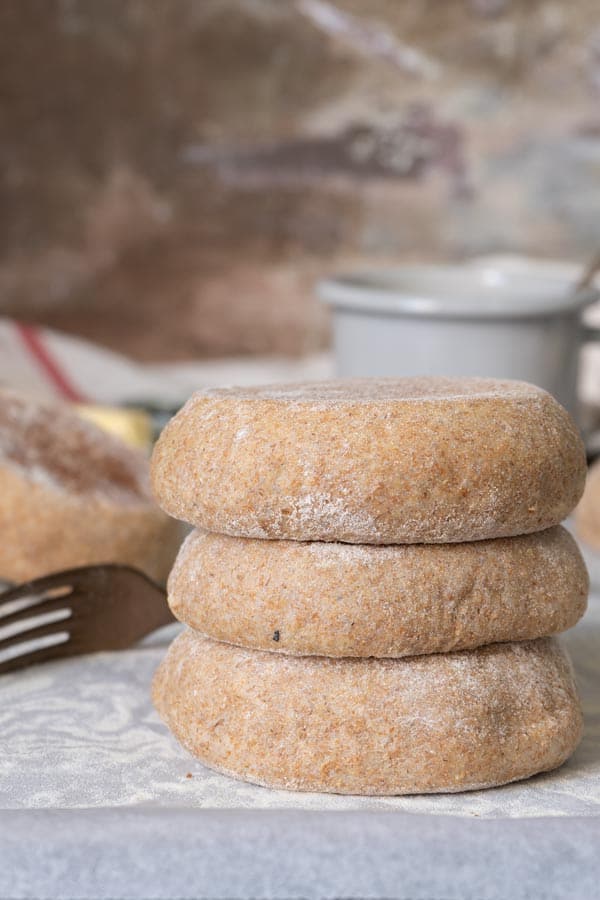 In Summary
These English muffins are:
perfect for your healthier breakfast option because they're made with healthier ingredients
use only whole wheat flour with no other flour mixes
soft and fluffy!
easier to make than you'd think
delicious and perfect for both sweet and savoury
Hungry For More Healthier Breads?
Check out these beauties:
Video
📖 Recipe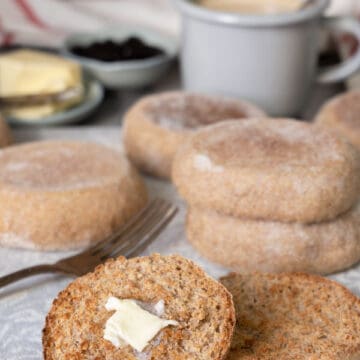 Whole Wheat English Muffins (Healthy, No White Flour Or Refined Sugar)
Come and try these whole wheat English muffins that are healthy and don't have any white flour or refined sugar in them. They are soft and fluffy, not what you would imagine of something made only using whole wheat flour. You'll get rough crunchy bits when you toast them. Delicious and healthier breakfast option!
Print
Pin
Rate
Ingredients
2 ½

cup

whole wheat flour

(

325

g)

1

tablespoon

honey

(

20

g)

2

tablespoon

extra virgin olive oil

1

teaspoon

salt

2 ¼

teaspoon

instant yeast

(

7

g)

1

large egg

, room temperature

¾

cup

warm whole fat milk

(

185

ml)
Instructions
Add all of the ingredients in a standing mixer bowl machine, using the dough hook. Mix everything together and then knead for 5 minutes. The dough will be sticky, don't worry.

Using a dough scrapper, scrap the dough into a lightly greased bowl and cover it tightly with a cling film. Leave for the dough to rise until double its size, around 1 hour.

Place the risen dough on a working surface and cut it into 8 equal pieces. Form each pieces into a ball and flatten them slightly with your fingers. Place them on a baking tray with a parchment paper and some sprinkled semolina. Cover with a cling film and leave until they double their size, around 30 minutes.

Note: Since this is a sticky dough, I'd recommend you to lightly grease your dough scrapper and your hand when working with it.

Lightly flour the working surface if needed, to avoid the dough from sticking.
Cooking & Baking
Heat a pan on medium low heat. Gently scoop the balls, one by one with a flat spatula and place it on the pan. Do them in batches and don't crowd the pan too much, to make it easier to flip them later. Cook for 2 minutes on each side and place them back on the baking tray.

Bake in a preheated oven at 320ºF (160ºC) for 10 minutes or until fully cooked. Place them on a rack. While still slightly warm, stab all around the muffins in a straight line, using a fork. Gently pull the muffins apart into 2. Toast and enjoy them however you like, sweet or savoury!

Note: Use the scoop and level method for measuring flour (if using cup measurement). I'd recommend using scale to be more precise.
Nutrition Facts
Calories:
206
kcal
,
Carbohydrates:
32.5
g
,
Protein:
8.3
g
,
Fat:
5.8
g
,
Saturated Fat:
1.2
g
,
Cholesterol:
26.1
mg
,
Sodium:
314.9
mg
,
Potassium:
122.6
mg
,
Fiber:
4.9
g
,
Sugar:
3.4
g
,
Calcium:
61.1
mg
,
Iron:
1.1
mg