Wonton is a type of Chinese dumplings that's made from dough and then shaped and cooked. It's typically with different types of fillings and are eaten with a type of sauce or in soups.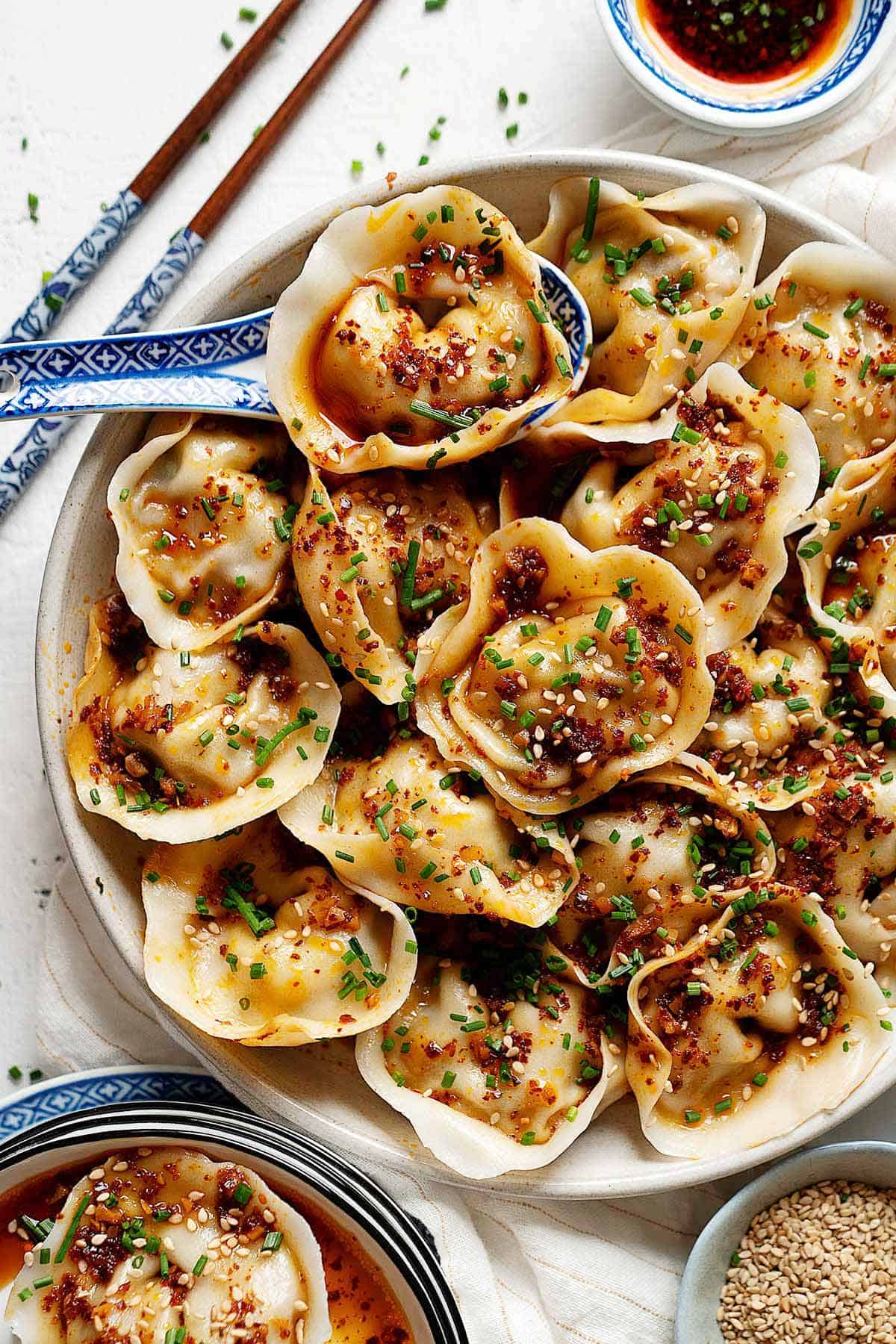 Oh just imagining that makes me drool already! Today I'm sharing with you my wontons in garlic chili oil!
Jump to:
Recipe Highlights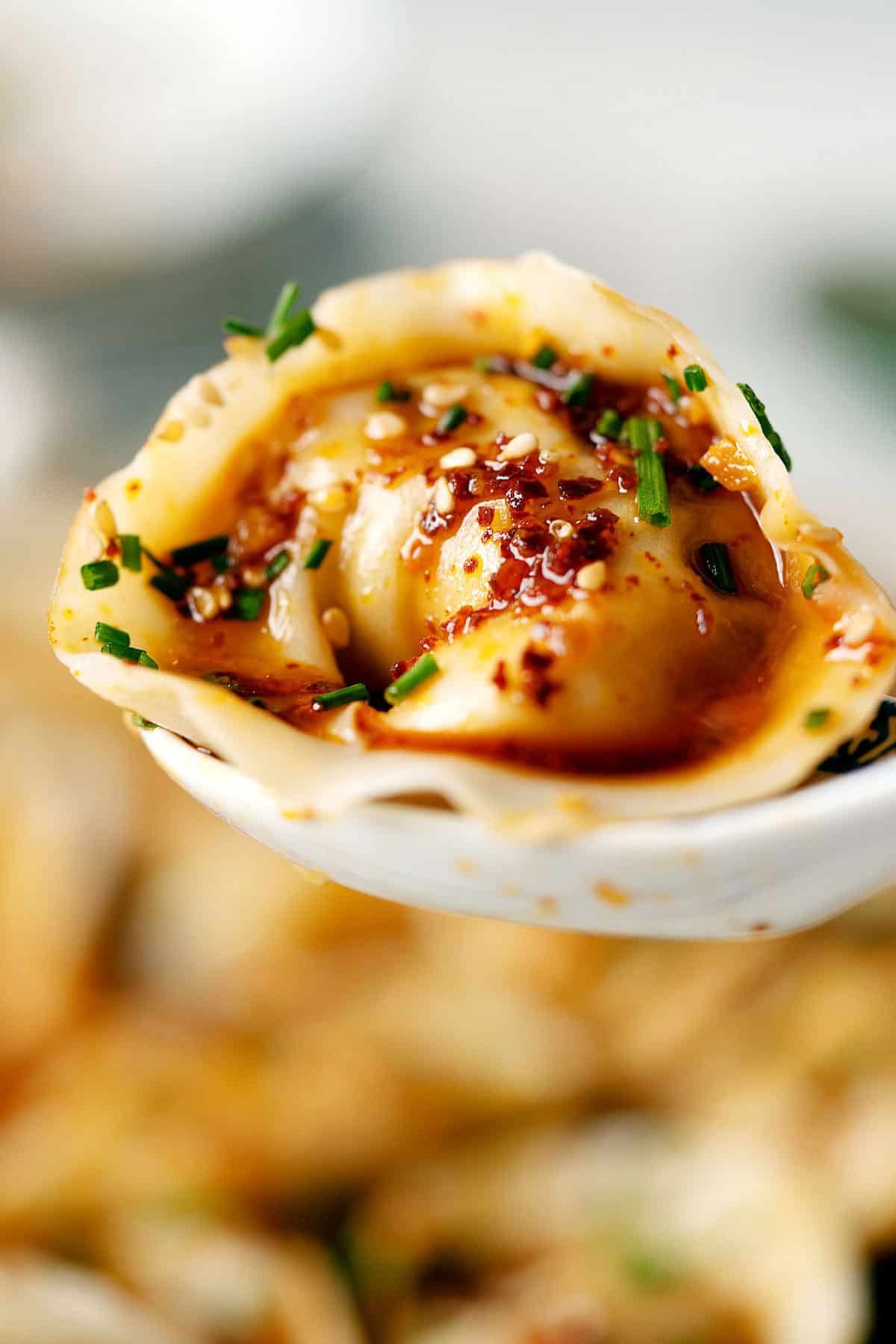 Texture and flavour - Soft wontons with juicy flavourful beef, spring onion and cabbage as filling, drenched in garlic chili oil sauce.
Size - 64 pieces.
Level - Easy but plan ahead. Grab a family member to help speed things up.
Occasion - Perfect for Asian theme party or gatherings, or simply to enjoy during the weekends with the fam.
Lets Talk Ingredients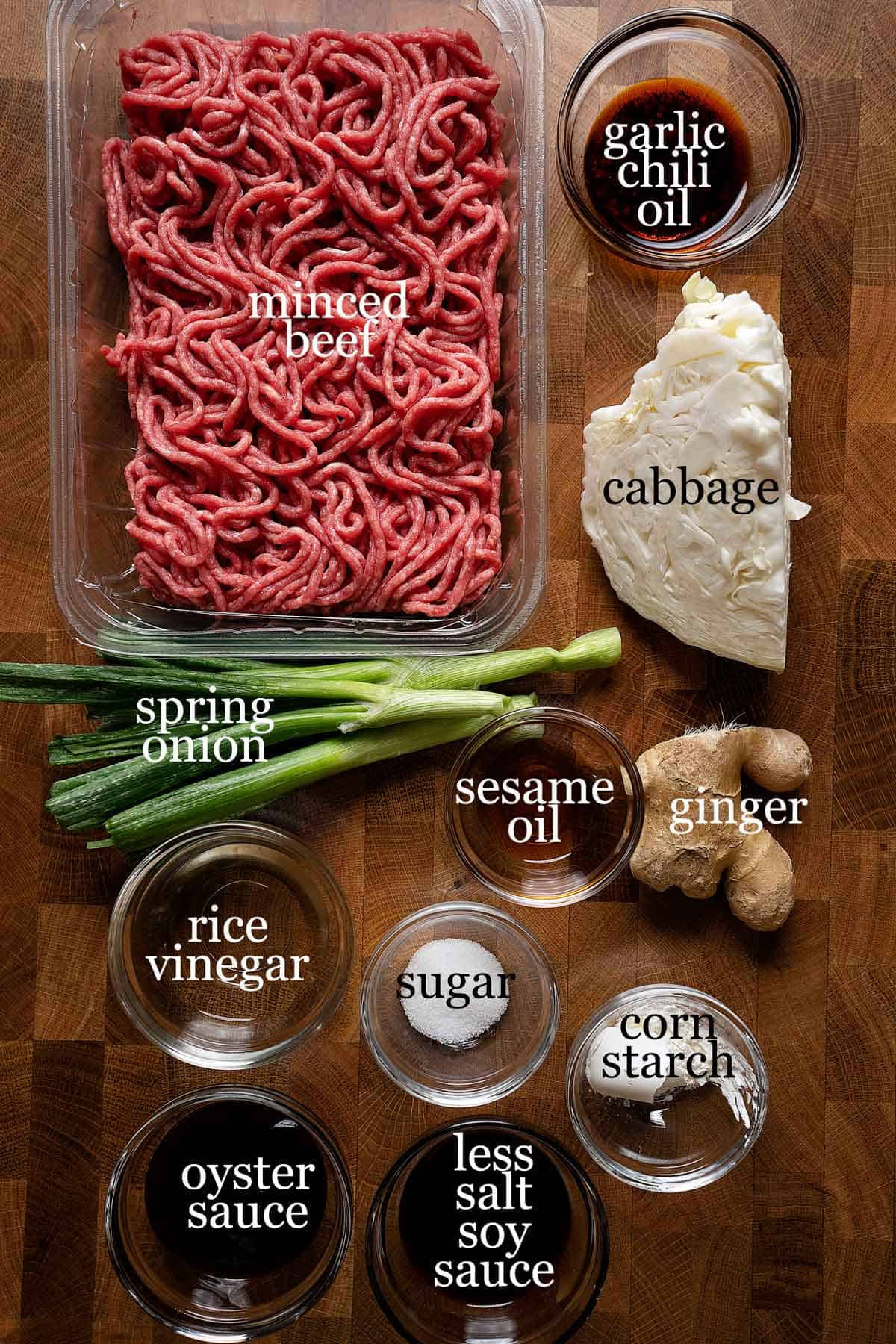 Minced beef - You can easily use chicken, pork, prawns or make a combo out of them like my chicken and shrimp dumplings. Your choice.
Spring onion - Is what's going to keep the filling juicy. Don't skip it.
Cabbage - Gives the filling a tad of texture, you can totally switch it with the same amount for spring onion.
Less salt soy sauce - I love to use it as it enables me to infuse more flavour without the salt. You can check my favourite Asian ingredients here.
SUBSTITUTION: Use half amount of regular soy sauce.
Execution And Cooking Tips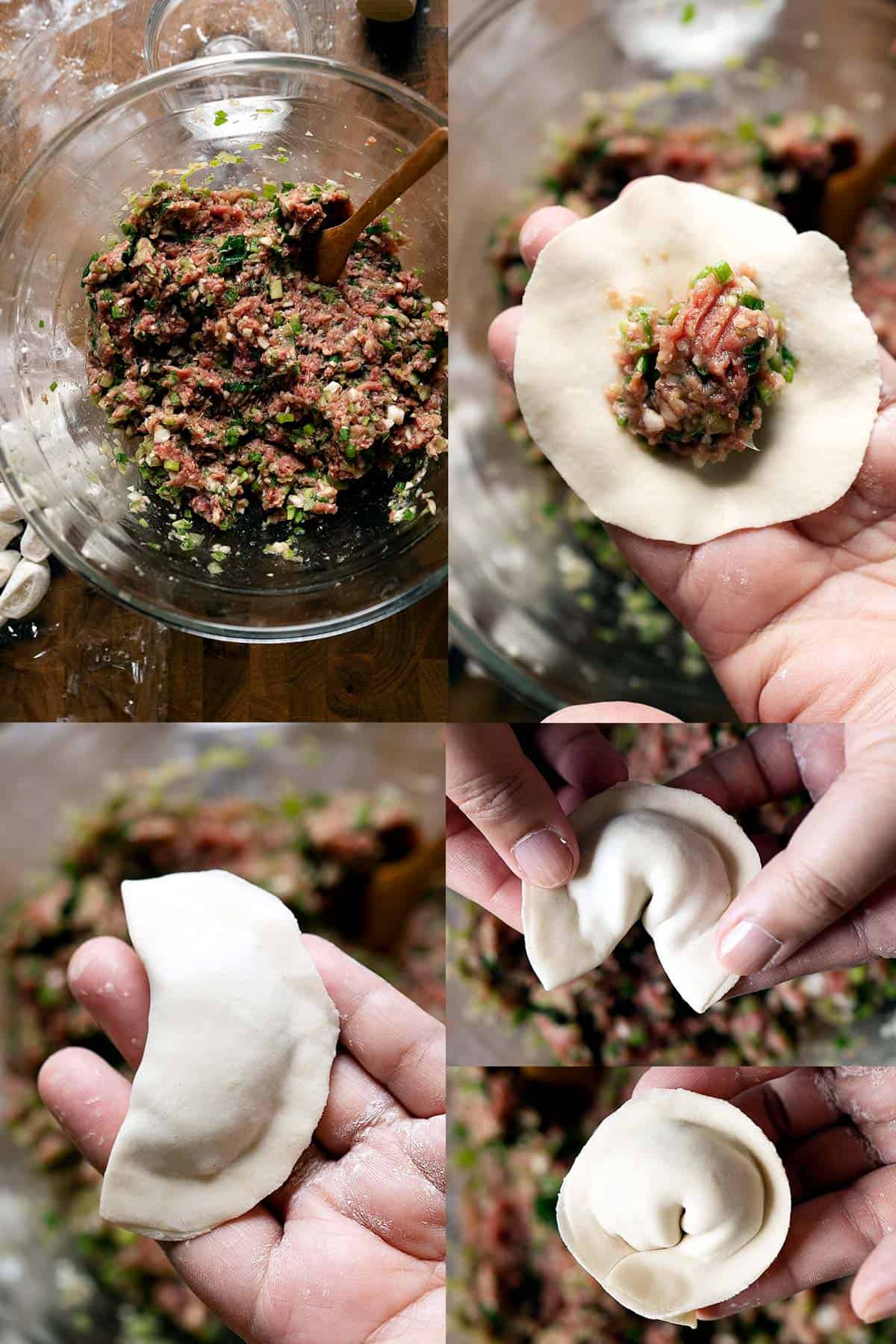 Follow my tips so that your wonton project is smooth sailing and disaster free! *wink!*
Make the dough first - I make my own wrapper dough, which is so easy and just perfect. The dough needs 1 hour of rest, so to save time make it first. While waiting you can go on and make the filling.
Plan ahead - You can also make the filling 1 day in advanced but just add the veggies the moment before you want to use it. This will prevent them from releasing water into the filling and looking all sad.
Grab a buddy - Make things faster and easier by asking somebody to help you with rolling or filling the wontons. If you're making them alone, no worries. Prepare 4,6 rolled disks at a time (don't put them on top of each other) and then fill them. Ask Alexa to play some music while you're at it!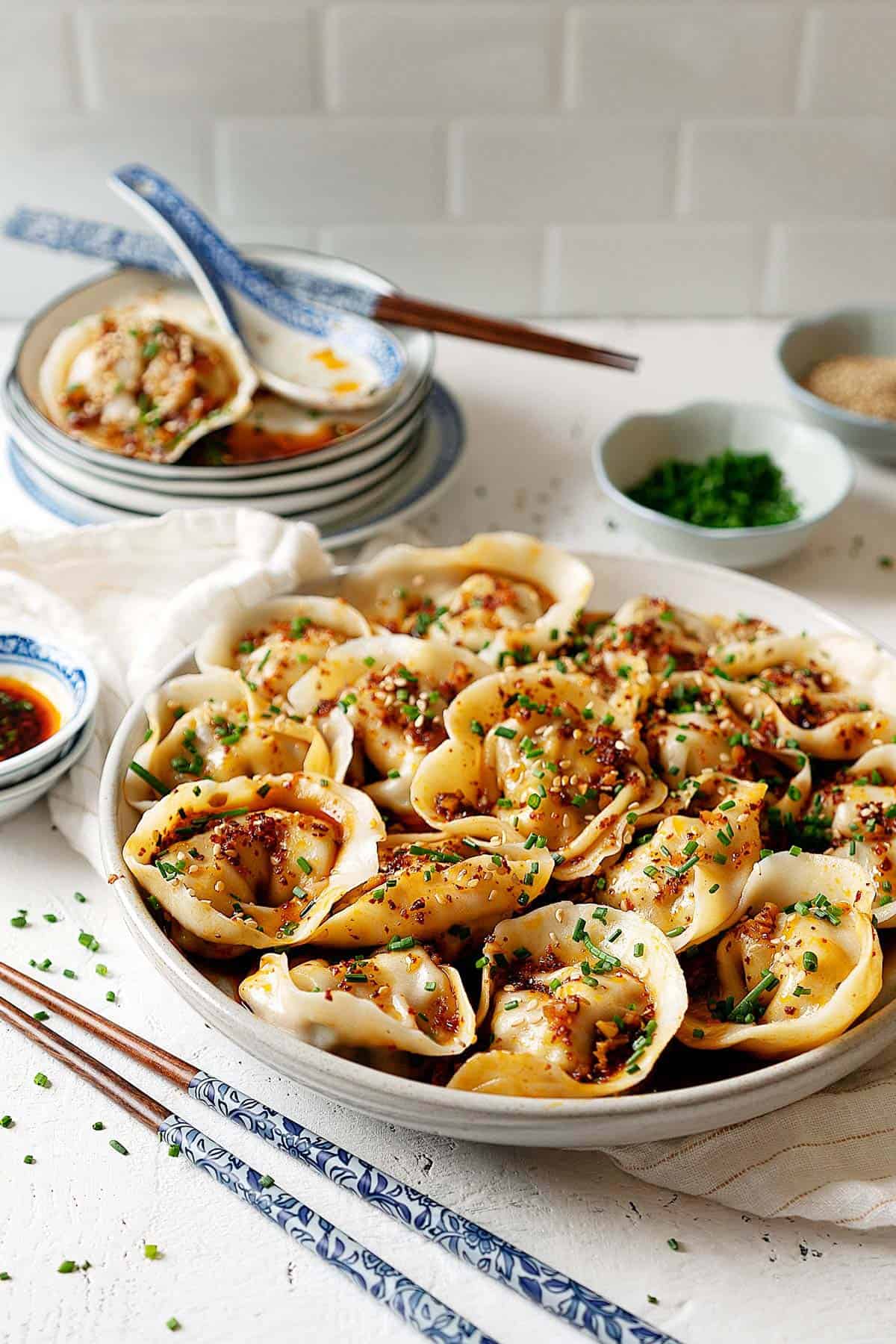 Sauce - Have your sauce ready before cooking the wontons. It'll make everything stress free.
Less is more - Don't overfill your wonton because then it'll be difficult to seal, and the filling might burst out when cooking them.
Boiling water - Bring the water to a boil, not rolling boil. No need to add salt in it. As soon as you add in the wontons in, lightly stir them so they don't stick to the bottom.
Cook properly - Wait until the wontons float to the surface and then continue cooking 1 minute more before taking them out.
Serve hot - They're the best when served piping hot. So prepare your serving plates beforehand.
Can I Freeze Them?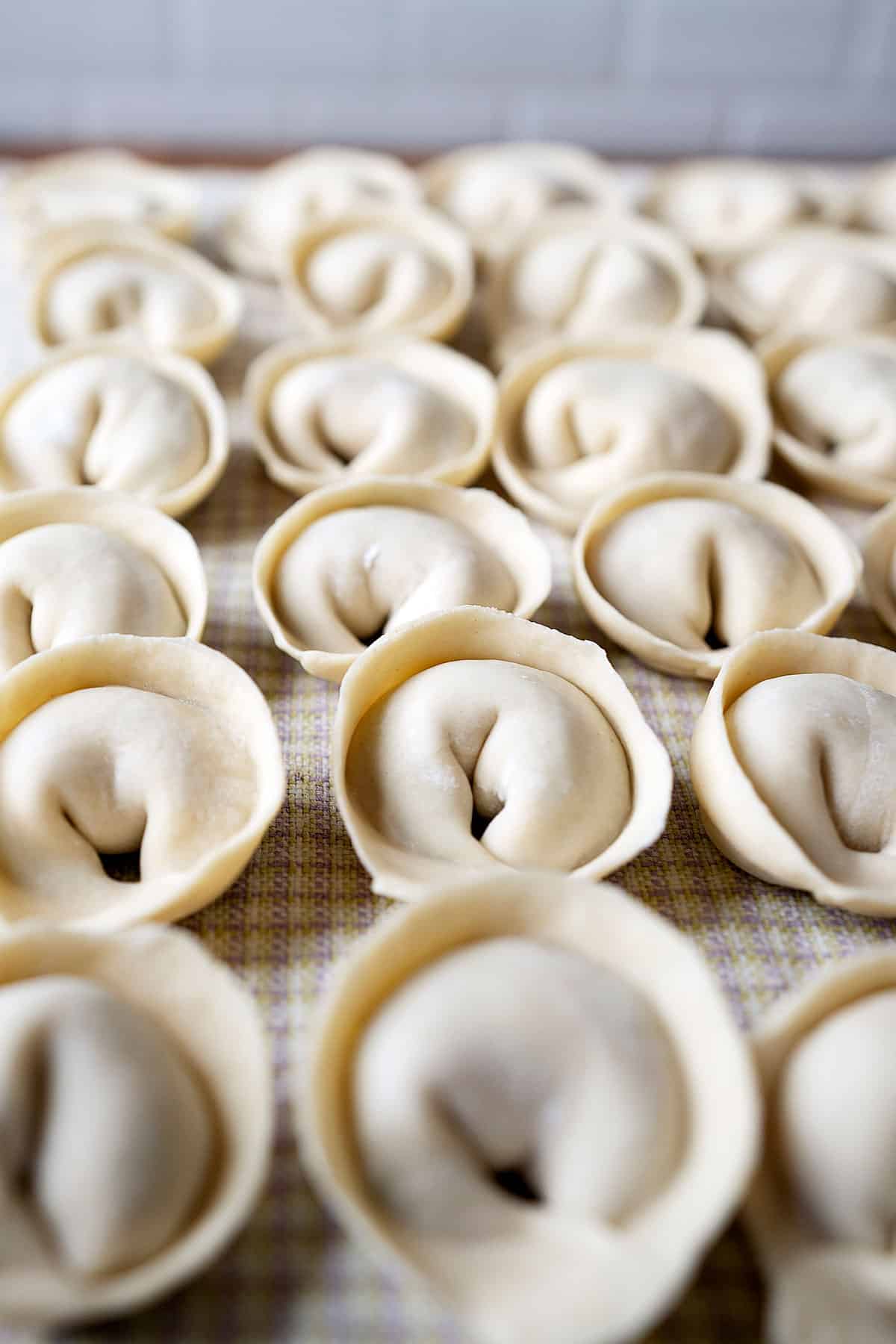 Yes, you definitely can! That's the best thing about them. That's why this recipe is quite a batch so that you just put the effort once and enjoy them for several times.
I use 2 batches of my homemade dumpling dough and divide each batch into 32 pieces.
Freeze them uncooked. Just make sure the protein source that you're using isn't defrosted one.
Place them on a parchment paper in a tray, not touching each other and into the freezer for 1-2 hours. Once totally frozen, put them all in a bag and back in the freezer.
How To Cook Frozen Wontons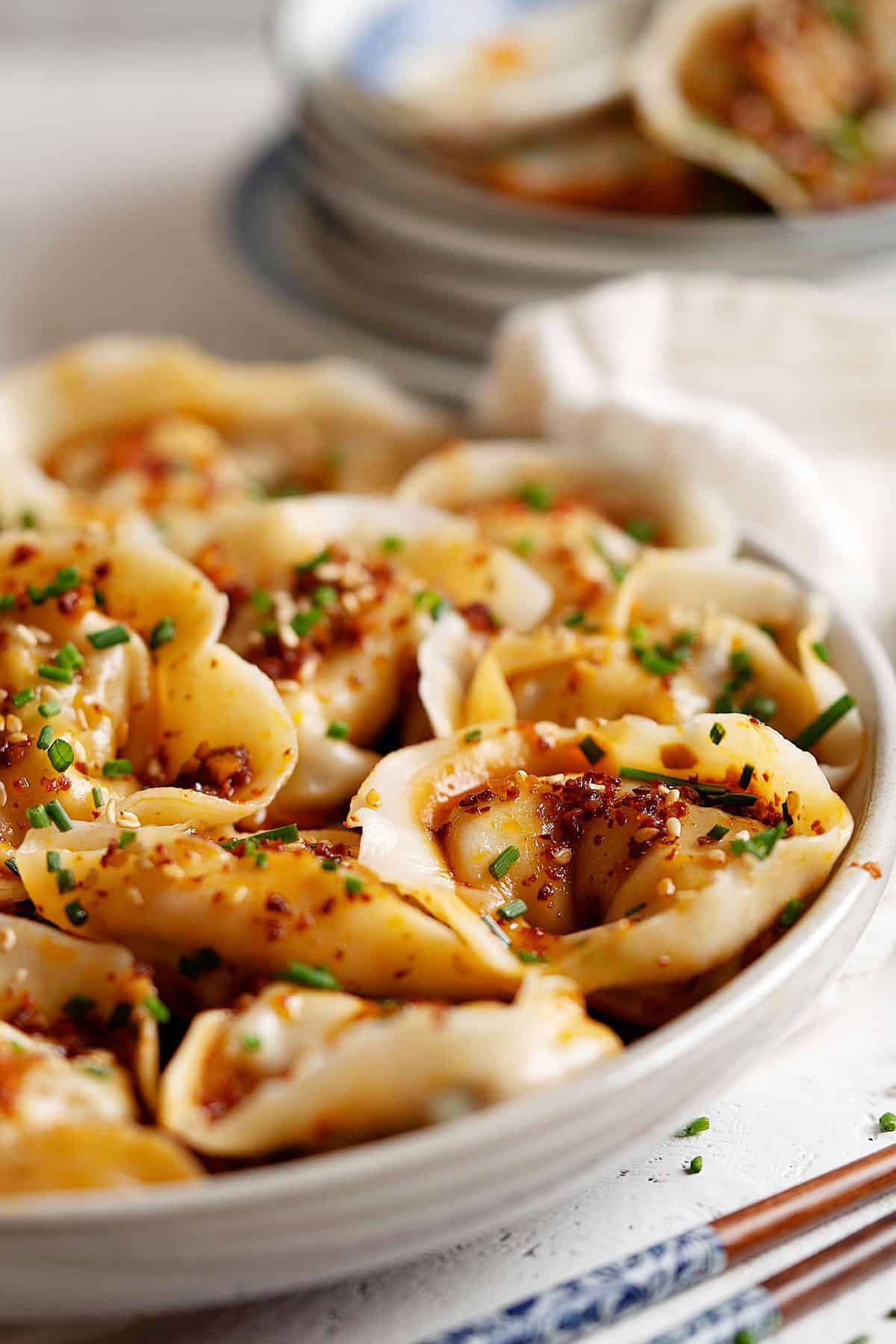 Exactly the same as you would cook the fresh ones. You don't need to thaw them first, in fact I really recommend you not to.
More Recipes
Video Recipe
📖 Recipe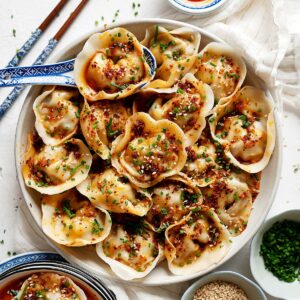 Wontons In Garlic Chili Oil
Soft wontons with juicy flavourful beef, spring onion and cabbage as filling, drenched in garlic chili oil sauce. Perfect for Asian theme parties, gatherings or simply enjoying them in the weekends with the fam.
Print
Pin
Rate
Ingredients
The Filling
1

lb

minced beef

(

450

g)

2

tablespoon

less salt soy sauce

3

tablespoon

oyster sauce

1

tablespoon

sesame oil

½

tablespoon

sugar

1

tablespoon

corn starch

1

inch

ginger

(

2.5

cm), grated

2

cup

finely chopped spring onion

(

100

g)

1

cup

finely chopped cabbage

(

100

g)
Instructions
The Dough
Prepare the dough and let it rest for 1 hour.
The Sauce
Mix everything together in a bowl, set aside. Adjust the taste to your likings. This sauce is made for 32 wontons, more or less, or for 1 time eating with the family (since I freeze the other 32 wontons).
The Filling
Mix everything in a bowl.
Assemble
Cut dough into 64 pieces, toss and coat them with corn starch to prevent sticking to each other. Cover with cling film to prevent drying.

Take a piece and roll into a thin round disk or hand palm size. Put some filling in the center and wet the dough edges lightly with some water. Fold into half moon and seal it good. Take one end, overlap with the other and pinch. Place on a kitchen towel or parchment paper, on a tray. Continue with the rest.
Cook
Bring a huge pot of water to a boil. Carefully add in the wontons (don't over crown the pot) and lightly stir so they don't stick to the bottom. Cook until they float to the surface and continue cooking for 1 minute more.

Use a slotted spoon and place them in a serving plate. Pour in some sauce, sprinkle with some toasted sesame seeds and chopped spring onion, serve immediately.
Nutrition Facts
Calories:
55.1
kcal
,
Carbohydrates:
5
g
,
Protein:
2.2
g
,
Fat:
2.9
g
,
Saturated Fat:
0.8
g
,
Cholesterol:
5.7
mg
,
Sodium:
117.4
mg
,
Potassium:
41.8
mg
,
Fiber:
0.3
g
,
Sugar:
0.2
g
,
Calcium:
8.3
mg
,
Iron:
0.5
mg