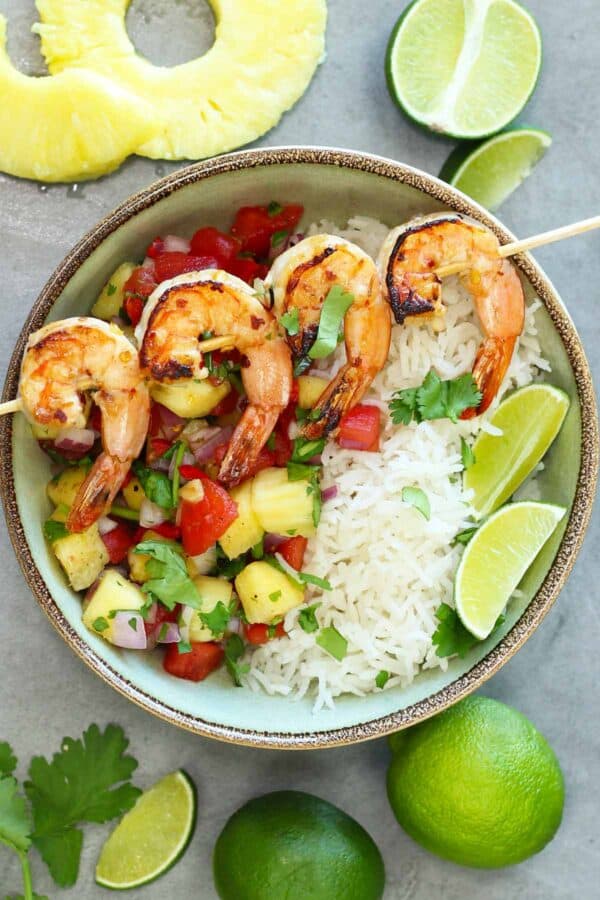 The heat is unbearable these days, no?
Cooking for me in this heat is such a huge task. I want to be in the kitchen as little as possible and do the least cooking that I can. If you're living in a cold weather with cool breeze and rainy days, just know that I envy you.
Today I'm sharing with you a simple yet perfect meal for this hot summer. Grilled shrimps with pineapple salsa and coconut rice. Super refreshing and using the produce in the season. And yes, very little cooking involved in this. Yeaaaay!!
The Coconut Rice
Or a simplified version of my home country Malaysia's famous nasi lemak. Keeping up with the simple theme in mind, this coconut rice is really a breeze to make. Fluffy rice with wonderful coconut flavour. I'm following my late mother's way of measuring rice and coconut milk for her nasi lemak which is 3 part rice to 5 part coconut milk.
She loved to put generous amount of ginger too 🙂 . I remember waking up in the morning to the smell of her nasi lemak and everybody just got excited knowing that it was going to be a good feasting day 🙂 .
Anyway. If you're interested in making your own nasi lemak, I've got you covered.
Click here to see my Nasi lemak and all its trimmings recipe
The Pineapple Salsa
Who doesn't like salsa, right? Such refreshing dish with amazing colours and it can easily be adjusted to your likings.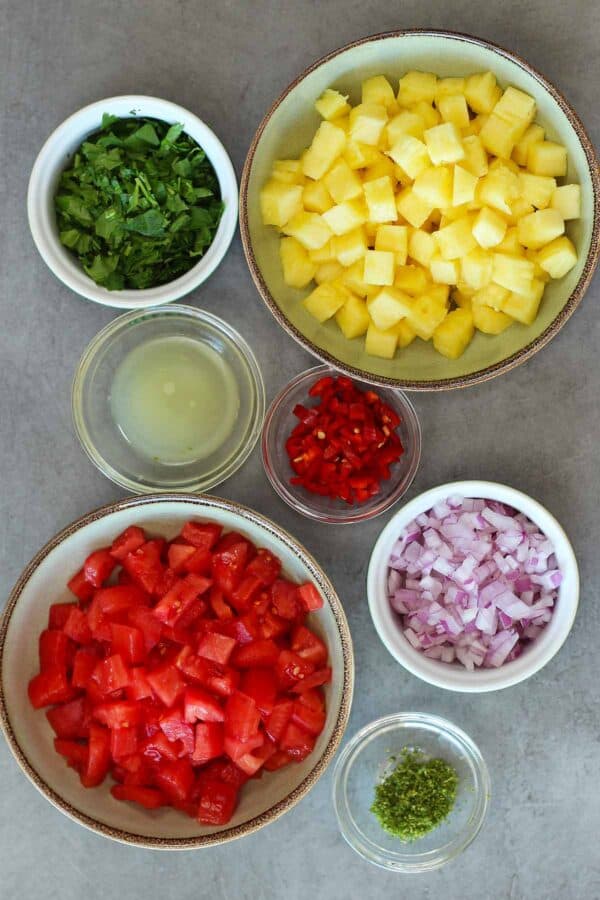 Pineapple and tomatoes are just wonderful since they're in season right now. I'm using chili instead of jalapeño because.. well because I want to. Haha! Actually I just happen to have lots of chili and don't feel like going to the market just to buy jalapeño when chili can also serve its purpose, which is to bring the heat into the dish.
I remove the seeds from the tomatoes because I don't want my salsa to be too liquidy or soggy. If you don't mind then by all means keep them. This salsa is great after chilling it for 30 minutes in the fridge. Gives all the wonderful flavours time to mix together plus, salsa is also great when served chilled. At least for me 🙂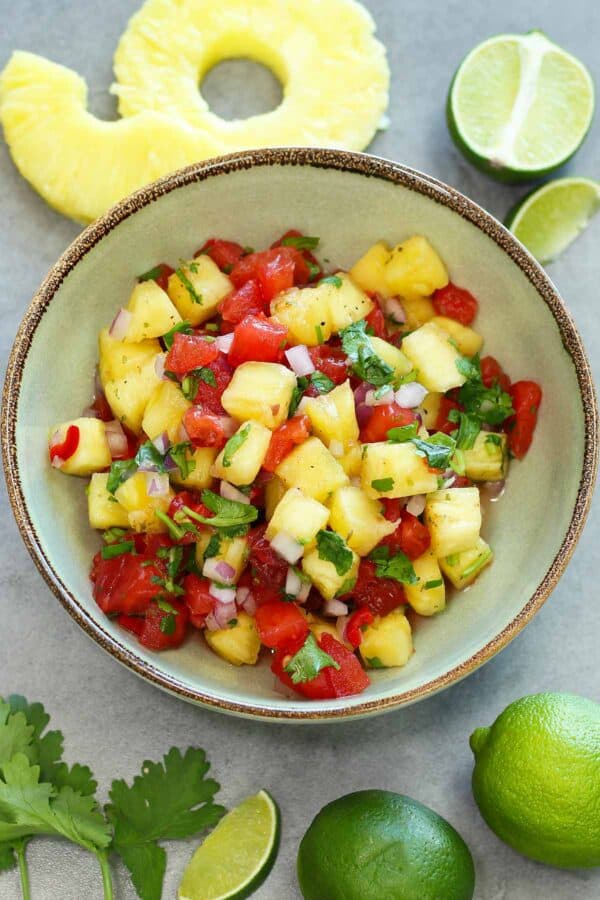 The Lime and Garlic Grilled Shrimps
The easiest and delicious option for protein in this meal. Summer just screams seafood, don't you agree? Lime, garlic, chili flakes and some fish sauce. Simple ingredients to prepare your shrimps with a different flavour. You can use calamaris if you prefer. It's up to you.
If you're looking for a simple, fresh and yummy meal for the summer, do give this a try. Let me know what you think 🙂
Watch how to make grilled shrimps with pineapple salsa in the video below: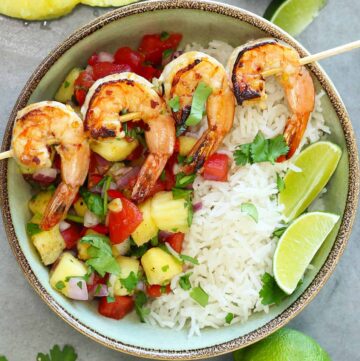 Grilled Shrimps With Pineapple Salsa
Super refreshing dish for the summer! Easy to prepare and delicious! Coconut rice, colourful pineapple salsa and some Asian style grilled shrimps.
Print
Pin
Rate
Ingredients
The Coconut Rice
1

cup

basmati rice

(190 gr), soaked for 15 minutes and drained
1

cup

coconut milk

(250 ml)

2/3

cup

water

(160 ml)

2

thumb sized

ginger

, sliced

1/2

tsp

salt
The Pineapple Salsa
2

cup

diced pineapple

(320 gr)

2

cup

roma tomato

, or around 5 tomatoes, peeled and seeds removed

1/2

cup

chopped coriander

(15 gr)

1

chili

, chopped

1

lime juice

1

lime zest

1/2

red onion

, diced

salt and black pepper to taste
The Lime and Garlic Grilled Shrimps
1

lb

shrimps

(450 gr), peeled and deveined

1

tbsp

fish sauce

1

tsp

lime juice

1/2

tsp

chili flakes

2

garlic cloves

, minced

some skewers
Instructions
The Coconut Rice
Using a casserole pan, add in all the ingredients. Bring it to a simmer on medium high heat. Cover the pan with a lid and reduce heat to medium low. Cook for 15 minutes or until the rice is fully cooked. Fluff the rice and it's ready.
The Pineapple Salsa
Add all of the ingredients into a bowl and mix everything well. Chill in the fridge for 30 minutes before serving to let the flavours mix together.
The Lime and Garlic Grilled Shrimps
Add all of the ingredients together and mix well. Then stick the shrimps on skewer sticks.

Heat a grill pan on medium high heat with some oil. Grill the shrimps for a few minutes on each side until fully cooked. Serve together with coconut rice and pineapple salsa. Enjoy!