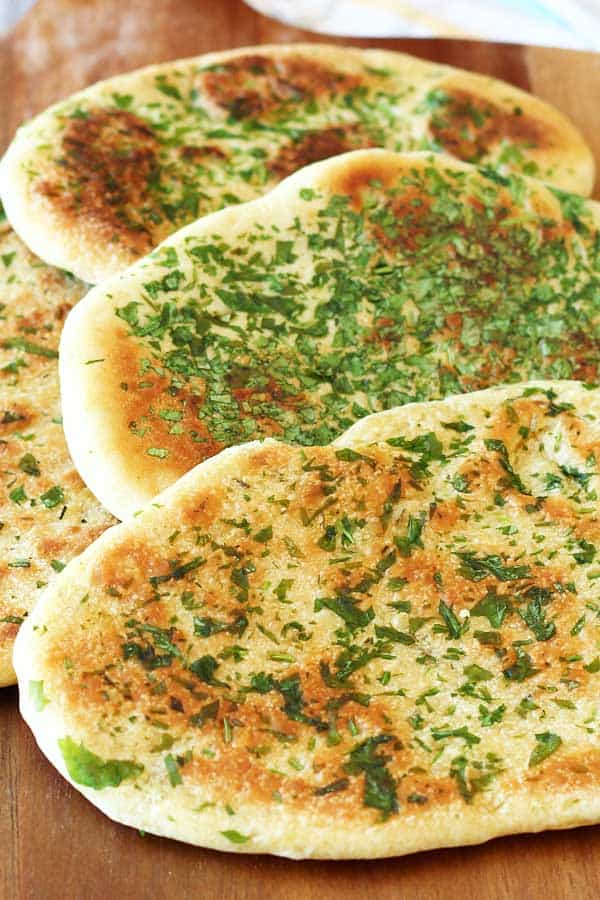 What is Kulcha bread?
Kulcha bread is a typical Punjabi bread, quite similar to naan bread. It is very popular in India and Pakistan. The bread doesn't require yeast and is typically cooked in tandoor (typical Indian clay oven) or tawa (Indian's cast iron flat pan).
Kulcha is usually eaten with some curries and the most popular one is Chole or chickpeas curry.
I love kulcha. Even though I know I can't provide the authentic ways of making kulcha, that will not stop me from enjoying it. This is my version of the lovely kulcha. Made so that it can be easily prepared at home and cooked using typical utensils in the kitchen.
Disclosure: some of the links below are affiliate links, meaning at no extra cost to you, I will get a small commission if you click through and make a purchase. Everything I mention in this post is what I personally use and recommend.
Basic ingredients
This recipe will yield 4 kulcha breads. The ingredients are very basic, which I like 🙂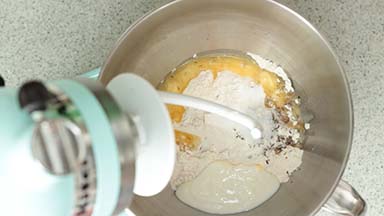 To start, I added flour, melted butter, baking soda, plain yogurt, sugar and salt in my standing mixer bowl. I also added cumin seeds for the texture. Biting into them as you eat the bread is so wonderful!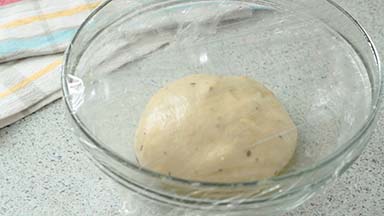 While mixing to incorporate everything, I added water. Then I continued to knead for 10 minutes. That was it! It cannot be easier than that, right?
I placed the dough into a greased bowl and coat the dough well with the oil. Then I just wrap the bowl with cling film and let it rest for 1 hour. Some recipes call for 2 hours but I find with 1 hour was enough.
Rolling them out
This was the fun part 🙂 !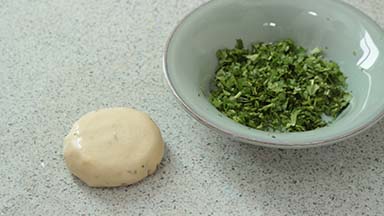 After 1 hour, I simply divided the dough into 4 portions. Oh I oiled my working surface before hand so that it would be easier to handle the dough. Each dough I turned them into a ball. I took one ball and wet its top surface with some water, using my fingers. Then I press it lightly on a bowl of chopped coriander. The wet surface will make the coriander stick to it.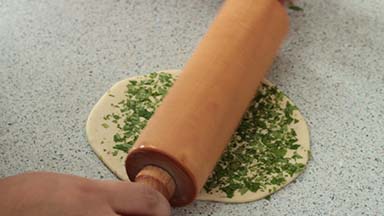 After that I rolled it into a thin disk. I repeated the same with the rest of the balls. Easy, don't you think? And they looked beautiful with the coriander bits on top 🙂 !
Cooking
To cook the kulcha bread, I used my flat crepe pan. I heated it on medium heat and added some oil. When it was ready I simply placed one rolled out disk on it and watched the dough starting to puff up with air bubbles. Very exciting!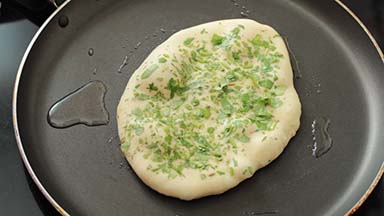 Then I flipped it and continue cooking until it was fully cooked. I removed the kulcha bread and placed it on a plate and covered it with a towel. This was to keep it hot. The soft fluffy kulcha breads are best eaten hot. Then I repeated the same with the rest of the balls.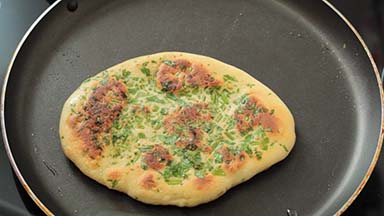 They were delicious!
We could eat them alone just like that. That day we ate them with some leftover curry. Leftover curries are the best curries, trust me 🙂 . The next day my husband ate one with hummus and roasted bell peppers. He's creative like that 😀 . I tried it and yes, it was delicious also! Ah and I had the last one with sliced avocado and fried egg on top. Yummeh!
So personally for me, there's no rule of eating kulcha bread. They're great on their own. Eat them with whatever your heart desires 🙂
Watch how to make kulcha bread in the video below: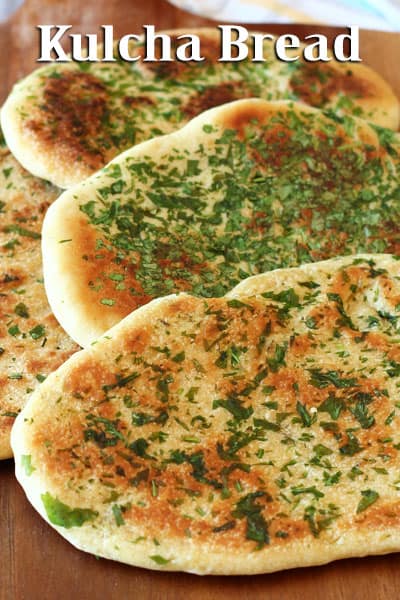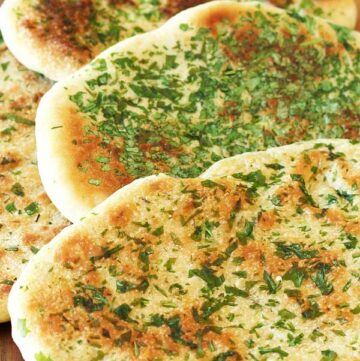 Kulcha Bread
This kulcha bread is my version of the famous no yeast Punjabi bread. Soft flatbread with a touch of coriander leaves and cumin seeds. With this recipe is very easy to prepare and cook it at home. Eat them with curry, yummy!
Print
Pin
Rate
Ingredients
2

cup

bread flour

2

tbsp

unsalted butter

, melted

1/4

cup

plain yogurt

1/2

tsp

baking soda

1/2

tsp

salt

1

tsp

granulated sugar

1/2

tsp

cumin seeds

100

ml

water

, room temperature

chopped coriander
Instructions
In a standing mixer bowl, add all the ingredients except water. While mixing to incorporate everything, add in water. Knead for 10 minutes. Form dough into a ball and place it in a greased bowl. Coat the dough well with oil. Cover the bowl with cling film and leave it to rest for 1 hour.

Oil your working surface. Take the dough and divide it into 4 portions and turn each of them into balls.

Take one ball. Wet its top surface with some water, using your fingers. Lightly press the wet surface on chopped coriander. Roll the ball into a thin disk (coriander side on top). Repeat with the rest of the balls.

Heat a flat pan with some oil, using medium heat. Place one rolled out disk on it. Wait until it puffs up with air bubbles. Flip and continue cooking until it's fully cooked. Keep cooked kulcha under a towel to keep them hot. Repeat with the rest.
Notes
They're delicious when eaten hot. Soft and fluffy. Usually eaten with chickpea curry but I've tried with meat curry, hummus, roasted bell pepper, avocado and fried egg. As equally delicious!
If you have any balance cooked kulcha, keep them in a bag and put them in the fridge. When you want to eat them, simply reheat them in the microwave to get that soft and fluffy texture again.