Portuguese egg tarts or pasteis de nata
Our city being so near to Portugal makes travelling there quite simple. We've been to Portugal quite a lot and have always liked their egg tarts. We eat them everytime we go there. We had the opportunity to go to Lisbon a few times and out of all the delicious egg tarts that we've eaten in Portugal, the ones in Lisbon or Belem specifically, are out of this world!
Their pasteis de nata are heaven! Creamy slightly charred custard with very crispy pastry. They're often eaten with some sprinkle of ground cinnamon and icing sugar on top. Originally the egg tarts were made by the Catholic monks at Jeronimos Monastery. The recipe was sold to Belem in 1834, a pastry shop that exists until now. Their main speciality is of course, the egg tart.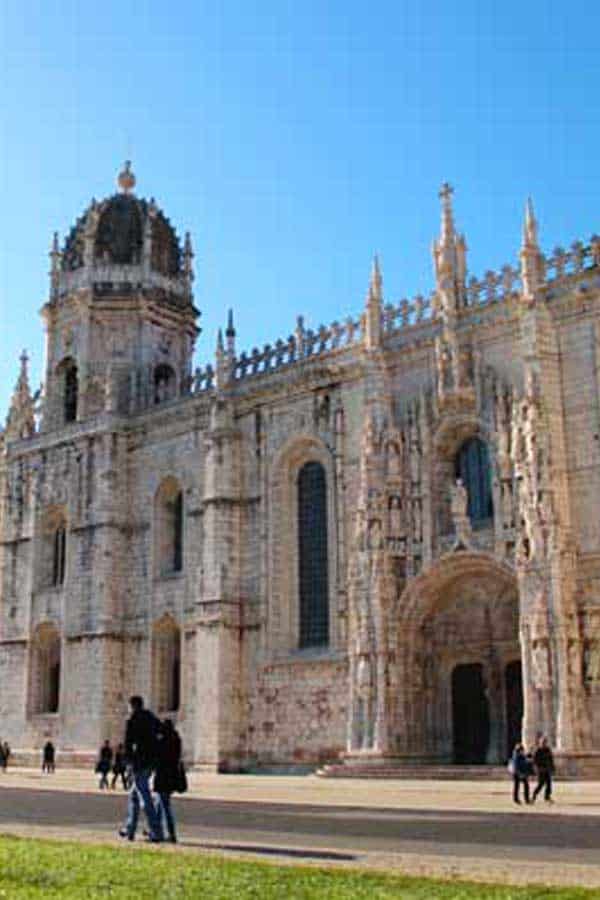 Disclosure: some of the links below are affiliate links, meaning at no extra cost to you, I will get a small commission if you click through and make a purchase. Everything I mention in this post is what I personally use and recommend.
Recreating
I have to admit, it is impossible to recreate the same exact egg tart as the ones that are sold in Belem. I've experimented a lot, especially with the base. I used several different types of pastry dough and I found that puff pastry has the most similarity.
Well with a few conditions though. We will get to that later. I have to say of all the experiments that I've done, this recipe is the closest, for me personally, of homemade version of the Portuguese egg tarts. Now I can simply prey them whenever we feel like having some 🙂 .
The custard
The recipe yields 6 egg tarts so the custard wasn't that much, and with a bit of balance too. What I did to prepare the custard was starting it off with mixing some milk and flour. I mixed them until I see there's no lumps. This mixture will thicken our custard. I set it aside while I proceeded with the milk.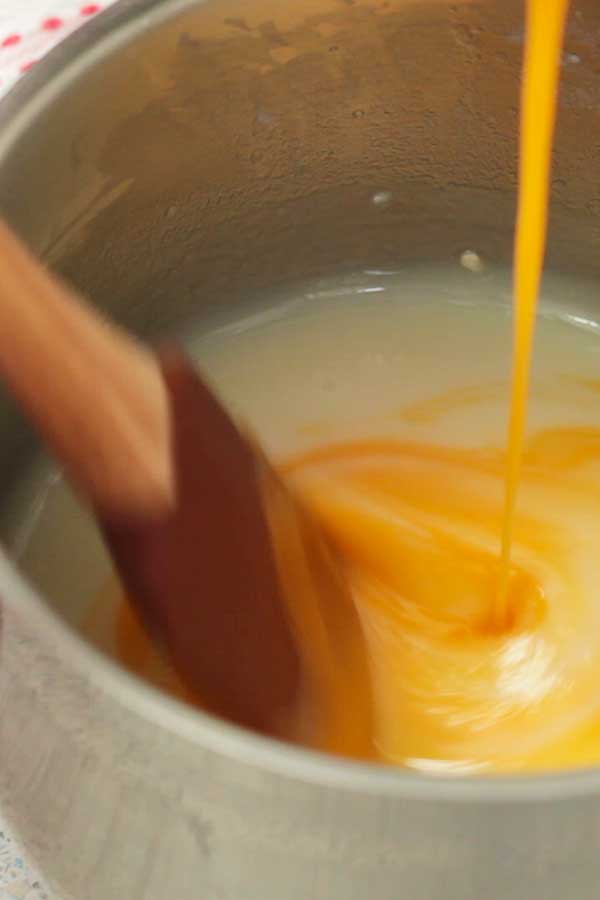 Using a small pot, I heated some milk and water with one cinnamon stick and 2 lemon rinds for that aromatic touch. When it started to boil then I took them out. Then I added the flour milk mixture that I prepared earlier.
I make sure I kept stirring so that everything mixed all good. When I see the mixture thickened, then I added the sugar and kept stirring until the sugar has dissolved. Then I set it aside to cool a bit, around 5 minutes.
When it was barely warm, I added the beaten egg yolks and kept stirring to mix well. This instantly added some color. Then I sift the custard, to ensure there's no lumps or whatsoever. I left the custard to cool completely before using.
The base
I used puff pastry as the base for these egg tarts. The trick with using puff pastry as the base is that you don't want it to puff so much. You want it as thin as you can bear to handle.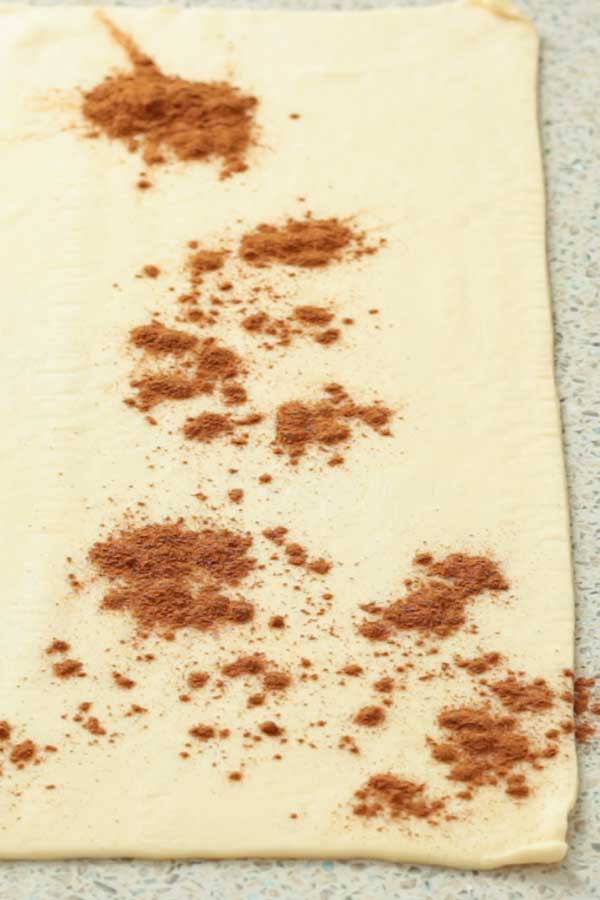 For 6 egg tarts I used a 6×12 inches (15×30 cm) puff pastry sheet. I've tried using bigger sheet, which resulted in a thicker base and that didn't work out good. The base wasn't cook through by the time the custard had that lovely charred on it.
I remember in Belem they always give you a sachet of ground cinnamon and icing sugar. You're supposed to sprinkle them on top of your egg tarts.
I wanted that canela touch to be embedded in my egg tarts. So I spread some ground cinnamon on the puff pastry sheet before I tightly rolled it. That really gave the cinnamon taste to the egg tart.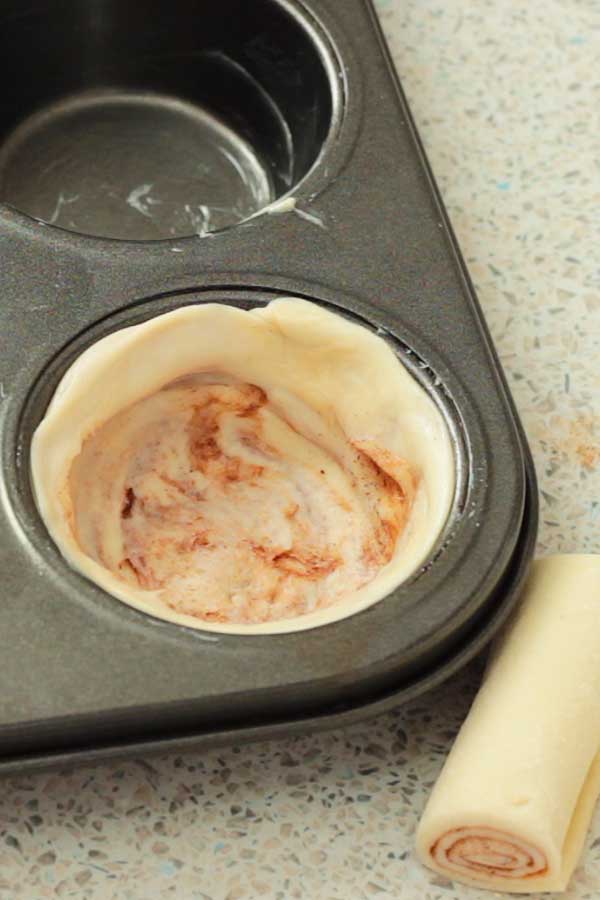 Then I cut the rolled log into 6 equal portions. Working with one portion at a time, I flattened it into a disk with my fingers and palm. Then I placed it inside the muffins pan, which I buttered before hand. I started to press the pastry disk into the muffin hole and all the way up to the side. It will feel very thin but don't worry that's what we're looking for.
Assembling
I gently poured the custard into the base only until 3/4 through. This is to ensure the custard doesn't spill out as it does puff a bit while baking. You will have a bit of custard left.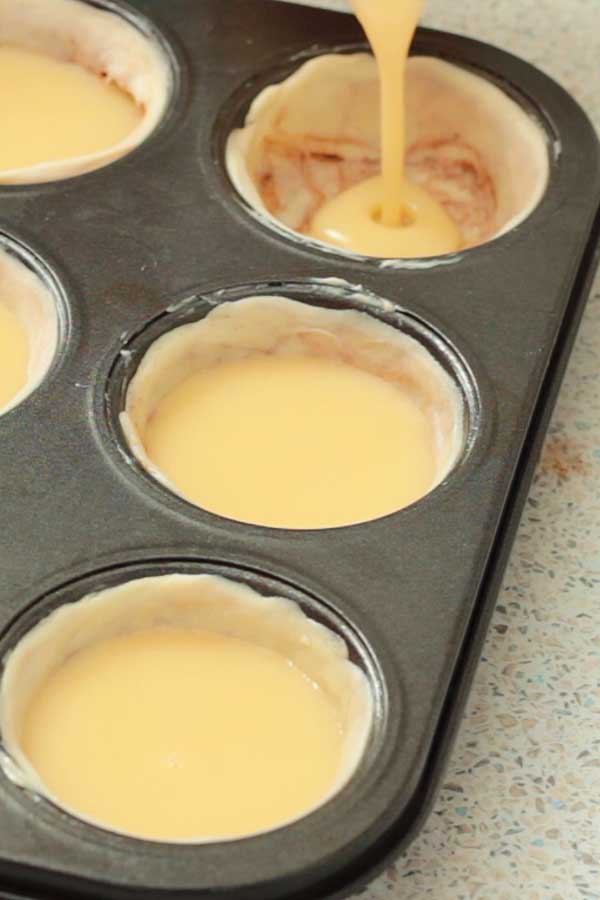 Then I baked the egg tarts until I can see the custard was slightly charred and the base was all cooked through. After removing them from the oven, I immediately placed them on a rack for them to cool a bit. They are definitely best eaten slightly warm.
The cinnamon taste in the base really gives a difference to the egg tarts. Crunchy and delish! They're the best homemade Portuguese egg tarts. For me, at least 🙂
Watch how to make Portuguese egg tarts in the video below: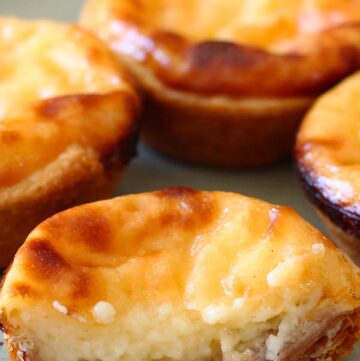 Portuguese Egg Tart
Creamy custard, slightly charred in thin crispy pastry with a touch of cinnamon to it, this is my version of the famous Portuguese egg tarts or Pasteis de Belem.
Print
Pin
Rate
Ingredients
The custard
2

tbsp

all purpose flour

(15 gr)

7

tbsp

milk

(100 ml)

3

tbsp

water

(50 ml)

5

tsp

milk

(25 ml)

2.8

oz

granulated sugar

(80 gr)

2

rinds

of lemon

2

egg yolks

, room temperature & beaten
The base
1

sheet

puff pastry

, 15x30 cm

1

tsp

ground cinnamon
Instructions
The custard
In a bowl, add in the flour and 100 ml milk. Stir until there's no lump. Set aside.

In a pot, add in the water and 25 ml milk together with the cinnamon stick and lemon rinds. Bring it to a boil. While stirring, pour in the previously prepared flour milk mixture and cook until it thickens. Turn the heat off, set aside and let it cool for 5 minutes.

While stirring, pour in the beaten egg yolk. Mix to combine. Sift the mixture into a jar, it will be easier to pour the custard later. Leave it to cool completely before using.
The base
Place the puff pastry sheet on a lightly floured working surface. Sprinkle the ground cinnamon on top and spread it evenly on the puff pastry. Roll the puff pastry gently and tightly into a log. Cut the log into 6 equal portions.

Take 1 portion and flatten it into a disk. Place in into a hole of a muffin pan (butter the muffin pan before hand). Gently press the dough against the hole until all the way up. The pastry will feel thin and don't worry because that's what we want. Make sure to press the dough all the way up the side. Repeat the same with the rest.

Pour the custard into the base just until 3/4 way, do not pour more to avoid the custard spilling out when baking. Bake at 220°C (430°F) in preheated oven for 15-20 minutes or until the custard is slightly charred and the pastry is golden brown and fully cooked.

The egg tarts are best eaten when slightly warm. Enjoy!
Notes
From my experience, thinly pressed puff pastry always provide the best result. Crispy, crunchy and cooked all the way through by the time the custard is slightly charred. Just like they make it in Portugal.