Pumpkin puree and pumpkin pie spice
"Autumn is coming.." as Jon Snow didn't say 😀 . Time for all things pumpkin and pumpkin pie spice!
The key ingredients for this recipe are the pumpkin puree and the pumpkin pie spice. I made my own pumpkin puree in a huge batch and then I froze them in portions. Easier for later use.
So the other day I bought 2 huge butternut squash. I used those instead of pumpkins because for me they taste better. This season they're really great! I like to buy/use produce of the season.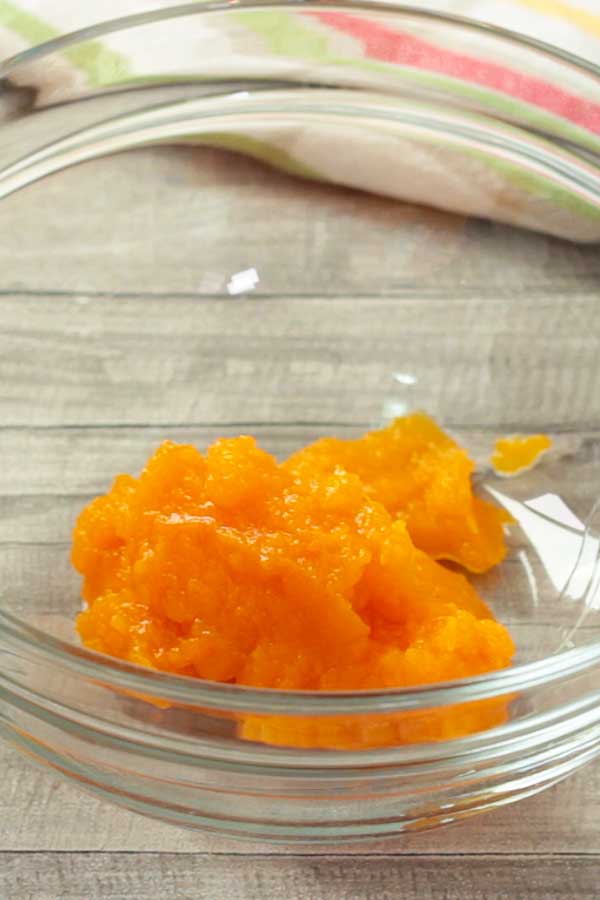 Anyway, what I did was wash them good and then sliced them into halves. Be extra careful at this part. After that I took out all the seeds and pulps. Then I place them on a baking tray with baking sheet, cut side facing down.
I baked them at 160ºC (320ºF) preheated oven for 1 1/2 hours or until they were tender. To check, I stuck a knife into them and when it went through very easily, then they were done.
Mind you, when I was baking this the whole house was full of sweet roasty smell ! My husband kept saying "What are you making, it smells like you're baking some cookies." Even later, the puree being in a container, you can still smell it every time you open the cover 🙂
Ok, so when they were done, I took the tray out and leave it to cool for about 30 minutes. Just until I can handle the heat. Then I simply peeled off the skin and put the flesh in a container, while lightly mashing.
The pumpkins were so tender that I didn't need to do much. I let it completely cool before storing in the fridge. I did all the portioning and freezing the next day.
Making pumpkin puree is so easy. If you have access to canned pumpkin puree, well that might save you time. But making homemade puree doesn't require baby-sitting it anyway, you just let the oven do it thing. Bonus, the aromatic smell!
The other key ingredient for this recipe is of course, the pumpkin pie spice. I also used my homemade pie spice. What I appreciate about making my own spice mix is the fresh and aromatic smell of the spice mix, compared to store bought ones. And it was so easy too!
Dry ingredients
For this recipe, I used my go-to homemade pancake recipe. I made half batch and tweaked it a bit to adapt to the amount of pumpkin puree.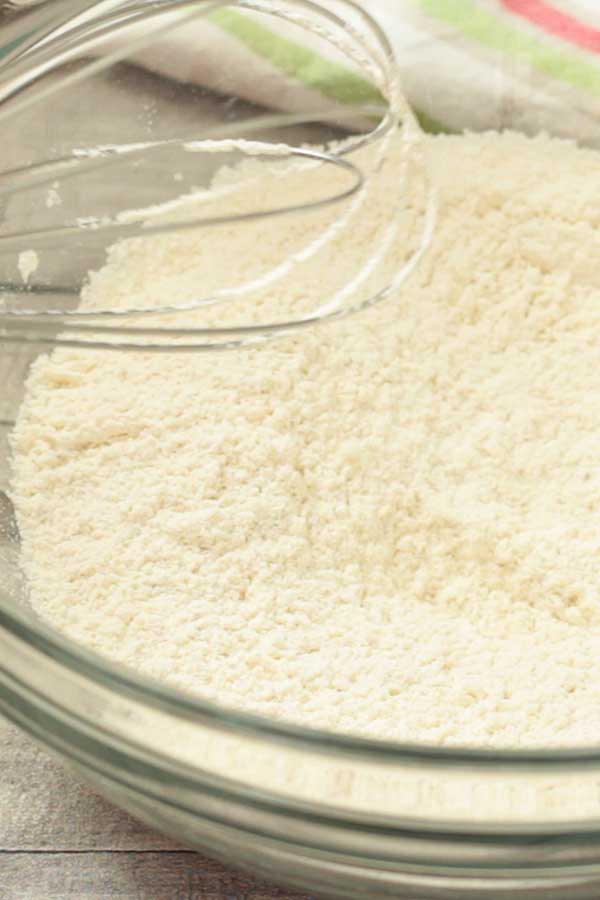 Basic dry ingredients available in the pantry. I used all purpose flour, granulated sugar, salt, my homemade pumpkin pie spice, baking powder and baking soda. I simply put all the ingredients in a bowl and mix them well to combine. That was it.
Wet ingredients
I prepared my buttermilk by adding some lemon juice in some milk. I leave it aside for 10 minutes. Just recently when we went to our Aldi, we saw that they have buttermilk as one of their regular products. I'm intrigued to try it as I've never tried store bought buttermilk before 🙂 .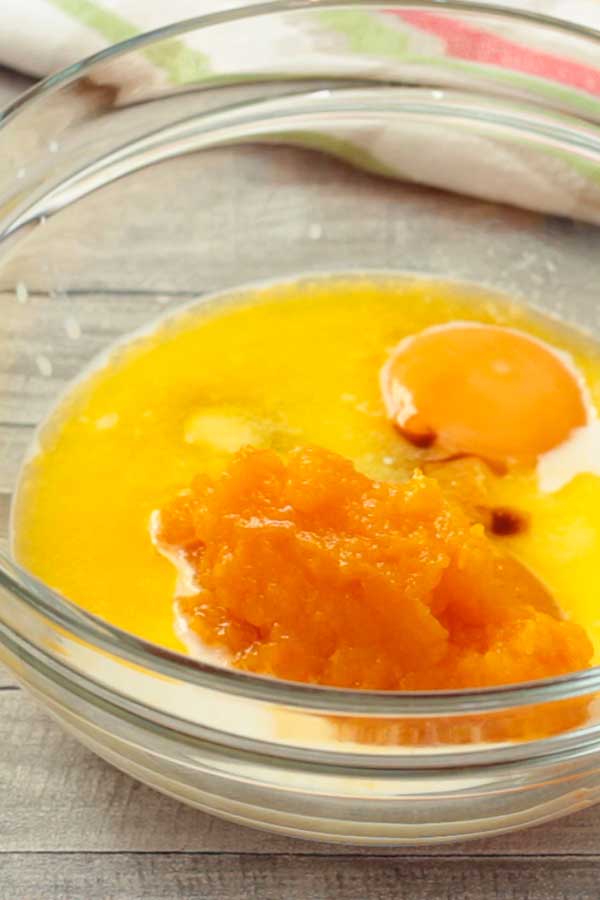 For the wet ingredients, I added my buttermilk, egg, melted butter, vanilla extract and of course, pumpkin puree. I simply mix them all to combine, using my hand mixer. Done!
Pancake batter
I poured my wet ingredients mixture into my dry ingredients mixture. Then I mixed just until everything was fully combined. I didn't go crazy mixing them to avoid the pancakes getting hard and dense.
Then I whipped my egg white to stiff peaks. After that I simply pour it into the pancake batter and gently fold it in. Whipped egg whites always need some gentle handling so that we don't lose all the air. The air will help making the pancakes fluffy and super soft.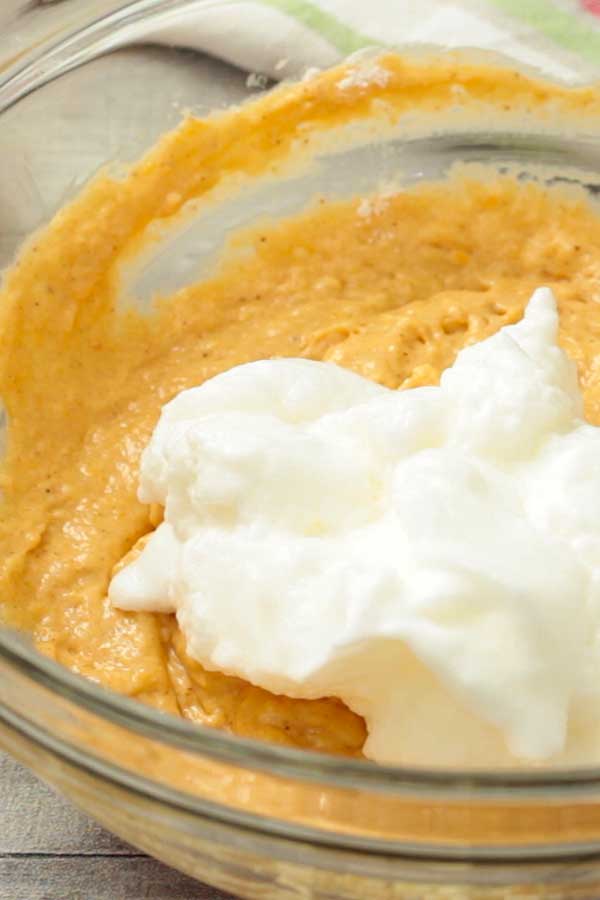 Well, my pumpkin spice pancake batter was ready!
Cooking
This part really tested my patience. Why? Because I was really tempted to eat the pancakes as soon as they were cooked! And of course we needed them to continue filming the video 😀 .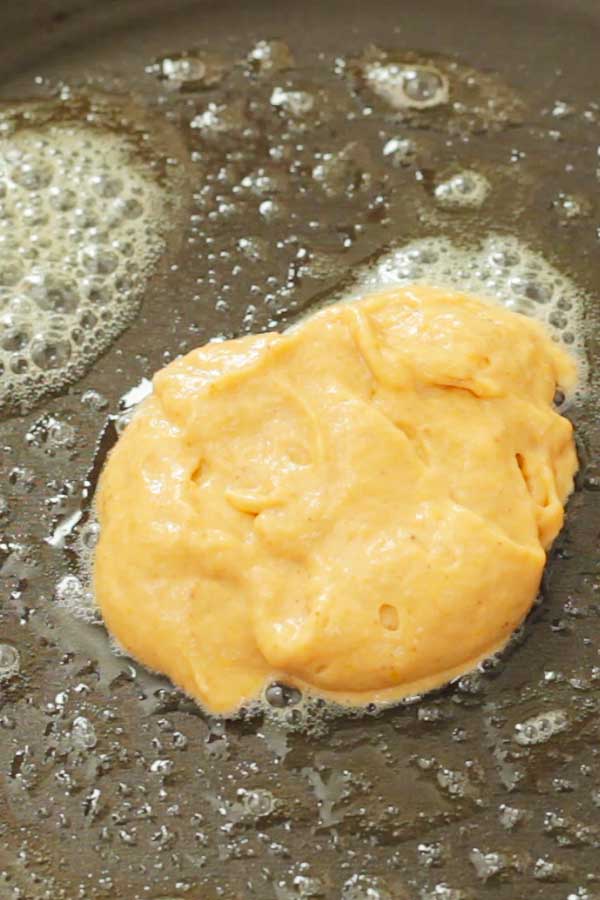 To cook the pancakes, I heated my crepe pan on medium heat and added some butter. Then using a 1/4 measuring cup, I scooped the batter and pour it on the pan. I wanted the pancakes to be more or less the same size.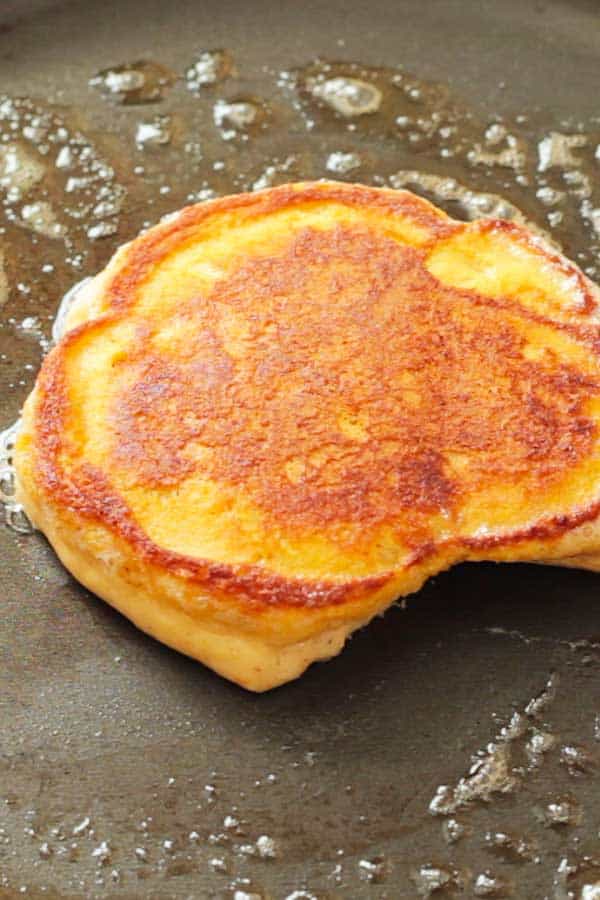 When I saw there were tiny bubbles forming around the edges, I flipped it. Then I continue cooking until it was fully cooked. After that I continued with the rest of the batter. This recipe yields 7 pancakes. The amount will vary depending on the size that you make, of course.
Pumpkin pancake
Don't they look beautiful? 🙂
We had them with maple syrup, oh so heaven! They were fluffy and super soft! I loved the pumpkin spice touch to them, not overpowering. Just enough to give you that autumny feeling.
The pancakes and a mug of pumpkin spice latte! Lazy Sunday mornings, all wrapped in a blanket watching Game of Thrones. Yes, we are behind on that 😀
Hope you try the pancakes, have a lovely day people! 🙂
Watch how to make pumpkin pancakes in the video below: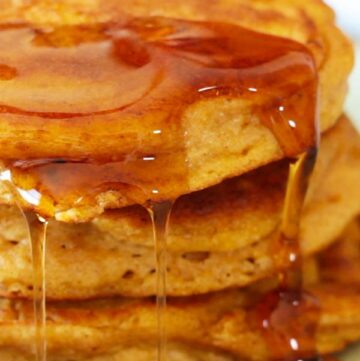 Pumpkin Pancakes
The fluffiest pumpkin pancakes with pumpkin pie spice, they're perfect for the autumn! Serve them with maple syrup, heaven! Straight forward instructions with basic ingredients in the pantry.
Print
Pin
Rate
Ingredients
Dry ingredients
1

cup

all purpose flour

1 1/2

tbsp

granulated sugar

1/4

tsp

salt

1/2

tsp

pumpkin spice

1/2

tbsp

baking powder

172

tsp

baking soda
Buttermilk
1

tsp

lemon juice

1/4

cup

milk

, room temperature
Wet ingredients
1/2

cup

pumpkin puree

1

egg yolk

, room temperature

30

gr

unsalted butter

, melted

1

tsp

vanilla extract

1

egg white

, room temperature
Instructions
In a bowl, add in all of the dry ingredients. Mix well and set aside.

To make buttermilk, add lemon juice to the milk and leave for 10 minutes before using it.

In another bowl, add all of the wet ingredients except egg white. Add in also the buttermilk. Mix everything together to combine.

Pour the wet ingredients mixture into the dry ingredients mixture. Mix just until everything is well combined. Do not overmix to avoid hard, dense pancakes.

Whisk the egg white until stiff peaks. Pour it into the pancake batter and gently fold it in until it's fully mixed. Do not overmix to avoid deflating the air in the egg white.

Heat a pan with some butter on medium heat. Using a 1/4 measuring cup, scoop the pancake batter and pour in on the pan. When there are some tiny bubbles around the edges, flip it. Continue cooking until the pancake is fully cooked. Repeat with the rest of the batter.

Enjoy your pumpkin spice pancakes with maple syrup! Or whatever your heart desires 🙂