Disclosure: some of the links below are affiliate links, meaning at no extra cost to you, I will get a small commission if you click through and make a purchase. Everything I mention in this post is what I personally use and recommend.
Slow cooking with a slow cooker
I love doing stews and soups in my trusty slow cooker. I find it so convenient because I don't need to stand in the kitchen for hours or keep coming back to baby sit my pot of curry, for example. I like the concept of putting everything in the pot and forget about it for 6,7 hours and then just enjoy the delicious meal.
A fast story of the first times that I started to use my slow cooker. Once I started late, like around 8pm and my stew needed to be cooking on low for 7 hours. Since I didn't have any timer back then, I remember getting up around 3 am just to turn it off 😀
Since then my husband has bought me a timer that automatically turns off at whatever time that I set it. Thank god!
Beef curry
You can make this same recipe using normal way of cooking. The stove, I mean. You just need to keep checking on it to make sure it has enough liquid, add more as needed. Depending on the cut of the meat, it will take a few hours to get super tender.
Using the slow cooker is simpler, at least for me. I started off by browning the meat chunks. And then I fried my spices for a few seconds to get that aromatic smell going. After that I simply added all my veggies and cook them for 5 minutes.
Then I mixed my curry powder with some water and added it in. After a good stir, I cooked everything for 1 minute and then added the browned meat. I gave it a fast stir and off with the heat.
Prep was done. Simple and easy, don't you think?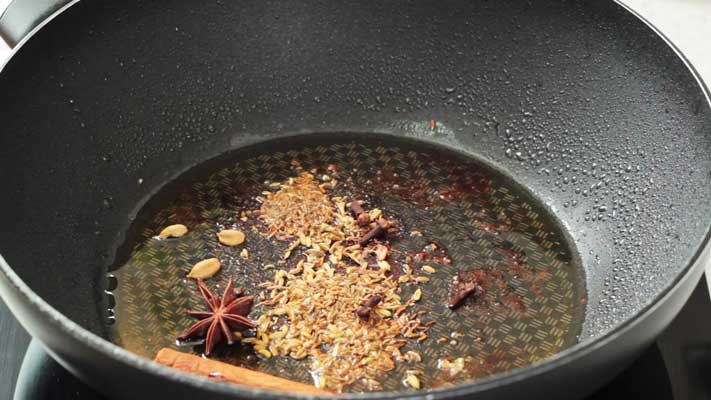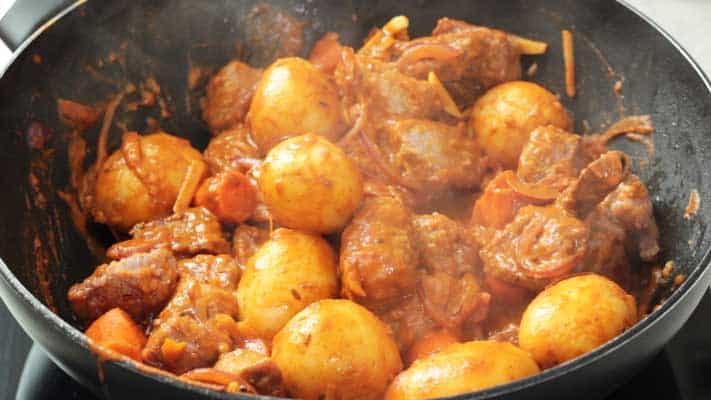 Then I basically transferred everything to the slow cooker pot. I put all the veggies at the bottom and the meat chunks on top. I added just a bit of water, salt and sugar and let it cook on low for 6 hours. By that time my meat was tender and that was when I added my coconut milk.
I don't like to add my coconut milk at the beginning of the cooking because I feel by the 6th, 7th hours there's always some curdles going on. So when I feel my meat is almost almost almost ready, only then I add my coconut milk and continue cooking for another hour.
In this case, I added my coconut milk on 6th hour and cooked it on low for another hour, a total of 7 hours of cooking. By 7th hour, the meat was super tender!!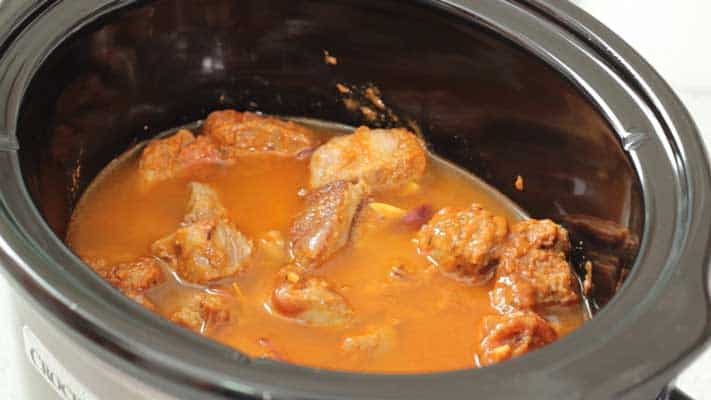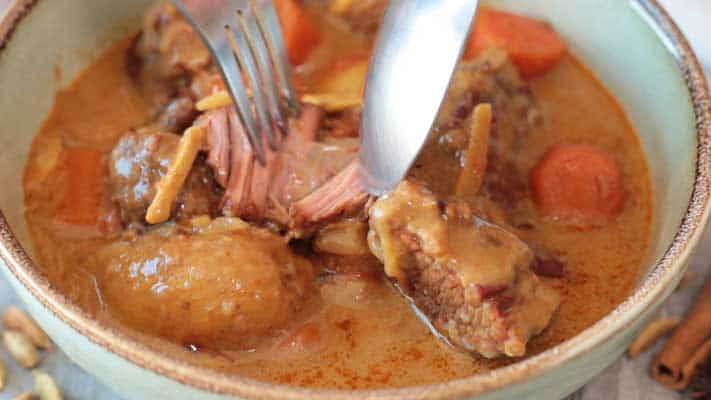 One trick that I didn't show in the video recipe was how I took out all the oil/fat after the curry was done cooking. I simply place 1 kitchen paper on the top surface of the curry. It will soak the oil/fat. I gently lifted it up and threw it, of course. I repeated the process until I see there's almost no oil/fat in the curry.
For me, this method is easier than spooning out the oil/fat.
Going back to our beef curry. Like any other curries, this curry is best eaten the next day when all the flavors have really mixed with each other, if that makes sense 😀 . This curry is perfect to go with rice or breads. Try it 🙂
Watch how to make slow cooker beef curry in the video below: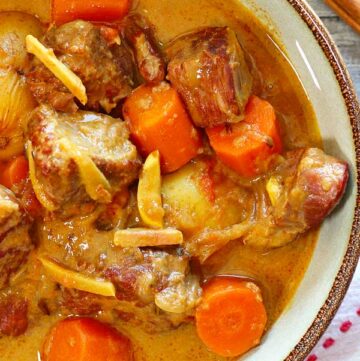 Slow Cooker Beef Curry
This slow cooker beef curry recipe will give you super tender meat that breaks to the touch in flavorful spiced up curry, with super easy steps. Delicious!
Print
Pin
Rate
Ingredients
500

gr

beef chunks

1

tsp

salt

1/4

cup

all purpose flour

1

tsp

fennel seeds

1

tsp

cumin seeds

1

cinnamon stick

1

star anise

5

cloves

3

cardamom pods

1/2

red onion

, thinly sliced

1

inch

ginger

, cut into match sticks

4

garlic cloves

, cut into match sticks

2

medium sized

carrots

, cut into chunks

2

ripe tomatoes

, peeled and cut into chunks

350

gr

potatoes

, use whole if small ones or cut into chunks if big ones

3

tbsp

spicy curry powder

1/2

cup

water

300

ml

water

2

tsp

granulated sugar

2

tsp

salt

200

ml

coconut milk
Instructions
In a bowl, add in meat, salt and flour. Mix and coat the meat pieces well with the flour.

Heat some olive oil in a wok/pan using medium high heat. Brown the meat pieces, remove and set aside. Do in batches to avoid overcrowding the wok/pan.

Using the same wok/pan, add in fennel seeds, cumin seeds, cinnamon stick, star anise and cloves. Stir and cook for a few seconds until they release their fragrances. Add in red onion, ginger, garlic, carrots, tomatoes, and potatoes. Stir everything and cook for 5 minutes.

Add in curry powder that has been mixed with 1/2 cup water. Mix everything good and cook for another 1 minute. Add in previously browned meat together with its juices. Mix everything well and turn the heat off.

In a

slow cooker

, put all the veggies at the bottom of the pot. Then put all the meat chunks on top. Add in 300 ml water, sugar and salt. Mix a bit. Cover the pot and cook on low for 6 hours. After 6 hours passed, add in coconut milk and gently stir and mix a bit. Cover the pot and continue cooking on low for another 1 hour.

Adjust seasoning if needed. The meat should be very tender by now. If it's still not, continue cooking until it gets to the tenderness that you prefer. Enjoy!
Notes
Meat cuts or level of tenderness varies. If by the 6th hour the meat is still hard, continue cooking for another hour. Keep on checking. Only add coconut milk 1 hour before you think the meat will be done.
This curry, like any other curries, is best eaten the next days. Trust me, it's worth the wait 😀